Alabama Football: Crimson Tide Still Atop Amway Coaches Poll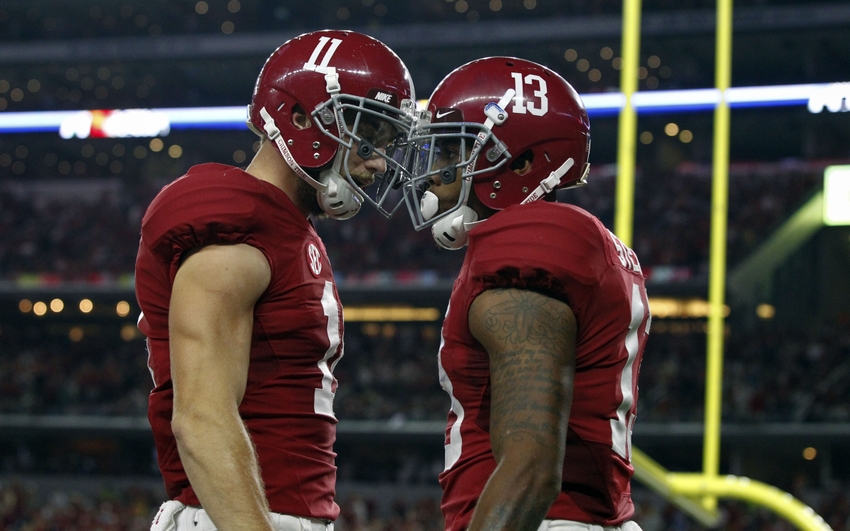 After an impressive showing against USC, the Alabama Crimson Tide is still on top of the Amway Coaches Poll.
ICYMI: SEC Football: Week 1 "Get Off My Lawn" Awards
Following the 52 – 6 beat down the Crimson Tide gave the USC Trojans Saturday night, Alabama is still number one in the USA Today Amway Coaches Poll.
The Crimson Tide strengthened their presence at the top of the poll with 62 of 64 first place votes. The Clemson Tigers once again took the second place spot and also the remaining two first place.
Following their huge comeback Monday night against Ole Miss, Florida State moved up to the number three spot. Also moving up are the Houston Cougars, who jumped to seventh, and the Georgia Bulldogs. Georgia took the ninth place slot, cracking the top 10 for the first time this season.
LSU fell from sixth to 22nd after their opening day loss to the Wisconsin Badgers. Also dropping this week are the Oklahoma Sooners, who toppled ten slots from number three to 13th.
USC, North Carolina, and UCLA all dropped completely out of the Top 25 poll after disappointing losses this weekend.
The Alabama Crimson Tide play the Western Kentucky Hilltoppers this Saturday at 2:30 central time at Bryant-Denny Stadium in Tuscaloosa. If Bama has another standout game, there is no reason they should drop in the polls before next week's nerve-biter against Ole Miss.
This article originally appeared on