Alabama Football: Crimson Conclusions and Final Stats vs USC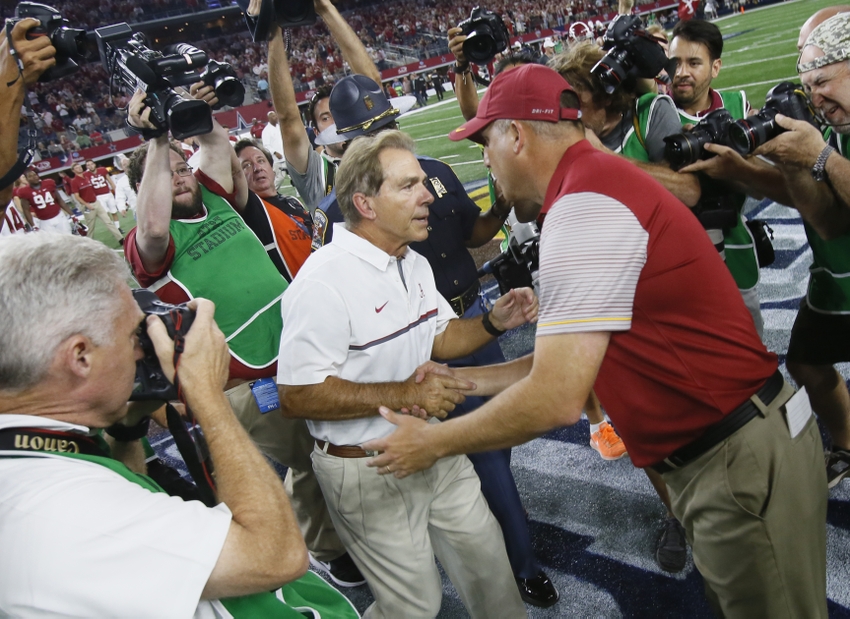 What did we learn about this Alabama football team during the USC game? There are still some questions but there were some answers as well.
On Saturday night, the top-ranked Alabama football team(1-0) demolished #20 USC Trojans (0-1) to the tune of 52-6, the most lopsided opening game loss in USC history. In the process, Alabama seemed to find some answers to huge questions fans and analysts alike had about the defending National Champions.
ALABAMA HAS ITS QB
No one had any clue who Alabama's quarterback would be in 2016 heading into the season opener, other than maybe Nick Saban and Lane Kiffin themselves, and before the game Saban had said that both Cooper Bateman and Blake Barnett would play. A few hours before kickoff, news began to leak out that Barnett would start to the surprise of many.  Just minutes before kickoff, ESPN analyst Kirk Herbstreit revealed live on air that Saban had informed him before the game that Alabama planned to play true freshman Jalen Hurts in the game.
Now, that have been just a situation of Hurts outplaying the other quarterbacks so much in practice this week that Saban changed his mind or, more likely, he was just looking to throw one more curve ball at the Trojans.
"They know who we're going to start (at QB), so I wish we knew who they're going to start," said USC safety Chris Hawkins just days before the game. Mission accomplished for Saban.
Barnett got the start and looked unbelievably timid to start the game. The entire offense was out of sorts and Barnett was quick to throw to his first read, without looking to his second or third options, and seemed to not have the confidence to pull the ball on read-option plays.
In Alabama's third series Hurts trotted onto the field to lead the Alabama offense and then proceeded to lose a fumble on his first play from scrimmage. It was certainly not the fairytale start the blue chip freshman hoped to have, but from there the youngster took command of the offense.
Hurts began to drive the Alabama offense, the first few drives just for a first down or two, and then suddenly he connected with receiver ArDarius Stewart for a 39-yard touchdown on a third down play. A few minutes later, the flood gates opened and Hurts had scored four touchdowns in the first three quarters, two of those scores being rushing touchdowns.
Probably the most impressive throw of the game, however, came on a third-and-ten early in the second quarter. Hurts scrambled away from the incoming pass rush and completed a dart of a throw on the sideline, between two defenders, to Calvin Ridley for a first down. It's those throws that make Alabama offensive coordinator Lane Kiffin's mouth water.
Hurts threw for 118 yards and two touchdowns through the air and ran for 32 yards and two more touchdowns on the ground. His worst decision in the game came on his second turnover, an interception, where he stared down Stewart and forced a pass which was easily picked off.
Despite that play Hurts also showed his football IQ when USC blitzed not just a cornerback but a safety, from the same side, at him. Hurts immediately recognized it and lobbed an easy 75-yard touchdown pass to Stewart.
Hurts didn't just play well in the game, he seemed to command the offense on and off the field. When the offense would sit down on the sideline, it would be Hurts sitting in the middle of the offensive players talking to his teammates and encouraging them. When Barnett came back in late in the game, it was Hurts that was screaming encouragement on the sideline at his teammate.
Barnett's play when he came back in the game, late in the third quarter, can't be overlooked either. Barnett looked calm and poised as he led the Tide on two scoring drives in the fourth quarter. He threw a beautiful 40-yard pass to O.J. Howard to set up a Bo Scarbrough touchdown, and an even more beautiful 45-yard touchdown pass to Gehrig Dieter.
On the Dieter score, Barnett baited the USC safety into sliding towards the receiver on the right as Barnett stared that way. Barnett then quickly turned his head and found the open Dieter for the score. It was the type of play, where Barnett looked through his progressions and made a terrific decision, that looked to be impossible for the sophomore earlier in the game.
Now, much can be said for having a four touchdown lead at this point, so there was no pressure on Barnett, but the ease in which he drove the Alabama offense on those drives in the second half can't be overlooked.
Get the Saturday Blitz App
Early in the game it seemed as if Alabama had no quarterbacks and now it seems as if the Tide have two very competent gun slingers. Hurts truly, in my mind, won the job against USC but Barnett likely played himself into a chance to earn another start in the future as well. The next two weeks will tell the tale of who the starting quarterback for Alabama will be the remainder of the year, and much of that will likely be done in practice where we won't even see.
TIDE DEFENSE AS DOMINANT AS EVER
In the first quarter, the USC offense rolled up 90 yards of offense but only managed three points. In the other three quarters, combined the Trojans gained just 104 yards of total offense.
The Alabama defense, much like the offense, seemed a bit timid to begin the game, as if they were playing like they were scared to make a mistake. The pass rush wasn't aggressive and seemed to be using the "mush rush" style of not rushing after the quarterback, likely in an attempt for the coaches to figure out exactly what USC was going to be doing on offense.
This, however, led to USC quarterback Max Browne connecting with receiver Darreus Rogers for a 36-yard strike against Anthony Averett, in the first start of his career. Quickly the Tide coaches realized that the USC offensive line couldn't hold up against Alabama's defensive line.
Alabama rarely had to blitz in the game yet four pass rushers routinely were in the USC signal caller's faces within two seconds of the ball being snapped. Jonathan Allen, Tim Williams, Da'Ron Payne and Ryan Anderson abused the USC offensive line in both the run and passing game.
USC mustered just 64 yards rushing on 30 attempts and 46 of those yards came on one run late in the game when many Alabama backups were in the game. The Tide defense also recorded three sacks and even more pressures.
Linebacker Reuben Foster was a missile on defense, in one of his better games as a starter, and cornerback Marlon Humphrey showed why he is one of the top, most physical cornerbacks in the country. Foster and Humphrey combined for what was possibly the backbreaking play of the game for Alabama.
After an Alabama field goal, cornerback Minkah Fitzpatrick had his groin stomped on, on the ensuing kickoff, in a show of absolute classlessness. Just two plays later Foster tipped a Brown pass attempt and Humphrey snatched it out of the air before racing 18-yards to the endzone for the touchdown. Alabama never looked back in the game as things began to roll.
RUNNING BACK BY COMMITTEE
Surprisingly, sophomore running back Damien Harris got the start in the game, and the bulk of the carries, running for 138 yards along with Bo Scarbrough who had the only rushing touchdown by a player that wasn't a quarterback. True freshmen BJ Emmons and Joshua Jacobs also carried the ball several times in the game, and it looks like the Tide truly wants to use a steady rotation of backs in the game.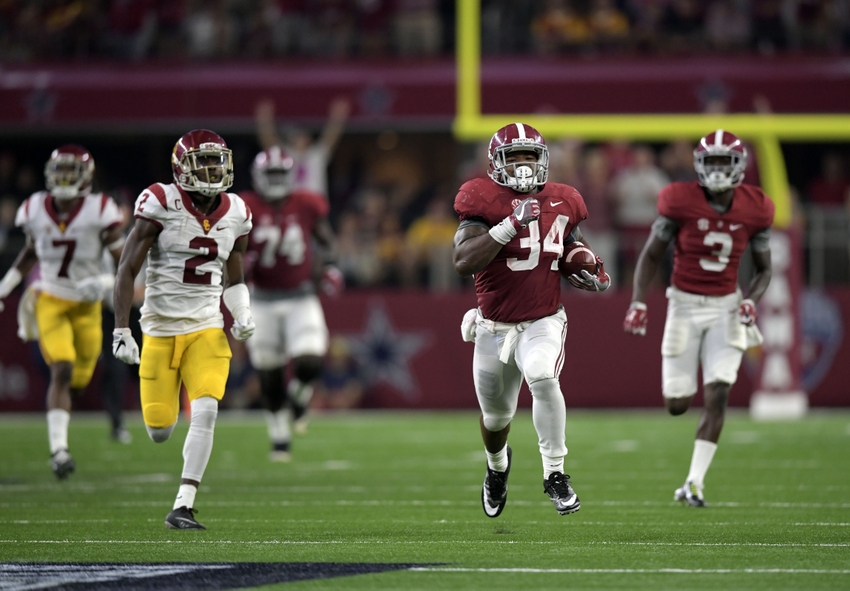 Several times Alabama would rotate two and sometimes even three different backs on a drive, but would feed one back if he started to get on a roll, which is what happened with Harris. Harris broke off long runs of 73-yards and 46 yards in the game.
Harris resembles Mark Ingram in his ability to find a hole and the ability to quickly hit it. Scarbrough is big and powerful like Henry while Emmons and Jacobs both possess a ton of quickness. If these four backs all get quality carries, and I highly doubt Saban and Kiffin would have played both true freshmen if they weren't planning on giving them quality carries all year, along with a QB that can utilize the mountain of talent at receiver and tight end things could get scary for Alabama opponents.
FINAL STATS
PASSING
Jalen Hurts: 6-of-11, 118 yards, 2 TD, 1 INT; 9 carries, 32 yards, 2 TD
Blake Barnett: 5-of-6, 100 yards, 1 TD; 4 carries, -10 yards
Cooper Bateman: 1-of-1, 5 yards; 1 carry, -9 yards
RUSHING
Damien Harris: 9 carries, 138 yards.
Bo Scarbrough: 11 carries, 36 yards, 1 TD
Joshua Jacobs: 4 carries, 20 yards
BJ Emmons: 6 carries, 18 yards
RECEIVING
ArDarius Stewart: 4 catches, 113 yards, 2 TD; 1 carry, 17 yards
Gehrig Dieter: 1 catch, 45 yards, 1 TD
OJ Howard: 3 catches, 39 yards
Cam Sims: 1 catch, 12 yards
Calvin Ridley: 2 catches, 9 yards
Brandon Greene: 1 catch, 5 yards
DEFENSE
Anthony Averett: 8 TKL
Minkah Fitzpatrick: 6 TKL, 2 PBU
Shaun Dion Hamilton: 5 TKL, 2.0 TFL
Ryan Anderson: 5 TKL, 1.0 TFL, 1.0 sack
Keith Holcombe: 5 TKL, 1.0 TFL, 1 PBU
Reuben Foster: 4 TKL, 1.0 TFL, 1 PBU
Jonathan Allen: 4 TKL, 2.0 TFL, 2.0 sacks, 2 PBU
Rashaan Evans: 3 TKL
Anfernee Jennings: 3 TKL, 1.0 TFL
Eddie Jackson: 2 TKL, 1 PBU
JK Scott: 2 TKL
Aaron Robinson: 2 TKL
Marlon Humphrey: 2 TKL, 1.0 TFL, 1 INT, 18 yards, 1 TD
Tim Williams: 2 TKL, 1 QBH
Rogria Lewis: 1 TKL
Deionte Thompson: 1 TKL
Levi Wallace: 1 TKL, 1 PBU
Dakota Ball: 1 TKL
Dalvin Tomlinson: 1 TKL
SPECIAL TEAMS
JK Scott: 5 punts, 47.0 YPP, Long: 45 yards, Inside 20: 3
Calvin Ridley: 2 PR, 4 yards
Trevon Diggs: 1 KOR, 24 yards
Adam Griffith: 1-of-1 FGs, Long: 29 yards; 7-of-7 PATs
Check back next week for another edition of Crimson Conclusions when we recap the Western Kentucky game.
This article originally appeared on