Alabama Football: 7 True Freshmen and 2 JUCO's Likely To Play in 2017
Ronald Evans/FanSided via Bama Hammer

Fansided
Alabama Football has 7 True Freshmen and 2 JUCO's likely to play in 2017. As many as 6 may become starters.
Alabama Football has vacant starter positions on the 2017 squad. Key positions on the offensive line, the defensive line and in the secondary are open to competition. Two and perhaps three key special teams positions must be filled as well.
The Alabama Football machine is fueled by competition. Every rep, every drill, every play provides a challenge, move up in the positional pecking order or slide down. Every minute in a game must be repeatedly earned in preparation. No player is guaranteed anything beyond the opportunity to compete with a roster filled with talent and determination.
There will not be a depth chart of any value until Monday of FSU game-week. Until then, we fans will scrutinize any morsel of information. A few days ago we took a look at the 7 redshirt freshmen who sat out 2016. You can read it here: http://bamahammer.com/2017/02/06/alabama-football-seven-freshmen-redshirts-2016/
Let's look now at 7 true freshmen and 2 JUCO transfers. In that group of 9 players, as many as six could be new starters in 2017.
The first two, true freshmen almost assured to start are Long Snapper Thomas Fletcher and Kicker, Joseph Bulovas. Cole Mazza and Adam Griffith must be replaced and Fletcher and Bulovas are expected to seize their chance to start.
Admittedly, Long Snapper videos, are a mite dry but this video of big-legged joseph Bulovas will excite Tide fans:
For those who somehow missed the abundance of details generated about these players on Signing Day: Fletcher, who is from Texas, before attending the IMG Academy, is an early enrollee. Bulovas, from Mandeville, LA was the No. 1 Rated Kicker coming out of high school. Bulovas is blue-shirting, which allows him to train as a walk-on until the first day of fall classes. After then he will play in 2017, on a 2018 scholarship.
Fletcher, to a to-be-determined holder, for the foot of Bulovas is likely to be a season-long Tide connection.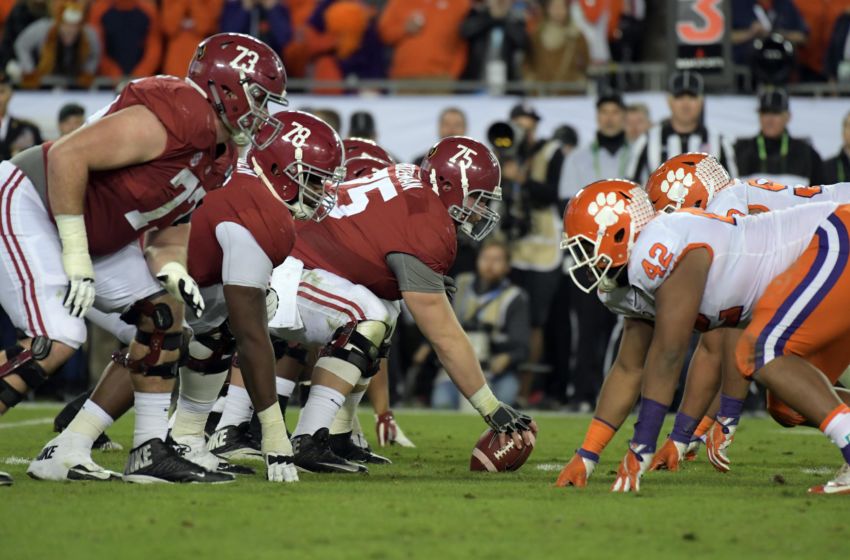 Alex Leatherwood – OT – True Freshman, Early Enrollee
Alabama must fill two openings on the offensive line. Alabama has an immediate need for a starter at tackle with Cam Robinson moving to the NFL. Following in the steps of an Outland Trophy winner would be a huge task for any freshman. It is possible that 2016 freshman, Jonah Williams may move from right to left tackle.
If Williams does not flip sides of the line, a likely starter at left tackle is true freshman, Alex Leatherwood. Leatherwood is 6′ 5″, 320 lbs. and a consensus 5-Star prospect coming out of Booker T. Washington High School in Pensacola, FL. Rivals and 247 Sports projected him the #1 OT in the nation. All of the major recruit evaluation groups rate Alex Leatherwood as one of the top ten overall prospects in the nation.
Leatherwood has the physical attributes to become an elite player. Check him out in action:
The most interesting observation in the commentary on Leatherwood was about his intensity and playing with a lot of anger.
Here is another video with commentary about Leatherwood's growing maturity seen at the Under Amour practices:
Alabama has consistently fielded future NFL quality left tackles for the last decade. Andre Smith, James Carpenter, Barrett Jones, Cyrus Kouandjio, and Cam Robinson had great Alabama careers. Only Andre Smith and Cam Robinson started at left tackle as freshmen. James Carpenter started in his first season with the Tide but he was a junior college transfer.
Alex Leatherwood has a chance in 2017 to have his name added to the prestigious group above.
Elliot Baker: OL – JUCO Transfer, Early Enrollee
Due to academic issues, Baker was not recruited out of Archbishop Riordan High School High School. With grade problems behind him, he was heavily recruited in 2016. Among others, Baker was recruited by LSU, Miami, Arizona State, Auburn, Texas A&M, Georgia, and Oregon.
Baker is 6′ 7″, 300 lbs. and can play guard or tackle. Elliot Baker was rated as one of the top JUCO players nationally and also the nation's #1 Junior College offensive lineman.
Alabama football places a high premium on dominating the line of scrimmage. In the second half of close games, the Tide prefers to rely on its power run game. For that run game to succeed, the big guys up front must be human road-graders.
Elliot Baker can be one of those road-graders for the 2017 Crimson Tide. His best opportunity to start is likely to be at right guard.
Take a look at these Baker highlights from his play at City College of San Francisco:
As the video shows, he is a physical player and similar to Alex Leatherwood appears to play with an aggressive attitude. He looks as though he could handle some additional weight. With him arriving in Tuscaloosa in January, the Crimson Tide strength and nutrition team have plenty of time to help him add muscle and power.
Isaiah Buggs: DE – JUCO Transfer, Early Enrollee
Coming out of Mississippi Gulf Coast Community College, Isaiah Buggs was heavily recruited by LSU, Auburn, Ole Miss, Mississippi Sate and other top programs. Both Scout and Rivals rated Buggs a 5-Star. Buggs was also the nation's #1 rated Junior College defensive end.
In a Signing Day post, we praised Buggs for pleasing Miss Terry with his artistic versatility. Maybe even better for the 2017 Crimson Tide defense is Buggs' football versatility. While he is primarily accustomed to playing on the edge, at 6′ 5″, 290 lbs., Buggs can move inside as well.
It is too early to proclaim Buggs as another Jonathan Allen, but he has the potential to be that type of player.
One reason for such optimism over Buggs' Crimson Tide future is his athletic ability. Buggs is very athletic. Basketball was his primary sport until midway through high school. It is his combined speed and strength that allows him to stuff runs as well as rush quarterbacks.
Take a look at these Isaiah Buggs highlights:
Buggs, like Elliot Baker, should add bulk and muscle through Alabama's strength and nutrition programs. By the time fall camp starts in August, Buggs should easily be over 300 lbs.
Isaiah Buggs is a MUCH needed addition to the 2017 Crimson Tide. While he may not be on the field for the first defensive play against FSU, expect Isaiah Buggs to be a key part of Alabama's defensive line rotation.
Tua Tagovailoa: Dual-Threat QB – True Freshman, Early Enrollee
We Alabama fans have a long-standing habit of anointing backup QB's as "Warrior/Saviors." Such practice is eerily similar to a Biblical Second Coming. Even before arriving on campus in January, some in the Alabama fanbase wanted Tua to leapfrog Jalen Hurts at the first spring practice.
His full name is Tuanigamanuolepola Tagovailoa. Lucky for Uncle Verne that he decided to retire before Tua hit the SEC gridirons. Tua was pursued by every top west coast program, plus LSU, Texas A&M, Texas Tech, North Carolina, Louisville, and Nebraska. Oregon had perhaps the best chance to sign him since Tua has been mentored by the Hawaiian legend, Marcus Mariotta.
Tua is a devout Christian, a member of an extended family that worships together every day. His Grandfather, Seu is the person Tua credits with inspiring both his spiritualism and passion for football.
When Tua was growing up, Seu would tell him the story of the lion and the gazelle. As Alabama fans, we know that story well because it is one of Nick Saban's favorites. The actual quote is from Christopher McDougall's book, Born to Run: A Hidden Tribe, Superathletes, and the Greatest Race the World Has Never Seen:
"Every morning in Africa, a gazelle wakes up, it knows it must outrun the fastest lion or it will be killed. Every morning in Africa, a lion wakes up. It knows it must run faster than the slowest gazelle, or it will starve. It doesn't matter whether you're the lion or a gazelle-when the sun comes up, you'd better be running."
It is no wonder that Tua and Saban bonded so closely during recruitment.
Take a look at some Tua highlights:
With Jalen Hurts, Tua Tagovailoa and Mac Jones, Alabama has the best quarterback trio in college football. Can Tua start as a true freshman? That remains to be seen and watching the development of all three of the Tide quarterbacks is going to be a joy.
Najee Harris: RB – True Freshman, Early Enrollee
Alabama Football has no shortage of running backs. The four who got the most snaps in 2016 all return. Damien Harris, Bo Scarbrough, and Josh Jacobs were impressive, each of them averaged over 6 yards per carry. In a limited role due to an early injury, B. J. Emmons also did well.
In the 2017 recruiting cycle, running back was not a big need for the Tide. Alabama chose to add to the stable. And what a stable mate he is. Najee Harris, 6′ 3″, 225 lbs. was a consensus 5-Star, rated by Rivals and Scout as the overall No. 1 player in the nation.
At Alabama, not even the nation's #1 rated running back recruit, is given anything but opportunity. Opportunity to be challenged, to compete, to learn how to work as a champion. Many 5-star recruits look for more. Playing time matters and some expect a guarantee they can start. The Alabama recruiting machine filters out those "me first" guys. Many other schools are glad to accept them.
Najee Harris could have chosen any school. Many head coaches would have gladly guaranteed him a starting role. But Harris chose to join a deep Alabama backfield, knowing full well his 5 stars would gain him nothing in Tuscaloosa.
That Harris chose the most demanding path available tells us much about the young man. Coaches across the nation marveled at his combination of size and the speed. Over the next few months, we will learn if he has the dedication, work ethic, and toughness.
Check out these Harris highlights:
How much Najee Harris plays in 2017 is a mystery. He could watch the entire season from the sideline and in future seasons become a Crimson Tide great. If he beats out guys with experience and earns significant play in 2017, he will be a special player.
UPDATE: Tide running back, B. J. Emmons tweeted on Feb. 10 that he will have a second surgery on his foot. He is expected to return for fall camp but may miss spring training.
Jerry Jeudy: WR – True Freshman – Early Enrollee
Alabama Football Recruiting has been blessed in recent years with a south Florida pipeline that produced Amari Cooper and Calvin Ridley. Jerry Jeudy and fellow commitment Vandarius Cowan are the latest.
Jeudy is a dynamic player who some believe compares to Amari Cooper in terms of footwork and route-running.
Jeudy was heavily recruited and the Tide's biggest threats were FSU, Florida, and Miami. Reports give Ridley much of the credit of persuading Jeudy to come north to Tuscaloosa.
Ridley was not the only player working on Jeudy. At Nike's The Opening Finals, Tua Tagovailoa was said to have persistently urged Jeudy to pick Alabama.
Rivals and 247 Sports rated Jerry Jeudy as a 5-Star. The Crimson Tide signed four highly touted wide receiver recruits for 2017. Besides Jeudy, the Tide signed Tyrell Shavers, DeVonta Smith, and Henry Ruggs III. All of them will have a chance to compete, but Jeudy is probably the player most ready to step in quickly.
Tyrell Shavers needs to add a good bit of weight to his 6′ 6″ frame. Smith and Ruggs are not early enrollees. Jeudy will have a big head start over the other three freshmen.
Check out these Jeudy highlights:
At 6′ 1″, 178 lbs., Jeudy will need to bulk up some for SEC play. If he can get physically strong enough, soon enough, expect to see him in the 2017 wide receiver rotation.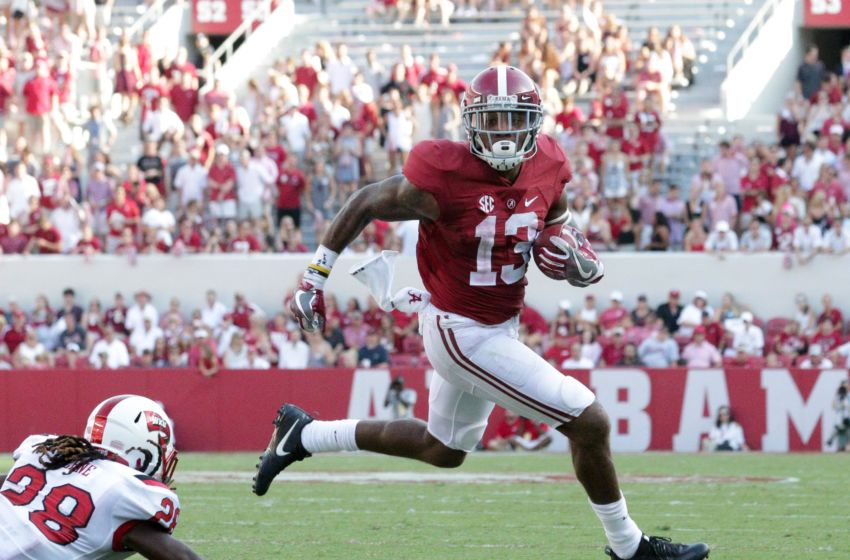 Chadarius Townsend: Athlete – True Freshman, Early Enrollee
Looking for another Ardarius Stewart. Tide fans may not have to look too far. He is already on campus and he may become the biggest surprise of the 2017 signing class.
Chadarius is a 4-Star recruit from the small town of Tanner, Al, just north of the Tennessee River. Maybe you have not heard of him. Tanner High School is a 2A school and doesn't garner much attention.
Chadarius Townsend was a touchdown scoring machine playing quarterback at Tanner High School. Alabama Football has plenty of position options with Chadarius. He could play on either side of the ball at Alabama. And he will remind Alabama fans of Ardarius Stewart.
Townsend visited Auburn prior to committing to Alabama in July 2015. Florida offered Townsend last summer, but Townsend never seriously considered any other schools.
He made numerous visits to Alabama before enrolling in January. Chadarius' father, Dale Townsend never really plugged into the normal recruiting whirlwind. Josh Bean, Josh Bean | jbean@al.com wrote a funny Townsend recruiting story:
"Chadarius laughs about a visit to Alabama in which his dad referred to Alabama offensive coordinator Lane Kiffin as "Coach Lashley" in a face-to-face conversation, mistaking him for Auburn offensive coordinator Rhett Lashley. "He started turning red," Dale said. "I took a picture and thought, 'Why is he turning red?"
It didn't matter. Chadarius was all-Alabama and Alabama was sold on him. Take a look at this exciting player in action:
Townsend will not play quarterback at Alabama, It will be some time before it is determined if he is primarily an offensive or defensive player. If Trevon Diggs does not make big improvements as a returner, don't be surprised to see Chadarius Townsend take over that role.
Nine young men, seven true freshmen, and two JUCO's.
Before the season is over don't be surprised if five or six 2017 starters come from this group of players.
This article originally appeared on