CFB AM: Auburn fans can finally take shot at infamous Harvey Updyke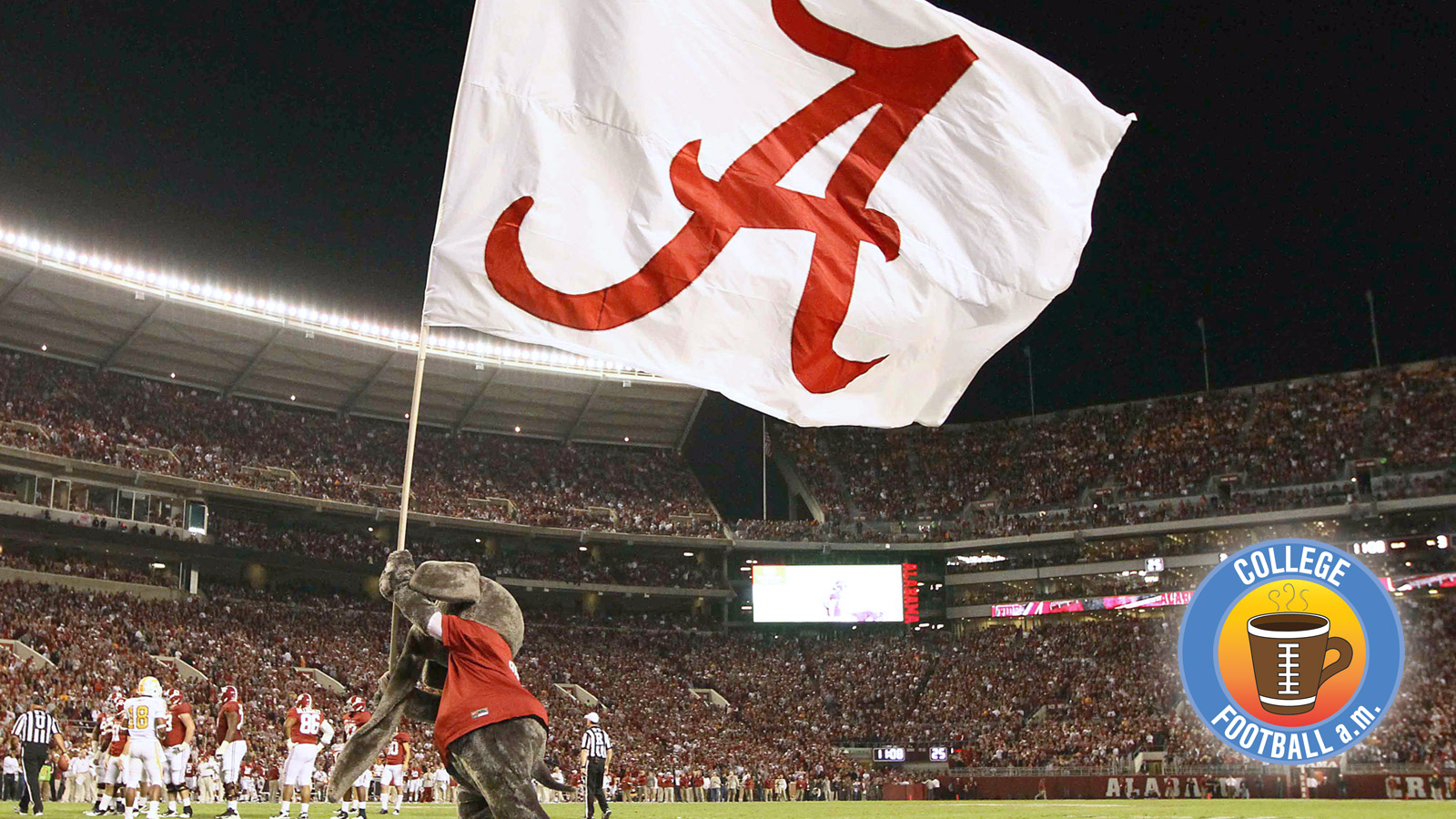 UPDATE: Updyke's appearance at the event has been cancelled in fear that it was taking away from the purpose of the event, which is to raise awareness for children's cancer. This post appears as it was originally written.
Harvey Updyke will forever be remembered for killing trees.
The infamous Alabama fan poisoned the sacred oaks at Auburn's Toomer's Corner in 2010 and then broadcast his crime to the nation over the radio.
He was arrested in February 2011 and pleaded guilty in March 2013 to one count of unlawful damage of an animal or crop facility, which earned Updyke a five-year probation, nearly $800,000 in fines and a lifetime ban from attending any college sports event or stepping on the Auburn campus. The trees were removed last spring.
It's a crime that will almost certainly never be completely forgiven in Auburn, but maybe there's a way for Tigers fans to get some temporary – and, more importantly, legal – revenge against Updyke.
In September, Updyke has agreed to appear at a charity event in Mobile where Auburn fans will be able to drop him in a dunk tank and throw pies at his face.
"He thought about it and thought about it," Updyke's wife, Elva, told ESPN. "His daughter said he needed to do it because it will show that he's not as big of a nut as some people believe. He told them they can do whatever they want to him if it will raise money for kids."
The event was organized to raise money for the family of a boy who died from cancer in July. T.J. Hodges, an Alabama fan, started the nonprofit organization Roses From Linda that is running the event Updyke will attend.
"The Harvey Updyke idea came from me thinking outside the box to raise money for the family," Hodges told ESPN. "I thought I'd take a chance and see if Harvey was interested in helping, and he said he'd do whatever we wanted."
Updyke, who's banned from speaking to the media, realizes the scene in Mobile will likely be hostile, as he expects many Auburn fans to show up to take shots at him. "He knows there's going to be a lot of Auburn fans there, but he doesn't care," his wife said. "He's 65 years old. What are they going to do to him? They'll have security there."
Good luck, Harvey.
THREE THINGS YOU NEED TO KNOW
1. There's some awful news out of Ohio: Kent State starting center Jason Bitsko, 21, unexpectedly died on Wednesday. He was found unresponsive in his apartment around 9 a.m. after calls were placed to his roommate when Bitsko failed to show up to practice. According to the school, police are saying Bitsko passed away from an "undetermined medical issue."
Bitsko started all 12 games last season and received an award this spring for the player who best exemplifies hard work and dedication. "Kent State University and the entire Kent community mourns his passing," said Joel Nielsen, the school's athletic director. "We are heartbroken by the news of Jason's death. Our thoughts and prayers go out to his family, friends, teammates and everyone whose lives he touched."
Said coach Paul Haynes: "Our players, coaches and everyone involved with our team are hurting because he was family. As a team, we will come together and get through this one day at a time."
Condolences to the Bitsko family and the Kent State program.
2. There's never a good way to transition from news like that to lighter stories, but we'll try: The UCF-Penn State season-opener in Dublin, Ireland, next week could be in jeopardy "because of a possible volcanic eruption in Iceland." I swear this is not an Onion story – that's a real sentence from a real person working for the Associated Press. On Wednesday, reportedly 500 people were evacuated from the highlands part of a glacier after thousands of small earthquakes. Why is a game in Ireland threatened by a volcano in Iceland? Logical question.
According to the AP, "a volcanic eruption in Iceland could produce volcanic ash and potentially affect flights to Europe. More than 100,000 flights were cancelled following the 2010 eruption of the Eyjafjallajokul volcano." No, that is not a misspelling.
3. One week from today, Texas A&M-South Carolina, Boise State-Ole Miss, Temple-Vanderbilt, Rutgers-Washington State and other games. One week. Until a weeknight with multiple college football games. Oh my.
THREE THINGS YOU SHOULD KNOW
1. Bo Pelini and Nebraska players did a wonderful thing for 8-year-old Jack Hoffman. A Huskers superfan, Hoffman recently learned his cancer returned after being in remission since last October. So the Cornhuskers decided to record a special message for him as he prepares for his next phase of treatment. Watch the video here.
2. Bruce Feldman and Stewart Mandel preview the Big 12. I can't wait to watch Davis Webb at Texas Tech and Tyreek Hill at Oklahoma State. Oh, and in the least surprising news of the column, it appears as if Baylor has added another explosive weapon on offense. Feldman also went all-access with Kliff Kingsbury for a TV piece, which you can watch here:
3. Washington made efforts to strengthen its future non-conference schedules, striking series agreements with BYU (2018-19) and Michigan (2020-21).
THREE THINGS YOU MAY WANT TO KNOW
1. The 2014 college football guide from SB Nation has just an amazing amount of content in it. All 128 of Bill Connelly's team previews are there, plus Spencer Hall previews all 112 SEC games in a hilarious fashion. I also really enjoyed this Connelly piece on the blueprint for rebuilding a program. If you want a crash-course in 2014 prep in the next week, I'd dive in here.
2. Jeff Greer has some insight into Will Gardner, the man who will replaced Teddy Bridgewater as Louisville's QB this fall.
3. LSU Tigers did a nice thing and helped some freshmen students move into college dorms for the first time
LASTLY
* Missouri's defensive coordinator tried to teach his players how to Dougie.
* Southern radio host Paul Finebaum did the Ice Bucket Challenge, and his reaction in this video is priceless. It's like he got buckshot to the back rather than water.
* Arizona State OC Mike Norvell was mic'd up at a recent practice.
* Tampa Bay Buccaneers coach Greg Schiano sold his home near Rutgers for $1.35 million, a record in Piscataway, New Jersey,
* A day in the life of Mississippi State strength coach Rick Court, by Bob Carskadon.
* This is an awesome highlight video from a Clemson fan celebrating the return of college football that will get you fired up for kickoff next week. Football is back!
Have a great Thursday, all.
Teddy Mitrosilis is an editor and writer for FOXSports.com. Follow him on Twitter @TMitrosilis and email him at tmitrosilis@gmail.com.