Alabama, LSU, Ohio State and the top five QB battles of 2015
Going into the offseason, the talk around quarterback battles has been intense, beginning with the situation the reigning national champion Ohio State Buckeyes face after Cardale Jones decided to come back to school.
There are multiple talented teams that could be landing spots for big-time potential transfers in Ohio State's Braxton Miller and Notre Dame's Everett Golson. We also have two Heisman winners and arguably the best players in their program's history in Oregon's Marcus Mariota and Florida State's Jameis Winston who need to be replaced.
These battles and potential transfers will help shape next year's College Football Playoff and decide who is standing with the trophy in Arizona at the end of the season.
Here are the most important quarterback battles heading into 2015.
5) LSU Tigers
Under Les Miles, the Tigers have done an excellent job of recruiting top talent. They will be loaded with players on both sides of the ball who got valuable experience last season when LSU was among the youngest teams in college football. The one consistent thing that has eluded the program is a star quarterback. Last season Anthony Jennings completed just 48.9 percent of his passes, finishing the season with just 11 touchdowns and seven interceptions. The much talked about freshman Brandon Harris couldn't beat Jennings out, and when he did get in he wasn't impressive.
The consensus is that Jennings won't be the answer, but who is? Unless Harris can take a large step forward in his development, Jennings may win the job by default. LSU is in a prime position for a transfer, as Miles would have a much easier time getting his team to reach its potential next season with someone more experienced who can distribute the ball to talented wide receivers Malachi Dupree and Travin Dural.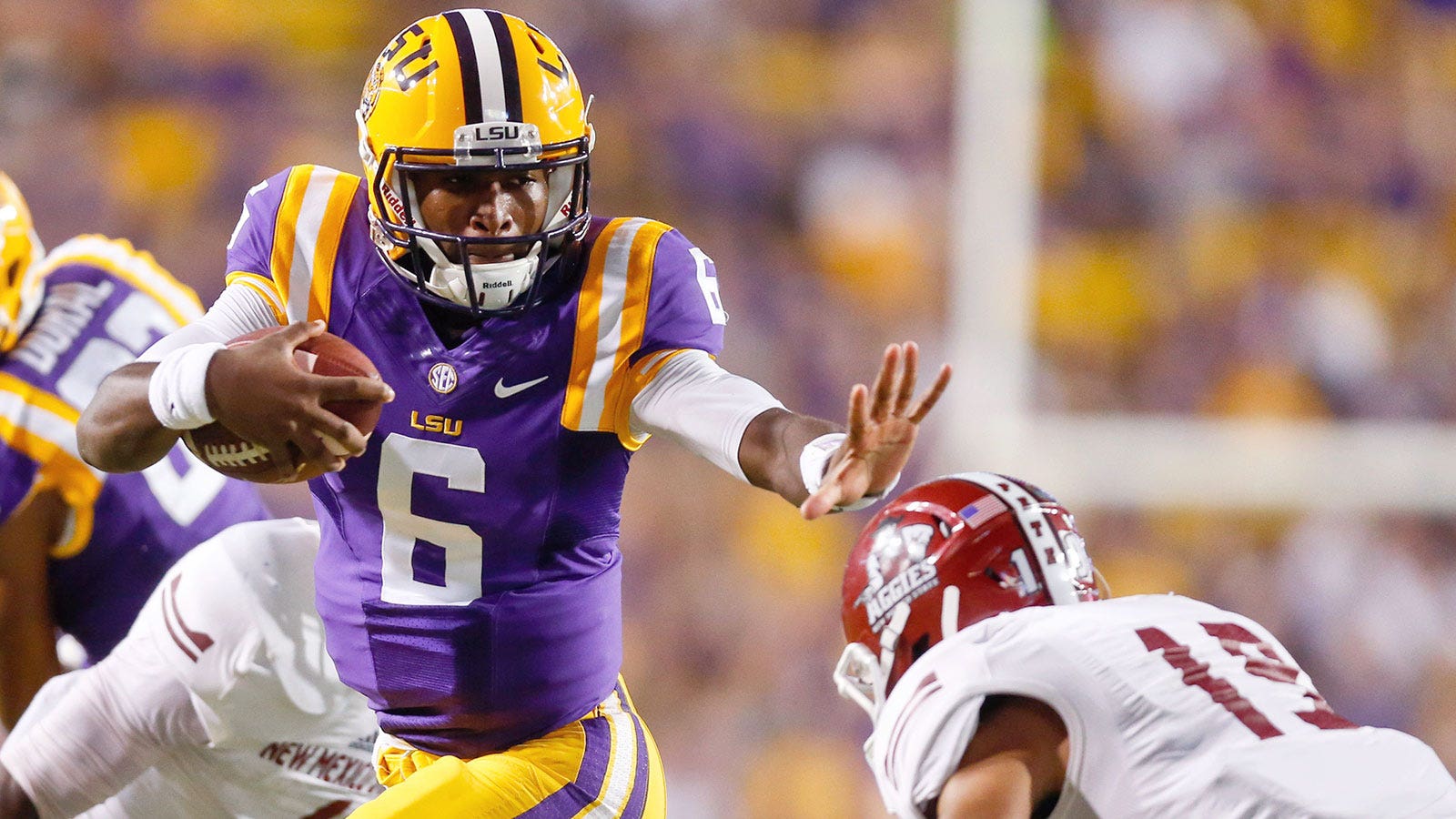 4) Oregon Ducks
It is no easy task replacing a player the caliber of Mariota, who's among the greatest college football quarterbacks of all time. In his three years in Eugene, he had an astounding 10,796 yards and 105 touchdowns. He also rushed for 2,237 yards and 29 touchdowns. To cushion the blow, the Ducks will return an array of skill position players and get WRs Devon Allen and Bralon Addison back from injury. Jeff Lockie, who will be a junior next season, is the odds-on favorite to win the job. He has been Mariota's backup for two years, completing 29-of-41 passes for 264 yards and one touchdown. It's concerning he doesn't have more game experience given some of the blowouts Oregon has been in.
Two names to keep an eye on: Morgan Mahalak and Ty Griffin. Mahalak will be a redshirt freshman and was a four-star recruit coming out of high school in 2014. Griffin is a transfer from Georgia Tech, which is known for attracting athletic quarterbacks in its option offense. He will be a true sophomore but could be considered too raw to assume the position. This is another potential landing spot for a transfer QB, but don't underestimate how difficult it would be to pick up the Ducks' offense in just one spring of football.
3) Florida State Seminoles
Florida State, like Oregon, has huge shoes to fill. Jameis Winston may have been a headache off the field, but he was money on it. He lost one game during his college career and picked up a Heisman Trophy during his time in Tallahassee. There are lots of options for Jimbo Fisher to choose from here, but there isn't one guy who makes the Noles instant national title contenders like Winston did. Of the players on the roster, Sean Maguire would likely start for FSU if it played tomorrow. He performed admirably in relief of Winston in the Clemson game, going 21-of-39 with 304 yards, one touchdown and two interceptions against one of the nation's best defenses. But does Fisher see him as the future of the program?
FSU could turn to J.J. Cosentino, the 2014 four-star pro-style quarterback out of Pittsburgh. He is a bit of a legend after a video went viral of him throwing a ball over a four-story building on FSU's campus. He has arm talent, but will he be ready? The Seminoles also have commitments from three 2015 quarterbacks who are all highly touted, but don't expect them to come in as true freshmen and win the job. Braxton Miller has been famously recruited by lots of people to come to Tallahassee, and this could be a good landing spot for him to bridge the gap until Cosentino is ready.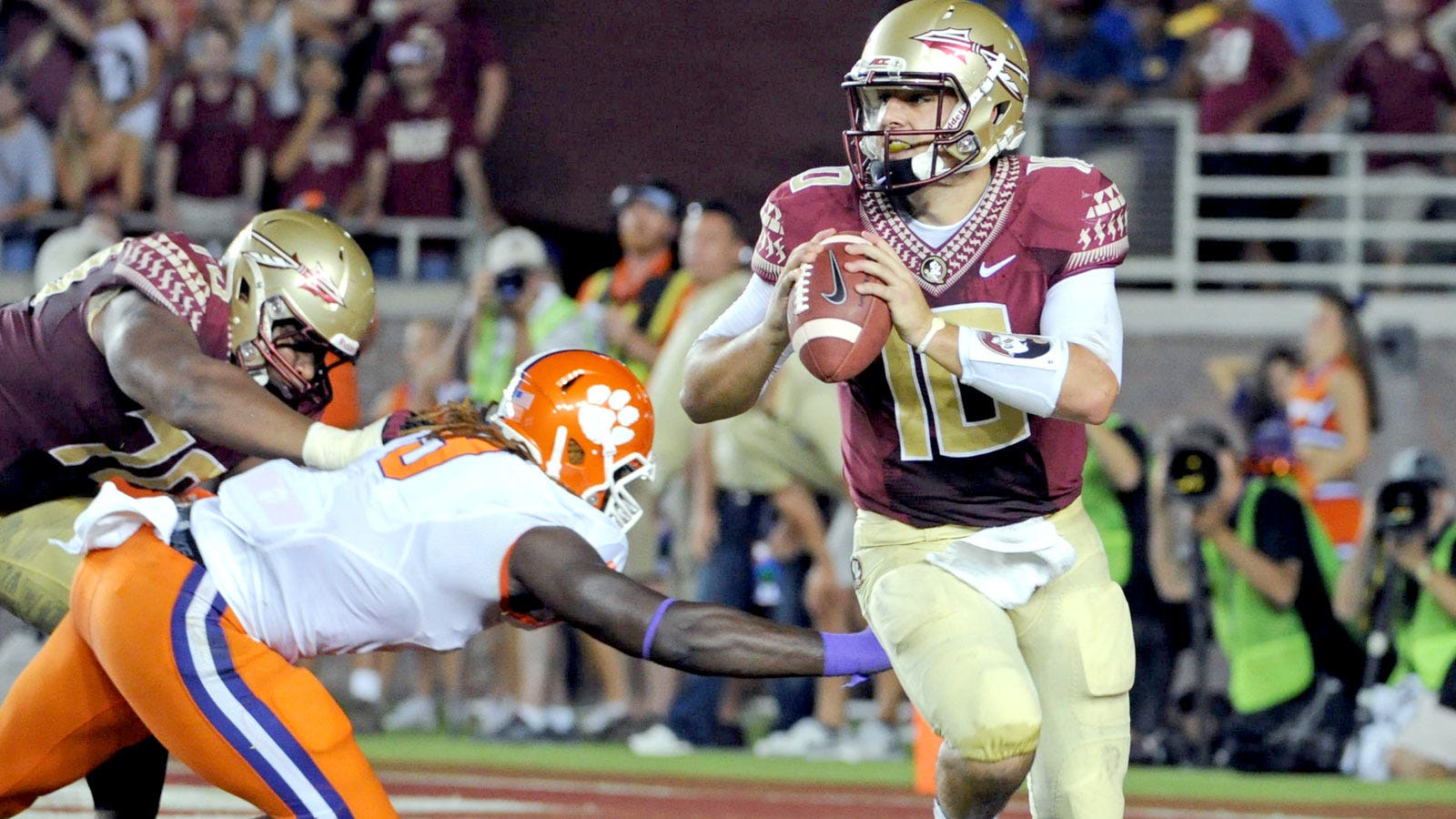 2) Alabama Crimson Tide
You won't find a lot of experience in this battle. However, because of Nick Saban's streak of No. 1 recruiting classes, you will find lots of talent. Whoever gets the keys to the Alabama Ferrari will not have played more than a year of meaningful football at the college level. The de facto starter is Jacob Coker. It was assumed that Coker would walk in as a transfer last season and win the job, but Blake Sims proved to be very capable. Coker did show promise last season in limited time but also looked confused on calls at times. If he is going to win the job, he will need to take a step forward in his development. Alec Morris seemed to be the guy before Coker's transfer and Sims' emergence. He has often been compared to Greg McElroy and, like Coker, is known for his big arm. Expect him to factor in heavily based on his experience with the offense.
There are two wildcards: Redshirt sophomore Cooper Bateman redshirt freshman David Cornwell. Bateman was a star in last year's spring game and gives the Tide a run/pass combo at the position, as he simulated Dak Prescott on the scout team. Cornwell was last year's big-time quarterback prospect but is coming off a knee injury. He will also have to sway Saban away from traditionally going with older quarterbacks.
1) Ohio State Buckeyes
The team that now famously won the first-ever College Football Playoff with its third-string quarterback will have the most important battle in 2015. Cardale Jones burst onto the scene by beating Wisconsin, Alabama and Oregon consecutively after J.T. Barrett went down. Naturally, the guy who helped lead the team to a national championship would win the job, right? Not necessarily. Let's not forget that before Barrett went down, he had 2,834 passing yards and 938 rushing yards along with 45 total touchdowns.
There is also the old adage in sports that you can't lose your job to injury, but if that is the case, where does that leave Braxton Miller? The senior is trying to come back from a bad shoulder injury and may want to return to Ohio State to reclaim the job he lost to Barrett because of injury. It's much more likely that Miller moves on, though, and we are looking at a two-man race. Jones may have the advantage as Barrett rehabs from a fractured ankle, but either could win this job. At this point, we have to trust Urban Meyer's judgment in quarterbacks.