CFB AM: Bama fan ruins perfectly good car out of love for the Tide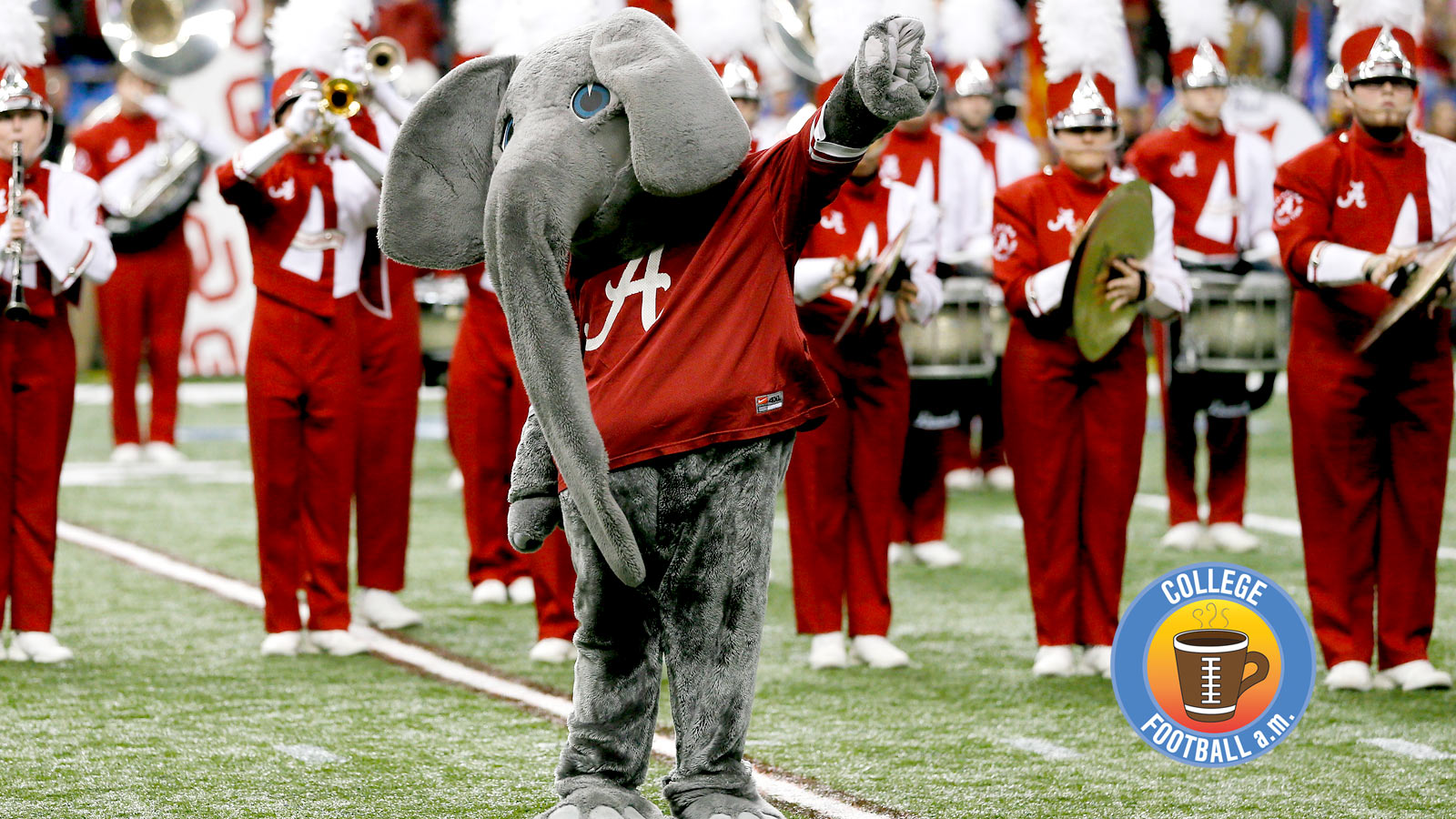 Alabama Crimson Tide fans continue to prove their love for their football team is unmatched by any other program out there.
Yes, sometimes this means doing insanely irrational things – like destroying precious trees – but most of the time the displays of fandom are positive. I give Tide fans respect in those instances.
So, here's the latest expression of extreme Bama pride.
Some fan turned their Volkswagen Beetle into the Alabama mascot by placing a massive elephant head on the roof and painting Bama things on the hood.
The car was spotted at a gas station in Anniston, Ala. Check it out:
@finebaum saw this in Anniston,Al.!!! Roll Tide Pawwl!! pic.twitter.com/R4N1MPBFum

— WAYNE KING (@soldiermed) September 17, 2014
@finebaum another pic of the car in Anniston,Al! #drowningintheTIDE pic.twitter.com/20oil9IlUe

— WAYNE KING (@soldiermed) September 17, 2014
Now, that was a perfectly good car. Looked pretty clean, nice paint. But what good is it with a massive elephant on top (besides parking at gas stations)? Wouldn't you worry about overpasses? Young neighborhood children? Seems impractical.
I guess it could be worse. The fan could have tried to attach Nick Saban's head to the roof, which would have just been creepy.
THREE THINGS YOU NEED TO KNOW
1. In the Things That Never Change department: Florida State quarterback Jameis Winston did something he shouldn't have, got suspended for the first half of the Clemson game and apologized with tired words and bravado. Here's Bruce Feldman's column on why Winston is missing the whole point of what the past year is supposed to have taught him.
I gotta say: I'm about at my max Winston fatigue, which is a shame because the guy is a really good football player and entertaining to watch. But it's just old to see him do something stupid, say "I made a mistake and I have to accept it and need to be better" and yet nothing ever changes. The most comical part of his press conference on Wednesday was when he said they "overcome adversity" at Florida State, which the Seminoles have to do now, as if Winston being a dumbass is some external factor levied on the team with which it now must bond together and overcome. Oh, please. When coaches preach about overcoming adversity, they don't mean create it yourself and then back your way out of it. All of this is Winston's own fault, and at this point every apologetic press conference of his has totally lost meaning.
I hate to be so cynical, but this is where we are. Just stop talking and start doing the right things. Then we'll appreciate your football talent, your teammates won't have to answer for the nonsense and you can continue on your way to a promising pro football career.
2. The quarterback who truly deserves the attention is Texas' David Ash. After meeting with head coach Charlie Strong, Ash decided that it's in his best interest to give up playing football. He's suffered multiple concussions and can't seem to shake those symptoms. Ash and his parents and doctors had to make the call, but from the outside it seems like the correct one. He will still be around the program to help mentor younger players and will get the opportunity to pursue a coaching career if that's what he wants.
Former Texas hoops player and current Oklahoma City Thunder star Kevin Durant sent out a nice Tweet in support of Ash.
Thank you David Ash, you gave your all to the University of Texas. I respect your decision and good luck in the future my brother

— Kevin Durant (@KDTrey5) September 17, 2014
Also enjoyed this well-edited video from the Longhorn Network crew that covers Ash's entire Texas career in six minutes.
Best of luck, David.
3. When No. 5 Auburn plays No. 20 Kansas State tonight, the Tigers will be without safety Jermaine Whitehead, who did not travel with the team after reportedly getting into a verbal dispute with a coach. As a senior and anchor of Auburn's secondary, it's a significant loss for the Tigers as they will now likely have to lean on more contributions from true freshmen against a Kansas State team that will move the ball.
Also related to the game: I love this map of how far Kansas State fans are traveling to get to Manhattan for this game. Wildcats supporters coming from 35 states and Lebanon!
UPDATE: #KState fan map for Auburn game now represents 35 states and three continents: pic.twitter.com/Bj5MULoca3

— Tyler Dreiling (@TylerDreiling) September 17, 2014
THREE THINGS YOU SHOULD KNOW
1. If you have some time to spend with a long but high-quality piece, I'd highly recommend you give this oral history of the 2001 Miami Hurricanes by Aaron Torres a look. It's a great window into arguably college football's best team ever.
2. Ed Orgeron, the former USC coach and overall lovable character, had a chance to get back into coaching this week and turned it down. After Nicholls State coach Charlie Stubbs resigned this past Sunday because of health reasons, AD Rob Bernardi reached out to Orgeron to see if he was interested in taking over the program for the rest of the year. Orgeron wants to get back to coaching beginning next year but said he has committed this season to his wife and kids and wants to give them the family time they've missed out on for so long. Good for Coach O, who should have various opportunities to join major programs next year as some kind of assistant coach. If he's steadfast on being a head coach, the options will be more limited.
3. West Virginia announced earlier in the week that CB Daryl Worley had been suspended for the game this weekend against Oklahoma for violating team rules. On Wednesday, he was arrested on a charge for battery of a woman. It never stops, this two-week stretch from sports hell.
THREE THINGS YOU MAY WANT TO KNOW
1. Texas and Michigan agreed to a home-and-home series for 2024 and 2027. That's 10 and 13 years out if you can't do the math. Both programs could return to championship caliber, fall and rise up again before that series is played.
2. As we noted in Wednesday's CFB AM, Boston College honored Welles Crowther last weekend against USC by wearing a red bandana theme on their uniforms. It was supposed to be a one-time thing, but coach Steve Addazio said on Wednesday that BC will keep the uniforms for the rest of the season to honor Crowther. Nice gesture – and a smart move by Addazio if the uniforms make his players feel even 5 percent more inspired.
3. After 37 years, Jim McMahon will graduate from BYU, which makes him eligible for the Cougars Hall of Fame. Congrats, Jim.
LASTLY
* UCLA quarterback Brett Hundley was back at practice on Wednesday and appears fine to start next Thursday's game at Arizona State, but coach Jim Mora was trying to confuse everyone on his QB plan.
* Marcus Mariota answered some questions from Oregon fans.
* Jeff Barlis offers some insight into Will Muschamp and the adversity he's overcome in his life. A good saying he picked up from his dad: "Life is 10 percent what happens to you and 90 percent how you handle it."
* This is really nice work by Oregon's video team putting together a hype video for the Ducks.
Oregon Football Motivational vs Wyoming "Crank That" from OregonVideo on Vimeo.
Have a great Thursday, all.
Teddy Mitrosilis is an editor and writer for FOXSports.com. Follow him on Twitter @TMitrosilis and email him at tmitrosilis@gmail.com.