Auburn-Alabama: Three battles that will decide who wins the Iron Bowl
While every rivalry game features two teams slugging it out for the sake of their school's reputation and pride, the most memorable of such matchups often reveal an individual who seizes the moment to produce a heroic performance that allows his team to triumph over their most despised foe.
In last year's Iron Bowl — one of college football's most tantalizing rivalry games — it was Chris Davis' game-winning, 109-yard touchdown return on a last-second missed field goal attempt by Alabama that produced not only the victory for Auburn, but one of the greatest and most memorable plays in college football history.
This year's edition of the iconic rivalry probably won't be as memorable as that, but someone, be it a player or coach, will rise up and determine the outcome of the game.
Let's take a look at just a few of the many key matchups in this game that will decide if No. 1 Alabama or No. 15 Auburn wins this year's Iron Bowl.
Alabama OC Lane Kiffin vs. Auburn DC Ellis Johnson
Auburn defensive coordinator Ellis Johnson's defense has struggled greatly in the second half of the season. They allowed 35.8 points per game against SEC opponents in their five games prior to last week's virtual bye against Samford — a number that would rank 110th out of the 125 FBS schools at this point in the season. They also allowed an average of 470.8 total yards of offense in those five games, which would rank 111th in the current rankings.
While Auburn's offense is capable of putting up points, is the defense able to put enough stops together to give the Tigers a chance at victory?
For as much (deserved) criticism as Alabama offensive coordinator Lane Kiffin gets, the dude knows how to create mismatches — finding ways to put his best playmakers in position to make big plays — and how he tries to exploit the Tigers will be fun to watch. Here's a look at something Kiffin has done all season to create mismatches and attack defenses.
In the first photo from Alabama's game against then-No. 1 Mississippi State, notice Amari Cooper lined up tight to the formation at the bottom of the screen in a "nasty" formation. Most often, receivers are placed at this position to run a shallow crossing pattern. Also, there is another receiver aligned inside of the tight end toward the top of the screen.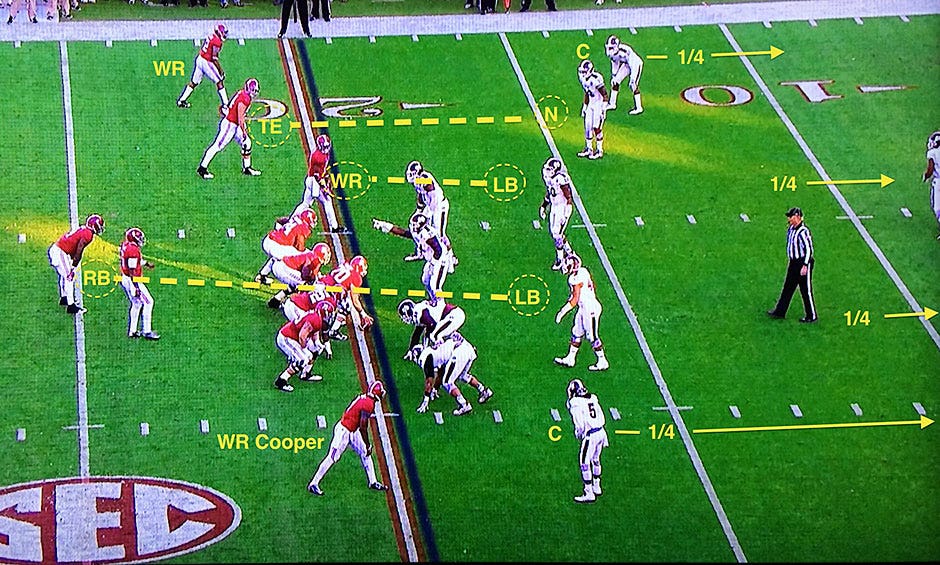 Why is this significant?
Mississippi State's defensive coordinator called quarters coverage here, which puts the three underneath defenders in a match-zone situation against the inside three receivers. The quicker nickel back (N) aligns to the speed receiver side of this personnel grouping, but because the receiver is aligned inside the tight end, it forces the linebacker to have to match a speedy receiver in the No. 3 position while the more athletic nickel back is stuck on a slower tight end at the No. 2 position. Mississippi State should have checked out of this coverage.
Kiffin then compounds the problem by motioning his running back out of the backfield to the bottom of the screen to create a five-wide receiver set. That means the linebacker to the bottom of the screen now has to bump out to match a receiver (Cooper) at the bottom of the screen, too.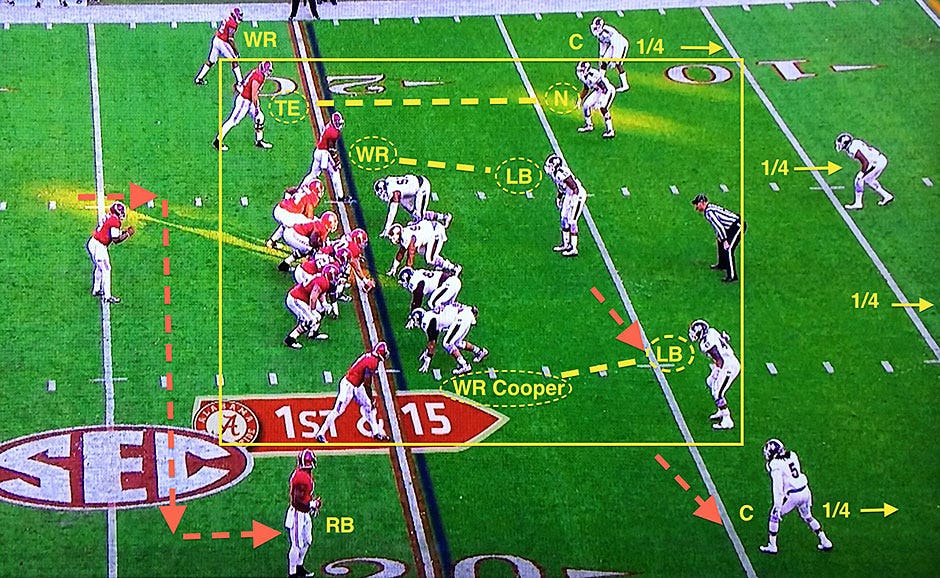 In the photo above, Kiffin's formation and motion created a situation where there are now two linebackers matched with two wide receivers (not good) while the nickel back and a speedy cornerback ("C" at the bottom) are being wasted in coverage on a tight end and a running back. The area that Sims is looking to attack is highlighted by the yellow box, and he likes what he sees with Cooper matched up on a linebacker in the slot.
Because Mississippi State did not check out of quarters coverage on this play, Kiffin trapped the Bulldog defenders in an horrible situation. Here was the result — an easy pitch and catch from Sims to Cooper with a linebacker looking like a fish out of water trying to cover him: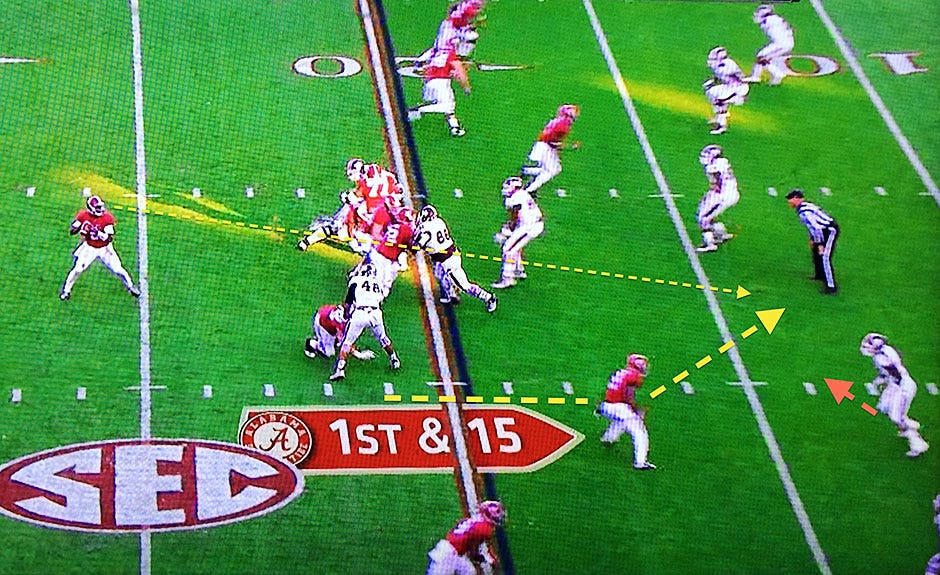 Simply, Kiffin's formation and motion forced a linebacker to be matched up on Cooper in the slot. Had the defensive coordinator installed a check, which would have gotten his defense out of that unfavorable situation, it would have made the easy reception much more difficult.
Based on some of Kiffin's playcalling tendencies seen in film study, defensive coordinators should check to Cover 2 in certain situations when playing Alabama. One of the situations is the one we just looked at: 11 personnel (one TE, one RB, three WRs) with a receiver at the No. 3 position or as soon as Cooper is aligned in a "nasty" position. This would allow for five defenders (instead of three) to cover underneath zones in landmark zone drops instead of having to "match" any specific offensive player.
How Johnson calls this game against Kiffin — and whether or not he prepares his defenders to make checks based on the formations they see — will play a huge role in whether or not his players are in an ideal position to make plays against the Tide's talented playmakers like Cooper.
Alabama S Landon Collins vs. Auburn play action
Emotions will be high in this rivalry game. It will be played in primetime, and the Tide will be thinking about both the playoffs and revenge. But Alabama players — especially Landon Collins — must keep their focus.
"We have a little chip on our shoulder," Collins said earlier in the week.
Collins is one of the best safeties in all of college football. His role — more than in other games — will be vital on Saturday. The Tide will likely use heavy doses of Cover 4, because it's simply the best coverage to play against Auburn. In that coverage, safeties — like Collins — are the key, as they are asked to play the run aggressively but also match deep routes by wide receivers if it's a pass. But one bad and unfocused read by a safety could torch the defense.
Auburn confuses safeties that don't play focused and disciplined in that coverage with their outstanding run game. If Collins doesn't keep his focus he won't read his keys, and receivers like Sammie Coates or D'haquille Williams will make huge plays downfield.
Here's an example of how one of college football's best safeties — Ole Miss' Cody Prewitt — got burned by not focusing on his keys when the Rebels played Auburn.
In the first photo, Prewitt is circled in yellow. His key is the offensive tackle who — at the snap of the ball — will show Prewitt either "low hat" or "high hat." Low hat means the lineman is firing off the ball to run block, in which case Prewitt attacks the line of scrimmage to stop the run. "High hat" means the lineman is setting back in pass protection, in which case Prewitt has to play any receiver that runs a route deeper than 10 yards in his area.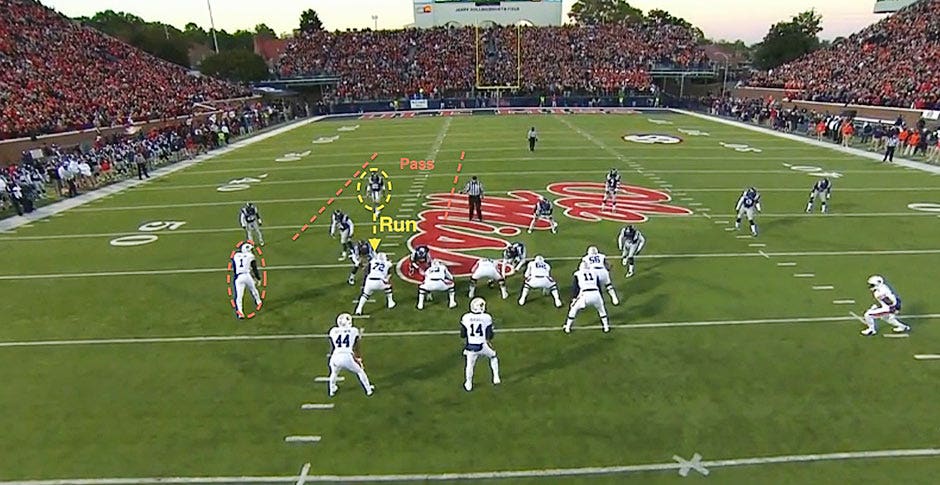 In the next photo you can see that Auburn is running a fake jet sweep, but the offensive lineman is showing a high hat while Williams (No. 1 in red circle) is starting to release upfield on a route.
Prewitt's eyes should be solely on his key — the offensive lineman — and nothing else at the start of the play.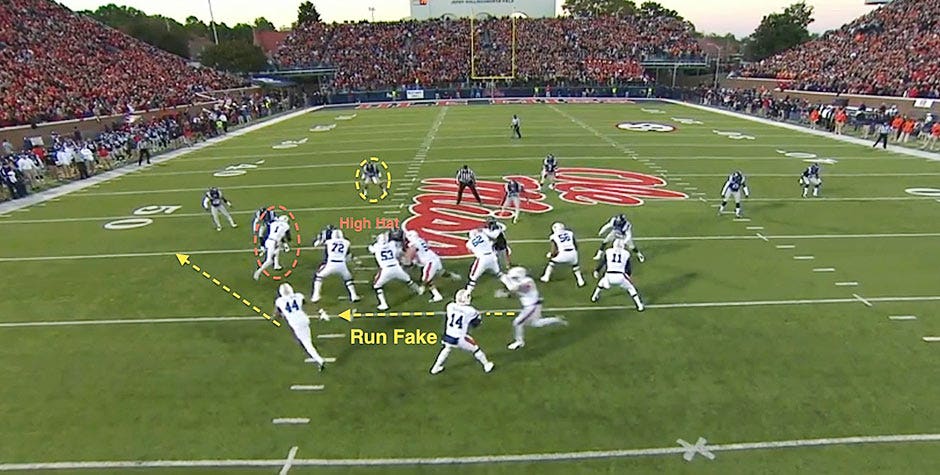 In the last photo, you can see that Prewitt got himself out of position to play the deep route by Williams because he was not focused on his key.
His key was showing him pass — telling him to stay deep in his zone for pass coverage — but he was looking at the run action by the running backs instead.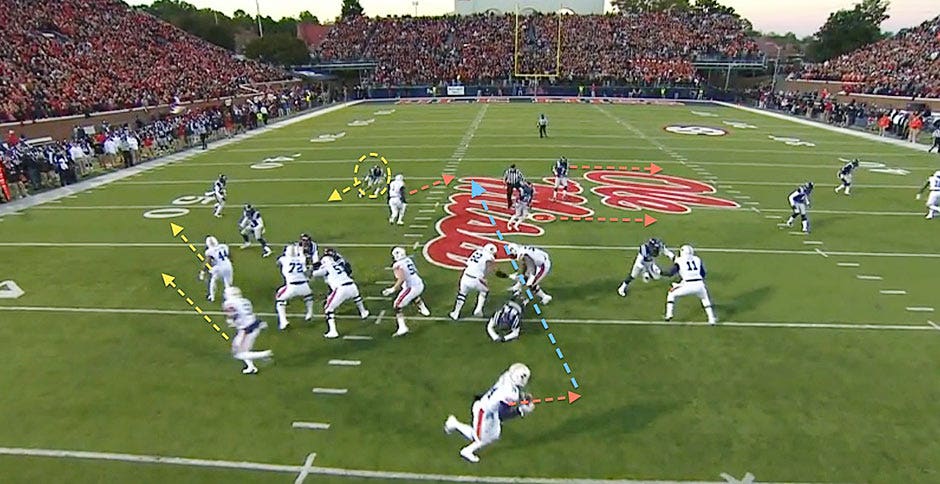 Auburn is so good at getting defenders out of position by using smoke and mirrors to disguise what they are doing. This play-action pass hit Ole Miss for a big gain. Collins will be tested often by Auburn with the play-action pass, and whether or not he passes the test will be key for the Tide.
Alabama LBs Trey DePriest, Reggie Ragland vs. Auburn TE Brandon Fulse
Auburn's jet sweep is one of their best running plays and a major reason they're ranked 11th in the nation with 5.66 yards per carry. Yes, they have outstanding athletes carrying the ball like RB Cameron Artis-Payne and QB Nick Marshall, but they also have outstanding blockers like TE Brandon Fulse.
In the first photo, you'll see how the jet sweep play is drawn up. Artis-Payne becomes a lead blocker along with Fulse (circled in yellow), leading the way for Ricardo Louis.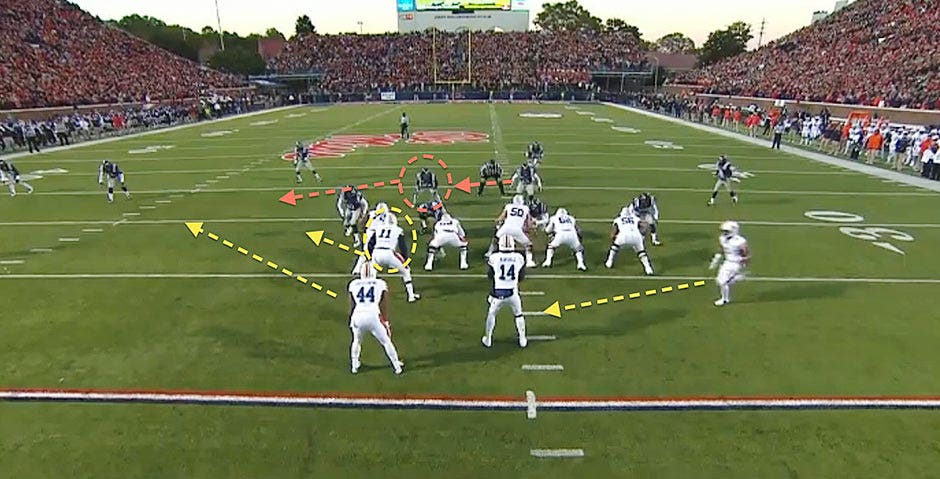 Against this play, it's crucial the linebacker to the side of the sweep beats the one-on-one confrontation with Fulse so he is able to make the tackle on the runner. The linebackers for Alabama — DePriest and Ragland — must get outside of Fulse's block on the jet sweep in order to make the play.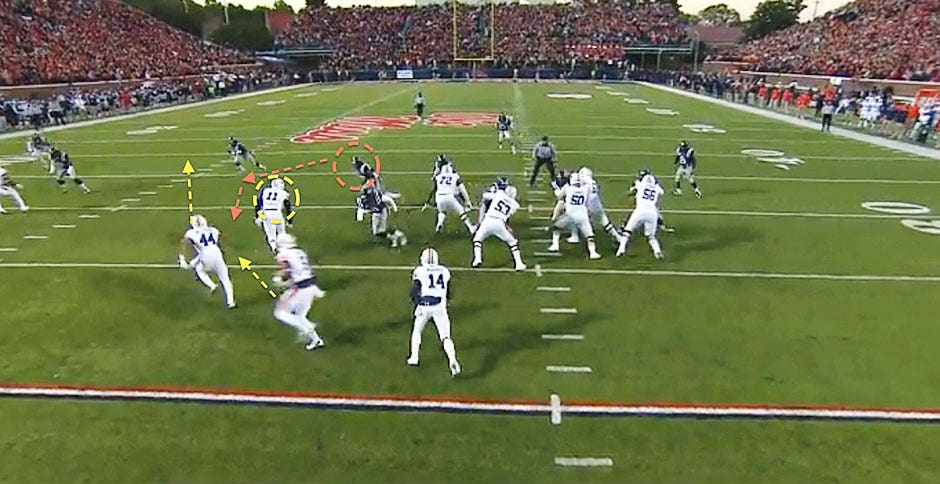 In the last photo, you'll see what DePriest and Ragland will be up against on Saturday night. Fulse is an outstanding cut blocker in the jet sweep scheme. He waits until the last second to shoot at the knees of the linebackers who are running laterally to make a tackle on the runner — often mowing them down to the ground — creating a huge running lane for one of Auburn's speedy runners.
DePriest and Ragland must be experts at defeating the cut block — shooting their hands and keeping Fulse off their legs so they can minimize rush yardage and get Louis and crew on the ground.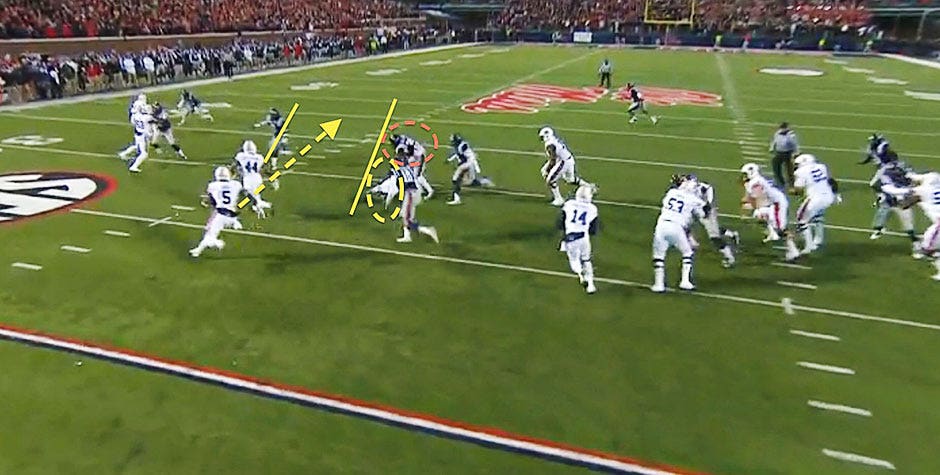 There's a lot on the line for the Tide in this game, as they've been crowned as the nation's best team — and potential No. 1 seed — in the College Football Playoff rankings by the selection committee. While Auburn has endured some tough losses in a disappointing season, they are still a dangerous team that could crush the Tide's hopes of a first-ever College Football Playoff berth, and they'd like nothing more than to do so.
How Kiffin and Johnson battle it out with their playcalling, Collins' ability to focus and prevent the big play by Auburn in the play-action game and who dominates in the run game — Fulse or DePriest and Ragland — could very well reveal the hero in this year's Iron Bowl.
Coy Wire played college football at Stanford before a nine-year NFL career in Buffalo and Atlanta. He's currently a college football analyst for FOX Sports 1 and writes for FOXSports.com. Follow him on Twitter @CoyWire.