Alabama-Auburn Iron Bowl Postgame Notebook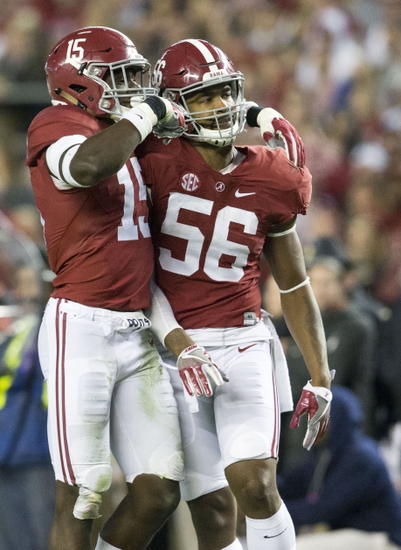 Postgame Notebook from No. 1 Alabama's 30-12 victory over No. 13 Auburn in the 81st Iron Bowl at Bryant-Denny Stadium in Tuscaloosa, Ala.
Saturday's game against Auburn was Alabama's 1,244th college football game. That figure takes into account games both forfeited and vacated per NCAA rulings. Without accounting for those stipulations, the game was actually Alabama's 1,266th football game. Saturday's game with Auburn was Alabama's 592nd all-time SEC game and the Tide has an official record of 394-167-20 (.682), accounting for forfeiture and vacated games. Alabama's actual, on-field record in SEC games is 405-167-20 (.701).
ICYMI: New LSU coach Ed Orgeron targeting Alabama's Lane Kiffin as OC
With the victory, the Tide's actual on-field record is 905-317-44 (.732), including a mark of 84-10 (.894) this decade. With the win over the 13th-ranked Tigers, Alabama has defeated 14 consecutive ranked opponents dating back to a loss to Ole Miss in September of 2015. Alabama's all-time record against ranked opponents is 152-124-7 (.549). Alabama is 123-75-3 (.619) as a ranked team playing a ranked opponent.
Saturday's game was televised by CBS and the Tide is 68-43-1 (.612) all-time in games televised by CBS. The victory improved Alabama's record against Auburn to 45-35-1 (.562) all-time, including three consecutive victories in the series dating back to a 34-28 loss in 2013. Alabama has won five of the last six meetings dating back to 2011, seven of nine since 2008 and seven of 10 since Nick Saban took over as Alabama's head coach in 2007. The Tide is 9-7-0 against Auburn in designated home games in the series, including a 4-5-0 mark at Bryant-Denny Stadium. Alabama is 13-22-0 (.371) against Auburn when the Tigers are nationally ranked.
Under head coach Nick Saban, the Crimson Tide is 104-6 (.945) when leading at the half. Alabama led Auburn, 13-9, at the half today and has held the lead at the break in 21 of its last 27 games dating back to the start of the 2015 season, including 10 of 12 games this season.
Alabama owns the longest winning streak in the Football Bowl Subdivision, having won 24 consecutive games dating back to last season (a loss on Sept. 19, 2015, vs. Ole Miss). The 24-game streak is the third-longest in Alabama and SEC history (28 games twice: 1991-93 & 1978-80) and is the longest under the direction of head coach Nick Saban (previous long: 19 games in 2009-10). During this stretch, the Crimson Tide have won 12 games at Bryant-Denny Stadium, eight straight road matchups and four consecutive neutral-site contests while going 16-0 against teams from the Southeastern Conference. Alabama has outscored its opponents by 596 points (890-294; 37.1-12.3), an average of 24.8 points per game, during the streak.
With the win over Auburn, Alabama has reached the 12-win mark for the 10th time in school history (1979, 1992, 1994, 2008-09, 2011-12, 2014-16) and the seventh time under Nick Saban.
Alabama has played 71 games as the nation's top-ranked team since the inception of the Associated Press poll in 1936. In those games, the Crimson Tide boasts a 61-10 (.859) record. Those numbers get even more impressive when you look at the 10 seasons under the direction of head coach Nick Saban (2007-present). Since the ninth game of the 2008 season (113 games), Alabama has played 47 games while being ranked No. 1, posting a 42-5 (.894) record during that span.
With the win over 13th-ranked Auburn, Alabama has won 14 straight games vs. ranked opponents, the longest streak since Southern California won 16 straight from 2002-05 under Pete Carroll and the third-longest run of all-time. The current streak began at Georgia (Oct. 3) last season with a 38-10 win over the No. 8 Bulldogs in Athens. In those 14 games, the Tide is 7-0 against top-10 teams and 3-0 vs. the top five (LSU, Michigan State and Clemson). The Tide's last loss to a top-25 team was Sept. 19, 2015, against Ole Miss (37-43).
Alabama has won 27 of the last 28 games at its home stadium. Prior to the Sept. 19, 2015, loss to Ole Miss, the Crimson Tide had not lost a game at home since falling to Texas A&M in 2012. Alabama boasts the fifth-best all-time home winning percentage in the FBS at .823 (252-53-3) at Bryant-Denny Stadium since the stadium opened in 1929.
Saturday's win improved Alabama head coach Nick Saban to 9-6 in his career against Auburn, including a 4-1 mark at Bryant-Denny Stadium. Saban is 7-3 in Iron Bowl games as the head coach at Alabama. His LSU teams went 2-3 against Auburn from 2000-04.
Saturday's game against Auburn was Nick Saban's 47th career game coaching Alabama as the Associated Press No. 1 team, the most games coached as No. 1 at one school. At 42-5 (.894), Saban has won more games coaching a No. 1 team at one school than any other coach in college football history. Woody Hayes (Ohio State) and Bobby Bowden (Florida State) are tied for second with 40 wins each. Bowden was 40-5 as No. 1 and Hayes went 40-4-1. Saban accomplished the feat in his 10th season at Alabama while Bowden spent 34 seasons at FSU and Hayes was at OSU for 28. The Crimson Tide have been ranked No. 1 in 34.8 percent of their 135 games under Saban. Florida State was No. 1 in 10.8 percent of Bowden's 417 games and Ohio State was No. 1 in 16.7 percent of the 276 games coached by Hayes.
Alabama head coach Nick Saban is 122-19 (.865) in home games during his college head coaching career. He owns the advantage at every stop he has made during his collegiate coaching career, including a 63-7 (.900) mark while at Alabama. Saban has won 34 of his last 36 contests at Bryant-Denny Stadium and has lost back-to-back matchups only once, with consecutive losses coming at the end of the 2007 season (LSU and ULM).
Alabama head coach Nick Saban owns a 50-10 (.833) all-time record when playing in a Southeastern Conference game at home, going 16-4 (.800) during his time at LSU and owning a 34-6 (.850) record at Alabama. While with the Crimson Tide, Saban has posted five perfect home SEC slates and has not lost more than one home conference game in any season other than 2007 (two losses). All six of his losses at home have been by seven points or less with half of those by three or fewer. Under Saban, Alabama has outscored its SEC home opponents 1,311-568 (32.8-14.2 points per game) and has limited the opposition to 14 points or less on 25 occasions, including six shutout victories.
Crimson Tide head coach Nick Saban owns a 103-26 (.798) career record in 129 games against SEC opponents. While at Alabama, he has compiled a 73-13 (.849) record versus conference foes, and is outscoring opponents by a staggering 3,400-1,312, or 39.5-15.3 points per game. Of his 13 losses against SEC opponents while at Alabama, all but two (Florida, 2008 and South Carolina, 2010) have been by seven points or less. Saban's first matchup with an SEC team came in the 1995 Independence Bowl against LSU, where his Michigan State Spartans fell, 45-26, to the Tigers. He would later go on to coach LSU to 30-12 overall record against conference opponents.
Alabama's 30-12 win over Auburn gives head coach Nick Saban 70 career wins vs. Associated Press Top 25 teams, good for third all-time. Former Penn State head coach Joe Paterno leads the list with 86, four victories ahead of Florida State's Bobby Bowden (82). Alabama's Paul "Bear" Bryant is fourth at 66. Recently retired Duke, Florida and South Carolina coach Steve Spurrier is fifth at 64. Saban's winning percentage against AP ranked teams (69-37, .651) tops Bryant (.592), Bowden (.557), Spurrier (.529) and Paterno (.512).
Quarterback Jalen Hurts set an Iron Bowl record by completing 75 percent of his passes on Saturday. That mark is the best by any quarterback in the Auburn-Alabama series with a minimum of 30 attempts. Hurts also posted totals that rank among the all-time Iron Bowl top 10 in total plays (48, 3rd); total offense (323 yards, 4th); pass attempts (36, 7th); pass completions (27, tie-2nd); and passing yards (286, 7th).
Wide Receiver ArDarius Stewart's 10 catches on Saturday ranks tied for second by any player in Iron Bowl history (Alabama's Julio Jones in 2010). The record for catches in an Iron Bowl is 13, set by Amari Cooper of Alabama in 2014.
Alabama placekicker Adam Griffith and Auburn kicker Daniel Carlson both scored 12 points by kicking on Saturday, tying for second all-time in Iron Bowl history behind the 13 points scored by Alabama's Van Tiffin in 1985.
Alabama's school-record consecutive games scoring streak was extended to 210 games on Saturday with Adam Griffith's 29-yard first quarter field goal. Alabama was last held off the scoreboard in a 9-0 loss to Auburn on Nov. 18, 2000.
Jalen Hurts became the first true freshman to start at quarterback for Alabama in the Iron Bowl on Saturday versus Auburn.
Jalen Hurts' 37 yards rushing against Auburn gives him 840 yards on the season and extends his single-season quarterback rushing record. Hurts surpassed the old record of 791 yards, set by Steadman Shealy in 1979, against Chattanooga on Nov. 19.
With two touchdown passes and a rushing touchdown against Auburn, quarterback Jalen Hurts moved into second place on the Alabama single-season touchdown responsibility list with 33. Hurts has thrown 21 touchdown passes and rushed for 12 scores so far this season. Blake Sims (2014) holds the single-season record with 35 touchdowns (28 passing, 7 rushing).
Jalen Hurts' 323 yards in total offense against Auburn gives him 3,294 total yards this season, moving him into second place on the Alabama single-season total offense list. Blake Sims is No. 1 with 3,837 yards in 2014.
ArDarius Stewart's 10 receptions against Auburn give him 124 for his career, good enough for eighth place on the Alabama career receptions list.
267 minutes, 54 seconds: The Alabama defense has not surrendered a touchdown in the last 267 minutes and 54 seconds of game action, dating back to the third quarter of the Texas A&M game (October 22) when the Aggies' Christian Kirk caught a 25-yard touchdown pass from Trevor Knight. The Crimson Tide blanked the Aggies over the final 27:54 of that game and then shut out No. 15 LSU, 10-0, in Baton Rouge the following week. The Tide then limited Mississippi State to a field goal on Nov. 12 in a 51-3 victory, defeated Chattanooga, 31-3, on Nov. 19 and Auburn on Saturday, 30-12. Alabama ranked No. 2 nationally in scoring defense entering the weekend, surrendering 11.4 points per game in its first 11 games.
With two tackles for loss against Auburn, Jonathan Allen moved into a tie for fifth place on the Alabama career TFL list with Eric Curry (1990-92) with 40.5. Senior linebacker Ryan Anderson notched a pair of TFLs as well against the Tigers to move into ninth place at 37.5.
With three field goals and three PATs against Auburn, senior place-kicker Adam Griffith has scored 105 points in 2016 (17 field goals and 54 PATs) to give him 333 career points (52 FG, 174 PAT), moving him into third place on the Alabama career scoring list. Griffith also ranks third on Alabama's all-time kicking points scored list. Leigh Tiffin (2006-09) is Alabama's all-time scoring and kicking points scored leader with 385 points (83 field goals, 136 PATs).
With his three extra points against Auburn, senior place-kicker Adam Griffith has 54 this season to give him an Alabama school record 174 for his career.
Alabama's captains for Saturday's game vs. Auburn were defensive lineman Jonathan Allen, linebacker Reuben Foster, defensive back Eddie Jackson and offensive lineman Cam Robinson.
This article originally appeared on