Alabama and Texas A&M Could Both Make CFP field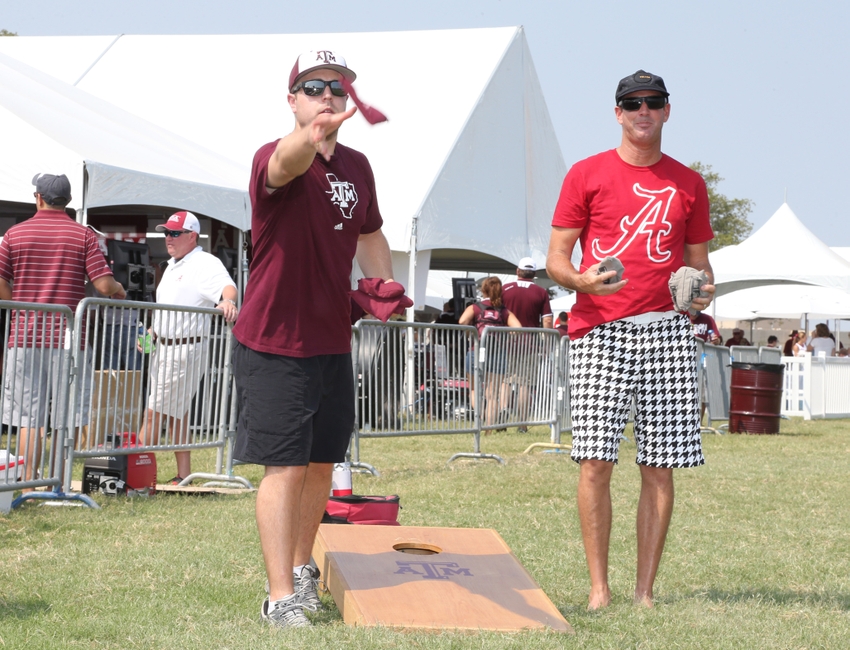 Tuesday night's first playoff rankings of the 2016 season sent shock waves as both Alabama and Texas A&M ended up in the top 4. Now it's possible that Alabama and Texas A&M could finish in the top 4 for the College Football Playoff, a scenario that was trying to be avoided after 2011.
Just under five years ago, Alabama was playing LSU in Bryant-Denny Stadium, dubbed the "Game of the Century". ESPN's College GameDay was in town, the buzz was electric and CBS was broadcasting the game in prime time. The team that won would be on track to make it to the then-titled Allstate BCS National Championship Game.
Alabama ended up on the wrong side of a defensive struggle, missing several field goals and falling 9-6 in overtime to the Tigers. It was a big blow to the Crimson Tide, which had its title hopes supposedly dashed by a poor special teams effort. Alabama fans hope that won't happen this weekend against LSU, but that's not the point I'm trying to make.
It turns out, after several upsets of immense proportion (including Iowa State's upset over then-No. 2 Oklahoma State), Alabama rose up on the BCS rankings, eventually ending up at No. 2 with the No. 1 LSU Tigers for an All-SEC showdown in the BCS Championship Game. Fans outside the SEC were left angry, wondering how unfair it was for the SEC to be guaranteed a national title especially when one team didn't even win it's division.
The game triggered moves to finally develop the four-team College Football Playoff that we have today, as explained in this ESPN article detailing the oral history of that process. Fast forward to now, where the playoff committee has since emphasized that conference championships matter in the selection process.
This season, we have run into a similar situation – as Texas A&M and Alabama are ranked in the Playoff rankings 1st & 4th, respectively. If the season ended now, Washington, Ohio State and Louisville would all be out of the playoff and Alabama would be playing Texas A&M in the Chick-fil-A College Football Playoff semifinal.
But that's all a hypothetical. After all, the Playoff Committee was created to avoid the mistakes that the BCS made when it was implemented. All the computers and ridiculous polls that were once the determinations of who goes where have since dwindled down to a 12-person committee. Plus, we still have a month of football left to play. So now, with actual humans deciding who contends for the championship, there can be absolutely no way two teams from the same conference make the playoff …
… Right?
The Case for Texas A&M
First off, take a look at their schedule this season. Notable wins for the Aggies are against Arkansas and Auburn, both of which were road games. The one demerit they have on their resume, besides the Alabama loss, might be the 38 points they gave up in the win against Tennessee. They still have Ole Miss and LSU ahead, but both are at home. An LSU win would notch another somewhat notable W for A&M.
Their strength of schedule is 23rd, the highest between the teams ranked 5-7. They are 1-1 against the current Top 25 (Auburn their win, Alabama their loss). Ohio State has one more Top 25 win than Texas A&M, but just as many losses (Penn State).
As far as intangibles, they have an excellent quarterback in Trevor Knight, who transferred from Oklahoma. Yes, their defense is somewhat in and out, but Myles Garrett is a great linebacker (when healthy). Even in the loss against Alabama, Texas A&M seemed fairly competent with the ball and had signs they were a playoff contender.
So there isn't much question that Texas A&M has a playoff-worthy resume so far. What needs to happen now is the Aggies need make the resume more polished.
2 SEC Teams In The Playoff: What Needs To Happen
Obviously, the easiest scenario for Alabama is to win out. The majority opinion is that no one will knock off Alabama from the No. 1 spot if they continue to win every week. Alabama is above and beyond the best team in the country right now.
Unlike Alabama, however, Texas A&M absolutely needs to win out. If they continue to win, they may fall but will still be in contention. Obviously if either Clemson or Michigan were to fall, this would be favorable to the Aggies (unless Michigan lost to Ohio State). But Texas A&M will need some help from other teams behind them to solidify that possibility.
Ohio State and Washington must both lose a game in order for this scenario to work. Ohio State still has a date with Nebraska and Michigan. This possible scenario prefers the Michigan loss over Nebraska, as the Cornhuskers are ranked 10th. Washington has several conference tests coming up, including the possible Pac-12 Championship game. They could lose any one of those.
Louisville, the 7th-ranked team, doesn't have any standout teams left on its schedule, but the Cardinals' recent game against Virginia proved too close to comfort. Fortunately, Texas A&M doesn't necessarily need them to lose to hold on to a spot unless something drastically changes
Alabama certainly wouldn't want to play Texas A&M again, as the Aggies would likely play angry. If Washington or Ohio State were to win out, however, one would likely knock off a potential 11-1 Texas A&M team from the playoff spot. And not to discount the Playoff committee, who has been known to just up and change it's mind week after week.
Just ask TCU.
But then again, Iowa State happened in 2011. That set in motion a major paradigm shift in the College Football postseason. Could this scenario cause an eight-team playoff? That's a subject for another day.
This article originally appeared on