Adoree' Jackson, Sam Darnold Lead USC's 2016 All-Pac-12 Honors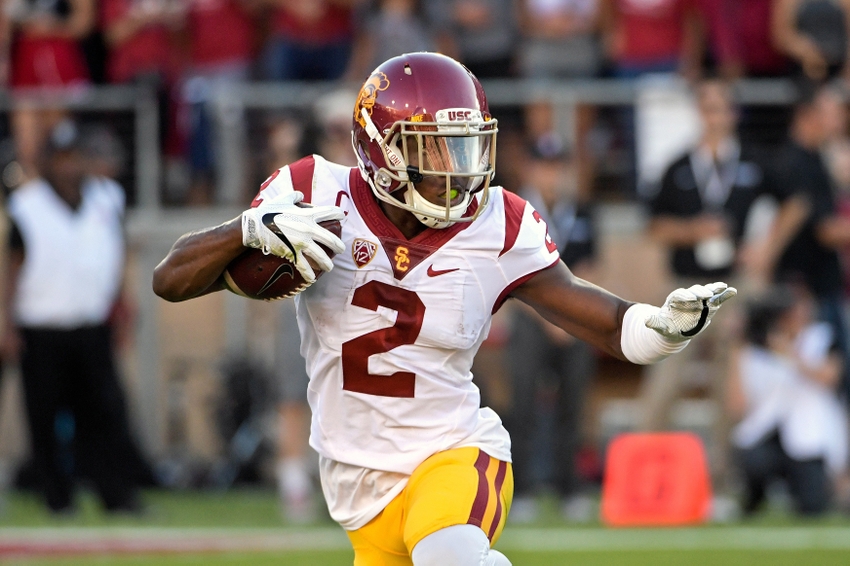 The 2016 All-Pac-12 Team is out, and USC football has three first-teamers, along with award recipients Adoree' Jackson for Defensive Player of the Year and Sam Darnold for Freshmen Offensive Player of the Year.
It's that time of the year when awards are starting to be handed out, and the All-Conference selections always kick it off. So it's fitting that Adoree' Jackson of barbecue lighter fame got the party started as a triple-crown selection.
In three seasons, he's been named the Freshman Defensive Player of the Year in 2014, a first-team defensive player in 2015 and now the conference's Defensive Player of the Year as a junior, while also serving as the first-team return specialist.
Jackson did it by finishing second in the conference with four interceptions, while returning both a pair of kick returns and punt returns for touchdowns. His two interceptions of Jake Browning played a major role in USC's marquee win at No. 4 Washington, and served as a highlight for his play at cornerback.
Joining him on the defensive side of the ball are second-team honorees Stevie Tu'ikolovatu and Cameron Smith, while Porter Gustin, Rasheem Green and Leon McQuay are three of a handful of players receiving honorable mentions.
Offensively, Zach Banner is a first-team All-Pac-12 selection for the second year in a row, while Chad Wheeler joins him with top billing on the offensive line. Ronald Jones and Damien Mama slotted into the second-team offense, while preseason Bilnetnikoff Award favorite JuJu Smith-Schuster settled for honorable mention.
Then there's Sam Darnold, who finished the regular season with the nation's best passer rating for a freshman at 161.0. He's the first Trojan to take home the Freshman Offensive Player of the Year award since Marqise Lee in 2011. Cam Smith took the nod last year on defense.
Elsewhere around the league, Colorado head coach Mike MacIntyre won the Coach of the Year Award as expected. The Buffaloes completed a remarkable rebuild to win the Pac-12 South after winning just two conference games in the last three seasons.
Washington had a conference-high nine first-team All-Pac-12 selections, including quarterback Jake Browning, along with both Budda Baker and Sidney Jones, who make the list for the second-straight year.
Browning takes the nod as the Offensive Player of the Year opposite of Adoree' Jackson, while Huskies defensive back Taylor Rapp won the Freshman Defensive Player of the Year Award. He intercepted Sam Darnold twice during USC's win earlier this month.
The Pac-12 Championship Game will kickoff on Friday night, featuring Washington and Colorado at Levi's Stadium in Santa Clara. For a full list of the All-Pac-12 awards, click here.
This article originally appeared on