Adoree' Jackson's 12 Best Moments as a USC Football Player
Michael Castillo/FanSided via Reign of Troy

Fansided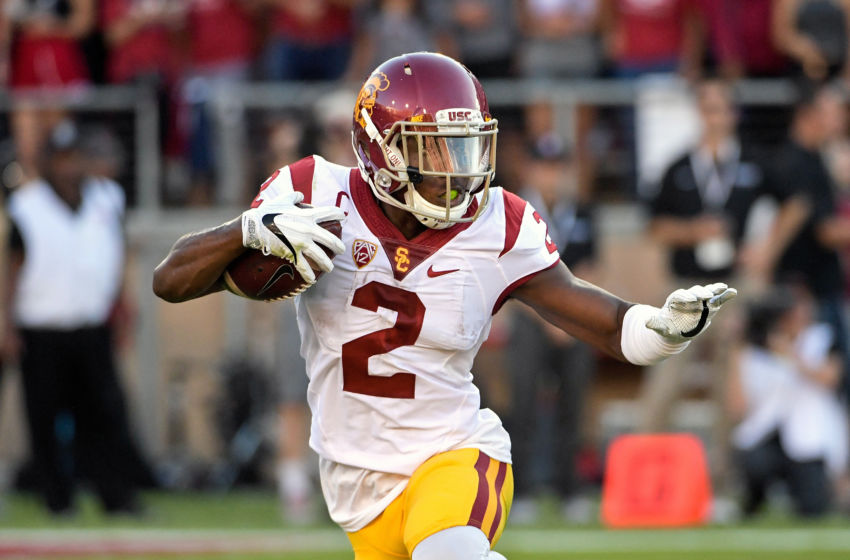 Adoree' Jackson spent three years as a USC football player, running around opponents, baiting quarterbacks and defying eyeballs. Here are his 12 best moments as a Trojan.
After three years serving as USC's most explosive weapon, Adoree' Jackson is moving onto the NFL. He finishes with a record-setting career, multiple awards and All-American honors in two sports.
Overall, Jackson scored 15 touchdowns in 40 football games, getting to the end zone four different ways –punt return, kick return, interception return and receiving. His eight total returns (kicks plus punts) for touchdowns are the most ever by a Trojan, including four punt returns for touchdowns, a mark shared he shares with Nelson Agholor.
And that doesn't even include the number of times he saved touchdowns, including a miraculous swat against UCLA in 2014, a strip at the 1-yard-line at Notre Dame that turned the tide in 2015, and multiple improbable chase downs on long runs in 2016.
All told, it's hard to remember all of the great moments of Adoree' Jackson's career, because there's so many, beyond just the touchdowns and Heisman poses.
But alas, here are the 12 moments we at Reign of Troy always remember him by. Let's begin.
A Touchdown Debut (2014)
Adoree' Jackson arrived with heaps of fanfare in 2014, namely due to his immense talent and a recruiting process akin to a rock star. It took one play for all of that to be a distant memory.
He was rocked by Fresno State's Derron Smith after hauling in his first catch from Cody Kessler in Week 1. In true fashion, he got up, smiled and kept going.
Jackson had four touches in his debut, including an 18-yard touchdown strike on a post over the middle.
Despite not making his first career start until Week 5 against Arizona State as a cornerback, it was already certain that he'd be a three-way player, despite uncertainty throughout the recruiting process.
The freshman phenom saw the field for 25 plays on defense against Fresno State, in addition to 13 snaps on offense, and another 14 on special teams. The Do-Everything-Adoree' was born.

Holiday Bowl Breakout (2014)
Going into the postseason, it was already obvious Adoree' Jackson was going to be special. He had accumulated nine pass breakups —second only to Kevon Seymour on the team— and had already found the end zone on special teams, getting there on a 100-yard kick return against Utah.
Those following USC knew how incredible he could be. But it wasn't until the 2014 Holiday Bowl that he cemented himself as one of the nation's most lethal players, with millions of eyeballs watching.
Jackson single-handedly won the game for the Trojans, recording seven tackles and a season-high 203 all-purpose yards.
That included a pair of electrifying plays in the form of a 98-yard kick return for a touchdown finished off with a somersault into the end zone, and a 73-yard touchdown catch on a shovel pass, where he reversed direction and sailed past an armada of Nebraska defenders.
It was quintessential Adoree' Jackson and a preview of the next two years at USC.

Cutting Back vs. Idaho (2015)
When Jackson committed to USC, there was always the thought that he could perform in all three facets of the game. The Trojan Family got a tantalizing taste of that in the 2014 Holiday Bowl and it left them, and the USC coaching staff, wanting more.
That highlight-reel performance made the 2015 offseason extra intriguing when it came to Jackson, who split time in practice at cornerback and receiver throughout spring camp.
However, the season opener against Arkansas State arrived and Jackson didn't get any touches on offense. Fans didn't get a glimpse of Jackson at receiver until Week 2 against Idaho and it left quite the impression.
Jackson's first three touches all yielded good results, converting two first downs with two catches of 12 yards and another for eight.
With USC already leading 35-3 late in the second quarter, the electric athlete brought back memories of Reggie Bush with his fourth and final offensive touch of the outing.
Catch him if you can… @AdoreeKnows is fun to watch. #FightOn pic.twitter.com/5o7G1YDcZy

— USC Trojans (@USC_Athletics) September 14, 2015
Jackson lined up on the outside, then went in motion to the right, taking a pitch from Cody Kessler. The sweep looked set to gain around eight yards, but Jackson wanted more. He reversed field and sped left, drawing Kessler forward to serve as a lead blocker.
The audacious run might have ended with a mere 20-yards gained as the Vandal defense swarmed, but again, Jackson wasn't having it. He made another cut back inside, lowered his shoulder and pushed for additional yardage, ultimately totalling 30 on the reception to set up a Trojan field goal.

Dazzling in the Desert (2015)
Have you ever seen a player run circles around a team both literally and figuratively in a game? That's what Adoree' Jackson did at Arizona State in 2015. He set a career-high in jaw-dropping plays, just a week after the Trojans were beaten at home by Stanford.
The party started when USC dialed up a swing pass to Jackson to offset a Sun Devil blitz, resulting in an easy-looking 80-yard touchdown catch, in which he casually burned ASU defenders despite seemingly jogging down the sideline.
A few minutes later, Jackson made four different players miss with a juke, a hurdle and a spin for a 46-yard jaunt down the sideline on a screen pass.
USC 21, ASU 0. Adoree' Jackson is a bad man. This 45-yard reception set up the Trojans' latest TD. (LIVE on ESPN) http://t.co/BL9yI9nOaZ

— USC Trojans (@USC_Athletics) September 27, 2015
But he wasn't finished, saving the most incredible moment for last. Early in the third quarter, Jackson fielded a punt at the 37-yard line, shifted out to his left, stutter-stepped, planted his foot and ditched three ASU players by stopping on a dime and reversing field a la Reggie Bush before turning on the burners to sprint pasted another three defenders.
He wouldn't find pay dirt despite stiff arming the punter at the 20-yard line, but the play had the working press box at Sun Devil Stadium erupting in ooohs and aaahs.
Adoree' Jackson generates even more highlights: #USCvsASU pic.twitter.com/HEzvFcW7wD

— RedditCFB (@RedditCFB) September 27, 2015
USC would go onto win the game 42-14 in what was both Steve Sarkisian's final win, and a much-needed bounce back after losing to Stanford at home the week before.
"There's nothing that we didn't do last week," Jackson told the media after the game, all while signing autographs for fans. "I guess we just didn't have that swagger that we normally play with."
Safe to say, the swagger worked against ASU, and broke a few tackles itself.

First Pick For Six (2015)
USC fans waited a season and a half to see Adoree' Jackson nab his first career interception, but it was well worth the wait.
During Jackson's standout sophomore season, he came into his own as a cornerback, but heading into the Cal game on Halloween, the star defender still had yet to pick a pass.
That fact was magnified by the performance of linebacker Cameron Smith the week before, picking off three passes against Utah. Granted, Jackson's defensive performances were far from lacking, but the longer he went without an interception, the more it felt like a monkey to take off his back.
Then, in the third quarter of the game against Cal, which was still very much hanging in the balance, Jackson pounced. Cutting in front of an under-thrown ball by Jared Goff, Jackson caught the interception at the 46-yard line, then turned up field to find open grass ahead of him almost like he was returning a punt.
USC 24, Cal 7. Adoree' Jackson just reminded us why he's the most exciting player in college football. (LIVE on FOX) https://t.co/a7gO4QPO0P

— USC Trojans (@USC_Athletics) October 31, 2015
He used those return skills to cut past one man and hit the sideline with a caravan of Trojans ahead of him. Running into traffic at the five-yard line, Jackson fought through the bodies and stretched for the pylon, completing his first career pick and pick six in style.
The score put the Trojans up 24-7 and helped seal a hard-fought road victory.
For Jackson, it was his only interception of the season, but it helped lay the groundwork for the season to come, when he would nab four picks en route to the Thorpe Award.

UCLA Take-back (2015)
It's easy to forget, considering how dominant USC's second half performance turned out to be, but the Trojans and Bruins were locked in a tight contest as halftime approached in the 2015 rivalry game.
In fact, UCLA enjoyed a 14-13 advantage with two minutes remaining in the half. That is, until USC forced a punt from inside the end zone and Jackson stunned the Bruins by taking it 42 yards to the house for the go-ahead score.
Not that it was a routine score for Jackson. UCLA's gunner actually hit the Trojan returner immediately after he cradled the football, but Jackson bounced away from the contact.
USC 20, UCLA 14. Happy to have the most exciting player in CFB on our team. @AdoreeKnows all the way! (LIVEonABC) https://t.co/ANTuGtoQhD

— USC Trojans (@USC_Athletics) November 28, 2015
And there was even more work to do. Two Bruins in coverage were bearing down on Jackson at the 40-yard line but he accelerated past them, and a squad of trailing coverage men as well.
A couple of big blocks from teammates later, Jackson was in the end zone celebrating.
The punt return put USC in the driver's seat heading into halftime and was a signature moment for Jackson against the Trojans' hated rival at the Coliseum, where he would go on to put on another show against Notre Dame in 2016.

Touchdown on a Bounce (2015)
There are rules for punt returners that special teams coaches emphasize on a daily basis. For one, never field a punt inside your own 10-yard line. Secondly, you probably shouldn't be fielding punts after they've hit the ground, certainly not when they start bouncing away from you and towards your own end zone, while you have your back to the gunners.
But rule No. 2 is more like a suggestion if you're No. 2. And a suggestion Adoree' Jackson scoffed at against Utah State in Week 2 of 2016.
The junior playmaker picked up a punt at the 23-yard line after it had landed about six yards in front of him and skipped to his right, behind him. He retreated back, circled and cut up field just as he started to get help from his blockers.
USC 31, Utah State 0.@AdoreeKnows takes it to the house! His third career punt return TD. #FightOn #BeatTheAggies https://t.co/NXqteFajQB

— USC Trojans (@USC_Athletics) September 10, 2016
Jackson slithered through a lane between the hashes and then cut to the left, streaking past a diving Utah State defender on his way to a 77-yard touchdown.
The score put the Trojans up 31-0 a week after being manhandled by Alabama, and was the punctuation on a spectacular special teams performance.

The Acrobatic Interception (2015)
Aside from the Reggie Bush comparisons, Adoree' Jackson has three years of being mentioned in the same breath at Michigan star and Heisman Trophy winner Charles Woodson, the only defensive player to ever win the award.
Like Jackson, Woodson was a three-way player that moonlit on offense, while being a key playmaker on special teams. But it wasn't until October 2016 that the comparison became crystal clear on the field.
With the Trojans locked in a weird defensive battle with Colorado, Jackson completed a near replica of Woodson's spectacular 1997 interception against Michigan State, which had served as a Heisman moment.
Although the pick wasn't of the one-handed variety as Woodson's, Jackson leaped out of nowhere to snatch an errant pass from quarterback Steven Montez, before miraculously landing his foot down in bounds for the legal catch.
INTERCEPTION: @AdoreeKnows! He's too good. #SCTop10 #FightOn #BeatTheBuffs https://t.co/Z5A40NRjBS

— USC Trojans (@USC_Athletics) October 8, 2016
Even Woodson himself even responded about the remarkable catch on Twitter.
@AdoreeKnows way to get that foot down. Sweet

— Charles Woodson (@cwoodson24) October 9, 2016
The play ignited the sidelines and will go down in the pantheon of unreal interceptions in USC history, alongside Antaun Simmons' between-the-legs pick six against UCLA in 2001.
The Trojans would go on to beat Colorado 21-17, partly aided by another mind-boggling catch from Darreus Rogers.
Baiting Jake Browning (2015)
Adoree' Jackson's display during USC's upset victory over Washington was a microcosm of his junior season, and ultimately the tape he'd need to cement his postseason hardware.
After allowing Washington receiver John Ross to gain some yards in the first quarter by playing off of him, Jackson finally got it to go in his favor early into the second period of play.
He dropped off short of freshman receiver Aaron Fuller, fooling eventual All-Pac-12 Offensive Player of the Year Jake Browning to take a shot downfield. Jackson read it the whole way, closed and had the ball fall right into his hands for what was only Browning's fourth interception of the season.
Not many people have picked Jake Browning off this season. @AdoreeKnows is one of them. #FightOn #BeatTheHuskies https://t.co/jqSJ5VZjjf

— USC Trojans (@USC_Athletics) November 13, 2016
The Trojans' offense would take it from there, taking a 10-3 lead on the subsequent 68-yard scoring drive. They'd never look back.
Midway through the third quarter, Ross got the best of Jackson again, forcing him to slip just beyond the line of scrimmage, resulting in a 70-yard touchdown catch.
But with the Trojans up 24-13 late in the fourth quarter, revenge would once again be had.
Browning was flushed out of the pocket and fired a pass to the left sideline, where Jackson jumped in front of Chico McClatcher to make a game-sealing interception for his first career two-pick night.
Adoree Jackson picks off Jake Browning for the 2nd time, preserving #USC's upset win over #Washington! #USCvsWash pic.twitter.com/nyLkPhCZ8U

— USC Trojans (@ChatTrojans) November 13, 2016
USC would ultimately finish off the game with a safety minutes later and beat previously unbeaten and No. 4 Washington, 26-13 with some serious help from Adoree' Jackson.

Hurdling Notre Dame (2015)
Throughout Adoree' Jackson's career, he had drawn comparisons to Reggie Bush. His silky moves, versatility and jaw-dropping acrobatics made it easy to see. But in his final game at the Coliseum, he made the case that he's like another legendary Trojan tailback: Anthony Davis.
Just as Davis had done 42 and 44 years prior, Jackson lit up the Fighting Irish in homage of the Notre Dame killer.
The junior scored touchdowns three different ways, recorded a pair of pass breakups and nearly hauled in an interception. But it's not what he did that was so impressive, but the how.
While he showed off his speed both a punt return for a touchdown and a receiving score —on his first catch of the season, no less— Jackson's kick return saw him pull what will forever be the highlight of his career.
Legendary. Watch @AdoreeKnows' incredible day! #FightOn pic.twitter.com/H45jeR1ofi

— USC Trojans (@USC_Athletics) November 27, 2016
Streaking down the right sideline with only one man to beat, Jackson leaped into the air and hurdled Notre Dame kicker John Chereson on his way to the end zone.
Once there, he struck the Heisman pose a la Desmond Howard and put the punctuation on one helluva three-year career at the Coliseum.
The touchdown, his eighth total return, was his fourth on a kickoff, putting him behind only Anthony Davis on USC's all-time kick return list. Given that it came against Notre Dame, in such a dramatic way, that's a fitting spot for No. 2.

Winning the Thorpe (2016)
With the 2016 regular season all done and dusted and the Trojans set to go to the Rose Bowl, there was still business at hand for Adoree' Jackson.
Although he'd miss out on the Heisman finalist trip to New York, he was a finalist for the Jim Thorpe, Paul Hornung, and the Lott IMPACT Awards.
The only one Jackson took home was the Thorpe —the most prestigious of the three— awarded to the nation's best defensive back.
Taking home that particular trophy was a dream realized, and one that he had talked about since he signed with USC in 2014. Not only did he become the second Trojan to win the award, following in the footsteps of Mark Carrier in 1989, but Jackson became the first modern cornerback to be named a first-team All-American in school history.
Adding to his loot was his crown as Pac-12 Defensive Player of the Year, along with a second-straight All-Pac-12 first-team selection. He did it all with four regular season interceptions, 11 pass breakups and a career high 51 tackles going into the Rose Bowl.

Picking a Rose (2017)
The final chapter of Adoree' Jackson's USC career played out in the Granddaddy of Them All, as the Trojans won a scintillating classic, 52-49. Although Penn State receiver Chris Godwin got the best of him at times with highlight reel moments of his own, Jackson put his mark down in Pasadena, before leaving the game with an ankle injury in the third quarter.
The cornerback got the Trojans going early, intercepting Trace McSorley's second pass of the game, early in the first quarter.
The turnover put USC in business, and they'd open the scoring moments later on a touchdown pass from Sam Darnold to Deontay Burnett, a play in which Jackson served as an offensive decoy in the backfield to disrupt the Penn State defense.
In the second quarter, Adoree' was back out there on offense. In a play vaguely reminiscent of from the Arizona State game in 2015, offensive coordinator Tee Martin split him out wide all alone to the left, and dialed up a screen pass with linemen Chad Wheeler and Damien Mama jumping outside to block down the sideline.
He broke one tackle, and nearly a second, dragging Penn State linebacker Jason Cabinda with a spin move inside the five-yard line before falling down short of the goal line.
It would be Jackson's final offensive touch of his career. And when you couple it with his injury that removed him from the game, it's bummer he never got to finish in the Rose Bowl.
RELATED: 25 Most Dominant Defensive Players in USC History
But without him, the Trojans rallied, scoring 17 unanswered points in the fourth quarter, including a 46-yard field goal from Matt Boermeester as time expired.
The moment #USC became Rose Bowl champs: pic.twitter.com/2ErVw3il8p

— Keely Eure (@keelyismyname) January 3, 2017
Jackson, despite hobbling in pain on the sideline, leaped for joy on one good ankle after the game-winner floated through the uprights.
Afterwards, he struggled to make it down to the locker room, in obviously pain, but not enough to halt a champagne-filled celebration in the locker room.
That's how Adoree' Jackson went out. On top and smiling, no matter what tried to derail him.
This article originally appeared on