Adoree' Jackson Named Finalist For Thorpe Award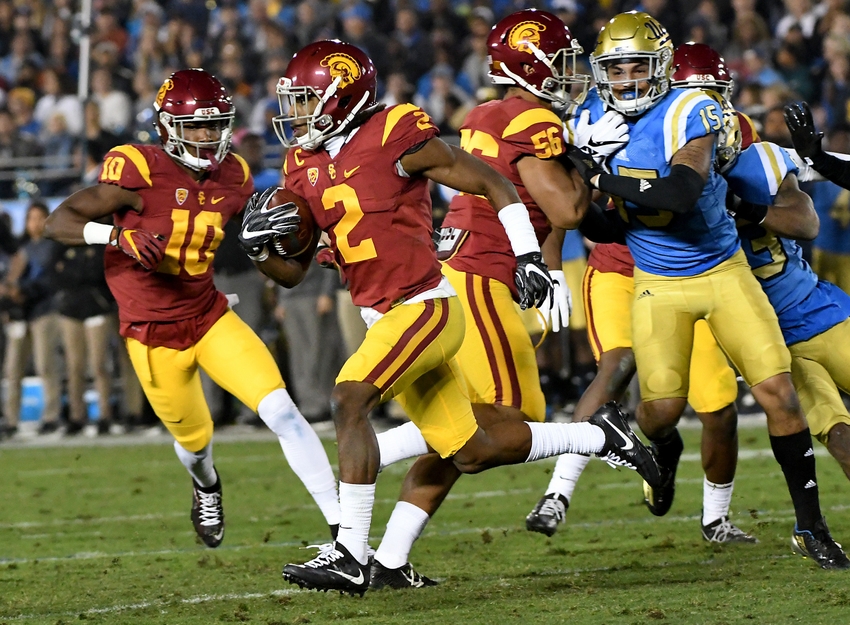 USC's Adoree' Jackson was named a finalist for the 2016 Jim Thorpe Award, which is given to the top defensive back in the nation.
Accolades for Adoree' Jackson's stellar junior campaign continued to pour in Monday as the cornerback was named a finalist for the Jim Thorpe Award.
Jackson came into the 2016 as one of the top athletes in the country, having excelled as a cornerback and all-around weapon for two seasons at USC.
Though there was no question about Jackson's elite talent, the junior has elevated his defensive technique and ability even further this season. The cornerback leads USC with four interceptions and has broken up nine passes.
Like all corners, Jackson has been susceptible to big play receivers, but his ability to put mistakes out of his mind and bounce back has been the platform for his exceptional performances this season. That was clear as USC upset Washington, with the Huskies John Ross producing big numbers, though Jackson ultimately came on top with two critical interceptions.
Jackson has also proven his capabilities as a shut down corner, limiting Alabama's Calvin Ridley, Colorado's Shay Fields and Stanford's Michael Rector to quiet outings.
In addition to Jackson, the Thorpe recognized Michigan's Jourdan Lewis and LSU's Tre'Davius White as finalist for the award.
Mark Carrier has remained USC's lone Thorpe Award winner since he took home the trophy in 1989. Since then, the Trojans have seen Troy Polamalu and Taylor Mays make the finalist list, but neither took the crown.
Jackson is also a finalist for the Paul Hornung Award, which is given to the nation's most versatile player, and a semifinalist for the Lott IMPACT Trophy.
This article originally appeared on