Adoree' Jackson Named Finalist For Lott IMPACT Trophy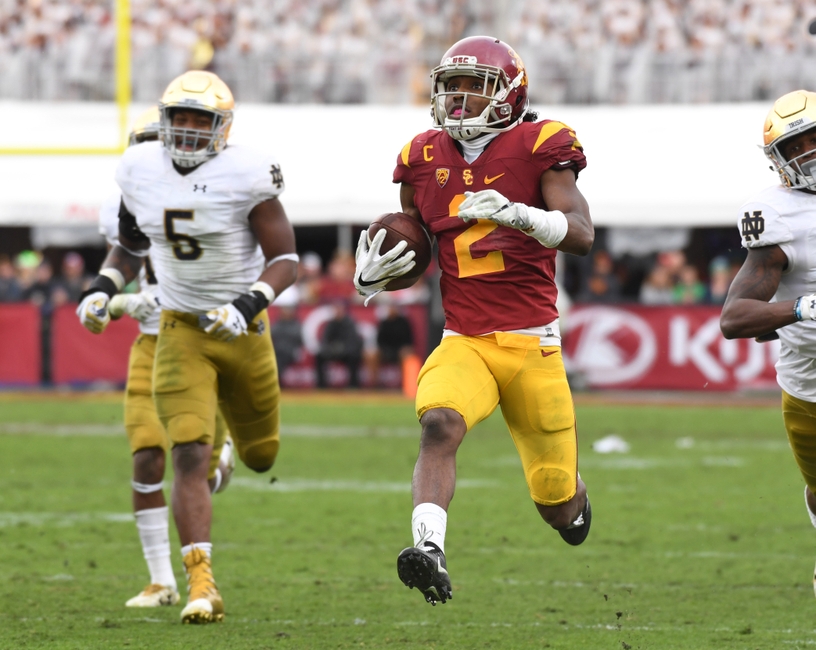 USC's Adoree' Jackson was named a finalist for the Lott IMPACT Trophy on Wednesday, as one of the nation's most impactful defenders.
Another day, another award consideration for USC cornerback Adoree' Jackson, who made the cut as a finalist for the Lott IMPACT Trophy on Wednesday.
Along with Jackson, Alabama's Jonathan Allen, Michigan's Jabrill Peppers and Air Force's Weston Steelhammer were named finalists.
The Lott IMPACT Trophy is awarded each year to the player who embodies the qualities of Ronnie Lott, including Integrity, Maturity, Performance, Academics, Community and Tenacity.
Jackson has been named the Lott IMPACT Player of the week three times this season, more than any other finalist. Most recently he was honored for his three-touchdown performance versus Notre Dame. He also received that recognition for his two interception as USC upset Washington and his dynamic outing against Colorado featuring an acrobatic interception, two impressive returns and six tackles.
The cornerback was named the Pac-12 Defensive Player of the Year, with 51 tackles, four interceptions and 11 pass break ups.
Of course, Jackson's impact has not been limited to just defense. He has returned four ticks for touchdowns, totaling 973 yards as a returner. He also added his first offensive touchdown of the season against Notre Dame, taking a catch 51-yards for a score.
Even though the award is named for legendary Trojan Ronnie Lott, USC has never had a winner. Devon Kennard was a finalist in 2013 but lost out to UCLA's Anthony Barr.
The winner of the award will be announced on Dec. 11 on Fox Sports West.
This article originally appeared on