Adjusting expectations: What can Notre Dame fans hope for now?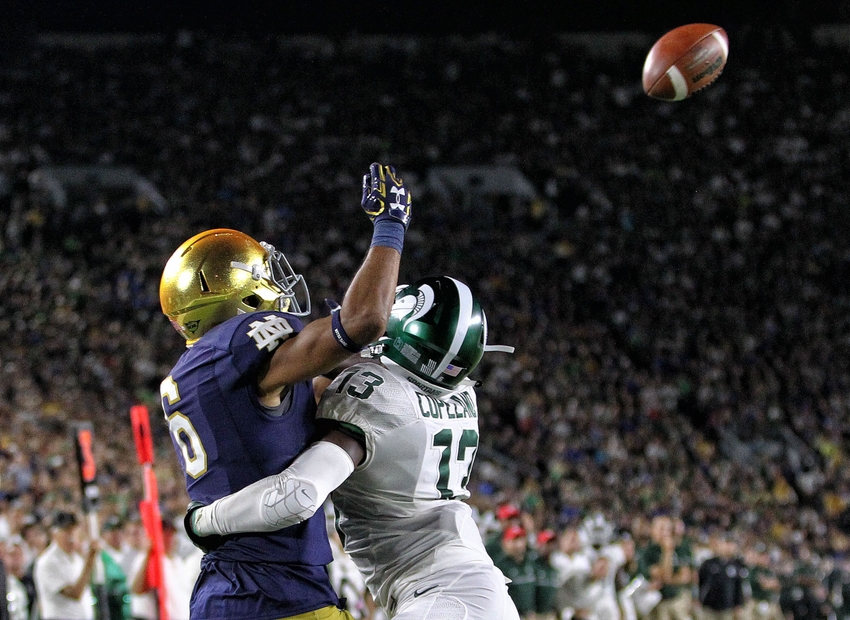 Now that Notre Dame is all but eliminated from College Football Playoff consideration, what can Irish fans expect from the rest of the 2016 season?
Not to be the voice of doom, but with Notre Dame now standing at 1-2, Irish fans need to come to terms with the fact that their team is not going to make it to the College Football Playoff. It's just not going to happen.
So please, please, please, stop thinking it's going to happen. Do not, I repeat, do not, bend yourselves backwards trying to think of absurd ways the Irish might steal their way back into the top four. Do not do mental calculations in your head about how Texas needs to keep winning to make ND's loss look good. Do not try to claim the national media is biased against the Irish. Just don't do it.
On the other hand, don't immediately abandon all hope and assume the Irish are fated to play out the rest of the year in a daze, hoping and praying for the Belk Bowl. Don't say Brian Kelly is a terrible coach and you knew he should've been fired years ago, don't trash DeShone Kizer or any of his teammates and don't tune out either.
Because for the first time in a while, the Irish are three games into a season and pretty much anything could happen going forward. That's terrifying for a fan, yes, but it's also exciting. A New Years Six bowl is not out of the question if the Irish win out, but ND could also miss a bowl entirely. The Fighting Irish could land in the Pinstripe Bowl, the Belk Bowl, the Music City Bowl, the Orange Bowl or something else entirely. All results are within the realm of possibility.
Best case scenario
Starting this week, Notre Dame turns things around. Even in this best-case world, it's a bit much to expect the defense to suddenly become a competent unit, but the good news is the Irish have a few Nevada-esque games to get their feet back under them. Duke, Syracuse and North Carolina State all go down in relatively short order, leading up to the game of the season, a home contest against Stanford.
By then Stanford is still undefeated and the Pac-12's best shot at the CFP. The Cardinal are ranked in the top five and enter as the rare road favorite. DeShone Kizer, however, delivers a flawless performance, matching Christian McCaffery at every turn in a primetime shootout that ends with Kizer orchestrating a magnificent two-minute drill to win the game. Notre Dame re-enters the rankings.
The next week, the Irish face Miami, who is undefeated and in line to claim a Coastal Division title. Maybe the Hurricanes are even top 10 at this point. But it doesn't matter. Kizer outduels Brad Kayaa, and the late October cold freezes out the Hurricane offense, who stalls against a surprisingly game Irish secondary.
Navy and Army put up a fight and punish the Irish rush defense, but they eventually fade. Virginia Tech flops completely in an easy Senior Day win. USC is a joke at this point and cannot defend their home turf, even though JuJu Smith-Schuster scores a few TDs.
Notre Dame makes it to a New Years Six bowl, probably the Orange Bowl, Kizer finishes as a Heisman finalist, Brian Kelly is a contender for coach of the year, and Brian VanGorder lives to coordinate another year.
The defense, while not fantastic, relies on its senior leadership of Cole Luke, James Onwualu and Isaac Rochell and shifts to bend-don't-break mentality. BVG steps away from his overly complex scheme and keeps it simple for the young guys. Josh Adams sets himself up for a huge 2017.
Worst case scenario
Duke, originally considered an outside contender for the Coastal Division title, regains its mojo following a shaky start to the season. The Blue Devils do what any other team with Power 5 talent could do and steamroll Notre Dame's rush defense, mixing in a few long passes for good measure. The offense does its whole comeback thing, and maybe they pull it off, maybe they don't. But things don't look good.
No Notre Dame team is going to lose to Syracuse. It just ain't happening. DeShone Kizer and Josh Adams will have historic games, leading everyone to think the Irish are back on the right track. But they're not. BVG has not figured out how to make his young defense work, and the unit has lost faith in its leader.
That leads to disaster at North Carolina State, where ND's road struggles return and the Wolfpack deploy a balanced passing attack to shred the Irish secondary. Stumbling from that defeat, Notre Dame returns to campus only to be flattened by Christian McCaffery, who puts himself in the driver's seat for the Heisman. Kelly bows to the inevitable and fires VanGorder, but it's made to look as though he resigned.
No In-Editor Preview for 120 Sports Videos
Video Details
ID: 202103048
Source: 120 Sports
That doesn't help though. Miami, an offensive juggernaut, comes into town and Brad Kayaa has a field day picking apart the Irish secondary. Suddenly Kelly is the one who's on the hot seat. It doesn't help that two of the most high-powered run games in the nation follow Miami. ND scrapes one service academy win against Navy, but Army's ground attack is too much and allows the Black Knights to dominate time of possession and snag its first win against the Irish in nearly 60 years.
Virginia Tech has risen under the guidance of first-year coach Justin Fuente, who leads the Hokies to a win to spoil Senior Day. USC may still be a joke, but at this point Notre Dame isn't going to make a bowl game and Kizer is only playing to boost his draft stock. Maybe the Irish win, maybe they don't, but it doesn't matter. It's the worst season of Brian Kelly's tenure.
No In-Editor Preview for 120 Sports Videos
Video Details
ID: 202333420
Source: 120 Sports
Most likely scenario
You can break down the rest of Notre Dame's schedule into five categories: Lock for a win, should win, toss-up, should lose and lock for a loss.
Duke is probably a should win. The Blue Devils aren't that good this season but have had success in the past.
Syracuse is a lock for a win. I just can't imagine a world in which the Orange beat the Irish. If they do, Brian Kelly should resign.
North Carolina State is a toss-up at this point. If it were at home, I'd shift this one to should win, but the Wolfpack have a strong passing game, ND has a weak secondary, and the Irish haven't won a true road game since Virginia last season.
Want your voice heard? Join the Slap the Sign team!
Stanford is a lock for a loss. Sorry, but the way the Irish are playing, it's just true. The Cardinal are just too good.
Miami is a should lose, trending towards a lock. The Hurricanes have been playing phenomenally through three games this year and will most likely be in the ACC championship. Even at home, they're a team the Irish should not look past.
Navy is a should win. If the Midshipmen still had their starting QB, Tago Smith, it might be a different story, but they've struggled to win without him and needed some last-minute heroics to beat UConn and Tulane.
Army is a toss-up. Not to read too much into early season results, but Army is for real. The Black Knights are 3-0 for the first time since 1996, and they have a run game that can match up against any team in the nation. In possibly the final Shamrock Series game ever, the hardest thing to watch might not be Notre Dame's uniforms, but their feeble attempts to slow Army down.
Virginia Tech is a should win. The Hokies are talented and have a good QB in Jerod Taylor, but they just don't have the complementary firepower or a strong enough defense to keep Kizer in check.
And lastly, USC is a toss-up. The Trojans have playmakers, no doubt, but they're also a mess. Home-field advantage is all that's making me think this is a toss-up, not a should win for ND.
So tallying all that up means Notre Dame will be somewhere between 8-4 and 5-7. The Irish will probably make a bowl game, but it's not going to be a very good one. Brian Kelly will probably return for 2017 with the store of goodwill he's built up over six years, but next season will definitely be a make-or-break one for him.
Reasons to still watch
For all the Notre Dame fans tempted to turn off the TV and avoid all news for the rest of the season, there are still a few good reasons to return each week, no matter how bad it gets.
DeShone Kizer's draft stock: Mock drafts galore have Notre Dame's starting QB going in the first round, potentially even first overall. Every game then becomes an NFL tryout of sorts for the junior. Tune in, because he could just be coming to your favorite NFL team in 2017.
CJ Sanders: Simply put, Notre Dame has one of the best return men in college football. Every time Sanders gets the ball, the potential's there for him to go all the way.
The development of Josh Adams and Equanimeous St. Brown: Even if this season is still shot in your mind, it should be fun to watch Adams and St. Brown grow as players and playmakers. They're both already two of the most exciting players on the Irish roster, but they're only going to get better, and don't you want to brag to your friends a few years from now when the two are scoring TD after TD and say you saw them when they were just getting started?
To be fair, there are some good reasons not to watch too. Your blood pressure, for one. The sight of Brian Kelly's face, purple with rage. And that defense. Lord, that defense.
This article originally appeared on