ACC Standings: UNC keeps pace with Virginia Tech atop Coastal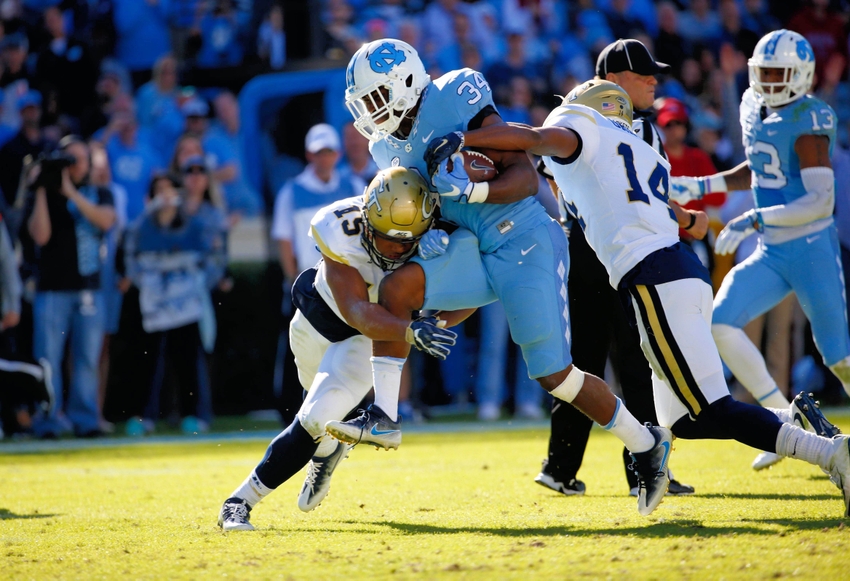 UNC will need some help again in Week 11 as the ACC standings have stayed the same at the top
After a bye week, the North Carolina Tar Heels were back on the football field as they hosted Homecoming at Kenan Memorial Stadium.
The Tar Heels had little problems with Georgia Tech, winning by 28 points. They have now won three-straight games but more importantly kept pace with Virginia Tech atop the ACC Coastal Division.
They also didn't get any help, again.
The Hokies avoided an upset at the hands of Duke to stay ahead of UNC due to their head-to-head tiebreaker. Let's take a look at how the ACC standings shaped up after Week 10:
COASTAL
Team                                          Conf. W/L                 OVR W/L
Virginia Tech                                5-1                             7-2
UNC                                                5-1                             7-2
Miami                                            2-3                             5-4
Pitt                                                 2-3                             5-4
Geo. Tech                                      2-4                             5-4
Virginia                                          1-4                             2-7
Duke                                               0-5                             3-6
ATLANTIC
Team                                          Conf. W/L                 OVR W/L
Clemson                                       6-0                             9-0
Louisville                                      6-1                             8-1
Wake                                             3-2                             6-3
FSU                                                3-3                             6-3                                                                                Cuse                                              2-3                             5-4
NC State                                       1-4                             4-5
BC                                                   1-5                            4-5
Week 11 games
UNC at Duke, 7:30 p.m. (Thursday)
Boston College at Florida State, 7:30 p.m. (Friday)
NC State at Syracuse, 12:30 p.m.
Miami at Virginia, 2 p.m.
Pitt at Clemson, 3:30 p.m.
Georgia Tech at Virginia Tech, 3:30 p.m.
Wake Forest at Louisville, 7 p.m.
For the Tar Heels, their chances at returning to the ACC Championship Game are getting slimmer and slimmer by the week.
Both UNC and Virginia Tech have just two conference games left. UNC goes on the road against Duke on Thursday, then hosts North Carolina State at the end of the season. They also have a game against The Citadel sandwiched in between.
The Hokies have the clear advantage as they host Georgia Tech this week, then Virginia in the final week of the season. They also have a non-conference game sandwiched in between those as they play Notre Dame.
It's looking like UNC will now need a BIG upset from either Georgia Tech or Virginia. The Hokies took care of the tough part of their schedule, beating UNC, Miami and Pitt all in October.
Anything can happen and even if they miss out on the ACC title game, they still have a shot at an at large bid for a big bowl game. However, that ACC Championship Game appearance would be HUGE for their chances.
More from Keeping It Heel
This article originally appeared on