ACC Standings: Hope not lost for UNC just yet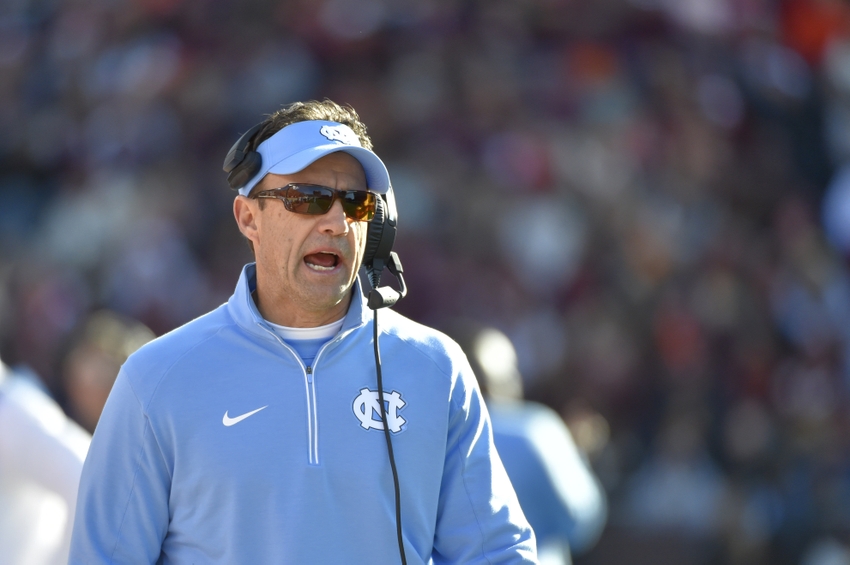 What needs to happen for UNC to win the ACC Coastal Division? We break it all down for you
Don't panic just yet North Carolina Tar Heels fans, the season isn't exactly lost.
Yes, the Tar Heels gave up the ACC Coastal Division lead with their loss to Virginia Tech on Saturday but they still have a shot. Believe it or not.
First, UNC essentially has to win out this year. Then, they will need some help from other teams a long the way.
They got some help from Florida State on Saturday, as they rallied to beat the Miami Hurricanes who are next up for UNC.
Let's break this all down, starting with the standings.
COASTAL
Team                                          Conf. W/L                 OVR W/L
Virginia Tech                               2-0                             4-1
Virginia                                         1-0                             2-3
UNC                                               2-1                             4-2
Miami                                            1-1                             4-1
Pitt                                                 1-1                             4-2
Geo. Tech                                      1-3                             3-3
Duke                                               0-2                             3-3
ATLANTIC
Team                                          Conf. W/L                 OVR W/L
Clemson                                       3-0                             6-0
NC State                                       1-0                             4-1
Wake                                              2-1                            5-1
Louisville                                       2-1                             4-1
FSU                                                 1-2                             4-2
Cuse                                                0-2                             2-4
BC                                                    0-3                             3-3
Week 7 games
Duke at Louisville (Friday)
NC State at Clemson
Georgia Southern at Georgia Tech
Pitt at Virginia
UNC at Miami
Wake Forest at Florida State
Virginia Tech at Syracuse
UNC
The Tar Heels first must take care of business themselves. To have any shot at returning to the ACC Championship Game, they must win out. That starts Saturday with Miami.
If UNC can get that third conference win with just one loss, they won't be in a terrible spot moving forward.
Here's what's left for the Tar Heels:
at Miami
at Virginia
vs. Georgia Tech
at Duke
vs Citadel
N.C. State
As you can see above, all of those are winnable games for the Tar Heels. The toughest one likely coming this Saturday in Miami. It's essentially an elimination game for both teams. That's why that game is so big.
UNC can essentially pass Virginia with a win over the Cavaliers in a few weeks as well. Georgia Tech and Duke are a combined 1-5 in conference play.
Despite having N.C. State at home, it's a rivalry game and anything can happen.
What UNC needs: Win out, Two losses from Virginia Tech.
Virginia Tech
The Hokies obviously have the inside edge here with their win over the Tar Heels.
Essentially, Virginia Tech can afford just one loss the rest of the way barring what UNC and Miami do as well. The Hokies will benefit from one of those teams losing this Saturday and winning out means they are Coastal champions.
Virginia Tech's remaining schedule:
at Syracuse
vs.  Miami
at Pitt
at Duke
vs. Georgia Tech
at Notre Dame
vs. Virginia
Throw the Notre Dame game out as that won't matter. The two that really stand out are against Miami and at Pittsburgh.
If the Hokies were to lose again in conference play this season, it would be those two games. The Hurricanes won't be an easy task but the Hokies have the luxury of playing them at home.
Then a short week which includes a trip to Pittsburgh on Thursday night. We figure the Hokies will beat Syracuse and Virginia. They have the edge over Duke and Georgia Tech as well.
The Hokies have the easiest path to winning the division.
What Virginia Tech needs to do: Win out. Avoid losing two games.
Miami
The Tar Heels have to beat Miami on Saturday. A loss won't mean elimination, but it would force the Hurricanes to have to beat Virginia Tech and then lose two more games. Looking at their schedule, it's tough to see Miami losing two more games.
Miami is a dark horse here. If they beat UNC, their game against the Hokies could decide the Coastal Division.
Here's the Hurricanes remaining schedule:
vs. UNC
at Virginia Tech
at Notre Dame
vs. Pittsburgh
at Virginia
at N.C. State
vs. Duke
Once again, the Notre Dame game doesn't matter for the conference race. But I don't see two games the Hurricanes can lose after Virginia Tech. Maybe Pittsburgh? But after that it's a pretty favorable schedule.
UNC has to do its job and put Miami into a hole on Saturday.
What Miami needs to do: Beat UNC and Virginia Tech
Three way tie?
Okay, here is where things get interesting.
Say the Hokies, Hurricanes and Tar Heels all finish in a three-way tie. It wouldn't eliminate the Tar Heels, as it might work in their favor.
If UNC beats Miami, then Miami beats Virginia Tech and the teams somehow tie three-ways, it goes to a new tiebreaker.  Here are the tie-breaking procedures for a that situation via the ACC website:
Combined head-to-head winning percentage among the tied teams.

Winning percentage of the tied teams within the division.

Head-to-head competition versus the team within the division with the best overall (divisional and non-divisional) Conference winning percentage, and proceeding through the division. Multiple ties within the division will be broken fi rst to last, using the league's tie-breaking procedures.
Combined winning percentage versus all common non-divisional opponents.
Combined winning percentage versus all non-divisional opponents.
Winning percentage versus common non-divisional opponents based upon their order of finish (overall conference winning percentage) and proceeding through other common non-divisional opponents based upon their divisional order of finish.
The tied team with the highest ranking in the full Bowl Championship Series Standings following the conclusion of regular season games, unless the second of the tied teams is ranked within five-or-fewer places of the highest ranked tied team. In this case, the two-team tiebreaking procedure shall be applied between the top two ranked tied teams. If all tied teams are not ranked in the full Bowl Championship Series Standings, the computer ranking portion of the Standings will be used, eliminating the high and the low computer ranking, and averaging the remaining rankings.
The representative shall be chosen by a draw as administered by the Commissioner or Commissioner's designee.
Depending on how it goes, it could work out in UNC's favor. Stay tuned folks, this could get interesting.
More from Keeping It Heel
This article originally appeared on