ACC Football: Week 1 Power Rankings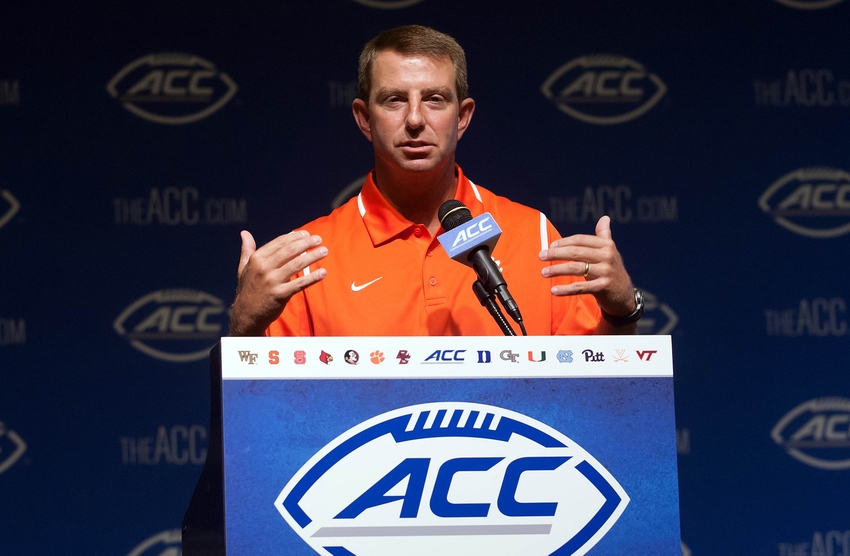 Week 1 was an intriguing week for the Atlantic Coast Conference, going 10-2 in the opening weekend. It was the start of something special for some and the start of a long season for others. Here are the Power Rankings entering Week 2.
14
Virginia
Cavaliers
(0-1)
Last week:
37-20 L Richmond
Last rank:
n/a
The Virginia Cavaliers got their 2016 season off to a rough start under new coach Bronco Mendenhall. The Cavaliers lost their home opener 37-20 to FCS powerhouse Richmond Spiders, their first loss to an FCS team since 2009.
It was a tough day all around for the Cavaliers. They didn't score a point until the second quarter. They rushed the ball for 38 rushing yards and fumbled the ball three times.
Things don't get any better for the Cavaliers next week. In Week 2, they travel to Oregon. Their last meeting with Oregon in 2013 ended in a 59-10 loss.
13
Boston College
Eagles
(0-1)
Last week:
17-14 L Georgia Tech
Last rank:
n/a
The Boston College Golden Eagles opened the 2016 season with a loss. They lost their first season opener since 2012 and have lost their last nine conference games.
The Golden Eagles outgained the Yellow Jackets in total offensive yards 313-238.
Running back Jonathan Hilliman rushed for 102 yards and a touchdown. Their passing offense still looks like a work in progress. Quarterback Patrick Towles passed for 137 passing yards while completing 11-17 passes.
The defense held the Yellow Jackets to 119 rushing yards and forced three turnovers. The Golden Eagles just could not hold the lead down the stretch.
12
Wake Forest
Demon Deacons
(1-0)
Last week:
7-3 W Tulsa
Last rank:
n/a
The Deacs started 2016 in the win column but a 7-3 victory has many fans questioning their growth.
Wake Forest only managed ten first downs and 175 total yards of offense. Quarterback John Wolford was 9-17 with 79 passing yards.
Backup quarterback Kendall Hinton was 3-4 with 17 passing yards. Hinton also had 24 rushing yards and a touchdown.
The defense allowed 280 yards (146 rushing, 134 passing) but only allowed three points. So there's a positive to takeaway from their victory.
Week 2 gets a little tougher as the Deacs visit the Duke Blue Devils.
11
Syracuse
Orange
(1-0)
Last week:
33-7 W Colgate
Last rank:
n/a
The Orange looked good in their season debut behind new head coach Dino Babers. The game was never in question as Syracuse controlled the game from the early going.
Quarterback Eric Dungey was 34-40 with 355 passing yards and two touchdowns. Running back Moe Neal rushed nine times for 68 rushing yards and a touchdown.
The wide receivers made program history. Ervin Phillips and Amba Etta-Tawo became the first receivers in Syracuse history to record more than 10 receptions in a game. Phillips had 14 catches for 87 yards and a touchdown. Etta-Tawo had 12 receptions for 210 yards and two touchdowns.
Not bad for Week 1. Week 2 gets a little tougher, as they face Louisville.
10
NC State
Wolfpack
(1-0)
Last week:
48-14 W W&M
Last rank:
n/a
The NC State Wolfpack got their 2016 season off to a fast start. They got 28 first downs, held the William & Mary Tribe to 14 points, and the quarterback position looked secure.
Quarterback Ryan Finley passed for 174 yards on 17-21 passes. Matt Dayes rushed 23 times for 128 yards and two touchdowns.
Hybrid back/tight-end Jaylen Samuels scored three touchdowns on day. He caught 5 passes for 66 yards and a passing touchdown and ran for 24 rushing yards and two touchdowns.
The Wolfpack had 521 total yards of offense on the day, 259 rushing.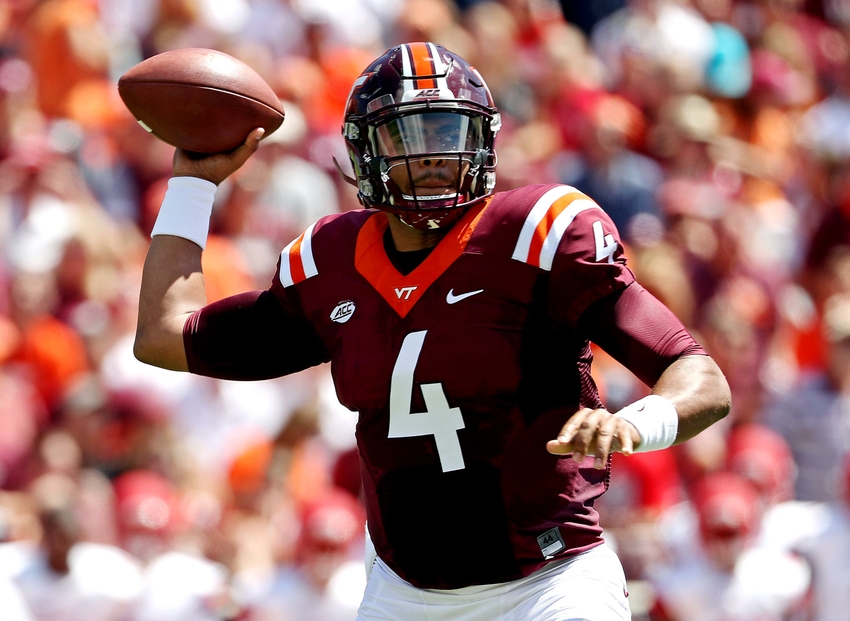 9
Georgia Tech
Yellow Jackets
(1-0)
Last week:
17-14 W Boston College
Last rank:
n/a
The Georgia Tech Yellow Jackets got their ACC season off to a positive note with a win over the Boston College Golden Eagles.
The Yellow Jackets scored when it mattered, including a four yard run from freshman running back Dedrick Mills with 35 seconds remaining. Mills lead the Yellow Jackets with 68 rushing yards and a touchdown.
Quarterback Justin Thomas completed 9 of 17 passes and threw for 119 passing yards.
Week 2 is another potential victory, as the Yellow Jackets face off against Mercer. 
8
Virginia Tech
Hokies
(1-0)
Last week:
36-13 Liberty
Last rank:
n/a
The Virginia Tech Hokies looked good in Justin Fuente's head coaching debut.
Quarterback Jerod Evans was 20-32 with 221 passing yards and four passing touchdowns. Receiver Isaiah Ford caught 11 passes for 117 receiving yards and a touchdown.
The defense was led by cornerback Greg Stroman, who had two interceptions. The defense allowed only 160 yards all game.
Week 2, the Hokies travel to Bristol to face the Tennessee Volunteers.
7
North Carolina
Tar Heels
(0-1)
Last week:
33-24 L UGA
Last rank:
n/a
The North Carolina Tar Heels lost their season opener, but there were plenty of takeaways in Mitch Trubisky first game as starting quarterback. Trubisky was 24-40 with just 156 passing yards and no touchdowns.
The Tar Heels only gave the ball to Elijah Hood 10 times and he rushed for 72 yards. The offense couldn't seem to find a rhythm all game.
Hint: They should give Elijah Hood the ball more. UNC ran the ball 19 times at a rate of 8.4 yards per carry.
The Tar Heels defense allowed Nick Chubb to rush for 222 rushing yards and two touchdowns as well. The 13 penalties for 101 yards certainly didn't help the Tar Heels cause either.
Week 2 should produce better results, as the Tar Heels travel to Illinois.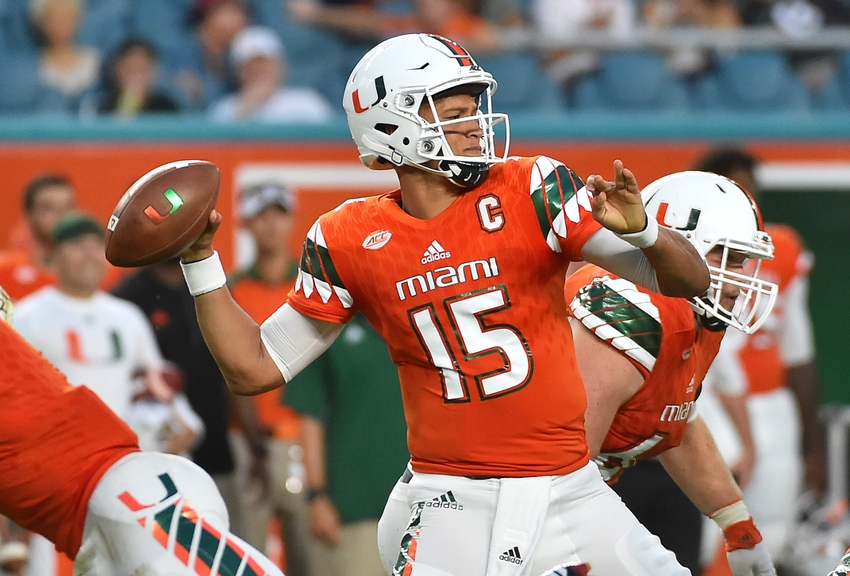 6
Duke
Blue Devils
(1-0)
Last week:
49-6 W NC Central
Last rank:
n/a
The Duke Blue Devils showed no signs of inexperience in with Daniel Jones' debut at quarterback. The Blue Devils lost starting quarterback Thomas Sirk for the season to open the season but that didn't deter things.
Jones threw two touchdowns and ran for another on 10-15 passing with 189 passing yards. Running back Jela Duncan ran for 115 rushing yards and two touchdowns.
The Blue Devils open their ACC slate against the Wake Forest Demon Deacons in Week 2.
5
Pittsburgh
Panthers
(1-0)
Last week:
28-7 W Villanova
Last rank:
n/a
The Pittsburgh Panthers looked good, especially running back James Conner in his return to the football field.
Conner ran for a touchdown and caught a passing touchdown in a 28-7 victory over Villanova. Conner rushed for 53 yards and caught three passes for 16 yards.
Quarterback Nathan Peterman threw for 175 yards and two touchdowns.
Receiver Quadree Henderson also had a kickoff return for a touchdown to open the second half.
The Panthers have Penn State on their schedule in Week 2.
4
Miami
Hurricanes
(1-0)
Last week:
70-3 FAMU W
Last rank:
n/a
Brad Kaaya threw four touchdowns while going 12-18 with 135 passing yards. Running back Mark Walton ran the ball 15 times for 116 yards and a touchdown.
The Canes completed a pass to nine different receivers in the game. They scored 42 points in the third quarter.
The Canes defense held the Rattlers to 197 total yards of offense and forced two turnovers. Braxton Berrios had a 41-yard punt return for a touchdown.
The Canes host Florida Atlantic in Week 2.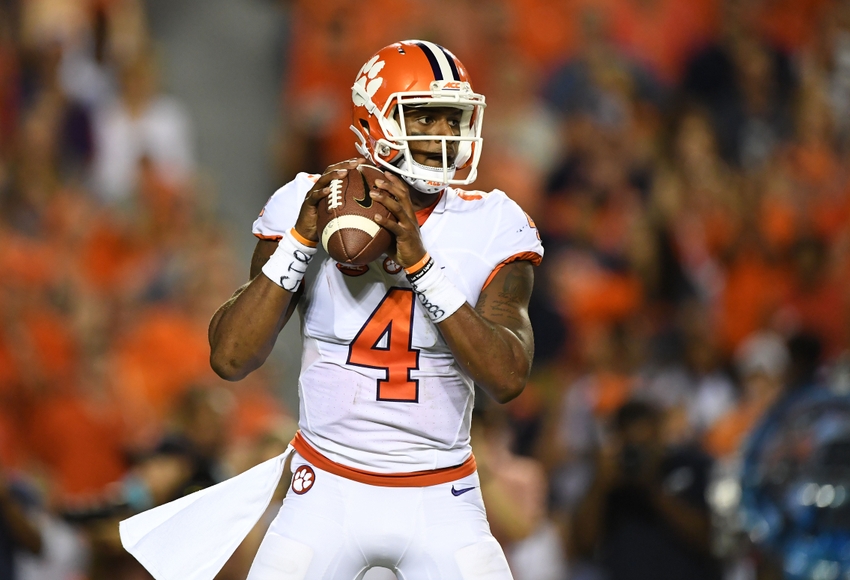 3
Louisville
Cardinals
(1-0)
Last week:
70-14 W Charlotte
Last rank:
n/a
Quarterback Lamar Jackson earned Walter Camp National Player of the Week honors for his Week 1 performance.
The junior quarterback was accountable for eight touchdowns (all in the first half) in what was a confidence boost at best for the Cardinals. Jackson threw for 286 passing yards and six touchdowns while rushing for 119 yards and two touchdowns.
The Cardinals offense scored 28 points each in the first 2 quarters.
The defense allowed 14 points in the second half and did not allow the 49ers to convert a first down on any third downs. The 49ers were 0-13.
Up next, the Cardinals travel to Syracuse to start their ACC schedule in Week 2.
2
Florida State
Seminoles
(0-0)
Last week:
vs. Ole Miss
Last rank:
n/a
The Seminoles open the season against Ole Miss behind much fanfare with quarterback Deondre Francois.
Fisher named Francois the starter in the opening week of practice and said it was a foregone conclusion the whole time.
The Seminoles return much of their vaunted defense and hope this season the offense can keep pace. With Dalvin Cook at running back, it shouldn't be an issue.
The Seminoles return most of the defense that allowed only 15.7 points a game in 2015 including safety Derwin James and defensive end Demarcus Walker.
The Seminoles open Week 1 against the Ole Miss Rebels.
1
Clemson
Tigers
(1-0)
Last week:
19-13 W Auburn
Last rank:
n/a
The Clemson Tigers didn't look perfect, but thats okay when you've got a proven leader in quarterback Deshaun Watson.
Clemson did enough to escape SEC territory with a 19-13 victory and the offense certainly has much to look forward to.
Watson was 19-34 for 248 passing yards and a touchdown. Watson didn't run the ball much, leaving that to running back Wayne Gallman, who carried the ball 30 times for 123 rushing yards and a touchdown.
The defense allowed 262 total yards of offense but did not give up a touchdown until the fourth quarter. They forced three turnovers, including an interception on the goal line by linebacker Ben Boulware.
The Tigers host Troy in Week 2.
This article originally appeared on