ACC Football: Three Impact Coastal Division Games in Week 11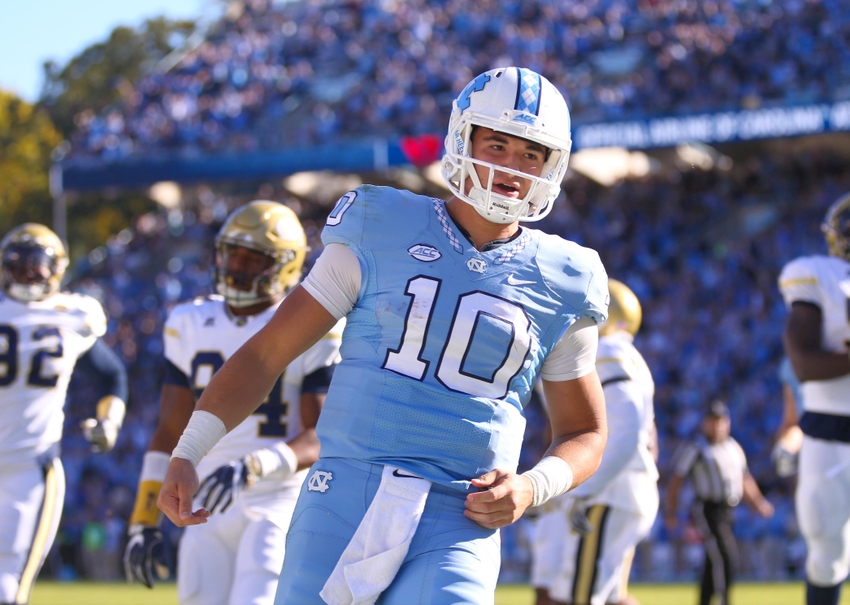 Which ACC Football Coastal Division games are the biggest of the weekend?
It's official. 2016 is the year anything is possible.
No seriously, look at what has happened.
Denver Broncos win the Super Bowl for their first title in 17 years. They beat a Panthers team that went 17-1 going into that game and looked unstoppable.
Villanova hits a game-winning shot at the buzzer to beat UNC. That shot came seconds after UNC's Marcus Paige hit a circus shot to tie the game. The win is the first Villanova basketball championship in 31 years.
Cleveland Cavaliers win the NBA Championship. They win it over a Golden State Warriors team that had more regular season wins than any other team in NBA history. They also did it while trailing three games to one. The win was the first championship ever for the Cleveland Cavaliers. It was also the first for the city of Cleveland in 52 years.
The Chicago Cubs won the World Series despite trailing three games to one to the Cleveland Indians. The win was the first World Series win for the Cubs in 108 years.
If you add that up that's 208 years combined of losing that ended in 2016. To put that in perspective, America as a nation is only 241 years old. Crazy.
Need more proof anything can happen in 2016? Donald Trump is President.
So watch out world. Anything can happen. And with that let's delve into some ACC Football.
Georgia Tech at Virginia Tech (Saturday Nov 12th @ 3:30 pm)
Virginia Tech is coming off a tough road win. Georgia Tech is coming off a blowout road loss. If the Hokies win they are one win away from Orlando. If the Jackets win they become bowl eligible. Who gets the job done?
Things going for the Yellow Jackets: The return of Justin Thomas. Before getting injured last week against North Carolina, Thomas had been finding his groove. In his last three games, Thomas has 935 total yards of offense, eight touchdowns, and no turnovers. The Yellow Jackets are 2-1 in those games.
Thomas makes the triple option work. In the last three games the Jackets have 893 rushing yards.
Things going for the Hokies: The Dedrick Mills Suspension. The freshman running back has been the focal point of the triple option this season. Last week against Carolina, the bruising back had 132 yards and a score on 19 carries.
He is hard to bring down and his loss will make it easier for the Hokies defense. Speaking of that defense, Virginia Tech is top 20 nationally allowing only 327 yards per game. Finally, the game is in Blacksburg.
The Hokies are undefeated at home this season. Meanwhile, Georgia Tech is 0-2 in true road games in 2016.
As I say every week, the Coastal is dependent upon what the Hokies do. If they hold serve and win out, chaos stays in check for a second consecutive season.
If they lose then the door opens for change, mainly in the form of the Heels. Georgia Tech needs this for bowl eligibility, that cannot be over looked. Though the Thomas return is big, the Mills suspension is bigger.
Of course, this is 2016 so anything is possible, the Hokies did lose to Syracuse after all.
Duke has lost their last two games by six points. UNC has won their last two games by 49 points.
Will Duke finally prevail? Or will UNC continue to run rampant through the ACC?
Things going for the Tar Heels: Duke's Defense. In those last two close games, Duke's defense has done the team no favors.
They have allowed over 1,000 yards of offense and 62 points. 548 of those yards have been on the ground. In their last two games, UNC has over 1,100 yards of offense and 83 points. They have also been churning it out on the ground thanks to Elijah Hood.
In the last two games Hood has 275 yards and four touchdowns on just 28 carries (9.8 per carry).
There is also the recent history. In the last two games UNC has outscored Duke 111-51. The Heels have also outgained the Blue Devils 1296 to 911 in total offense.
Things going for the Blue Devils: Third Times the Charm. Duke has come within three points of beating both Georgia Tech and Virginia Tech in consecutive weeks. If they had won those games, the Blue Devils would be 5-4 and one win shy of bowl eligibility.
In other words, they are so close to breaking through, teams should be scared. Plus it is a Thursday night game and those tend to favor the home team.
Of course if that isn't any consolation, it's also basketball season. Come Friday night the Duke tips off as the number one team in the land. Well most lands.
The odds are most Duke fans focus has already abandoned the gridiron for the hardwood. That will be especially true if they lose again on Thursday.
This is still a rivalry game, even if the trophy doesn't represent it anymore. So anything is possible. I mentioned in the Power Rankings this week that this is a two-team race for the Coastal. Even if UNC and Virginia Tech lose out, no one else can overtake them. Duke has been close a lot this season.
Plus they need to win out to make a bowl game for a fifth straight year. However, I think the recent history speaks to the difference in talent between these two teams. Barring another Hurricane, the Heels should win this one.
Miami at Virginia (Saturday November 12th @ 2:00 pm)
Miami is coming off a win that ended a four-game losing streak. Virginia is currently on a four-game losing streak. Can the Cavs pull a Hurricane and put it to an end?
Things going for the Hurricanes: Brad Kaaya and Mark Walton. The duo went for 522 total yards and six scores against the Pitt defense last week. Virginia is allowing 445 yards per game this season. The Cavs just allowed an anemic Wake Forest offense (120th nationally) to get over 300 yards against them last week.
Things going for the Cavaliers: Taquan Mizzell. The Senior running back is sitting at four consecutive games of 100 total yards of offense.  That brings the dual threat backs total to six on the season and to 14 in the last two seasons. This season his team is 1-5 in such games, despite them going 4-4 in those games last season.
Regardless, there is a reason his nickname is Smoke.
Miami does clinch a bowl game with a win. Virginia can no longer reach bowl eligibility. They can however cause some headaches for teams the next couple of weeks, including the Hokies to end the season.
Miami is the better team, but the question is was last week an outlier or a turning point? The answer will go a long way to determining the winner of this game.
One to keep an eye on: Pittsburgh at Clemson (Saturday November 12th @ 3:30 pm)
With a win Clemson clinches the Atlantic. With a win Pittsburgh clinches bowl eligibility. Pittsburgh is 1-3 on the road this season. Clemson is 5-0 at home this season. They have also won 21 straight at home dating back to 2013. Pittsburgh has not lost three games in a row since Narduzzi took over.
Clemson hasn't lost a regular season game since November 15, 2014. In other words, don't be picking a Panthers upset unless your DeLorean just got back from the repair shop.
Well by my count that makes seven Coastal teams. With all the talk of possible scenarios out there, one is not being talked about. If the Hokies beat Tech and the Heels lose to Duke, Virginia Tech wins the Coastal.
A conference championship game decided by week 11? That might be the most unexpected thing in all of ACC football.
More from Keeping It Heel
This article originally appeared on