ACC Football: Coastal Division Power Rankings Week 1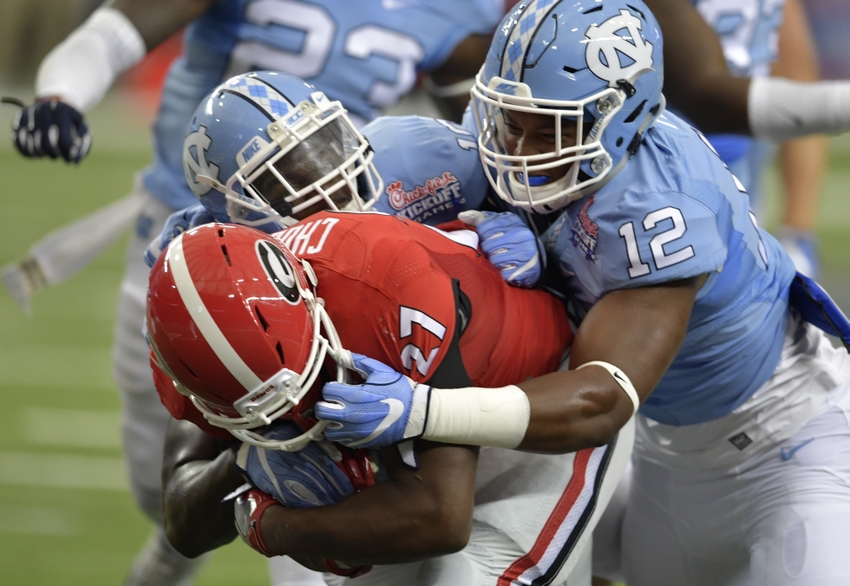 UNC's loss to Georgia puts them behind other teams in the Coastal standings. Does it drop them in the ACC Football Coastal Rankings too?
Now that is how you kick off College Football Weekend.
This weekend had everything. You want upsets. This weekend had upsets. How about Western Michigan upsetting Northwestern? How about South Alabama upsetting Mississippi State? How about A&M over UCLA or Texas over Notre Dame?
How about Top five programs LSU and Oklahoma losing to Wisconsin and Houston respectively?
And then one of the biggest no name upsets was Texas State beating Ohio in triple OT. Texas State, led by former UNC coach Everett Withers, was a 21 point underdog.
There were also close games were the favorite pulled out a win. Clemson beating Auburn 19-13. Tennessee beating App State 20-13 in OT.
Or maybe you enjoy blowouts. The weekend had blowouts. How about Michigan and Ohio State scoring a combined 140 points against 13 for the opposition? How about ranked teams like Louisville, Baylor, and Washington dropping a combined 173 points this weekend?
And then there is what Alabama did to USC:
Honestly the season may just be a coronation for the Crimson Tide. But then again that's what they said about the UK Wildcats Men's team in 2014 as well. In other words, this is why we play the games.
And none of this includes what the Coastal did this weekend. Speaking of the Coastal, this week's rankings were particularly difficult. Do you reward a team for barely beating a Power five conference opponent? Or do you reward one for crushing a bottom of the barrel FCS opponent?
I am taking a cue from the college playoff handbook and going from there. So let's get started this week with what the only easy decision in this week's rankings, the bottom.
7
Virginia
Cavaliers
(0-1)
Last week:
Lost 37-20 to Richmond
Last rank:
7th
When your team loses to an FCS opponent, it makes things easy for the Rankings Guru. Thanks for the help Virginia.
So maybe Virginia isn't bad because they play in a tough division. Maybe they are just bad. One thing is for sure, Taquan Mizzell did not look good. Mr. 100 all-purpose came in with all of 66 yards, half of which came in the return game.
If Mizzell is off so is Virginia and losing at home to an FCS team, even a good one, will only make the season longer. Things don't get easier for the Cavs either as they travel to Eugene to play the Ducks of Oregon.
6
Virginia Tech
Hokies
(1-0)
Last week:
Won 36-13 against Liberty
Last rank:
4th
Okay Hokie fans don't get too upset here. Yes, you dropped two spots despite winning.
However, you're win wasn't overly impressive and it was against a less than stellar opponent. Tech also didn't help its cause with four fumbles.
Fumbles are a tricky thing, but losing four of them to Liberty isn't impressing anyone. Jerrod Evans looked good with four touchdowns and 221 yards and 46 yards on the ground. Unfortunately, star running back Travon McMillian did not.
McMillian averaged all of three yards a carry. Things don't get easier for the Hokies either as they play Tennessee this week in the Battle at Bristol.
5
Duke
Blue Devils
(1-0)
Last week:
Won 49-6 against North Carolina Central
Last rank:
6th
Duke moves up one spot because of a demolishing of an inferior opponent.
The 49 points scored were the second highest for any Coastal team and impressively the all came in the first half. Jela Duncan paced Duke's run game with 115 yards and two touchdowns. Freshman QB Daniel Jones also looked good throwing for two touchdowns and rushing for another.
The question will be whether Duke can continue to dominate this week when they play FBS and fellow ACC squad Wake Forest in Durham.
4
Pittsburgh
Panthers
(1-0)
Last week:
Won 28-7 against Villanova
Last rank:
3rd
James Conner returned to the game of football Saturday after sitting out last season with and injury and being diagnosed with cancer.
What did he do? Well he ran 17 times for 53 yards and a touchdown. He also caught three passes for another 16 yards and a touchdown. Not too shabby for a guy who some thought might never play again.
It was a good thing too as the rest of Panthers didn't look all that stout as it took Pitt 19 minutes to score against an FCS team. Pitt will get a much stiffer test this week as they host the Nittany Lions of Penn State.
3
Georgia Tech
Yellow Jackets
(1-0)
Last week:
Won 17-14 against Boston College
Last rank:
5th
Georgia Tech was one of only two Coastal teams to play a power five school this week. They were also the only one to win.
Considering that BC had the number one ranked defense last season, 17 points is pretty impressive. What also was impressive is that Tech did it on the final drive of the game which included a successful 4th and 19 conversion.
The Yellow Jackets head home this week as they take on the Bears of Mercer.
2
North Carolina
Tar Heels
(0-1)
Last week:
Lost 33-24 to Georgia
Last rank:
1st
I have made it my goal in life to not blame the refs for a loss.
Teams who put themselves in a position to lose because of a bad call or four did plenty of other things wrong in that game as well. But this game came close.
However, I will stick by my rule and not blame the refs, even though I really, really want to.
Outside of some questionable calls, Carolina did not have the best game. The defense looked solid at times, at others it looked unable to stop the run. TJ Logan looked great, Mitch Trubisky looked lost. Overall the team looked unprepared, which is odd because the team had plenty time to prepare.
Since Fedora has been at UNC, the Heels are 5-7 when the Coaching staff has had more than ten days to prepare for a team. I don't know what is going on, but it isn't good.
Speaking of Fedora, the coach did three things that attributed to the Heels losing. First, he did not get the ball into Hood's hands. Elijah Hood only ran the ball ten times Saturday. Compare that to his counterpart who ran it 32 times. I thought Fedora had learned from last season's loss to South Carolina that Hood needs to carry the ball, I was wrong.
Second the unsportsmanlike penalty. Yes, he was contesting a highly questionable play, but the Head Coach needs to know in that situation, in that environment, he can not be standing on the 50-yard line. That penalty set up the safety that followed and was one of the reasons UNC trailed by nine late instead of seven.
Third, not kicking the field goal on fourth and five. The Heels needed two scores to win the game. Fedora should've kicked the field goal and then tried for the onside kick. Even if Mitch had gotten the first down time would've been a factor as less than two minutes remained. This isn't just on Fedora, NFL coaches make this same decision all the time. It is a bad one.
This was a tough choice as UNC played the toughest game of the group and looked good enough to win in what was basically a home game for the Bulldogs. Hopefully this will be like last season and be the game that gets Trubisky on track and the team on a streak. They will look to get their first W this week as they stay on the road to play Illinois for the second season in a row.
1
Miami
Hurricanes
(1-0)
Last week:
Won 70-3 against Florida A&M
Last rank:
2nd
Miami takes the top spot this week by scoring 70 points, tops for any Coastal team this week. Yes, the game was against lowly Florida A&M, but it is still impressive.
Miami's running game also broke out as three different players rushed for over 100 yards. The Hurricane Triumvirate of Mark Walton, Gus Edwards, and Joseph Yearby combined for 327 yards and four touchdowns in just 29 carries. Miami will continue it's stay at home Florida tour this week as they take on Florida Atlantic. 
A new week and a new number one. Last season, the preseason top ranked team finished the season at the bottom. That was Georgia Tech. Here is hoping that UNC responds more like they did last season with an 11 game win streak.
Carolina could easily reclaim the number one spot with a win over Illinois and a Miami loss. Though looking at Miami's opponent, the Canes should be 2-0 after this week. Will a 1-1 record against the Power 5 be more impressive than 2-0 against the Sunshine State? We will see. None of that has happened yet. As I said before that's why they play the games. If the season is anything like week one, anything is possible.
What did you think of this week's rankings? Let us know in the comments below.
More from Keeping It Heel
This article originally appeared on