ACC notebook: A QB is born in Louisville; it's make or break time for Clemson, Ga. Tech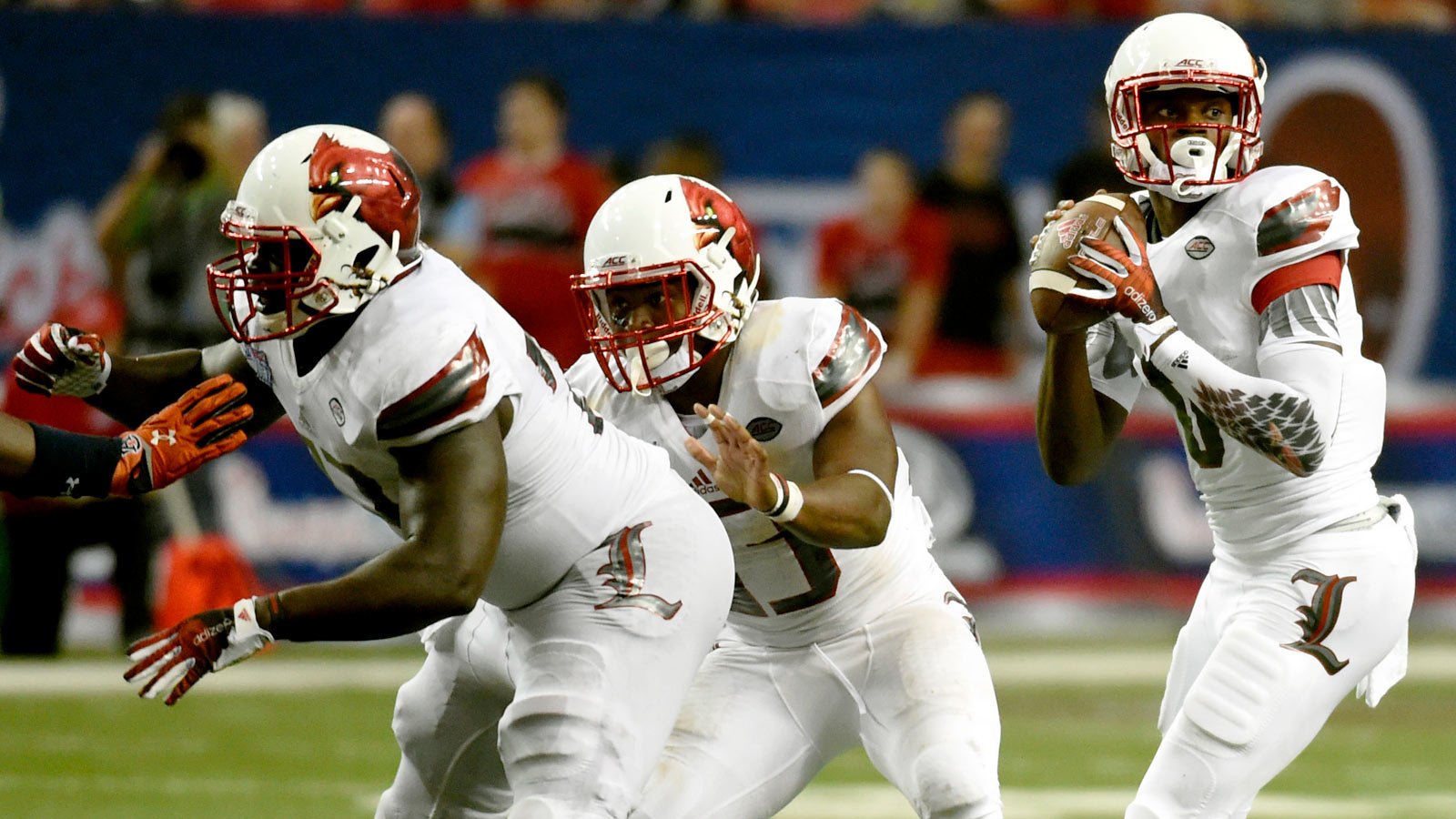 Louisville entered the preseason as a popular darkhorse pick to win the ACC. Then the season started and things just got dark.
The Cardinals lost their first three games as Bobby Petrino became the only head coach to start three quarterbacks – Reggie Bonnafon, Lamar Jackson and Kyle Bolin – in the first three games. After Saturday's 45-3 win over Samford, the carousel of quarterbacks has stopped with Jackson holding the seat.
The 6-3, 196-pound true freshman gave a historic performance in the second start, completing 15 of his 22 pass attempts for 212 yards and a TD, while rushing for 184 yards, a school record for a quarterback, and two scores.
"He just has explosiveness. You see it on the field and in practice. You saw it in the first game of the year," Petrino said. "He's real explosive and he can go the distance when he gets the opportunity."
Jackson scored on TD runs of 13 and 14 yards, while throwing a 36-yard scoring strike to James Quick.
"Yeah, I think we've settled on Lamar," Petrino said after the game. "You know, he came out and played well tonight."
On the season, Jackson has thrown for 495 yards and two touchdowns and rushed for 314 yards and four scores, and his athleticism brings an added dimension to the offense.
"I thought we started to get into it with the way we were running the ball. Lamar (Jackson) was making good reads. They were giving him some runs and he took advantage of them with his speed," Petrino said. "I thought our receivers really worked hard down the field getting some big blocks to spring it.
"And then in the second half we worked hard on the passing game and tried to really work hard and improve in all aspects of the passing game. But I'm happy with our offense."
Jackson's breakout performance couldn't have come at a better time. The Cardinals (1-3, 0-1 ACC) are heading into a critical stretch.
Starting Saturday, Louisville will play the first of five consecutive games against fellow Atlantic Division opponents, when it travels to face N.C. State (4-0, 0-0). After that, the Cardinals will head to Tallahassee to clash with No. 10 Florida State (3-0, 1-0), play host to Boston College (3-1, 0-1), take on Wake Forest (2-2, 0-1) in Winston-Salem and then return home to battle Syracuse (3-1, 1-0).
It's a daunting swing, but Petrino urged his club to concentrate on one task at a time.
"We need to just really focus on this one game – going on the road, North Carolina State's playing good football, finding a way to win games," Petrino said. "They're a good football team. I watched some of their video this week. They've got a good secondary, they're fast. Their quarterback has been playing well for them so it's going to be a good challenge for us. We just have to have a great week of practice and continue to improve and get better and understand the game of football better."
Make or break week for Clemson, Georgia Tech
It's a make or break week for two ACC teams heading in totally different directions. After taking last weekend off, No. 12 Clemson (3-0, 1-0) will look to continue its hot start against No. 6 Notre Dame (4-0) in a marquee matchup that will likely cast the loser out of contention for a spot in the College Football Playoffs.
With their last game being a 20-17 victory over Louisville on Thursday, Sept. 17, the Tigers should be well rested come Saturday night's 8 p.m. ET kick off.
Notre Dame is coming off a 62-27 smashing of UMass.
After falling to the Fighting Irish two weeks ago, Georgia Tech (2-2, 0-1) was downed by Duke Saturday, 34-20, and has fallen out of the AP Top 25 rankings for the first time this season.
The two losses put the Yellow Jackets, who still have Coastal Division championship aspirations, in a must-win situation Saturday when they host North Carolina (3-1, 0-0) at 3:30 p.m.