A View from UNC: Q&A with FanSided's Keeping It Heel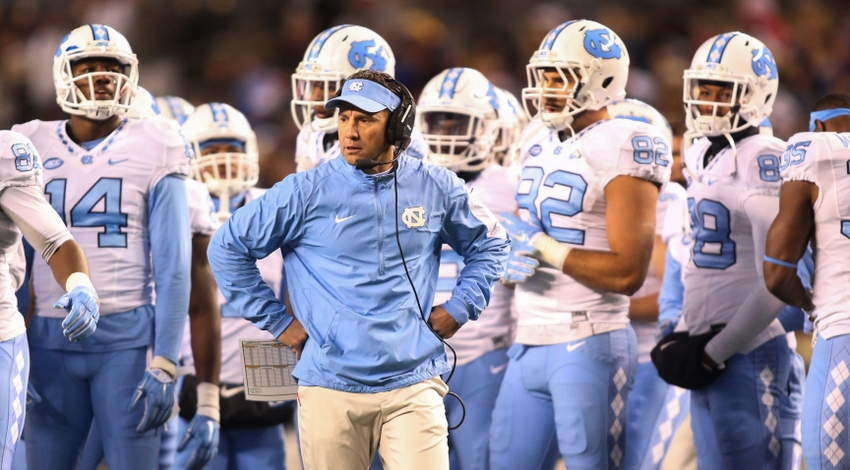 Our FanSided bros at Keeping It Heel (FanSided's University of North Carolina site) was cool enough to virtually sit down with us and answer some interesting questions about his team and the game this upcoming Saturday from the opponents' perspective.
We are down to mere days until our beloved Georgia Football team kicks off the 2016 campaign against the No. 22 North Carolina Tar Heels in the Chick-Fil-A Kickoff Game in Atlanta. This matchup should prove to be a very entertaining one.
This week we talked to Brendan Carducci of FanSided's UNC site Keeping It Heel about the big-time game this weekend. So without further ado let's get an insider's look from the perspective of the Tar Heels.
DOTD: What are the expectations for Larry Fedora's team this year?
KIH: Expectations are high for Larry Fedora's team this year. Last season, the Tar Heels finished 11-3, winning the ACC Coastal Division. Last season was also the first season since 1997 that UNC won ten or more games. Carolina's three losses came at the hands of three respectable football teams. UNC lost to Clemson, South Carolina and Baylor, keeping all those contests competitive.
DOTD: Who would be three impact players on offense that Georgia must watch for?
KIH: Larry Fedora's Heels main weapon is there lethal offense. Last season, North Carolina averaged per game 262.2 yards through the air and about 225 yards on the ground. The first player to watch for when UNC has the ball is new quarterback Mitch Trubisky. Despite losing starting QB Marquise Williams, Carolina fans should feel confident with the Trubisky at the helm. Last season, Trubisky appeared in nine games, completing 40 of 47 passes and throwing for six touchdowns. He also rushed a total of 16 times, gaining 101 yards and punching the ball in the end zone three times.
Another Tar Heel to watch for is wideout Ryan Switzer. Last year he caught 55 passes for about 700 receiving yards, 6 reaching the end zone. Not only is he a huge threat in the passing game, he is an electrifying kick returner. Back in 2013 he tied the NCAA record for punt return touchdowns, bringing 5 punts back to the house.
Out of the backfield, running back Elijah Hood is a serious threat to the Georgia defense. Just one season ago Hood averaged 6.7 yards per carry, rushing for over 1400 yards and scoring 17 touchdowns. He was named a member of First team All-ACC in honor of his dominant performances.
DOTD: Who would be three impact players on defense, that North Carolina must watch for?
KIH: Carolina is definitely not know for stellar defense, but there are still some impact players to beware of. One player that comes to mind is senior cornerback Des Lawerence. As a junior, Lawerence tallied 59 tackles and secured 2 interceptions. He was named to the 2015 All-ACC Second Team in recognition of his play.
Another Tar Heel that can impact the game defensively is defensive tackle Nazair Jones. Listed as 6-foot-5 weighing about 300 pounds, Jones looks for a breakout junior year. Last season he tallied 40 tackles including two fumble recoveries. Another player to keep an eye out for is safety Donnie Miles. As a sophomore last year he led North Carolina with 128 tackles.
DOTD: What are North Carolina's strengths? Weaknesses?
KIH: North Carolina's main asset is they have explosive players at skill positions. Players mentioned above such as Ryan Switzer and Elijah Hood will make or break Carolina's team this year. Overall, the Tar Heels possess a real threat on offense, dropping an average of 40 points per game on opponents. Carolina's main weakness should be their defensive line. Coach Fedora's bunch has been average at best defending the run, something that Georgia does very well.
DOTD: What position groups are the strongest on North Carolina?
KIH: It is clear that the strongest position group is the wide receiver corps. Behind Switzer, UNC has numerous threats through the air. Some targets include Quinshad Davis and the suspended Mack Hollins. Senior receiver Hollins could be re-inserted into the contest at halftime; he is a playmaker to watch for.
DOTD: How do you think the defense will be under Gene Chizik in year two?
KIH: As stated above, North Carolina's defense is not something to write home about. Entering Gene Chizik's second season at the helm of Carolina's defense, their success will hinge on the play of the unproven defensive line. Schemes should not be different, but how well Carolina can fill the holes left by Shakeel Rashad and Jeff Schoettmer is still very uncertain.
DOTD: How are North Carolina fans feeling about being elite in football and not just basketball anymore?
KIH: It feels great to be not only recognized on the hardwood but also on the gridiron. The most respected universities field good athletic teams and have great academic programs. The University of North Carolina is one of the strongest schools in the country. It is undoubtedly one of the most balanced universities in the nation.
DOTD: How do UNC fans feel about playing Georgia?
KIH: Carolina fans are prepared to rumble with the Georgia Bulldogs. After losing a heartbreaker to South Carolina last year, Tar Heel fans and players want revenge against a SEC foe. "We don't want to blow it, that's as blunt as I can be," North Carolina receiver Ryan Switzer said during the preseason ACC Football Kickoff. "I've seen repeats (of the South Carolina loss) on the SEC Network, and it really is hard to watch knowing that we let that one get away."
DOTD: What is your prediction for the game?
KIH: Personally, I don't think Carolina can contain Nick Chubb and the Bulldogs offense. North Carolina will keep it close with their mighty offense, but in the fourth quarter, Georgia will pull away and win by two scores. 38-24 Dawgs.
Make sure to check out Keeping It Heel's insider article with DOTD about Saturday's game from our perspective.
More from Dawn of the Dawg
This article originally appeared on