A Louisville football fan's TV viewing guide for week four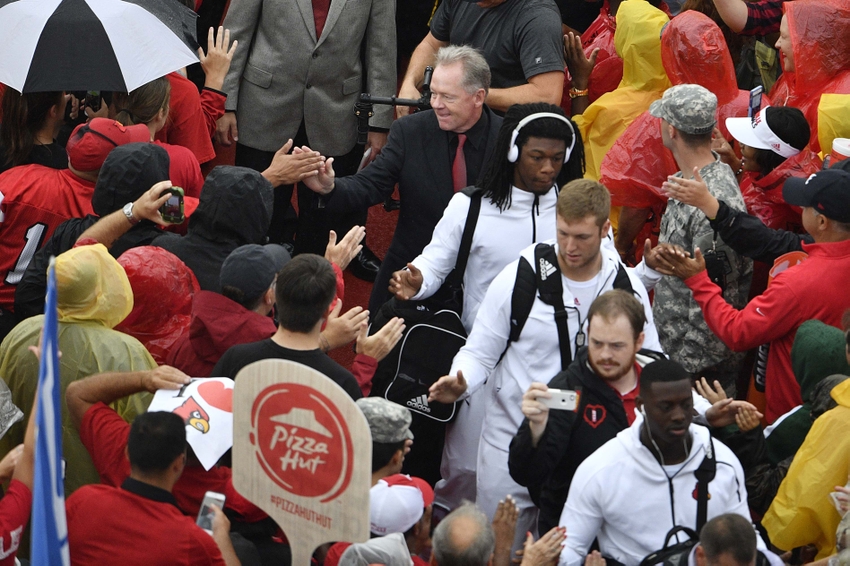 There is a great set of college football games ready to roll this Saturday, concluding with the Louisville Football team taking on the Thundering Herd of Marshall.
It feels like forever since Louisville football took the field against the Florida State Seminoles. After blowing out FSU last Saturday, the Cardinals have moved into the 3rd spot in the country and are set to take on the Marshall Thundering Herd.
This should be a great day of watching football for Louisville fans. Marshall will be hyped up for the game, but the score won't reflect their pre-game excitement. Lamar Jackson and Louisville's offense should continue their hot streak in West Virginia.
Louisville and Marshall will be featured on the CBS Sports Network tomorrow night at 8:00pm. Don't get that confused with the regular CBS channel, so plan your night accordingly if you do not receive that channel at home.
Get the FanSided App
Here are the rest of the games from week four that you need to be paying attention to on Saturday:
12:00pm 12 Georgia at 23 Ole Miss (ESPN)
12:00pm 13 Florida State at South Florida (ABC)
12:00pm 11 Wisconsin at 8 Michigan State (BTN)
3:30pm Pittsburgh at North Carolina (ESPNU)
3:30pm Penn State at 4 Michigan (ABC)
3:30pm 19 Florida at 14 Tennessee (CBS)
9:00pm 17 Arkansas at 10 Texas A&M (ESPN)
Talk about a great day of watching football. There will be four different games that will feature top-25 match-ups.
There aren't any games that could directly impact Louisville on the slate for Saturday. Clemson already defeated Georgia Tech on Thursday evening and they can now begin preparing for Louisville.
Enjoy your Saturday Cardinal fans because it looks as though Louisville football is heading towards 4-0.
This article originally appeared on