5 Things You Didn't Know: Alabama vs. Mississippi State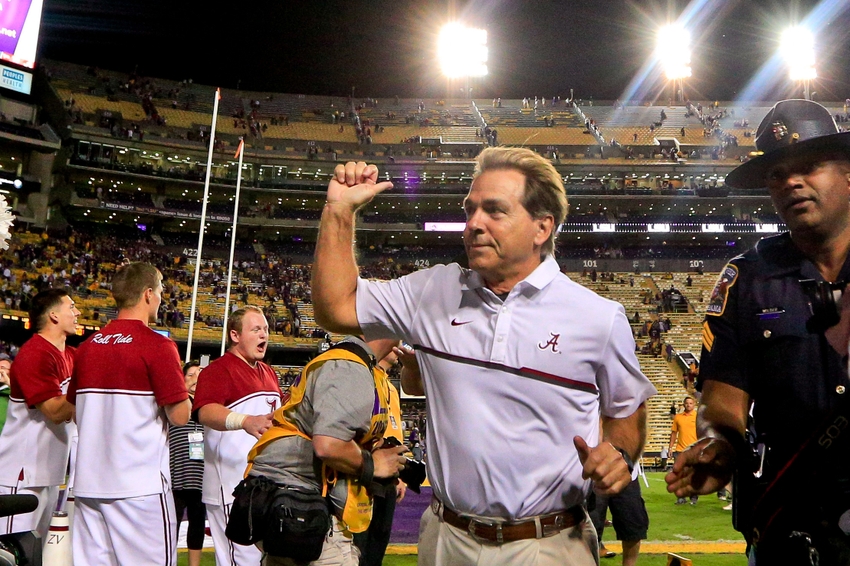 5 Things You Didn't Know is here again, and happy to be back in Bryant-Denny Stadium, as Alabama football returns home to take on unranked Mississippi State.
Welcome back to a new weekly feature here at BamaHammer.com, called 5 Things You Didn't Know (or 5TYDK) about Alabama football!
Of course, maybe someone somewhere knows all five of these preview tidbits in advance of every Alabama football game. But we believe in one-stop shopping — which is why we offer them to you.
ICYMI: Last Week's 5TYDK For Alabama-LSU
And because we also like sharing the wealth, there are links at the end to both the Alabama and Mississippi State weekly pregame media notes. So you can further impress your friends and family with more things they didn't know!
Welcome to 5TYDK …
5 Things No. 1: Series History/What's Next
Alabama holds a 78-18-3 lead over Mississippi State in a series that dates back to the 1896 season. The Mississippi State series is tied for the second-longest continuously played series in the Alabama record book, dating back to the 1948 season. The two border rivals will be meeting for the 102nd time this weekend in Tuscaloosa.
Alabama has played more games (101) and has more wins (78) against Mississippi State than any other opponent on record. The Tide has won eight straight against State, including the last four in Tuscaloosa. Nick Saban is 13-1 against Mississippi State in his career, with an 8-1 record during his tenure at Alabama. The Tide defeated the Bulldogs, 31-6, in their most recent meeting in 2015 in Starkville.
Alabama will host Chattanooga on Nov. 19 at Bryant-Denny Stadium. The Tide is 12-0 against the Mocs and 7-0 all-time in Tuscaloosa. Alabama defeated Chattanooga, 49-0, in Tuscaloosa in the last meeting between the schools in 2013. Nick Saban is 2-0 against Chattanooga with both victories coming at Alabama in 2009 (45-0) and 2013
5 Things No. 2: Streaking & Such
Alabama owns the longest winning streak in the Football Bowl Subdivision, having won 21 consecutive games dating back to last season (a loss on Sept. 19, 2015, vs. Ole Miss). The 21-game streak is the third-longest in school history (28 games twice: 1991-93 & 1978-80) and is the longest under the direction of head coach Nick Saban (previous long: 19 games in 2009-10). During this stretch, the Crimson Tide have won nine games at Bryant-Denny Stadium, eight straight road matchups and four consecutive neutral-site contests while going 14-0 against teams from the Southeastern Conference. Alabama has outscored its opponents by 502 points (778-276; 37.0-13.1), an average of 23.9 points per game, during the streak.
The University of Alabama has played 68 games as the nation's top-ranked team since the inception of the Associated Press poll in 1936. In those games the Crimson Tide boasts a 58-10 (.853) record. Those numbers get even more impressive when you look at the 10 seasons under the direction of head coach Nick Saban (2007-present). Since the ninth game of the 2008 season (110 games), Alabama has played 44 games while being ranked No. 1, posting a 39-5 (.886) record during that span.
Alabama has topped both the Associated Press and Amway Coaches' polls since the preseason but the Crimson Tide also leads all unbeaten Football Bowl Subdivision teams in another category – graduation rate. Alabama boasts the top Graduation Success Rate (GSR) among the nation's undefeated FBS teams at 86 percent. Clemson is second at 84 percent.
5 Things No. 3: Facing, Beating the Best
The Crimson Tide has the fourth-toughest schedule in college football this season per ESPN.com's preseason College Football Power Index, trailing only Southern California, Ole Miss and Florida State. Alabama will, by season's end, face off with nine teams who participated in a bowl game a season ago and will have met four teams ranked in the preseason Associated Press Top 25
The Crimson Tide is 45-12 (.789) against the Associated Press top 25, including a 24-6 (.800) mark against AP top-10 teams since the start of 2008. This season, the Tide has faced six teams ranked in the AP poll, defeating then-No. 20 USC, 52-6, then-No. 19 Ole Miss, 48-43, then-No. 16 Arkansas, 49-30, then-No. 9 Tennessee, 49-10, then-No. 6 Texas A&M, 33-14 and, most recently, then-No. 15 LSU, 10-0, by an average score of 40.1-17.1.
Alabama is scheduled for one more matchup against a team currently in the top 25 (No. 8 Auburn). Alabama fi nished 8-1 in 2015 against the AP top 25 after going 5-2 in 2014, 3-2 in 2013 and 5-1 in 2012. The Tide held a 4-1 mark vs. top 25 teams in 2011 and went 5-3 in 2010.
5 Things No. 4: If It Means Something …
Alabama has won 13 straight games vs. ranked opponents, the longest streak since Southern California won 16 straight from 2002-05 under Pete Carroll and the third-longest run all-time. The streak began at Georgia (Oct. 3) last season with a 38-10 win over the No. 8 Bulldogs in Athens. In those 13 games, the Tide is 7-0 against top-10 teams and 3-0 vs. the top five (LSU, Michigan State and Clemson).
The Tide's last loss to a top-25 team was Sept. 19, 2015, against Ole Miss (37-43). Consecutive Wins Against Ranked Teams in AP Poll History (since 1936) Team Wins Seasons 1. USC 16 2002-05 2. Oklahoma 15 1973-75 3. ALABAMA 13 2015-present 4. Miami (Fla.) 12 2000-02 USC 12 1977-80 Oklahoma 12 1953-58
Since the 2008 season, Alabama has played in only three regular season games that did not have national championship implications. Following the Crimson Tide's 24-21 loss to LSU in 2010, Alabama was essentially eliminated from a chance to remain in the national championship discussion. The final three games of that season mark the only three regular season contests without national championship implications during this span.
5 Things No. 5: Bulldogs This and That
Under Dan Mullen (since 2009), State is 53-4 when leading at the half and 54-2 when leading at the end of the third quarter. State has produced 40 plays of 20 or more yards from scrimmage this year – 17 rushes and 23 passes. MSU leads the SEC in 70+ yard plays with four, including three in the last two games.
QB Nick Fitzgerald is tied for the SEC lead in 10+ yard plays from scrimmage with 32, while WR Fred Ross is fifth with 27. Ross' mark leads all SEC wideouts. MSU owns a +3 turnover margin on the year having gained 17 turnovers (seven fumbles, 10 interceptions) and lost 14 (nine interceptions, five fumbles). The Bulldogs are 2-1 when winning the turnover battle this season (def. South Carolina, UMass; lost at Kentucky). MSU has lost the turnover battle only once this season (-1 vs. Auburn).
Three of MSU's five losses have been decided on the final play of the game – a missed field goal in the season-opener against South Alabama, a turnover on downs in double overtime at BYU and a made 51-yard field goal as time expired at Kentucky. Four of the Bulldogs' five losses have been decided by one possession, seven points or less, including three losses by three points or less.
PREGAME NOTES: Alabama notes vs. Mississippi State
PREGAME NOTES: Mississippi State notes vs. Alabama
MSU has produced three defensive touchdowns this season, including one in two out of the last three games: a 35-yard INT return by DeAndre Ward vs. Samford (10/29), an 81-yard fumble recovery by Mark McLaurin at Kentucky (10/22) and a 38-yard interception return by Jamoral Graham at UMass (9/25).
More from Bama Hammer
This article originally appeared on