5 Things You Didn't Know: Alabama vs. Chattanooga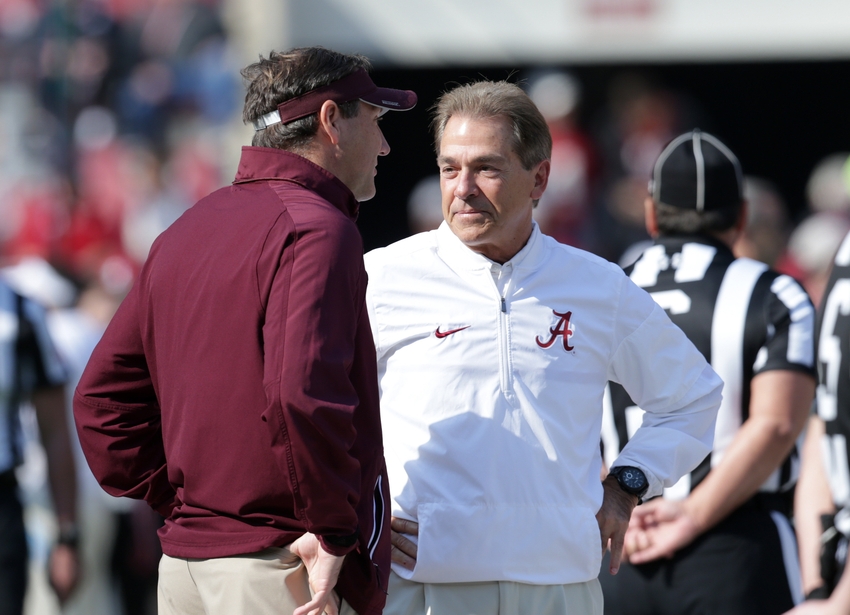 5 Things You Didn't Know is here again, enjoying the hump-game atmosphere in Bryant-Denny Stadium, as No. 1 Alabama football is home to take on FCS opponent Chattanooga.
Welcome back to a new weekly feature here at BamaHammer.com, called 5 Things You Didn't Know (or 5TYDK) about Alabama football!
Of course, maybe someone somewhere knows all five of these preview tidbits in advance of every Alabama football game. But we believe in one-stop shopping — which is why we offer them to you.
ICYMI: Last Week's 5TYDK For Alabama-Mississippi State
And because we also like sharing the wealth, there are links at the end to both the Alabama and Chattanooga weekly pregame media notes. So you can further impress your friends and family with more things they didn't know!
Welcome to 5TYDK …
5 Things No. 1: Series History/What's Next
Alabama has won all 12 meetings with Chattanooga, including a 49-0 victory in 2013. The Crimson Tide own an 9-0 record in Tuscaloosa against the Mocs and a 3-0 mark in Birmingham. Alabama head coach Nick Saban is 2-0 all-time vs. Chattanooga, with wins in 2009 (45-0) and 2013.
Alabama will host Auburn to close out the 2016 regular season. The matchup will be the 81st meeting overall between the Tide and Tigers, with UA owning the 44-35-1 advantage in the series. Most recently, Alabama claimed a 29-13 victory at Auburn to clinch the SEC Western Division title and close out the 2015 regular season. Alabama head coach Nick Saban is 8-6 in his career against the Auburn Tigers. Saban is 5-3 in Iron Bowl games as the head coach at Alabama, including a 3-1 mark at Bryant-Denny Stadium.
5 Things No. 2: Number One is Far From Done
Alabama owns the longest winning streak in the Football Bowl Subdivision, having won 22 consecutive games dating back to last season (a loss on Sept. 19, 2015, vs. Ole Miss). The 22-game streak is the third-longest in school history (28 games twice: 1991-93 & 1978-80) and is the longest under the direction of head coach Nick Saban (previous long: 19 games in 2009-10). During this stretch, the Crimson Tide have won 10 games at Bryant-Denny Stadium, eight straight road matchups and four consecutive neutral-site contests while going 15-0 against teams from the Southeastern Conference. Alabama has outscored its opponents by 550 points (829-279; 37.7-12.7), an average of 25 points per game, during the streak.
Saturday's game against Chattanooga will be Nick Saban's 46th career game coaching Alabama as the Associated Press No. 1 team. That will tie him with Ohio State's Woody Hayes (46). Saban is 40-5 (.889) in his previous 45 games, which is tied with Bowden and Hayes for the most wins coaching the No. 1 team. Bowden was 40-5 at Florida State as No. 1 and Hayes went 40-6 with Ohio State. The difference is Saban is in his 10th season at Alabama and Bowden spent 34 seasons at FSU and Hayes was at OSU for 28. The Crimson Tide have been ranked No. 1 in 33.8 percent of its 133 games coach by Saban. By comparison, Florida State was No. 1 in 10.8 percent of the 417 games Bowden coached and Ohio State was No. 1 in 16.7 percent of the 276 games coached by Hayes.
The University of Alabama has played 69 games as the nation's top-ranked team since the inception of the Associated Press poll in 1936. In those games the Crimson Tide boasts a 59-10 (.855) record. Those numbers get even more impressive when you look at the 10 seasons under the direction of head coach Nick Saban (2007-present). Since the ninth game of the 2008 season (111 games), Alabama has played 45 games while being ranked No. 1, posting a 40-5 (.889) record during that span.
5 Things No. 3: Ranked Teams = No Problem
Alabama became just the third top-ranked team in the poll era to win four straight games against ranked opponents when they knocked off No. 15 LSU on Nov. 5. The Tide knocked off No. 16 Arkansas (49-30), No. 9 Tennessee (49-10), No. 6 Texas A&M (33-14) and the Tigers (10-0). In 1943, No. 1 Notre Dame played ranked opponents in four straight games and beat them all. In 2001, No. 1 Miami had a four-game winning streak against ranked opponents over a five-week span that included an open date.
Alabama has won 13 straight games vs. ranked opponents, the longest streak since Southern California won 16 straight from 2002-05 under Pete Carroll and the third-longest run all-time. The streak began at Georgia (Oct. 3) last season with a 38-10 win over the No. 8 Bulldogs in Athens. In those 13 games, the Tide is 7-0 against top-10 teams and 3-0 vs. the top five (LSU, Michigan State and Clemson). The Tide's last loss to a top-25 team was Sept. 19, 2015, against Ole Miss (37-43).
5 Things No. 4: Non-Offensive Mania
Jonathan Allen's 30-yard fumble return vs. Texas A&M on Oct. 22 marked the 56th non-offensive touchdown of the Nick Saban era and the 12th for the Crimson Tide this season, extending the Crimson Tide's single-season record under Saban. Alabama scored at least one touchdown on defense or special teams in the first eight games this season, including multiple non-offensive scores in the first three SEC road contests this season (Ole Miss, Arkansas and Tennessee). Alabama scored a non-offensive touchdown in 10 consecutive games dating back to the CFP semifinal vs. Michigan State on Dec. 31, 2015, and had 14 non-offensive touchdowns in that span – four interceptions, four punt returns, five fumble recoveries and a kickoff return. The streak was snapped in the Tide's 10-0 win over LSU on Nov. 5.
Alabama's defense and special teams has outscored the Crimson Tide's opponent in four games this season. In the season opener, Marlon Humphrey's 18-yard interception return accounted for seven of the Tide's 52 points, while the Trojans managed two field goals. Against Kent State, Xavian Marks' 75- yard punt return for a touchdown was the difference in Alabama's shutout victory. The defense once again proved to be enough against Kentucky with Ronnie Harrison's 55- yard fumble return going for seven points in a 34-6 win over the Wildcats. Defense and special teams provided two touchdowns in a 49-10 win over Tennessee on Oct. 15.
Alabama's 12 non-offensive touchdowns in 2016 tops the Football Bowl Subdivision. Ohio State and Houston have six, Akron has five and Michigan has four non-offensive scores. The Crimson Tide scored at least one non-offensive touchdown in 10 consecutive games dating from the CFP semifinal vs. Michigan State on Dec. 31, 2015 through the Texas A&M game on Oct. 22, 2016, and has tallied 22 non-offensive TDs in its last 21 games dating back to the Georgia game on Oct. 3, 2015. Alabama's 12 non-offensive scores is one more than the number of touchdowns the Tide defense has surrendered in 2016.
5 Things No. 5: Mocs in the Big Time
Like most FCS teams, Chattanooga takes on at least one FBS squad each year. However, the Mocs have faced some of the best in recent years. Here is a rundown of Chattanooga's notable FBS opponents since 2008: No. 14 Florida State – Lost 52-13 on Nov. 21, 2015; Tennessee – Lost 45-10 on Oct. 11, 2014; No. 1 Alabama – Lost 49-0 on Nov. 23, 2013; No. 10 Nebraska – Lost 40-7 on Sept. 2, 2011; No. 2 Auburn – Lost 62-24 on Nov. 6, 2010 – eventual BCS Champion; No. 2 Alabama – Lost 45-0 on Nov. 21, 2009 – eventual BCS Champion; Florida State – Lost 46-7 on Sept. 13, 2008; No. 4 Oklahoma – Lost 57-2 on Aug. 30, 2008
UTC has also played South Florida (L, 34-13 on 9/1/12), Georgia State (W, 42-14 on 9/14/13) and Central Michigan (L, 16-20 on 8/28/14) in recent FBS action.
ALABAMA PRE-GAME NOTES: Chattanooga
CHATTANOOGA PRE-GAME NOTES: Alabama
UTC picked up its third win in program history over an FBS opponent on Sept. 7, 2013, with a 42-14 victory at Georgia State. Prior to that, the last time the Mocs defeated an FBS team was a 9-7 win over Southwestern Louisiana (Louisiana-Lafayette) on Sept. 1, 1984, in Chattanooga. The other win since the divisional split in 1978 was also over the Ragin' Cajuns, 38-14 on Sept. 17, 1983, in Lafayette, La.
This article originally appeared on