5 Things You Didn't Know: Alabama vs. Auburn – the Iron Bowl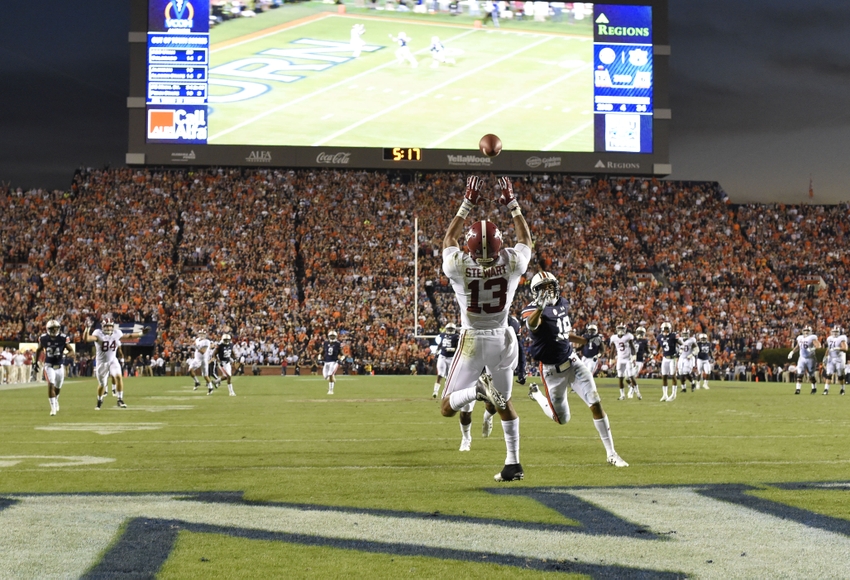 5 Things You Didn't Know is here again, as No. 1 Alabama football is home to take on "little brother" No. 15 Auburn in the annual Iron Bowl.
Welcome back to a new weekly feature here at BamaHammer.com, called 5 Things You Didn't Know (or 5TYDK) about Alabama football!
Of course, maybe someone somewhere knows all five of these preview tidbits in advance of every Alabama football game. But we believe in one-stop shopping — which is why we offer them to you.
ICYMI: Last Week's 5TYDK For Alabama-Chattanooga
And because we also like sharing the wealth, there are links at the end to both the Alabama and Auburn weekly pregame media notes. So you can further impress your friends and family with more things they didn't know!
Welcome to 5TYDK …
5 Things No. 1: Series History/What's Next
Alabama and Auburn will square off for the 81st Iron Bowl matchup on Saturday at Bryant-Denny Stadium. The Crimson Tide holds a 44-35-1 advantage in a series that dates back to the 1893 season. UA and AU first met on Feb. 22, 1893, at Birmingham's Lakeview Park with the Tigers claiming a 32-22 victory in the inaugural matchup.
Alabama has had the upper hand in recent meetings, claiming six of the last eight matchups with four of those wins leading to a Crimson Tide national championship, including a come-from-behind 26-20 win in Auburn in 2009, a 42-14 win in 2011, a 49-0 victory in 2012 and a 29-13 victory in Auburn last season.
After the Iron Bowl, Alabama will head to the Georgia Dome in Atlanta to represent the SEC Western Division in the SEC Championship game on Saturday, Dec. 3. The Crimson Tide will square off with Eastern Division winners Florida for the conference championship.
5 Things No. 2: Senior Day and Streaking
Saturday's matchup with Auburn will be Alabama's senior day. Honored at Saturday's ceremonies will be: Jonathan Allen, Blaine Anderson, Ryan Anderson, Dakota Ball, Will Davis, Gehrig Dieter, Lawrence Erekosima, Reuben Foster, Derrick Garnett, Brandon Greene, Adam Griffith, Truett Harris, O.J. Howard, Eddie Jackson, Korren Kirven, Jake Long, Cole Mazza, Brandon Moore, Nate Staskelunas, Alphonse Taylor, Dalvin Tomlinson and Tim Williams.
Alabama owns the longest winning streak in the Football Bowl Subdivision, having won 23 consecutive games dating back to last season (a loss on Sept. 19, 2015, vs. Ole Miss). The 23-game streak is the third-longest in school history (28 games twice: 1991-93 & 1978-80) and is the longest under the direction of head coach Nick Saban (previous long: 19 games in 2009-10). During this stretch, the Crimson Tide have won 11 games at Bryant-Denny Stadium, eight straight road matchups and four consecutive neutral-site contests while going 15-0 against teams from the Southeastern Conference. Alabama has outscored its opponents by 578 points (860-282; 37.4-12.3), an average of 25.1 points per game, during the streak.
5 Things No. 3: Saban at No. 1
Saturday's game against Auburn will be Nick Saban's 47th career game coaching Alabama as the Associated Press No. 1 team, the most games coached as No 1 at one school. At 41-5 (.891), Saban has won more games coaching a No. 1 team at one school than any other coach in college football history. Woody Hayes and Bobby Bowden are tied for second with 40 wins each. Bowden was 40-5 at Florida State as No. 1 and Hayes went 40-4-1 with Ohio State. Saban accomplished the feat in his 10th season at Alabama while Bowden spent 34 seasons at FSU and Hayes was at OSU for 28. The Crimson Tide have been ranked No. 1 in 34 percent of its 134 games under Saban. Florida State was No. 1 in 10.8 percent of Bowden's 417 games and Ohio State was No. 1 in 16.7 percent of the 276 games coached by Hayes.
The University of Alabama has played 70 games as the nation's top-ranked team since the inception of the Associated Press poll in 1936. In those games the Crimson Tide boasts a 60-10 (.857) record. Those numbers get even more impressive when you look at the 10 seasons under the direction of head coach Nick Saban (2007-present). Since the ninth game of the 2008 season (112 games), Alabama has played 46 games while being ranked No. 1, posting a 41-5 (.891) record during that span.
5 Things No. 4: Excelling against ranked teams
The Crimson Tide is 45-12 (.789) against the Associated Press top 25, including a 24-6 (.800) mark against AP top-10 teams since the start of 2008. This season, the Tide has faced six teams ranked in the AP poll, defeating then-No. 20 USC, 52-6, then-No. 19 Ole Miss, 48-43, then-No. 16 Arkansas, 49-30, then-No. 9 Tennessee, 49-10, then-No. 6 Texas A&M, 33-14 and, most recently, then-No. 15 LSU, 10-0, by an average score of 40.1-17.2. Alabama is scheduled for two more matchups against a team currently in the top 25 (No. 16 Auburn and No. 13 Florida in the SEC Championship Game). Alabama finished 8-1 in 2015 against the AP Top 25 after going 5-2 in 2014, 3-2 in 2013 and 5-1 in 2012. The Tide held a 4-1 mark vs. top-25 teams in 2011 and went 5-3 in 2010.
Alabama has won 13 straight games vs. ranked opponents, the longest streak since Southern California won 16 straight from 2002-05 under Pete Carroll and the third-longest run all-time. The streak began at Georgia (Oct. 3) last season with a 38-10 win over the No. 8 Bulldogs in Athens. In those 13 games, the Tide is 7-0 against top-10 teams and 3-0 vs. the top five (LSU, Michigan State and Clemson). The Tide's last loss to a top-25 team was Sept. 19, 2015, against Ole Miss (37-43).
5 Things No. 5: Tigers on the run
The Auburn Tigers' 543 rushing yards vs. Arkansas, the best in the nation this season, set an SEC record for any regular-season game between SEC opponents (previous: Arkansas vs. South Carolina in 2007, 542 yards). The previous Auburn regular-season SEC rushing best was 444 at Tennessee (2013). Auburn's 543 rushing yards, third-best in school history, were the seventh-best single-game performance in SEC history. The Tigers now own three of the top seven single-game rushing totals in SEC annals.
Auburn's 462 rushing yards vs. Arkansas State ranked sixth in school history, and 451 rushing yards against Alabama A&M ranked seventh in Auburn records. The 2016 team ranks sixth on Auburn's single-season rushing list with 3,276 yards to date.
More from Bama Hammer
This article originally appeared on