5 Things You Didn't Know: Alabama Football vs Tennessee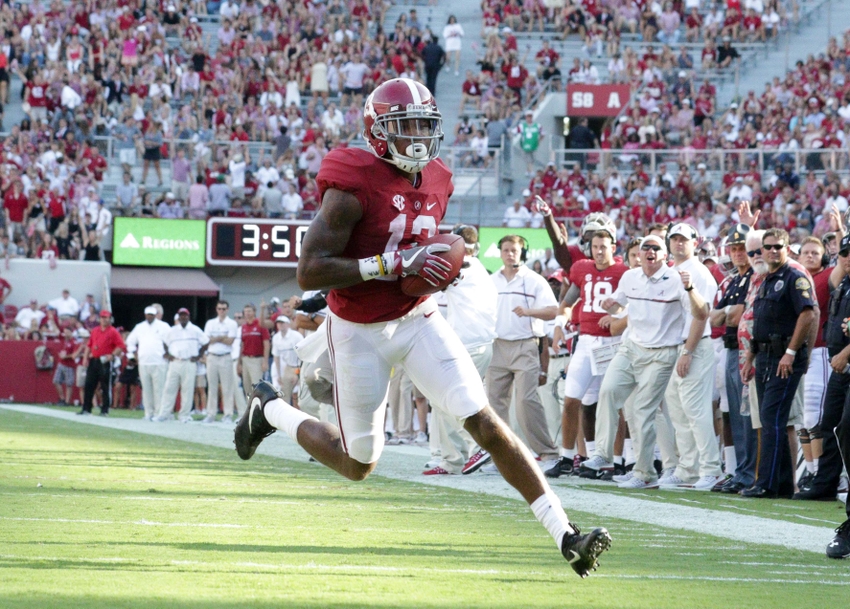 5 Things You Didn't Know Is Back, the time for the Third Saturday in October as Alabama Football travels to Knoxville to play No. 9 Tennessee.
Welcome back to a new weekly feature here at BamaHammer.com, called 5 Things You Didn't Know (or 5TYDK) about Alabama Football!
Of course, maybe someone somewhere knows all five of these preview tidbits in advance of every Alabama football game. But we believe in one-stop shopping — which is why we offer them to you.
ICYMI: Last Week's 5TYDK For Alabama-Arkansas
And because we also like sharing the wealth, there are links at the end to both the Alabama and Tennessee weekly pregame media notes. So you can further impress your friends and family with more things they didn't know!
Welcome to 5TYDK …
5TYDK No. 1: History Lesson
Alabama and Tennessee will meet for the 99th time in a series that the Crimson Tide leads, 52-38-7 (53-37-8 actual). The rivalry dates back to the 1901 season, when the two teams first met in Birmingham and finished in a 6-6 tie. The Crimson Tide has won the last nine meetings and seeks its 10th straight series win for the first time since an 11-game winning streak from 1971-81. Last season, Alabama defeated the Vols, 19-14, in Tuscaloosa. The Tide and Vols have met every year since 1928, with the exception of the 1943 season when neither school fielded a football team due to World War II.
5TYDK No. 2: Streaking Atop The Rankings
Alabama owns the longest winning streak in the Football Bowl Subdivision, having won 18 consecutive games dating back to last season (a loss on Sept. 19, 2015, vs. Ole Miss). The 18-game streak is the seventh longest in school history (28 games twice: 1991-93 & 1978-80) and the second longest under the direction of head coach Nick Saban (19 games 2009-10). During this stretch, the Crimson Tide have won eight games at Bryant-Denny Stadium, six straight road matchups and four consecutive neutral-site contests while going 11-0 against teams from the Southeastern Conference. Alabama has outscored its opponents by 415 points (686-250; 37.1-13.9), an average of 23.0 points per game during the streak.
The University of Alabama has played 65 games as the nation's top-ranked team since the inception of the Associated Press poll in 1936. In those games the Crimson Tide boasts a 55-10 (.846) record. Those numbers get even more impressive when you look at the 10 seasons under the direction of head coach Nick Saban (2007-present). Since the ninth game of the 2008 season (107 games), Alabama has played 41 games while being ranked No. 1, posting a 36-5 (.878) record during that span.
5TYDK No. 3: Best Against The Best
The Crimson Tide has the fourth-toughest schedule in college football this season per ESPN.com's preseason College Football Power Index, trailing only USC, Ole Miss and Florida State. Alabama will, by season's end, face off with nine teams who participated in a bowl game a season ago and will have met four teams ranked in the preseason Associated Press Top 25.
The Crimson Tide is 42-12 (.778) against the Associated Press top 25, including a 22-6 (.786) mark against AP top-10 teams since the start of 2008. This season, the Tide has faced three teams ranked in the AP poll, defeating then-No. 20 USC, 52-6, then-No. 19 Ole Miss, 48-43 and then No. 16 Arkansas, 49-30. Alabama is scheduled for three more matchups against teams currently in the top 25 (No. 9 Tennessee, No. 6 Texas A&M and No. 23 Auburn). Alabama finished 8-1 in 2015 against the AP top 25 after going 5-2 in 2014, 3-2 in 2013 and 5-1 in 2012. The Tide held a 4-1 mark vs. top 25 teams in 2011 and went 5-3 in 2010.
5TYDK No. 4: Former Tide RB Kamara Excelling At UT
Tennessee junior running back Alvin Kamara had the all-around game of his career in College Station last week, piling up 312 all-purpose yards en route to a new Tennessee single-game record. The 312 all-purpose yards are the second-most recorded by an FBS player this season, trailing only Dalvin Cook, who posted 329 for Florida State against South Florida on Sept. 24.
Kamara is only the second Vol in history to record 100 rushing yards and 100 receiving yards in the same game. Jamal Lewis had 128 rushing yards and 105 receiving yards in a 59-31 win over Kentucky in 1997. Kamara is also the first SEC player to post a 100/100 performance since Florida's Chris Rainey accomplished the feat against Tennessee in 2011.
5TYDK No. 5: Last Year's Tide Win
Despite a valiant performance by the Tennessee defense and a late offensive surge to seize the lead in the fourth quarter, No. 8 Alabama beat Tennessee, 19-14, at Bryant-Denny Stadium.
Tennessee (3-4, 1-3 SEC) stayed within one score from start to finish thanks to an outstanding effort by its defense, which tallied 10 tackles for a loss and five sacks and made a pair of big red zone stops in the second half.
UT's five sacks were its most against Alabama (7-1, 4-1 SEC) since recording five in 2005 and the most the Tide has given up since allowing seven against Oklahoma in the 2014 Sugar Bowl at the end of the 2013 season.
Alabama has now won the last nine games in the series.
Alabama star running back Derrick Henry ran for 143 yards and two scores on 28 carries.
Jake Coker was 21-of-27 for 247 yards and one interception. ArDarius Stewart led all receivers with 114 yards on six catches. Jalen Hurd ran for 92 yards on 18 carries and had the go-ahead 12-yard rushing touchdown with 5:49 left.
Joshua Dobbs finished 13-of-22 for 171 yards and one touchdown and also ran
for 19 yards on 16 carries. Alvin Kamara led the Vols with four catches for 44 yards and also carried the ball five times for 21 yards.
Alabama pregame notes vs. Tennessee
Tennessee pregame notes vs. Alabama
More from Bama Hammer
This article originally appeared on