5 Things You Didn't Know: Alabama Football vs. LSU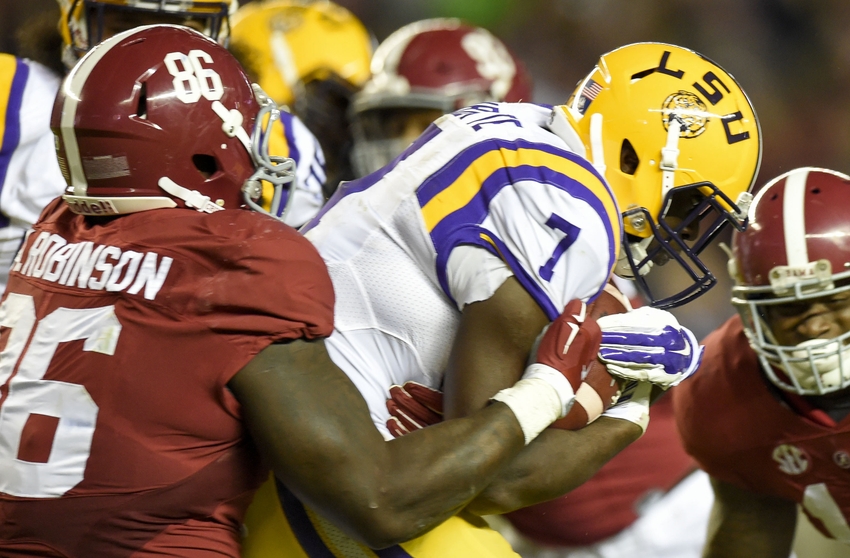 5 Things You Didn't Know is back, just in time for the November flurry, as Alabama football hits the road to take on No. 15 LSU.
Welcome back to a new weekly feature here at BamaHammer.com, called 5 Things You Didn't Know (or 5TYDK) about Alabama football!
Of course, maybe someone somewhere knows all five of these preview tidbits in advance of every Alabama football game. But we believe in one-stop shopping — which is why we offer them to you.
ICYMI: Last Week's 5TYDK For Alabama-Texas A&M
And because we also like sharing the wealth, there are links at the end to both the Alabama and LSU weekly pregame media notes. So you can further impress your friends and family with more things they didn't know!
Welcome to 5TYDK …
5 Things No. 1: Series History
Alabama and LSU will meet for the 81st time in a series that the Crimson Tide leads, 50-25-5, dating back to the 1895 season. Since 2005, the LSU-Alabama games have been tight battles, with seven of those games being decided by seven points or less. During head coach Nick Saban's tenure in Tuscaloosa, six of the 10 duels between the two teams have been decided by that same narrow margin, with three of those games going into overtime. In last year's meeting, Derrick Henry rushed for three touchdowns and the Tide defense limited LSU to 182 yards in a 30-16 win in Tuscaloosa.
5 Things No. 2: Streaking Tide
Alabama owns the longest winning streak in the Football Bowl Subdivision, having won 20 consecutive games dating back to last season (a loss on Sept. 19, 2015, vs. Ole Miss). The 20-game streak is the fourth-longest in school history (29 games twice: 1991-93 & 1978-80) and is the longest under the direction of head coach Nick Saban (previous long: 19 games in 2009-10).
During this stretch, the Crimson Tide have won nine games at Bryant-Denny Stadium, seven straight road matchups and four consecutive neutral-site contests while going 13-0 against teams from the Southeastern Conference. Alabama has outscored its opponents by 492 points
(768-276; 38.4-13.8), an average of 24.6 points per game, during the streak.
Alabama has won 12 straight games vs. ranked opponents, the longest streak since Southern California won 16 straight from 2002-05 under Pete Carroll. The streak began at Georgia (Oct. 3) last season with a 38-10 win over the No. 8 Bulldogs in Athens. In those 12 games, the Tide is 7-0 against top 10 teams and 3-0 vs. the top 5 (LSU, Michigan State and Clemson). The Tide's last loss to a top 25 team was Sept. 19, 2015, against Ole Miss (37-43).
5 Things No. 3: Heisman For Allen?
Alabama senior defensive end Jonathan Allen has played his way into the Heisman Trophy conversation with an outstanding 2016 season. The native of Leesburg, Va., chose to return for his senior season and leads the team with two defensive touchdowns – fumble returns of 75 and 30 yards – while ranking second on the team with six sacks. He has added 35 tackles with 18 solo stops, 6.5 tackles for loss (-53 yards), a teamhigh 10 quarterback hurries, one blocked field goal and two pass breakups. That pace is on par or even better than Nebraska's Ndamukong Suh, who was a Heisman Finalist in 2009. In his first eight games of the 2009 season, Suh had five sacks, nine quarterback hurries, 49 tackles, 11 TFLs and no defensive touchdowns.
5 Things No. 4: Facing, And Beating, The Best
The Crimson Tide has the fourth-toughest schedule in college football this season per ESPN.com's preseason College Football Power Index, trailing only Southern California, Ole Miss and Florida State. Alabama will, by season's end, face off with nine teams who participated in a bowl game a season ago and will have met four teams ranked in the preseason Associated Press Top 25.
The Crimson Tide is 44-12 (.786) against the Associated Press top 25, including a 24-6 (.800) mark against AP top 10 teams since the start of 2008. This season, the Tide has faced fi ve teams ranked in the AP poll, defeating then-No. 20 USC, 52-6, then-No. 19 Ole Miss, 48-43, then-No. 16 Arkansas, 49- 30, then-No. 9 Tennessee, 49-10 and then-No. 6 Texas A&M, 33-14, an average score of 46.2-20.6. Alabama is scheduled for two more matchups against teams currently in the top 25 (No. 11 Auburn and No. 15 LSU). Alabama fi nished 8-1 in 2015 against the AP top 25 after going 5-2 in 2014, 3-2 in 2013 and 5-1 in 2012. The Tide held a 4-1 mark vs. top 25 teams in 2011 and went 5-3 in 2010.
5 Things No. 5: Tigers Facing Former Coaches
When the LSU Tigers line up against Alabama and Nick Saban on Saturday, it will mark the 13th time in LSU football history that a former LSU head coach will be on the opposing sidelines as head coach of the other team. LSU is 5-7 in those games. The only two coaches it's ever occurred against were Paul Dietzel in 1966 and 1973 when he was head coach at South Carolina and Saban in the last nine years. LSU is 3-7 vs. Saban, winning 41-34 in Tuscaloosa in 2007, 24-21 in Baton Rouge in 2010, and 9-6 in overtime in 2011. LSU lost 27-21 in overtime in Tiger Stadium in 2008, 24-15 in Tuscaloosa in 2009, 21-0 in the 2012 BCS National Championship Game, 21-17 in overtime in 2012 in Baton Rouge, 38-17 in 2013 in Tuscaloosa, 20-13 in overtime in 2014 in Baton Rouge, and 30-16 last year in Tuscaloosa.
Alabama Pregame Notes: vs. LSU
LSU Pregame Notes: vs. Alabama
LSU won both games against Dietzel, beating South Carolina, 28-12, in Tiger Stadium to open the 1966 season and followed by a 33-29 win over the Gamecocks in Columbia in 1973. Dietzel coached at LSU for seven years before leaving the Tigers for Army after the 1961 season. Dietzel coached at Army for four years before joining South Carolina in 1966. Dietzel's first game as head coach of the Gamecocks came against LSU. Ironically, it was Dietzel, still serving as the Tiger head coach, suggesting to then LSU AD Jim Corbett in 1959 that LSU schedule a four-game series with South Carolina with games being played in 1960-61 and 1965-66. The 1966 game became an immediate sellout once it was announced the Dietzel was joining South Carolina as its head coach.
This article originally appeared on