5 things Michigan State football fans can be thankful for in 2016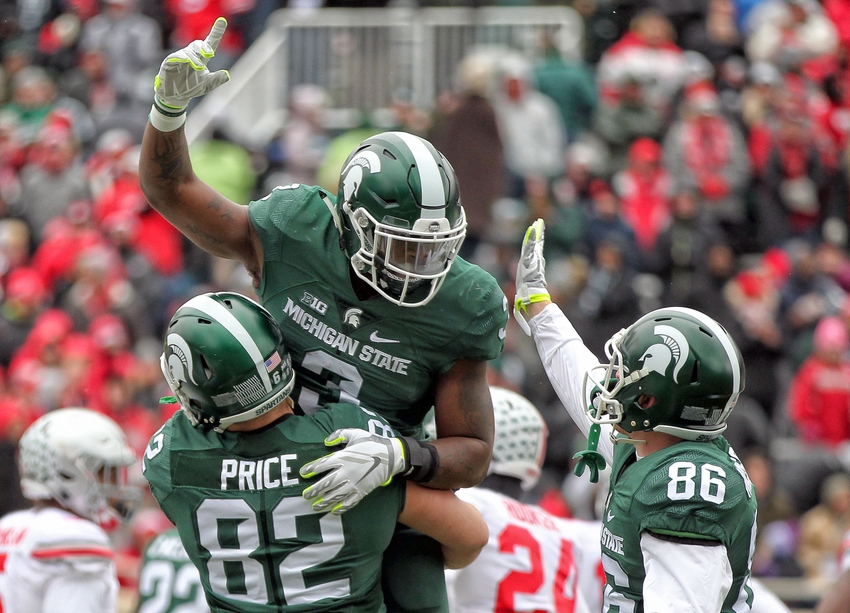 In honor of Thanksgiving, here are five things Michigan State football fans should be thankful for this year.
It might not seem like there is a lot to be thankful for this season in regards to Michigan State football, but that's not entirely true. In honor of the Thanksgiving holiday, we put together a list of five things every Michigan State football fan can be thankful for in 2016.
The year has been tough on Spartans, but they are resilient. Mark Dantonio has coached this program to the top of the Big Ten and he now knows how little it can take for it to be near the bottom. Just a few points and big plays separate the Spartans from a 3-8 season and an 8-3 one.
Michigan State won't be headed to a bowl this season, but the final game of the year is coming up and the Spartans have a chance to ruin Penn State's year. Let's take a look at five things MSU fans can be thankful for in an otherwise grim year.
5. Improvement
Major strides have been taken on both sides of the ball. The offense, outside of Tyler O'Connor, has seen its line step up with guys like Cole Chewins, Tyler Higby and Thiyo Lukusa rising to the top of the depth chart. The receivers are getting better, and younger. Tight ends have been solid and the running back play has been elite over the past three games.
Defensively, the secondary is allowing under 100 yards per game over the last three weeks against Illinois, Rutgers and Ohio State. Also, they are allowing just a 42 percent completion rate to opposing quarterbacks. They're getting back to 'No Fly Zone' status.
The addition of Justin Layne to the secondary and emergence of guys like Donnie Corley, Khari Willis and Tyson Smith have helped out. Montae Nicholson has also become a star and Darian Hicks was much more solid than people gave him credit for.
During a 3-8 season, you have to be thankful for improvement and the fact that these guys didn't just roll over in big games against Michigan and Ohio State.
4. The emergence of LJ Scott
The sophomore running back began the year as the starter, picked up just over 200 yards through the first two games and then went ice-cold the next four. He had just 31 carries in those four contests, racking up a total of 133 yards and no touchdowns.
In the five games in which he's had less than 15 carries this season, Scott has 183 total yards and is averaging only 4.1 yards per carry with no touchdowns. In the other six games, Scott has 752 yards with six scores on 6.1 yards per touch. The moral of the story? Get LJ the ball.
Everyone was expecting the next Le'Veon Bell when the former top-100 recruit committed to Michigan State and he finished last season with 699 yards and 11 scores. He was good, but not great, and yet he still showed flashes of brilliance.
During games three through six, though, Scott took major steps back and it all began with a fumble against Wisconsin in the second half. That led to a Wisconsin touchdown to put them up 20-6 and the Spartans just couldn't respond. He has been great ever since.
Spartan fans should be thankful that they are going to have their next 1,000-yard rusher either this season or next as Scott's future is very bright.
3. The nightmare season is almost over
As bad as it is to say, fans are most likely thankful that this nightmare of a 2016 season is one game from conclusion. We are just a few days away from putting this terrible year behind us and moving on to 2017.
Realistically, the 2016 calendar year was one of the worst for Michigan State football. Starting off with New Year's Eve last season (which I'm going to count), the Spartans lost to Alabama in the playoff, 38-0.
Shortly after that, anonymous sources were knocking Connor Cook's leadership ability and he dropped to the fourth round in the 2016 NFL Draft. Shilique Calhoun, a former first-round prospect, fell to the third round, All-American center Jack Allen went undrafted, Big Ten Receiver of the Year Aaron Burbridge fell to round six and both Lawrence Thomas and Donavon Clark suffered season-ending injuries in the offseason.
Craig Evans, Montez Sweat, Cassius Peat and Enoch Smith all transferred as well.
A couple of months later, Mike Sadler was killed in a car accident, devastating Spartan Nation. Just a few weeks into the 2016 season, it was announced that former linebacker/safety Mylan Hicks was shot and killed in Canada.
Playing the season with a heavy heart and plenty of departures, the season has been less than ideal for the Spartans as they're 3-8 with one game remaining. It's the first season Dantonio hasn't made a bowl game in East Lansing, but it's a feeling he won't want to experience again.
Be thankful, Spartan Nation, the season, and the year, is almost over.
2. Mark Dantonio
How could you not be thankful for Mark Dantonio? The head coach has done so much for the program only to get some crazies in the fan base calling for his job. He has led the Spartans to their most successful period of football since the 1960s.
Taking over a dead program back in 2007, Dantonio led a John L. Smith recruited team to a bowl game and — even better — hope for the future. He went on to lead the program to nine straight bowl games before his streak was snapped in 2016.
Still, the Spartans have to be thankful that a head coach who genuinely cares about his players, makes the right decisions in recruiting and is an all-around great, trustworthy guy is leading the program. He has brought a Rose Bowl, Cotton Bowl, three Big Ten titles, seven wins over Michigan in nine years and three division titles to East Lansing.
The program won't have another year like this for as long as he's the head coach. The veteran coach has learned from his mistakes and he now knows what it feels like to be on the opposite end of the win-loss spectrum.
Dantonio is a top-five coach in college football. Be thankful.
1. The future is bright
Ask anyone around the MSU football program about what next year holds for this team and you probably won't catch anyone without a big grin on their face. The Spartans took a horrid season, record-wise, and turned it into a positive, playing a slew of young talent at prominent positions.
Must Read: MSU Recruiting: 7 must-get football targets for 2017
The offensive line got better throughout the season with changes such as starting Tyler Higby and Cole Chewins and adding Thiyo Lukusa to the mix. The backfield is impressive with sophomore LJ Scott followed by Gerald Holmes and Madre London.
Donnie Corley is one of the best two-way players on the team and has excelled at receiver while showing he can play some cornerback as well. Justin Layne, also a true freshman, is now the Spartans' starting cornerback opposite Darian Hicks.
Khari Willis, Grayson Miller, Josh Butler and Tyson Smith all look like bright young stars in the secondary. Plus, Montae Nicholson will be back next season.
Andrew Dowell, Chris Frey, Jon Reschke, Shane Jones and Joe Bachie will make an incredible linebacking unit next season. These guys are young and athletic and could make the Spartans' defense elite in 2017 and beyond.
Lastly, the defensive line is exciting as well. After weeks without a sack, the Spartans recorded three against Ohio State. True freshman Mike Panasiuk was an absolute force and he looks like a nightmare to block for opposing linemen. Add in Josh King, Raequan Williams and Auston Robertson and you have a couple of future All-American candidates.
The future is bright.
This article originally appeared on