5 Takeaways From Texas Football Win vs Texas Tech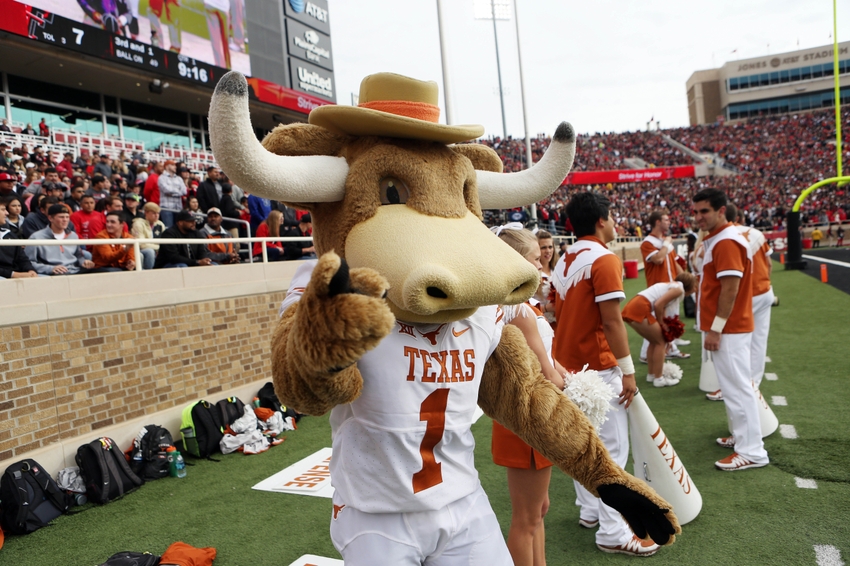 Texas football went on the road in Week 10 and got a much needed victory against Texas Tech. The Longhorns showed tremendous resilience in the 45-37 victory and showed some serious improvement in key areas. But what can we take away from the game as the Horns look forward to the rest of the season?
Charlie Strong really needed this game to help his case for staying on at Texas. The Horns were winless on the road this season ahead of this matchup. That ineptitude away from home was a major black mark on the Texas season. Getting off that streak was pivotal in turning this season into a potential success for Strong.
Beyond that, it put Texas in a prime position to become bowl eligible. At 5-4, the Horns need to win just one of their remaining three games to get to six wins. With a matchup with 1-8 Kansas still on the schedule, they have a very good opportunity to find that win. With any luck, they could win as many as seven regular season games and take their shot at win number eight in the bowl game.
This game saw key contributions from both the offense and defense in key situations. They were able to respond to adversity in ways that this team has not done in recent memory. Texas could have folded and let this game get away from them. Instead, they stepped up and took care of business to secure the win.
So here are five takeaways from Texas' win over Texas Tech.
Texas has not looked good on the road this season. Heading to Lubbock, the Horns were 0-4 away from DRK and had produced their worst efforts of the season when on the road. They were finally able to put those struggles behind them, though, against Tech.
It didn't always look like they would be able to pull it out. Trailing 16-14 after the first quarter, Texas was driving down the field to re-take the lead in the second quarter. D'Onta Foreman was finishing a strong run and stretching for the end zone when Texas Tech stripped the ball and returned it 100 yards for a touchdown. The Red Raiders pushed their lead to 23-14.
Earlier in the seaon, this would have led Texas to pack it in and fold. They would have compounded this mistake with another, effectively burying themselves and letting Tech take control of the game. Instead, the Horns buckled down and re-took control. They scored the final 10 points of the first half to take a 24-23 lead at the break and imposed their will in the second half.
This was a tremendous turn for the Horns that shows their strength of will. They will benefit from that fortitude down the stretch.
The Texas passing attack struggled in this game. However, freshman Collin Johnson delivered on the tremendous potential people saw in him, acting as Shane Buechele's favorite endzone target. His emergence will be a huge piece for the Texas offense moving forward.
Johnson turned heads with his play in spring practice and his elite size. The 6-foot-6 true feshman looked like an impact player from day one. However, he had not made a significant impact through the first eight games with 13 receptions for 149 yards, but no touchdowns.
That changed on on Saturday. Johnson showed off that playmaking ability with two touchdown receptions while matching his season-high four receptions for a personal best 47 yards. His size and athleticism make him a matchup problem for opposing defenses and he put that on full display twice against the Red Raiders.
Moving forward, his ability to create redzone mismatches will be a major weapon for Buechele and the Horns. This breakout performance could be the start of something big for Johnson at Texas.
Despite getting the win, the coaching left something to be desired. Strong and his staff seem to have helped the team get to the next level but have struggled to get to that next level themselves. On more than one occasion, the coaches' decision-making could have cost Texas this game.
The most egregious error came late in the game with Texas trying to milk the clock and close out the game. Texas was driving deep in Texas Tech territory and faced a 3rd and 2. By this time, Foreman has already run for 330 yards in the game and looked unstoppable. However, for this sequence, Foreman was left on the sideline.
Sterlin Gilbert decided instead to bust out the 18-wheeler package with Tyrone Swoopes, which had enjoyed limited success in this game. Texas predictably ran Swoopes and failed to get the first down. On 4th and 1, Texas ran Swoopes again and didn't get the first down again. This gave the ball back to Texas Tech with two minutes to play and a meager 8-point advantage.
Things worked out when Texas intercepted Patrick Mahomes in the end zone to seal the win. However, the outcome was put in doubt throughout the day by head-scratching coaching decisions. That has to improve to help this team win tough matchups in the future.
Texas Tech was bound to gain some yards in this game. They entered this game as the No. 1 offense in FBS, averaging over 600 yards per game. Texas' defense had struggled this season, particularly with giving up long plays in the passing game. In this win, they were able to contain the Red Raiders, bending but never breaking.
Despite their poor showing earlier this season, the Longhorns' secondary stepped up when they needed to. Texas challenged Mahomes on just about every throw and they limited him to "just" 367 yards, well below his season average. After allowing 16 points in the first quarter, the Texas defense allowed just two touchdowns the rest of the way. Twice they turned Tech away on downs and they finished the game with an interception in the end zone.
That is a stark improvement from the way the defense was playing early in the season. This defense was defined by getting beat over the top and allowing huge plays to gash them for long touchdowns. Poor tackling, bad communication, and lackadaisical play led to poor showings from the defense. But in this one, they took it to another level.
Texas has suffered through some frustrating growing pains with this defense this fall. Seeing them challenge and push back the most prolific offense in college football was a very welcome sight.
At the end of the day, this game was about D'Onta Foreman. Week in and week out, Foreman has been distinguishing himself as an elite back this season. On Saturday, he left no doubt that he is the best back in the nation, without question.
Foreman came into the game as top Power 5 rusher in the nation, and No. 2 in all of FBS. He demolished the Red Raider defense, rushing for 341 yards and 3 touchdowns on 33 carries, averaging 10.3 yards per rush. It was the third-highest single-game rushing total in Texas football history, nine yards shy of Ricky Williams' 350-yard effort. He was a constant driving force for the Texas offense, helping them churn out 658 yards of total offense.
In the larger picture, he pushed himself ahead of Donnel Pumphrey as the leading rusher in FBS. He is now averaging 180.8 yards per game on the ground and has rushed for at least 100 yards in 10 straight games. That's just one off the all-time Texas record with no signs of slowing down. His play has not only been a boost to the Texas offense, it's catapulted Foreman into the conversation for Doak Walker and Heisman consideration.
While Texas fans already knew how good D'Onta Foreman had been this season, the junior left no doubt in anyone's mind with the way he played on Saturday. He's the real deal and is doing something truly special in 2016.
More from Hook'em Headlines
This article originally appeared on