5 Reasons Virginia Tech Will Make the ACC Championship Game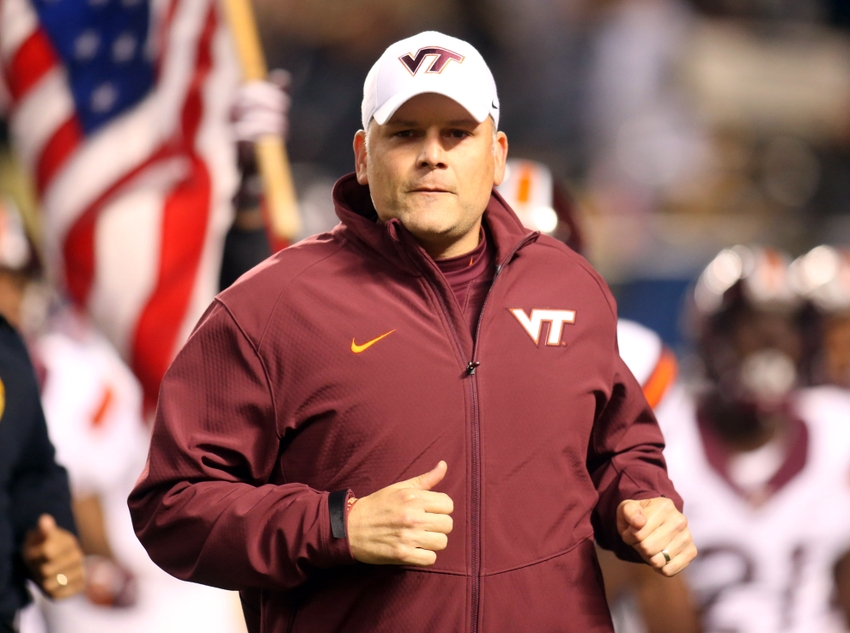 The Virginia Tech Hokies are the current leader in the Coastal Division. As they look to return to the ACC Championship game, check out the five reasons why they will.
Back in July, many media members picked the Hokies to finish fourth in the division. But that hasn't deterred the Hokies from exceeding expectations. Now, they control their own destiny to the ACC Championship Game.
Not many predicted the Hokies in this year's ACC Championship game. Most chose Clemson, Florida State, North Carolina or Louisville. But so far, the Hokies beat North Carolina, last year's Coastal Division champion. Last week, they put some space between themselves and Pittsburgh with a 39-36 road victory.
In the driver's seat all the way to the ACC Championship game, here are five reasons the Hokies will make the ACC Championships.
5 Head Coach Justin Fuente
Head coach Justin Fuente took the Virginia Tech coaching job this past season to much fanfare. So far, the fan excitement has met expectations. In just one season, Coach Fuente has the Hokies ready to return to their first ACC Championship game since 2011. Ironically, the Hokies lost that game to Clemson, their possible opponent this season, 38-10.
Fuente came to the Virginia Tech Hokies after four seasons at Memphis where he posted a 26-23 record. He went 19-6 in his last two seasons. There, he turned Memphis into the 11th ranked scoring offense in the FBS, averaging 40.2 points per game.
At Virginia Tech, he's turned a 52nd ranked scoring offense into the 26th ranked one in the FBS. To put that in perspective, the Hokies haven't had a scoring offense ranked higher than 26th since 2010. They've largely been known for their defense and special teams and Fuente has changed the culture so far in just one short season. It also helps he got his first victory in Heinz Field in his first try last week. The Hokies were 0-4 previously.
4 Lunch Pail Defense
The Hokies Lunch Pail Defense has returned to form after a rough season last year. They ranked 59th in the FBS in scoring defense last season, surrendering 26.3 points a game. This season, the defense ranks 24th, allowing just 20.1 points per game.
The Hokies defense has 38 pass deflections and 10 interceptions this season. They rank first in pass deflections and rank fourth behind Clemson, Florida State, and Louisville in interceptions. The secondary has the Hokies considering an ACC Championship title run despite being written off to begin the season.
Against the Miami Hurricanes, the Hokies recorded eight sacks and made quarterback Brad Kaaya uncomfortable all night long. Last week against Pittsburgh, the Hokies defense forced two early turnovers and held an offense averaging 231.8 rushing yards to just 180.
With games coming up against Duke, Georgia Tech, and Virginia in conference play, the Hokies defense face teams with a combined record of 3-10 through Week 9. Duke is still winless in ACC play. Those are favorable odds going into the most important month of the season for Virginia Tech.
3 Field Goal Kicking
No this isn't a joke, field goal kicking has the Hokies in prime position to make the ACC Championship game. In Week 9 against Pittsburgh, kicker Joey Slye went 6-for-6 on field goals (31, 21, 22, 26, and 37 yards). Slye set a school and ACC record in the process. The Hokies won by three.
The Virginia Tech Hokies, along with Slye, are averaging 10 points a game off field goals. They rank second in the ACC behind Louisville (10.8). Slye is 16-for-20 on field goals this season after going 23-for-30 last season. Slye leads the conference in fields goals made and attempted. His 32 extra point attempts made ranks second in the conference. His 80 percent field goal conversion rate ranks fourth in the conference as well.
The Hokies special teams unit has enjoyed a very accurate season from Slye this season.  In 2015, Slye was 74.7 percent from distance. In 2014, Slye was 71.4 percent from distance. This season, he's at his best. Let's call it: The Justin Fuente Effect.
2 Receiving Core
Don't look now but the Hokies have become a pass-heavy team. It's thanks to receivers Isaiah Ford, Cam Philip  and tight end hybrid Bucky Hodges. The Hokies offense has shown its evolution, showing the ability to spread the ball around to multiple receivers. For its part, it has the Hokies prime for a run to the ACC Championship game.
Ford leads the team in receiving yards and touchdowns with 648 yards and six receiving touchdowns. Philips is second with 514 receiving yards. Hodges is third with 468 receiving yards but second in receiving touchdowns with five. Ford ranks third in the conference in receiving yards, Philips ranks 10th. Ford ties for second in the ACC in receiving touchdowns and Hodges ties at sixth.
The Hokies receiving core has made great strides under new head coach Justin Fuente. For the first time in school history, three receivers had over 100 receiving yards last week against Pittsburgh. Hodges had six catches for 145 yards, Ford had 10 catches for 143 yards, and Phillips had six catches for 109 yards.
1 Jerod Evans
When quarterback Jerod Evans went down writhing in pain last week in the third quarter, Hokies fans looked on in dismay. However, Evans returned to lead Virginia Tech on two key drives to win the game.
In short, the legend of Jerod Evans was been born. Evans showed his toughness despite being in visible pain much of the game, which is what will get the Hokies to the ACC Championship game.
This season, Evans has thrown 21 touchdowns and just two interceptions along with 2,017 passing yards and 450 rushing yards. He also has ran for three touchdowns of his own. Evans ranks first in the conference in passer efficiency with a rating of 166.3. He is second in the conference in total touchdowns with 24 and second in passing yards per attempt with 8.9.
If Evans can continue to lead the Hokies offense with his decision making and playmaking ability and limit his turnovers, Virginia Tech will be in the ACC Championship game.
More from Saturday Blitz
This article originally appeared on