5 Reasons Cam Akers Can Win A Heisman at Ole Miss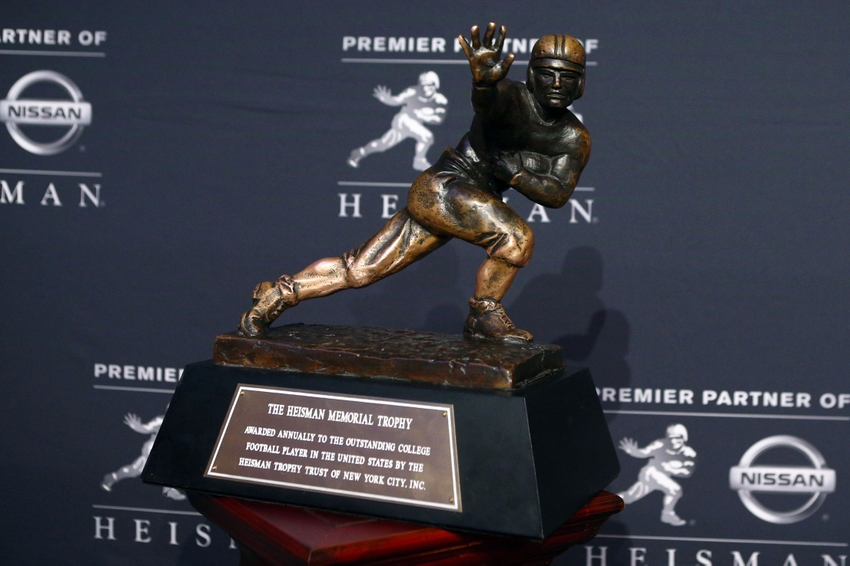 Clinton QB/RB Cam Akers is high on the Ole Miss Rebels recruiting list. I believe if he decides to play in Oxford, he can eventually end up with a Heisman Trophy.
Most of the entire country is waiting to find out where prized Clinton High School senior Cam Akers will attend college. Everyone wants him in their backfield. He is rated by most agencies as the best running back prospect in the country. There have even been lively debates as to whether he is the best in Mississippi high school history.
Ole Miss has made his final cut. Akers is close to making an announcement. He plans on being an early enrollee, so whatever school he chooses will have the benefit of having him for Spring practice.
The Rebels would be a great landing spot for Akers. The argument about the offense being conducive to his talent is a weak one. When you have a once in a generation talent like Akers, you adjust your offense toward his skill. Therefore, he doesn't have to worry about getting touches.
This weekend the 2016 Heisman winner will be announced. However, I believe if Aker came to Ole Miss he can end up with a Heisman Trophy in his case before he leaves for the NFL.
Here's FIVE reasons why.
Great Passing Game
Although Akers is being recruited as a running back, the fact that Ole Miss' passing game is highly effective is a plus for his Heisman chances. There is no better friend for a running back than a passing game that can keep the defense honest.
Having Shea Patterson at quarterback and the highly skilled receivers on the roster will force defenses to stay at home. This effective passing game won't allow the opposing defenses to stack the box without paying a price.
Akers will feast in that created space. It will allow him room to operate. He will be able to find holes. Therefore, he will have the opportunity to get Heisman-worthy numbers. Akers will have the chance to average more than 1800 yards rushing and 15 touchdowns a year barring any injury. This does not include the receiving yards out of the backfield. The great Ole Miss passing game will be huge for Akers.
High Profile Games
Let's be completely honest. No matter how much venom rival fan bases spew on each other, there is one thing we can agree on. There is no better football conference than the SEC. We may have a down year every now and then. However, nine times out of ten, we are the cream of the crop.
Likewise, if you even went deeper into the conference there is no division tougher than the SEC West. The Big Ten is fine. The ACC is ok. But real football is played down here. The Rebels will face big time teams every other week. Performing well in a high-profile game is what Heisman moments are made out of.
If Akers runs all over Alabama, he will highlight ESPN. A great game against LSU will make an impressionable memory in the mind of Heisman voters. A monster season in the SEC will get you the trophy. Ole Miss gives Akers the chance to get that trophy.
A Good Young Offensive Line
There are very few good things that come from injuries. However, one thing that was a benefit for the Rebels was the fact that a lot of young players got valuable reps. This was really the case with the offensive line.
Several times during the season there were freshman at both tackle positions. The early playing time will help develop chemistry with the offensive line. When Akers come on the campus, he will be playing behind a line that will grow together.
This line is setting up to be a strength on the team in the next couple of years. However, lost in the last few weeks of the football season was the fact that the offensive line played decently. They will only get better. Akers will be the beneficiary of that talented young line. He will have the holes he needs to operate in.
If you look at the history of Heisman trophy winning running backs, they've run behind great lines. This line is set up for Akers to have a shot at Heisman-like numbers.
High Powered Offense
Ole Miss has always been able to put points on the board during Coach Hugh Freeze's tenure as coach. The knock has always been a lack of running game in the red zone. Fans have wondered what would happen if we had a true feature back in the backfield.
Think back to all the points we left on the field. Remember all the field goals we settle for simply because we couldn't punch the ball in the end zone. Think of the three and outs we had because we couldn't pick up three yards on the ground.
However, Akers would take care of all of that. It would be perfect for his Heisman run. He'd rack up on touchdowns. The Rebels would be able to hand him the ball with a lead and he would accumulate yard after yard. All those stats look great to a Heisman voter. Therefore, he would benefit from the Rebel's reliance on him in the offense. It would pad his Heisman resume.
Akers is Good
Guys, Cam Akers is good. He's really good. The fact is, if Akers joins the Rebels, it will be a game changer. He has the ability to be the best running back we have seen here since Deuce McAllister.
The 5-11 213 pound back can run with speed. He also has the ability to run with power.  Akers is even a passing threat out of the backfield. He's evasive and has a nasty streak that the great runners have. He finds holes in the line and hits it hard.
This kid will be a Heisman trophy candidate before he leaves school. It doesn't matter what school he attends. He is just that good. The young man is so good there have debates about whether he was better than the great Marcus Dupree. The fact that his name is mentioned with Dupree lets you know how special he is.
He and Ole Miss together can be a special marriage. One that can end with a Heisman Trophy and perhaps much more.
This article originally appeared on