5 players that are key to Clemson's title hopes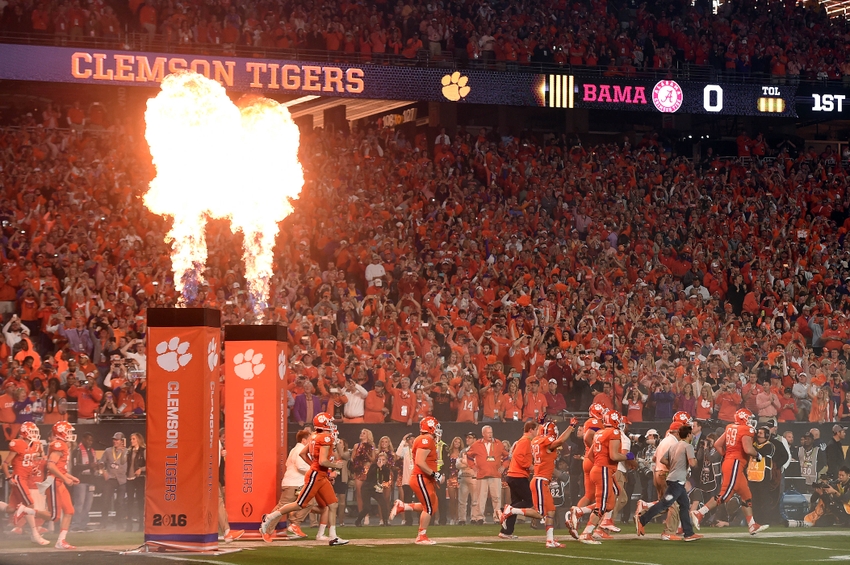 Clemson is coming down to their last two regular season games. Every game is a playoff game from here on out. Lose and the Tigers championship hopes are over. Here are the 5 players that are most important to Clemson's championship hopes.
Carlos Watkins
The senior defensive tackle is having the best season of his career as a Tiger. Watkins has been nearly unstoppable registering 31 tackles, 6.5 sacks, 7.0 tackles for loss, and 1 blocked kick.
Watkins will be key to Clemson's championship hopes because of his ability to stop the run. The teams that Clemson cold potentially be playing such as Alabama and Ohio State are known for their ability to run the football.
Clemson's defense is one of the best in the country, however, against Pitt James Conner ran all over the Tigers. Pittsburgh was also able to gash Clemson with the shovel pass. The teams that Clemson will face in the College Football Playoff will have much more talent than Pittsburgh, not only in the back field, but on the offensive line especially.
Carlos Watkins is also key to Clemson's pass rush. Carlos' 6.5 sacks leads the team. Clemson is great at getting after the quarterback currently sitting at 35 sacks on the season. Without Watkins in the lineup, Clemson's front seven will not be nearly as disruptive.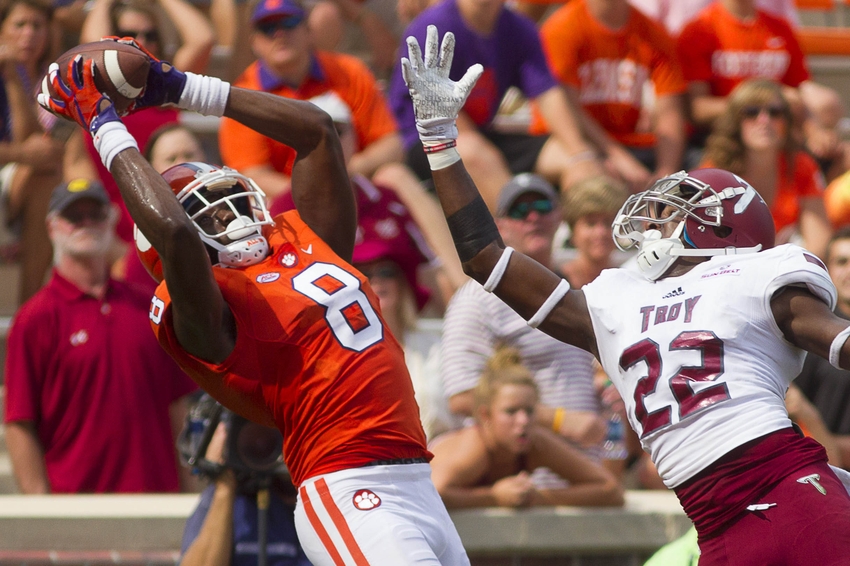 Deon Cain
Mike Williams gets much of the attention on Clemson's receiving core, however, Deon Cain creates the most explosive plays out of anyone on this Clemson team. Cain currently averages 19.76 yards per catch. Cain also leads Clemson in receiving touchdowns with 9. The next closest wide receiver is Mike Williams who has 6.
Deon Cain is key to Clemson's National Championship hopes because of his big play ability. As Clemson moves forward in their season, teams are going to game-plan to take away Mike Williams and Jordan Leggett.
That's where Deon Cain comes in. Deon is too fast to cover with a linebacker in the slot and he is to big for smaller corners on the perimeter. With most teams dedicating a corner and safety help to Mike Williams, Deon Cain will have his fair share of one-on-one match-ups. Cain his shown his ability to win those one-on-one match-ups throughout his career.
DeShaun Watson with another DeShaun dime, to Deon Cain https://t.co/vN5HAuFOgn

— Andrew Jerell Jones (@sluggahjells) November 12, 2016
✌️️ TD's tonight for 2014 #TheOpening alum Deon Cain (@cainera1_) #ALLIN 🐅https://t.co/U34K2ctpuT

— The Opening (@TheOpening) October 2, 2016
If opposing teams leave Deon Cain on an island, I like Clemson's chances.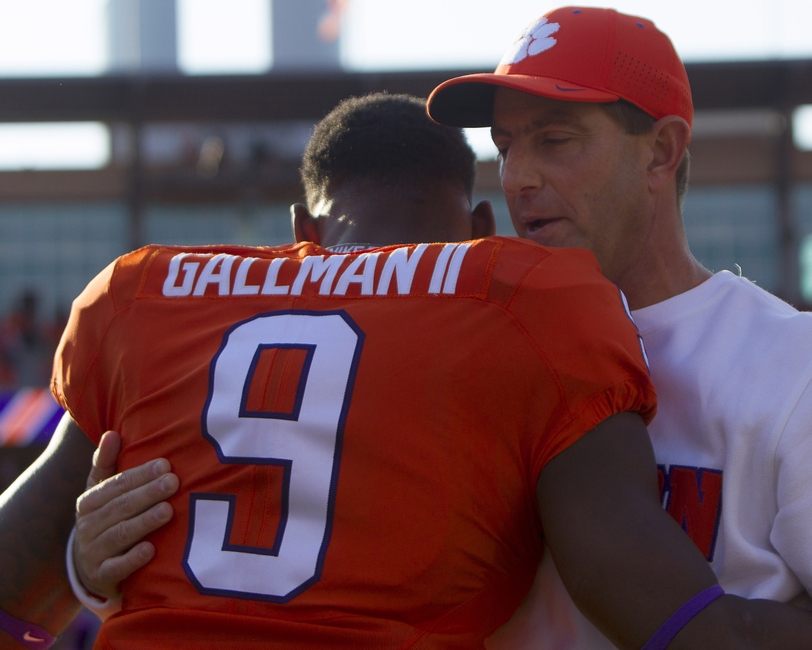 Wayne Gallman
Gallman has not been as productive this season, but his importance to this Clemson team is no different. Wayne Gallman has rushed for 670 yards and 11 touchdowns on the year.
Wayne Gallman is vital to Clemson's National Championship hopes because he provides balance to Clemson's offense. Right now, Clemson is essentially one dimensional on offense. Deshaun Watson threw the ball 70 times against Pittsburgh. While Watson is arguably the best quarterback in all of college football, Clemson's offense needs some form of balance.
Gallman needs to run the ball effectively to control the tempo of the game. Clemson has one of the best defenses in the country, but, if they are on the field all night they are going to give up points. Gallman can help keep the defense fresh by chewing time off of the clock.
Clemson also needs Wayne Gallman in the redzone. Deshaun Watson has had decision making problems when the Tigers get down in the redzone. The best fix for that is running the football, its quite simple. If opposing defenses are consistently dropping multiple linebackers in coverage, the numbers inside of the tackle box are in Clemson's favor. Feed Gallman and get out of the way.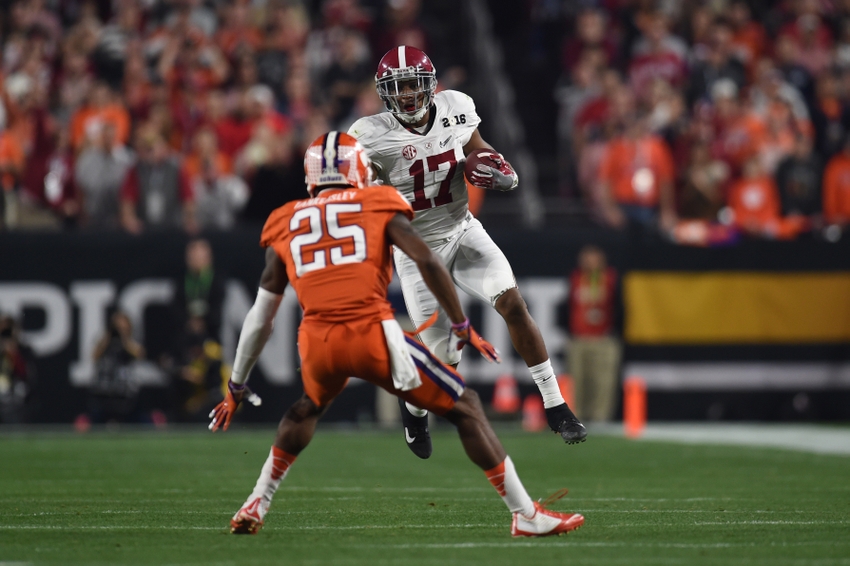 Cordrea Tankersley
Clemson's secondary was embarrassed by Pittsburgh and Nathan Peterman. Peterman threw for 308 yards and 5 touchdowns. Cordrea Tankersley was beat in coverage multiple times in the Tigers loss.
Just. Ridiculous. #PITTvsCLEM https://t.co/4woItR0wKK

— Crow Radio (@_CrowRadio) November 12, 2016
Cordrea Tankersley is key to Clemson's National Championship hopes because he is the Tigers best cover corner. Tankersley could have easily left early for the NFL draft after last season, but, he chose to come back and finish what he started.
Moving forward, Tankersley needs to play his best football. Clemson could potentially face some of the best wide receivers in the country including, Isaiah Ford, Bucky Hodges, Calvin Ridley, and Curtis Samuel. Cordrea Tankersley will likely be line up against majority of those elite wide recievers.
The Tigers secondary has been good in coverage all year considering their lack of experience coming into the season. Clemson ranks 21st in passing defense, allowing just 192.29 yards per game. Tankersley has been key to the Tigers success in pass coverage.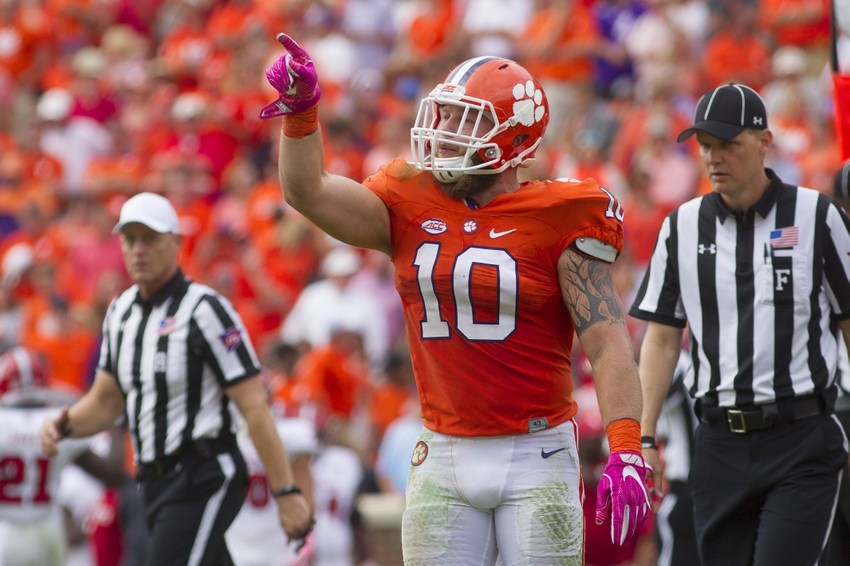 Ben Bouleware
Ben Bouleware has been the leader of this defense both on the field and off of the field all year. Bouleware leads the team in tackles with 82.
Bouleware may not be the biggest guy or the fastest guy, but, what he lacks in athleticism he make up for in instincts and effort. Ben Bouleware seems to be in an every tackle, he has a great nose for the football.
Ben Bouleware is very disruptive behind the line of scrimmage. The senior linebacker has 6.5 tackles for loss and 2.0 sacks so far this season. The importance of defense can not be overstated, as we all know, defense wins championships. Without Ben Bouleware on the field, Clemson's defense is not nearly as good. Bouleware is a smart player who helps get everyone lined up. More importantly, Bouleware is the emotional leader of this defense.
Come championship time, the Tigers will need Bouleware to stop opposing offenses. With guys like Jalen Hurts, J.T. Barrett, and Mike Weber potentially awaiting the Tigers, this Clemson defense needs Ben Bouleware to be at peak performance.
More from Rubbing the Rock
This article originally appeared on