5 Best Players for Texas Football in First Half of 2016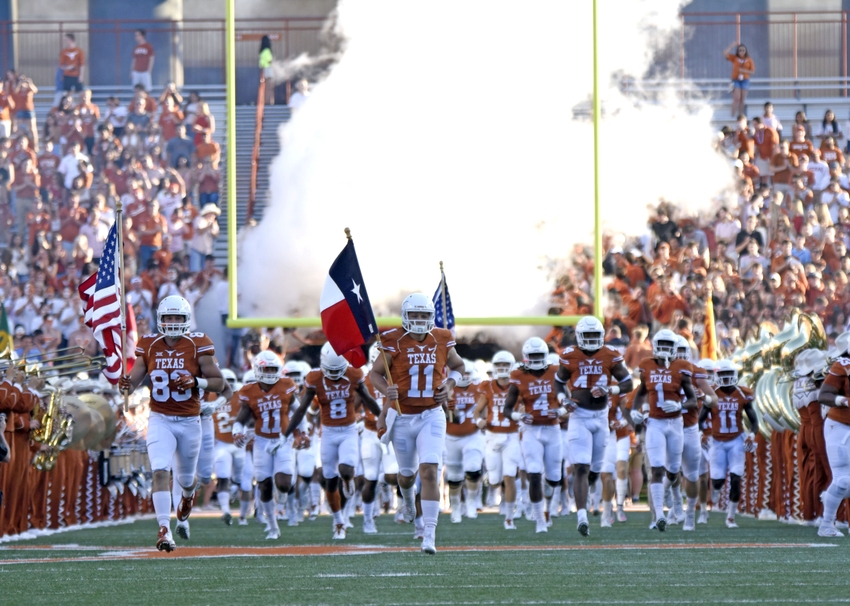 Texas football is 3-3 in the first half of the 2016 season. They have serious work to do in the second half to overcome some disappointing performances but have seen some positive play from key contributors. Who has been the best?
There's no denying that Texas has had its fair share of struggles through the first half. They rank No. 8 in the Big 12 in scoring defense, No. 7 in total defense, and allowed 45 points or more four times this season. They have yet to win away from home and Charlie Strong is fielding constant questions about his job security.
It's not all gloom and doom, however. Texas is gaining nearly 500 yards of offense per game this season and scoring 38.7 points per game. That is a huge improvement over where they were in 2015. Sterlin Gilbert has been a key addition to this coaching staff and likely has saved the Horns from a 1-5 or 2-4 record.
Despite the disappointing 3-3 mark, Texas appears to be moving in a positive direction. Young players are stepping up and finding their rhythm. The defense, hopefully, has started to figure things out and will tighten up in the second half. A Big 12 title is still a possibility, though the Horns will need a lot of help to make it happen.
All in all, it's been a wild up and down first half of the season. Texas went from unranked to No. 11 before getting bounced way out again during their three-game losing streak. Strong went from finally bringing the Longhorns "back" to worrying about getting fired midseason.
Through it all, Texas has seen some stars emerge. Here are the five most outstanding players for Texas so far in 2016.
Football demands excellent in all three phases of the game. While the place-kicking has had its struggles in the first half, Michael Dickson has been an asset punting the football. He helps Texas' beleagured defense by flipping the field whenever the offense stalls out.
Through six games, Dickson has punted the ball 30 times and is averaging 47.9 yards per kick. That is the third highest mark in college football right now. That's a significant bump from his average last season, 41.3, and could earn him some love at the end of the year from the Ray Guy Award voters.
The sohpomore from Australia has really developed as a punter and backed up his reputation for having a big leg this season. He's punted at least one kick 50 yards in every game. Against Notre Dame in the opener, he averaged a season-high 55 yards per punt and bombed a 64-yard kick. In a game where every possession mattered, flipping the field like that was invaluable.
While he's not the guy most Texas fans want to see on Saturday, Dickson is a valuable weapon for this team. Continuing to push opposing offenes deep into their own territory on punts will only help the Texas defense as they find their way.
Texas is struggling on defense as they try and get a ton of young and inexperienced players up to speed to compete at the college level. However, they have been able to rely on a sopohomore linebacker, even if it's not the one they were expecting. Anthony Wheeler has stepped up as a leader of this defense and a tackling machine in the Big 12.
While Malik Jefferson garnered much of the hype this offseason, earning Preseason Big 12 Defensive Player of the Year honors, it's been Wheeler who has stepped up for Texas in the first half. He currently leads the team with 48 tackles and ranks No. 4 in the Big 12, averaging 8.0 tackles per game.
For a defense whose defining characteristic this season has been missed tackles, having a tacking machine like Wheeler emerge has been great. He's improved significantly after averaging 3.0 tackles per game last season as a freshman. One aspect that he still has to improve, however, is his disruptive plays. In six games, Wheeler has just 2.0 tackles for loss and a pass defended.
Still, for a team that needs defensive stability, Wheeler has been huge at linebacker. Hopefully, Wheeler can continue his steady play in the second half and allow more explosive plays from his teammates around him.
When anyone talks about Texas football, they talk about Shane Buechele. The true freshman has stepped into the starting lineup and proven himself capable of leading the Longhorns' offense. And he's only going to continue to get better.
Through six games, Buechele is completing 63.7 percent of his passes for 1,500 yards and 13 touchdowns against five interceptions. He's displayed some athleticism, too, rushing for 141 yards and a touchdown. He has proven to be a quick study in Gilbert's up-tempo, spread offense, throwing the ball with confidence and accuracy to stretch the field vertically.
Compared to last season, Buechele has elevated this Texas passing attack to astronomical heights. In 2015, Texas managed just 1,751 yards during the entire season, completing 55.2 percent of their passes and throwing just nine touchdown passes. Buechele took what was a historically bad passing offense and made it a viable threat against opposing defenses.
As he matures, Buechele should only get better. He has moments where he shows his inexperience, reading a defense a half-second too slow or hesitating to pull the trigger on a tight throw. He will overcome those issues with time. Buechele is the truth and the long-awaited answer at quarterback for Texas.
The offensive line has been integral to the development of Buechele. Connor Williams is far and away the best player on that line and is a bookend left tackle capable of keeping his young quarterback upright. His play has been pivotal to providing stability to the Texas offense.
Williams played his way into the starting lineup as a true freshman last season and responded positively. He was a first-team freshman All-American and honorable mention All-Big 12 selection, starting all 12 games in 2015. This season, he was named to the Outland Trophy preseason watch list and the Preseason All-Big 12 team. His steady production and excellent durability are central to Texas' offensive turnaround.
The 6-foot-5, 283-pound sophomore continues to develop and improve week after week. Williams is capable of standing up against the best the Big 12 has to offer. At this rate, he's going to play his way into the first round of the NFL draft in 2018 or 2019, depending on when he decides to take his game to the next level.
For now, he will be Texas' leader on the line and a dominant blocker for this offense.
Nobody in the Big 12 (and only one person in FBS) has been as good running the football as D'Onta Foreman this season. The junior running back has been electric as the team's workhorse back, carrying the Texas offense to new heights so far this season.
Coming into this season, Foreman was an underrated runner who was expected to find some success in tandem with Chris Warren. He's exceeded all expectations so far, even after Warren was injured against Oklahoma State. In five games (after sitting out UTEP due to injury), Foreman has rushed for 731 yards, averaging 6.25 yards per carry, and scoring a Big 12-best eight rushing touchdowns.
Foreman is currently on a historical hot streak, rushing for 100 yards or more in seven straight games. That's the longest active streak in FBS and the second longest streak in Texas football history. He's currently the only back in the conference to average over 100 yards per game, rushing for 146.2 yards per game. Shock Linwood of Baylor is second at 83.3.
There is no understating how great Foreman has been so far this season. There is nothing to indicate he's going to slow down anytime soon, either. He is the perfect back to carry this Longhorn offense and the most outstanding player for Texas in the first half.
Breckyn Hager, DE
Hager is a pure-energy player who has brought some spark to the Texas defense. He is currently second on the team in tackles (35), tackles for loss (4.5), and sacks (3.0) while playing on a rotational basis. His energy and determination has helped him carve out more playing time as the season has progressed and he should be a central figure of the defense moving forward. He's got great hair, too.
Naashon Hughes, LB
Hughes came into the season as the seasoned veteran along the defensive front. Playing the Fox position as a hybrid DE/LB, Hughes has to be able to do it all. With young players (like Hager) nipping at his heels for playing time, Hughes has stepped up and delivered. The junior has 12 tackles with a forced fumble on the season and leads the team with 3.5 sacks.
Jerrod Heard, WR
Heard, the former starting quarterback for Texas, has made a seamless transition to receiver in his sophomore season. He currently leads the team with 220 yards and three touchdowns on 17 receptions. Heard has distinguished himself in what has become a deep, but inexperienced group of playmakers at receiver.
More from Hook'em Headlines
This article originally appeared on