5 Best Individual USC Football Performances of 2016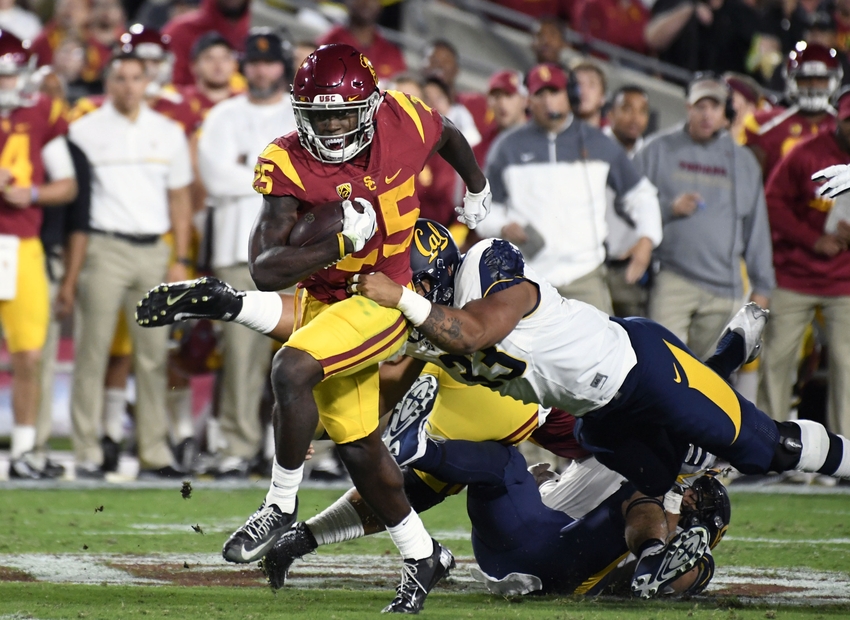 USC football's turnaround in 2016 was fueled by some impressive individual performances including Adoree' Jackson, Ronald Jones II and others.
Football is a team game, but individual magic can make the difference for any given team on any given night.
USC found those kind of performances from all over the field during the eight-game winning streak to end the regular season.
Here's a countdown of the five best performances from USC players this season:
5. Justin Davis vs. Utah
Among the what-ifs that surround USC's 2016 season, the perplexing usage of Justin Davis against Utah ranks near the top.
The Utes ranked second in the Pac-12 this season against the run, yet Davis found it easy to run against them.
The senior broke off a 50-yard touchdown to put USC ahead in the second quarter and compiling 102 yards on just six carries by halftime. In the third quarter he added 24 yards on four carries….and then was not handed the ball again.
In the end, Davis finished with 126 yards on ten carries. It was arguably the most impressive performance of his USC career and the moment when he solidified his claim to the Trojans No. 1 running back role as a pure runner and not just as a more all-around back than Ronald Jones II.
It's just unfortunate that Davis didn't get the chance to cap it off with more opportunities and a victory.
4. Sam Darnold vs. Arizona
There are a number of Sam Darnold performances to consider among his best. When it comes to passer rating, his highest came agaisnt Cal. In terms of accolades and opposition, his showing to help USC best Washington was critical and earned him Pac-12 Player of the Week honors.
However, when it comes to complete performances, Darnold's most impressive outing in 2016 came during the Trojans' 48-14 victory over Arizona.
Though Darnold missed several long attempts to open receivers downfield, the Trojan quarterback was exceptional in every other way.
Darnold threw for a USC freshman-record five touchdowns before the third quarter was completed, using his feet to negate the Wildcat pass rush while keeping his eyes on the look out for viable targets.
When the opportunity presented itself, the quarterback punished the defense by scrambling for key yardage, scrambling for 54 yards on six carries.
Most importantly, Darnold's penchant for turning the ball over was nowhere to be found in the desert — he did not throw an interception or fumble in the game.
3. Rasheem Green vs. Washington
USC's upset win over Washington was defined by the performance of the Trojan defensive front, led by sophomore defensive lineman Rasheem Green.
In undoubtedly his best performance as a Trojan, Green was a force to be reckoned with in Seattle. In total, he had four tackles, a sack, two pass break ups and a blocked kick — all contributions which were critical to the victory.
Green's sack was timely, bursting through the line to bring down Jake Browning on third-and-two from the USC 13-yard line. That forced the Huskies to settle for a field goal instead of tying up the game with a touchdown in the second quarter.
Later, Green got a paw up to block a 38-yard field goal attempt which would have put Washington within one point of the Trojans in the third quarter.
Then, in addition to contributing to the wave of pressure USC put in Browning's face all evening, Green batted a pass at the line of scrimmage on third-and-12 as the Huskies looked to draw closer to the Trojans in the fourth quarter.
The entirety of USC's defensive front deserved MVP honors against Washington, but Green was the best among them.
2. Ronald Jones II vs. Cal
With Justin Davis sidelined, Ronald Jones II stepped into the No. 1 role at running back for USC and put on a show.
The sophomore back set a new career-high rushing total against Oregon, logging 223 yards and two total touchdowns on the night.
That's the most rushing yards for a Trojan since 2010 and the third most since 1981, putting Jones in rare company with Allen Bradford, Shawn Walters and Reggie Bush.
On his first carry of the night, Jones gave a preview of what was to come, dashing 60 yards before being caught at the 12-yard line.
The next drive featured more effective running from the Trojan back, finished off with a 16-yard score on a screen pass — proving Jones can be a reliable weapon in the passing game as well.
Jones would also add a 42-yard rush and a 37-yard touchdown run to effectively seal the victory.
1. Adoree' Jackson vs. Notre Dame
Not only was Adoree' Jackson's three-touchdown outing at the Coliseum the top individual performance of the year for USC, it'll go down as one of the most impressive rivalry game showings for the Trojans ever.
And it rightfully earned Jackson more than a little Heisman buzz to go with Pac-12 Special Teams Player of the Week honors.
Jackson made his mark in all three phases of the game.
Defensively, he ran down Josh Adams after a long run to stop him from scoring at the goal line. He also broke up a pass on third down to force a Notre Dame punt, later batting another pass to help limited the Irish to a field goal attempt which was missed.
His most impressive moments came on special teams, running onto a bouncing punt in the second quarter and shooting through the coverage team for a 55-yard score.
In the third quarter, he added an offensive contribution by speeding down the sidelines on a swing pass for a 52-yard receiving touchdown.
Jackson followed that up by returning a kickoff 97 yards, breaking a tackle then hitting the sideline where he hurdled the kicker and cut it back inside to complete the touchdown.
When the dust had settled and the final whistle blew, Jackson had 192 yards of total offense
This article originally appeared on