5 Alabama Football Players To Be Thankful For This Year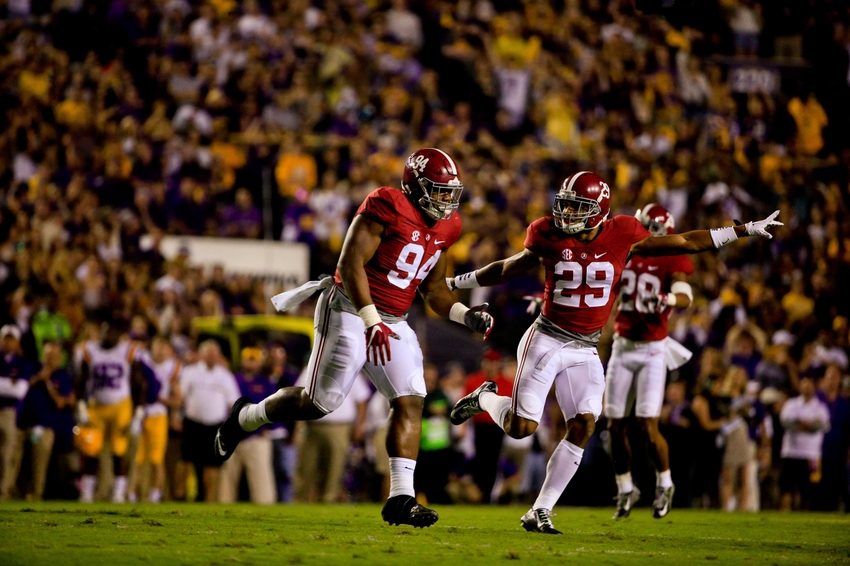 Thanksgiving week is coming to a close. So which Alabama football players should we be thankful for in 2016?
By now, everyone has probably stuffed their faces full of turkey, dressing (NOT stuffing – this is the South, y'all), and Grandmama's pecan pie. Hopefully, you've told friends and family that you're thankful for them, and you've counted your many blessings.
Today is Friday. It's the day when we go out shopping to buy a bunch of stuff we won't really need, the day after we were supposed to be thankful for all that we already have. Ironic.
It's also Iron Bowl Eve. In the state of Alabama, it's the day before the most important game of the year (because let's be real: the national championship game is technically played next year, sooo….)
To help bridge the gap between Thanksgiving and the day we pray Alabama football kicks the everloving crap out of that cow college on the other side of the state, let's take a look at some players we should be thankful for this year. These guys probably aren't the first to enter your mind. I'm not talking about Jalen Hurts, Calvin Ridley, Jonathan Allen or Reuben Foster. Don't get me wrong; those guys are hella important. But there are several other players who don't always get the credit they deserve. And for them, we should all be exceedingly thankful.
ICYMI: Thanksgiving Turkey and Iron Bowl Trash Talk
Let's be real – punters don't usually get the recognition they deserve, because they rarely get any recognition at all. But the 20 year old junior has proven himself to be a vital part of the Alabama football team. Field position is everything in some of the games Bama has played this year. Many times, Scott has been called upon to flip the field and force the opposing team to work even harder to move downfield. Whether it's ripping off a 73 yarder like he did in the Sugar Bowl last season, or helping down the ball inside the ten yard line, Scott is as consistent as anyone in his position. With an average of 48.4 yards per punt, he leads the SEC and is ranked second nationally. While we always hope we won't actually need him, JK Scott is the man we love to have when we do.
There aren't a TON of stats on the six-foot-six, 319 pound sophomore because it's only his second year at the Capstone. Payne recorded one sack so far in his career, but he's been a part of many stops and hurries. If you watch number 94 very much, you'll see that he occupies two blockers single-handedly almost every snap. Payne plays a key role in limiting opposing teams' running game. Speaking of which, Alabama football is currently ranked first in the nation in rush defense. Da'Ron is still young, still developing, and if you can believe it, still growing. He's an important part of the Alabama defensive line this year – but just wait for seasons to come.
Bradley Bozeman is the redshirt junior who took over as the center for the Alabama football team after Ryan Kelly got picked up 18th overall in this year's NFL draft by the Colts. That's right – he stepped into a role previously filled by a stellar first rounder. It's safe to say that Bozeman felt the pressure to perform early on this season. It took a few games to settle in, but Bozeman has been money ever since. Not only can he get the ball to quarterback Jalen Hurts, but he also blocks and opens up holes for the Tide's run game. Following Bama's win over Mississippi State, Bradley was named Offensive Player of the Week – for the FIFTH straight week. No one usually notices the center unless he screws up.  It's high time Bozeman receive some praise from the fans for the solid job he does week after week.
Before the 2016 season, if someone mentioned Anthony Averett, you might have asked, "Who?" And you might have gotten the answer, "You know, the cornerback opposite Marlon Humphrey." Ring a bell? Averett has proven himself to be much more than Humphrey's mirror. He is arguably the most consistent corner on the Alabama football team. Averett's stats are impressive – 26 stops this season, including 23 solo tackles – but it's his speed that will really blow your mind. Anthony is quick and agile, and plays a vital role in breaking up the opposing team's passing attack. Look out for number 28 this weekend; chances are he'll be all over Auburn's receivers.
Don't laugh. I'm serious. Bateman has moved up to second on the quarterback depth chart, following the early departure of one guy we won't mention. The redshirt junior backed up Jacob Coker last season, and undoubtedly believed he'd be the go-to guy for the Tide this year. That is, until true freshman Jalen Hurts rolled into Tuscaloosa.
But you know what? Even though he didn't win the starting job, Bateman didn't whine. He didn't throw a fit, and he sure as hell didn't quit. Instead, Cooper has quietly continued to play a vital role on the Alabama football team. No, he's not the starting QB, but he is the signal caller. That's kinda important. He's also essentially been named All-Time-Holder for field goals. Though we cringe a little when we see the field goal unit trot on the field, it's never Bateman's fault if we don't put three on the board. The hold is good and the laces are always out, as far as I can tell.
Cooper Bateman should be thanked for keeping his head up and continuing to be a leader on this Alabama football team. He's supported his teammates and stayed classy, even when things didn't go his way. That's something that is often overlooked in today's instant-gratification, ego-centric society. So thank you, Coop. Much respect.
Well there you go. That's my list of five Alabama football players we should all be thankful for this year. Who would you add to the list? Are there other guys who should be recognized for just doing their thing for the Tide? Let us hear from you! Connect with us on Twitter: @Bama_Hammer or @DivineMrsMH. "Like" BamaHammer on Facebook!  And don't forget to download the FanSided app for all the latest in Crimson Tide athletics delivered straight to your smartphone all day, every day.
Happy Thanksgiving, everyone. Enjoy shopping today, and let's be ready to cheer on our guys to another victory over the Barn tomorrow. Roll Tide.
This article originally appeared on