3 Up, 3 Down for Auburn Football in 2016 Iron Bowl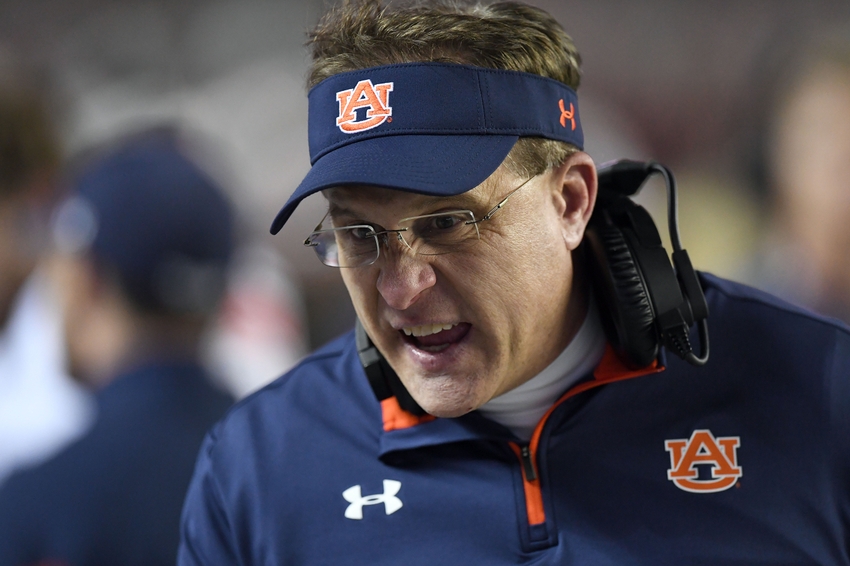 Here we take a look at three areas where Auburn looked good and three areas where Auburn football wasn't so good in the 2016 Iron Bowl.
Auburn football lost to their rival Alabama for the third straight year Saturday afternoon in the 2016 Iron Bowl by a final score of 30-12.
It certainly wasn't the prettiest game of the year for Auburn football as the offense continued to struggled to do anything.
The defense played well in the first half, but they eventually wore down as they were on the field for over 40 minutes.
Here is our three up, three down for Auburn football from the Iron Bowl
3 Up
First-Half Defense
The Auburn defense did exactly what it had to do in the first half by holding the Crimson Tide to just 13 points and coming up with a couple of big turnovers that led to points.
The defensive line and linebackers looked healthy and were causing all kinds of problems in the backfield, which forced Jalen Hurts to make some bad decisions.
I really loved the intensity of the defense at the beginning of this game. Unfortunately, Auburn's offense couldn't sustain any drives and the defense eventually got tired in the second half.
Daniel Carlson
It really was surprising to see Daniel Carlson miss a field goal in this game. Even if it was from 52 yards, we've become accustomed to him knocking those through with no problem.
Maybe that's because he had drilled a 52-yard field goal earlier in the game.
If he doesn't win the Lou Groza award this year, then I don't know what else a kicker has to do. He scored all of Auburn's points in the game hitting 4-of-5 field goals with three of them being 39 yards or longer.
He's the best kicker in the country … period.
Eli Stove
Coming into the year everyone was talking about Nate Craig-Myers and Kyle Davis being the freshman receivers who would step up.
However, it's been Eli Stove who has broken out at the end of the season. He's become a great asset in the running game, and in the Iron Bowl he led Auburn with 4 catches for 87 yards.
I really like the way this kid has stepped up down the stretch and look forward to seeing how his career blossoms at Auburn.
3 Down
Offense
Everything about the offense in this game was terrible. They managed just seven first downs and 182 total yards in the Iron Bowl.
I was fine with Jeremy Johnson starting at quarterback as I thought he would keep the defense honest with his ability to throw deep, but he was too inconsistent when he did throw.
They tried to run the ball to the edge too much instead of sticking to their guns and running up the middle with Kamryn Pettway.
I know it's not easy coming up with a game plan against Alabama's defense, but the offense has been horrible for weeks now.
Time of Possession
Building off the last point, the offense was unable to put first downs together and stay on the field, which not only hurt our offense, but tired out our defense.
Alabama had the ball for 20 more minutes than us in this game. That's an impossible task for any defense.
I know we want to play fast, but if you're not picking up first downs then it just kills your defense.
Gus Malzahn
All of this leads back to the man in charge. Gus Malzahn has been great the past three years at coming up with a game plan to keep the Iron Bowl close, but he failed in this contest.
I thought he got away from what had been working with the offense when Sean White and Kamryn Pettway was healthy, and basically played into Alabama's hands.
He has now 2-6 against Auburn's rivals with the Prayer at Jordan-Hare and the Kick-Six being his only two wins. That's not going to cut it at Auburn.
Now we wait to see where Auburn lands in the top 25 and what bowl game they will get.
War Eagle.
This article originally appeared on