3 Reasons Louisville Cardinals Quarterback Lamar Jackson Will Win The Heisman Trophy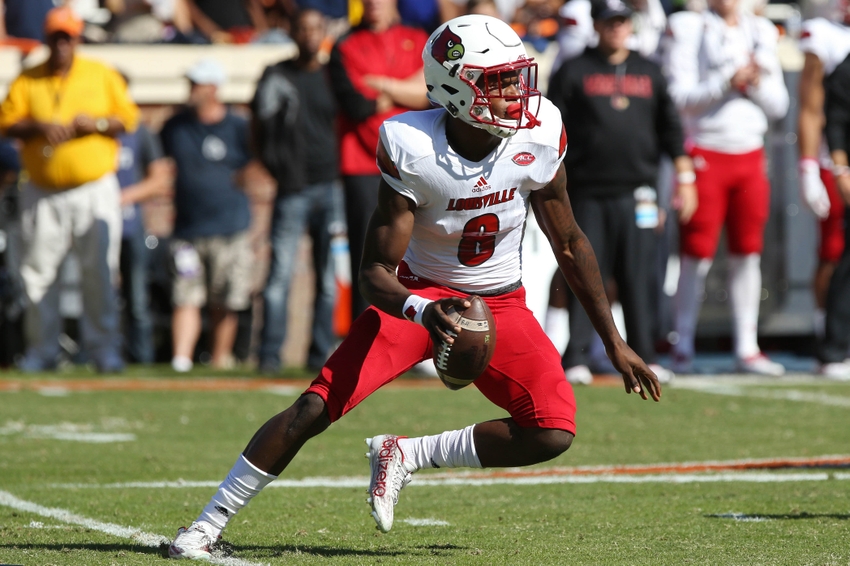 The Heisman Trophy is officially a four-man race, but one man stands head and shoulders above the rest.
Louisville Cardinals quarterback Lamar Jackson, at times, appears to be a man among boys. You've probably even heard him described as such. For the sake of sounding disrespectful to other men who play the same game he plays or other athletes who share his position on the football field, other superlatives will be mentioned in this article. It seems disrespectful to refer to other young men as boys when they share his dedication and his age.
Most collegiate athletes who have shared the limelight Jackson's constantly found himself in have shown that they are upstanding men. The three men who have risen to the top of the Heisman conversation have shown dignity and class both on and off of the field. Jackson will be joined in New York by Clemson Tigers quarterback Deshaun Watson, Washington Huskies quarterback Jake Browning and San Diego State running back Donnel Pumphrey. At the the end of the day, unless there's some collapse that no one sees coming (highly unlikely), Jackson will hoist the Heisman Trophy as its' 82nd winner.
Here's why.
1. Louisville's remaining schedule is favorable
At the dawn of the 2016 season, three games stood out on the Cardinals' schedule. There was the September 17th contest against the Florida State Seminoles, the October 1st meeting with the Clemson Tigers and the November 17th encounter with the Houston Cougars. We knew the ACC Atlantic would be decided by whatever happened between the three best teams in the Atlantic Division. We also figured the Cardinals had all of the tools to come out on top after watching them come so close in previous years.
They passed the Florida State test with flying colors. They would come up short on the scoreboard against the Clemson Tigers. Still, even in defeat, they won in the court of public opinion by what they did on the field and how hard they fought. History will forever show they lost to Clemson in 2016, but Jackson and company have shown the entire country that Louisville is serious about football.
The Cardinals have three games left on their schedule. All three should result in victories. Truthfully, the wake Forest Demon Deacons have no shot to beat this team. That leaves the Houston Cougars and the Kentucky Wildcats. Houston, once thought to have a shot at running the table in 2016, slipped against the Navy Midshipmen and the SMU Mustangs. You can still expect a high scoring contest in that one, but the fact is Louisville should win. That will set up a season ending game with Kentucky.
Each game will allow Jackson to show off his offensive genius again and further his superiority in the minds of voters.
2. The voting is historically regionally biased
Fan is the root word of fanatical. Fanaticism can be demonstrated in so many ways. One thing will always be certain. It just doesn't take much to prove what fanaticism can do to a person when you look at the typical college football fan. Everyone seems to believe their team can leave their conference and go to the SEC and dominate everybody. The Big Ten and SEC both believe they're the superior conference in college football. As far as the Heisman Trophy goes, history has shown us that everyone with a vote seems to cast that vote for a guy who plays in the same regional vicinity that they live in.
Players from southern football conferences have dominated voting recently. With that being said, Washington quarterback Jake Browning and San Diego State running back Donnel Pumphrey have no shot. They'll, no doubt, finish third and fourth behind Watson and Jackson. Watson was one of the favorites coming into the 2016 season, but he hasn't produced the same type of numbers he produced in 2015. It would have been hard to improve on them, and he has played well. Still, whether you agree with it or not, the theory is there's been a decline in his performance.
That, again, shifts focus to Jackson.
3. We live in a time where people are obsessed with statistics.
Statistics define who we are as a people now. We play fantasy football, and we watch tickers on every television network that's dedicated to American finance. Some of us dabble in stocks (some more successfully than others). One of the most popular sites on the Internet for people who have interest in the NFL is profootballfocus.com, and it seems to be getting more popular by the day. The long and the short of it is we're infatuated with numbers. It's also why Jackson is in position to take home the Heisman Trophy. His numbers are through the roof.
In 2016, Jackson has completed just under 60 percent of his passes and has thrown for 2,753 yards and 26 touchdowns. He's added another 1,181 yards and an additional 19 touchdowns on the ground. That puts him slightly ahead of Watson in touchdown passes and actually puts him behind Browning in the same category.
Watson has thrown 24 touchdowns, and Browning has 34 to his credit. The problem for both of them is, whether fair or unfair, more was expected of Watson, and Browning will fall victim to the southern bias that is Heisman voting. Unless you're a fan of the Huskies or live on the west coast, you're not hearing much about Pac-12 football.
Is there any doubt that Jackson is the unquestioned favorite?
To sum it all up, Jackson is the most electrifying player in college football
As a member of the Miami Hurricanes, NFL Hall Of Fame inductee Warren Sapp stated that, in order to win the Heisman, you had to play on offense. He even pointed out the trophy had a ball in it's clutches. The debate has raged for years about what the Heisman Trophy represents. Over time, it's evolved to be looked at as the best player at the collegiate level who plays a skill position. Recently, it's been taken home by quarterbacks and running backs.
Jackson may not have thrown as many touchdowns as Browning or have the resume of Watson, but he's the most exciting player in the game right now. When you see him eclipse the 150 yard mark in rushing or contribute seven total touchdowns in a game, you're reminded of how good he is. What's scary is he's a sophomore and 19 years old. As questions will begin to circulate about whether he can do it again or how long he'll stay in Louisville, we've been treated to a treat in 2016. The beauty is it's not over. The Cardinals have three more games to play in the regular season, and they'll be in a bowl game when the regular season is over. The voters have taken note of it, and Cardinals fans will never forget it.
There's no reason to believe jackson won't win in New York come season's end.
This article originally appeared on