25 things that Louisville Cardinals fans should be thankful for in 2016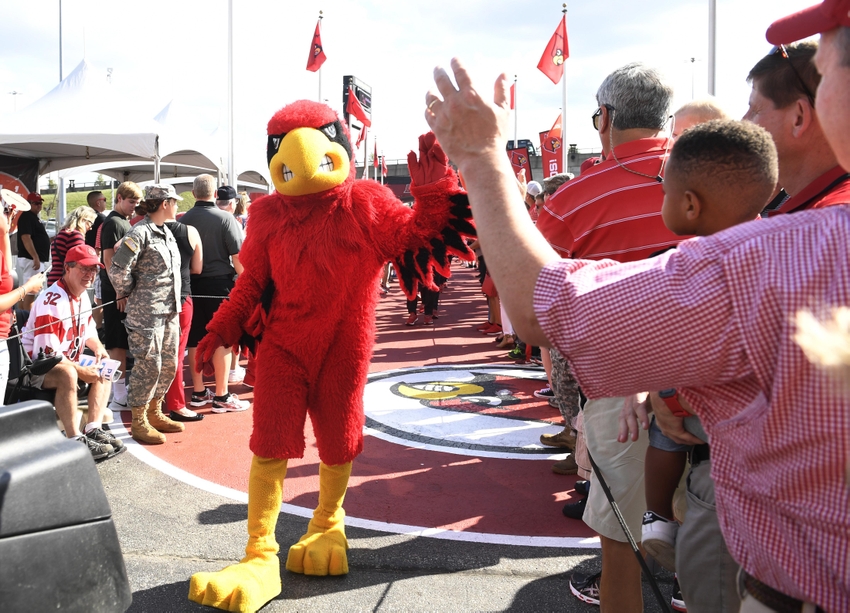 We take a look at twenty-five different players, games, or things that happened in 2016, that Louisville Cardinal fans should be thankful for.
Thanksgiving is finally upon us and it has been one heck of a year for Louisville Cardinals' fans. We have seen everything from upsets, to great performances, to College Gameday. Other than the year of the Cardinals, I don't think we have seen this much success and credibility from the football program in a while.
It has been a fun year and it's still not over.
There are many significant players that are highlighting what Louisville sports are all about and in 2016, these players have shined bright. Whether it has been Lamar Jackson, Trey Lewis, Damion Lee, or Donovan Mitchell, everyone around the country knows what's going on in the Ville'.
Thanksgiving is the time of year where we should reflect on what we have in our lives and what we are thankful for. As fans of the Louisville Cardinals there are many, many things that we should be pretty darn happy about.
The football team has had a great season, basketball is here and there will be a postseason for Pitino's squad. There are only great things coming for the Cardinals.
With that being said, here are the 25 things that Louisville Cardinals fans should be thankful for in 2016.
25. David Pollack and Kirk Herbstreit
These two analysts have had the Louisville football team's backs the entire 2016 season. From week one, these guys have known how great Lamar Jackson really is and were willing to put their opinions out there early.
There have been so many people on ESPN that have critiqued the Cards all season, which is why it was so refreshing to have Herby and Pollack defending the Cardinals every week. For that, we all say thank you.
Take the time to send a tweet to these two guys over the Holidays and let them know your appreciation. Remember, these were the guys that were talking about how good this football team was when the entire country wanted to pump the brakes before the Florida State game.
We should all be thankful for these two, fine gentleman who know their football.
24. Playing Kentucky at home in Basketball and Football
It is finally the year where your Louisville Cardinals will be playing the Kentucky Wildcats at home in both football and basketball. While the football team has dominated the Cats, the basketball team hasn't been able to have success in many, many years.
However, playing at home, gives the basketball team an even greater opportunity of winning than if they were playing at Rupp Arena.
You will have every opportunity to voice your displeasure for the Kentucky Wildcats when they come to town. Not to mention, the Cardinals will need your voice and passion to help propel them to victory over Lexington's finest.
The games are getting close, therefore be sure and get your tickets to cheer on the Cards.
23. Wake Forest's Allegations of a Security Breach
Leave it to Dave Clawson from the Wake Forest football team to give all of us a good ole' laugh during the week of Thanksgiving. He didn't accuse the Cardinals of stealing his game-plan, but he couldn't of made it more clear of what he thought was going on. Actually, I'm not sure he actually knew what was going on.
It is extremely funny to think that a team, who was losing for three quarters, stole your whole game-plan. If that wasn't enough, he waited a few days after the game to even say anything.
Normally people complain right after the game, not whenever you speak to the media mid-week.
Just remember Dave Clawson, while you may have given us a laugh now, the football team will be sure and return the favor when they demolish your football team in your own building next season.
22. Deng Adel
Deng Adel is going to be the key factor for the Cardinals' basketball team this season and we are going to enjoy watching him greatly. There are many people around basketball who feel as though Adel is the Cards' most-worthy NBA prospect.
We have been waiting for many years for a player who can consistently shoot the basketball and we may have found the guy. Rick Pitino has been very high on Adel ever since he committed to the program and we have every reason to believe that he could be a 1st or 2nd team All-ACC player.
Adel is going to win a ton of games for Louisville this season and we are going to find ourselves very thankful for his abilities.
Not to mention, he could be a guy that could make life very hard on the Kentucky basketball team in December.
21. Red Chrome Helmets
Let's be honest here, not only have the Cardinals kicked butt while wearing these helmets, they have also look extremely well. They introduced these sweet lids in the Florida State game and we all know how that game turned out.
These helmets look legit and give the Cardinals a great look on National television. I understand that they cannot wear these every game they play, but we need to start praying and hoping these make their way to Louisville's bowl game this season.
I genuinely hope these stay around for more than just one season because they may have Lamar Jackson's magic eternally grained into them.
If Louisville plays well in a particular helmet, why not use them every game?
People much smarter than me know the answer to that question, but that doesn't mean we can't ask right?
20. Georgia Bulldogs and the Tennessee Volunteers
Not only did these two football teams give us a great game to watch back in October, they beat the Kentucky football team two weeks in-a-row. Somehow in the completely terrible SEC East, the Wildcats were alive for a chance to go to the SEC Championship game.
With Louisville already not heading to their ACC Championship game, we would have never heard the end of it if UK somehow made it to theirs. However, Georgia kicked a field goal to beat Kentucky and Tennessee just ran all over them.
It has been amazing how fast basketball season has come for UK fans after losing their last two games, but that's likely to change when they become bowl-eligible for the first time in forever.
Oh well, at least they aren't going to the SEC Championship. To that we say thank you Georgia and Tennessee.
19. Lamar Jackson hurdling a Syracuse defensive back
If there was one play that could be the poster for a Heisman Trophy winner, Lamar Jackson had his against Syracuse in week two. The Cards were already dominating on offense and putting the entire country on watch. Then, Lamar Jackson took the snap and hurdled Cordell Hudson for another touchdown.
This play has become the background image on many of our phones, the highlight reel that we always watch before a game, and one of the biggest reasons why we will always love Lamar Jackson.
What was even more amusing was watching Syracuse QB Eric Dungey try and hurdle a Cardinal defender later in the game. Needless to say, he isn't as athletic as Jackson, therefore he landed right on his back.
Thank you Lamar Jackson, keep making us jump up from our seats in excitement.
18. The NCAA Tournament at the end of this season
It was a complete bummer that Damion Lee and Trey Lewis didn't get to play in the tournament last season, since it was one of the main reasons why they chose to come to Louisville. Everyone in Louisville felt terrible for those two guys and the rest of the Cards' basketball players who didn't take part in the alleged scandal.
With that being said, every Louisville fan can watch this season knowing that their Cards will be taking part in the NCAA Tournament. Well, that is if they can make it there, but frankly I don't think that is something that needs to be worried about.
This team is going to be exciting to watch and they will continue to get better every month.
The best teams always perform the best in March and this team will be among them.
17. The Pittsburgh Panthers knocking off the Clemson Tigers
If there was one fan base that Louisville fans have grown to dislike more than Kentucky, it's 100 percent Clemson. Ever since the two teams faced off in October, there have been many fights and arguments on social media over who has the better team.
Tiger fans have been known to act a little on the cocky side, but that's okay, they are in front of the Cardinals right now and they have won three in a row against Louisville. However, because of the Pittsburgh Panthers, Clemson fans have come down to Earth a little bit.
This was such an exciting game to watch because the Panthers finally ended Clemson's overly-talked about home winning streak.
Louisville fans, be sure and thank the Panthers because now we don't have to hear about Clemson's undefeated season.
16. Louisville Basketball's head coach Rick Pitino
Among everything that has gone on in the basketball scandal, Pitino has stayed true to the fact that he had no idea what happened and that he was not a part of the parties.
Let me be the first to say thank goodness because that would have been terrible and everyone would have made fun of the Cardinals for eternity.
Pitino has also done a great job of not letting this scandal become a distraction for this current basketball team. He has shown his veteran ability to coach and keep this team focused. Also, he did a great job of honoring Trey Lewis and Damion Lee at the end of last season.
We will be thankful for the University of Louisville's decision to keep Rick Pitino when this basketball team is making another run through the NCAA Tournament this coming March.
15. Jaylen Smith
Jaylen Smith has been one of the most exciting wide receivers on the entire Louisville football team this season. As only a Sophomore, he has given all of us hope that he will produce and be a threat going forward. In a year where Cole Hikutini, James Quick, and Jamari Staples are all Seniors, we now know that Smith has everything under control.
To be honest, it seems like he is scoring touchdowns every week and he isn't even the Cards' number one receiver. This kid is already good and it's only a matter of time before he is great.
It's also arguable that he made the play of the season for Louisville. He caught a touchdown pass from Lamar Jackson in Virginia that won the game and kept the Cards' post-season hopes alive.
Because of Jaylen Smith, the Cardinals have been in the playoff hunt all season long (until Houston).
14. Louisville Women's basketball coach Jeff Walz
There aren't very many schools in the country that have been having the type of success among all sports that Louisville has over the past ten years. Jeff Walz has taken an already strong Women's basketball program, to a different level completely.
Year in and year out, he has one of the top recruiting classes in America and has his team ranked number five in the country. I strongly suggest that you make time to support his players because they deserve as much attention as anyone else.
Walz is one of the best head coaches in the country, therefore Louisville fans should be very thankful that they have him on their side.
Don't be surprised when his Cardinal basketball team makes the Final Four this season.
13. Battle 4 Atlantis Tournament during Thanksgiving week
We all know that Thanksgiving week can be a long and tiring process of being around family members and eating a ton of food. That doesn't make it bad, it just means that it can be a long week, but at least most of us get to be off work.
To make the week even better, your Louisville basketball teams will be playing three games next week.
They play Old Dominion on Wednesday, LSU or Wichita State on Thursday, and then another lucky team on Friday.
Three straight basketball games couldn't come at a better time for Louisville fans trying to get the taste of a sour Houston loss out of their system.
12. Tom Jurich
Louisville fans have the best athletic director in the entire country and that we can be thankful for. Jurich has every program at the University of Louisville playing at an extremely high level. It seems like every year we hear that the Cards are the only school with three highly ranked programs of some sort.
He has done a phenomenal job of bringing in solid head coaches that have taken their respective teams to new levels.
Whether it was giving Bobby Petrino a second chance, letting Rick Pitino stay on board despite the scandal, or just keep building up the athletic facilities, Jurich has given every Cardinal fan something to look forward to all year long.
Thank you Tom Jurich. You are the man.
11. Beating #2 North Carolina on February 1st, 2016
The Louisville basketball team was on a roll and they let everyone in North Carolina why they should be afraid. The Cardinals knocked off the second ranked Tar Heels 71-65 in front of an excited Yum Center crowd.
Damion Lee have the game of his life as he went for 5 rebounds, 1 assist, 1 steal, and a game-high 24 points.
In a season where they was a bunch of disappointment, mostly due to the self-imposed ban, this win over North Carolina was one of the brightest and most exciting moments of the season.
These ACC teams need to know that Louisville is here to stay and here to dominate. This win over UNC let everyone know that this basketball team would still be around to compete for many, many years to come.
10. Cole Hikutini
Hikutini has been an absolute monster for the Louisville football team this season. He has come on strong as one of Lamar Jackson's favorite targets, as he has been among the team leaders for receiving yards and receiving touchdowns all year long. Cardinal fans better enjoy these last two games because they will be the last two that Hikutini plays in a Louisville uniform.
One of the best plays, or at least the most important, that he had this season was on fourth down against Virginia. If the Cavaliers made the stop of 4th down, then the ball was going back to Virginia and the game would be over.
However, Jackson made a strong throw to Hikutini, at the sticks, and he hung on for a great catch, even with multiple defenders all over him.
He has thrown his hat into the Offensive MVP category this season (other than Jackson) and is having a great last season as a Cardinal.
9. Donovan Mitchell's Dunks
It has been amazing how many exciting players that have come through the University of Louisville lately. Whether it has been Teddy Bridgewater going to the NFL, Lamar Jackson potentially winning the Heisman, or Donovan Mitchell breaking the rim, it has been one heck of a journey and a pleasure to watch.
Every game that Mitchell is one the floor, we know that a monstrous dunk could be coming. The guy can literally jump out the gym and go over anyone in the game.
Louisville absolutely owns the highlight reel on ESPN in both football and basketball. Lamar Jackson hurdles defenders and Donovan Mitchell does dunk-contest every week.
It's been awesome to watch, but the better news is that he is still only a Sophomore. I can garuntee you that there are more great dunks coming from Mitchell this year.
8. Bobby Petrino
I don't think there is any doubt about it, Bobby Petrino is one of the best college football coaches that there are out there. Yes, the Houston game was a let down, but every school is going to have those kind of games when you go on the road in November. However, because of Bobby P, the Cardinals are rising to a higher level in 2016.
This team had a ton of expectations on them to start the year and they have done a good job of handling that, again other than the loss to Houston.
Petrino has also taken a raw Lamar Jackson to Lamar Jackson the Heisman-hopeful. His offensive game-planning has been killer in 2016 and he is one of the biggest reasons why Louisville has the best offense in college football.
Be thankful Louisville fans, the football team has a great coach and he is here to stay.
7. Possibility of going to a New Year's Six Bowl game
Okay, let's be honest, please raise your hand if you wouldn't be happy that the Cardinals would be potentially going 10-2 and making a New Year's Six Bowl this season. That's right, pretty much everyone would have been thrilled with that possibility before this season. After going 8-5 in 2015, a New Year's Six bowl is absolutely a success in 2016.
Whether it's the Orange Bowl or another one, Louisville fans should be thankful for competing in a game that used to be considered a BCS game. It's going to be a important stepping stone for the younger guys and will help them a ton in 2017.
The experience from this game will prove to be huge and will be more than fun for everyone to watch Lamar Jackson play one more game in 2016.
Happy bowling Louisville fans, it's becoming more than a tradition around the Ville'.
6. College Gameday: Florida State at Louisville
ESPN's College Gameday finally decided to come to Louisville for the first time ever. Whether it was the hype of Lamar Jackson or the match-up, everyone had a ton of fun watching or being a part of the broadcast down on campus.
It gave the program an extreme amount of exposure that they haven't had in a while and could have a huge impact on future recruiting efforts.
Having College Gameday in town was such a huge accomplishment for a program that has been on the rise for the last while and affirmed that Lamar Jackson and the Cards were the real deal.
No, they aren't going to the playoff this season, but that doesn't take away from what they accomplished in 2016.
5. Handing Florida State one of their worst losses in school history
Louisville got out to a hot start to the 2016 season, but most people didn't want to jump to conclusions since the Cards had only played Charlotte and Syracuse. However, a 63-20 win over the second ranked Seminoles caught everyone's attention and gave the Cardinals legit credibility for the first time in years.
It was the perfect scenario for the Cardinals to come out and play phenomenal football. College Gameday was in town, all eyes were on Lamar Jackson, and Louisville hadn't beat FSU since they joined the ACC.
This is one of the performances that we will probably always remember. Not only was a a terrible loss for a team we have learned to dislike, but the Cards handed the Seminoles one of their worst losses in school history.
See you again next year Florida State.
4. The 2016 football season
I understand that not going to the 2016 College Football Playoff is going to be a major bummer for a lot of us, however I would challenge you to combat that thinking. This is a team that went 8-5 on year ago and will be playing for a New Year's Six Bowl game. This has been one heck of an exciting season.
Not to mention, Lamar Jackson could win the Heisman Trophy this season. If talking about that and playing for a National Championship in November isn't a sign of the tide changing in Louisville, then I don't know what is.
The 2016 season will always be remembered as the year the Louisville football program rose to a different level.
Let's see if the Cardinals can make it even better by killing Kentucky and winning their bowl game.
3. Having the Heisman front-runner as the Cards' starting quarterback
We all saw last season how electric Lamar Jackson could be with his legs, but I am not sure any of us saw just how great Jackson was going to be this quick. Coming into the program, it was clear that Jackson was very talented, but was also very raw.
However, after one, full offseason under Bobby Petrino, Lamar Jackson is in a great position to win the Heisman Trophy in December.
The last time the Cardinals had a quarterback anywhere near this good was Teddy Bridgewater, but I think we can all admit he wasn't this good.
Jackson is an incredible talent and we are lucky as Louisville fans to have him playing quarterback for at least one more season.
2. Damion Lee and Trey Lewis
Lee and Lewis have probably been two of the most well-liked basketball players that we have had in a while. Yes, everyone has their favorite players, but no one has captivated the hearts for the Cardinal faithful like these two did last basketball season.
Not only were they good, they came into a situation where they could succeed and play in the NCAA Tournament. However, the University of Louisville decided the team would not play in any postseason tournaments, which meant that Lewis and Lee's collegiate basketball careers were over.
These two guys were in the main spotlight after answering tough questions about how it felt not to go into the tournament. Their emotions were raw, but stood up to the adversity like champions.
Damion Lee and Trey Lewis were everything that you want from a Louisville basketball player. I think we will all miss having these two on this year's squad.
1. Lamar Jackson
Lamar Jackson has quickly become the face of everything University of Louisville. This guy is a Cam Newton type of superstar and he is the quarterback for the Louisville football team. Getting chills yet? Still need to pinch yourself and make sure you aren't dreaming?
That's right. Lamar Jackson could very well be the 2016 Heisman Trophy winner and he still has one more season, at least, left under Bobby Petrino at Louisville.
The expectations and hype for next season is going to be off the charts. The Cardinals will surely be favored to win the ACC and go to the College Football Playoffs for the first time.
It will all be possible because of number eight. That's right, Mr. Lamar Jackson himself.
This article originally appeared on