25 Most Dominant Defensive Players in USC Football History
With a history full of All-Americans and Hall of Famers, USC football has had its fair share of renowned defensive players. These are the 25 most dominant.
USC football is often linked with Hollywood and flash, but the key to Trojan dominance over the years has always been the presence of gritty, tough and powerful defenders.
Few schools come close to matching the Trojans when it comes to producing top-quality safeties, while USC's linebacker tradition speaks for itself.
Here's a look at the most dominant Trojan defensive players of all-time:
25. George Achica
Nose guard might be the least exciting position on the defensive side of the ball, making it hard for the big men in the middle to get the recognition they deserve.
But an elite nose guard can certainly make their presence felt in a big way, and that's what George Achica did through his Trojan career.
The 6-foot-5, 260-pound NorCal-product was a three-time All-Pac-10 first team player and finished his run as a consensus All-American and the Pac-12 Morris Trophy Winner in 1982.
How dominant was Achica? He had 302 career tackles, including 120 tackles in 1981 — an outrageous total for a defensive lineman. He also batted down four passes.
That year, he etched his name in the annals of USC rivalry history by blocking UCLA's game-winning field goal attempt in the final seconds, spoiling the Bruins' chances of making the Rose Bowl.
24. Willie McGinest
There's nothing quite as terrifying as a dominating pass rusher and Willie McGinest is one of the most terrifying to ever play for USC.
In 1992, McGinest was the definition of dominant, logging 23 tackles for loss and 16 sacks — the third-most by a Trojan ever. The next year he captained USC with 13 TFLs and six sacks.
He may never have garnered an All-American nod, but he was named to the Pac-12 first team twice in his career.
All told, McGinest had 48 tackles for loss and 29 sacks as a Trojan. He went on to have a long and prosperous NFL career with the New England Patriots, winning three Super Bowls and setting the record for the most post season sacks.
In 2015 a panel of voters selected him to the Pac-12's All-Century Team as a defensive end.
23. Shaun Cody
Not only was Shaun Cody one of the most pivotal players of the Carroll Era as a momentum-shifting recruiting, he was a dominant force as part of the famed Wild Bunch II defensive line.
A tenacious interior lineman opposite of Mike Patterson, Cody set the tone for what a dominant defensive lineman should look like in Carroll's defense.
But the Wild Bunch tackle wasn't just a product of his surroundings. As a senior in 2004 after the departures of ends Kenechi Udeze and Omar Nazel, Cody led the Trojans with 10 sacks for a loss of 88 yards. His 8.8 yards per sack average stands as the second highest among sack leaders in USC's recorded history, just short of Marcus Cotton's 9.5-yard average in 1985.
He recorded 31.5 tackles for loss when it was all said and done, and took home All-American honors in his final season, before the Trojans went on to win their second-straight national championship in a 55-19 romp of Oklahoma.
All told, Cody won a pair of national and Pac-10 titles, was a two-time All-Pac-10 first teamer, an All-American and blocked an incredible five field goals.
22. Chip Banks
Few USC players boast the pure talent level that Chip Banks brought to the field for the Trojans from 1978 to 1981.
From the start Banks had an impact, contributing to USC's 1978 national championship team as an outside linebacker.
From there his influence only grew with 76 tackles as a sophomore, 107 as a a junior and 137 as a senior captain, earning All-American honors to go along with two All-Pac-10 selections.
Banks' disruptive ability was felt all over the field, from front to back.
Up front, he terrorized backfields with ease. Twice, he produced double-digit tackle for loss seasons, totaling 33 on his career.
Put him in pass coverage and he was just as successful. Banks had 22 career deflections, including 10 during his impressive junior campaign.
And he was adept at forcing turnovers, notching five career forced fumbles and eight interceptions. In 1981, he led the Trojans in picks with four.
21. Joey Browner
USC has produced some top-level defensive backs over the years. Joey Browner stands among them.
Though he doesn't appear on USC's All-American wall, Browner was plenty dominant at USC.
In 1981, he led the Trojans with 16 pass deflections and two fumble recoveries. He added three interceptions on the year as well.
That wasn't enough to pick up conference honors, but as a senior in 1982 Browner more than made his case. The captain had four interceptions on the year, including an NCAA-best two returned for touchdowns, while recovering three fumbles.
Browner was voted USC's team MVP in his final season and also nabbed an All-Pac-10 first team nod.
The safety went on to a successful NFL career after being selected by the Minnesota Vikings in the first round.
The Pac-12 recognized Browner on the All-Century team announced in 2015.
20. Adrian Young
From a career perspective, Adrian Young clearly stands as one of USC's great all-time defenders.
From a single-game perspective, it's hard to think of a more dominating performance than the one Young gave against Trojan rival Notre Dame in 1967.
The senior linebacker, who happened to be born in Dublin, Ireland, took it to the Fighting Irish with four interceptions on the day. His contributions helped hand USC their first win in South Bend since 1939.
Those four interceptions, on a day when USC nabbed seven picks on the defending national champions, also set a Trojan and conference record which stands to this day.
The victory over Notre Dame capped an overall stellar career for Young, who would take home consensus All-American honors and a national title as captain of the Trojans at the end of the season.
His teammates also honored him with the Davis-Teschke Award as USC's Most Inspirational Player.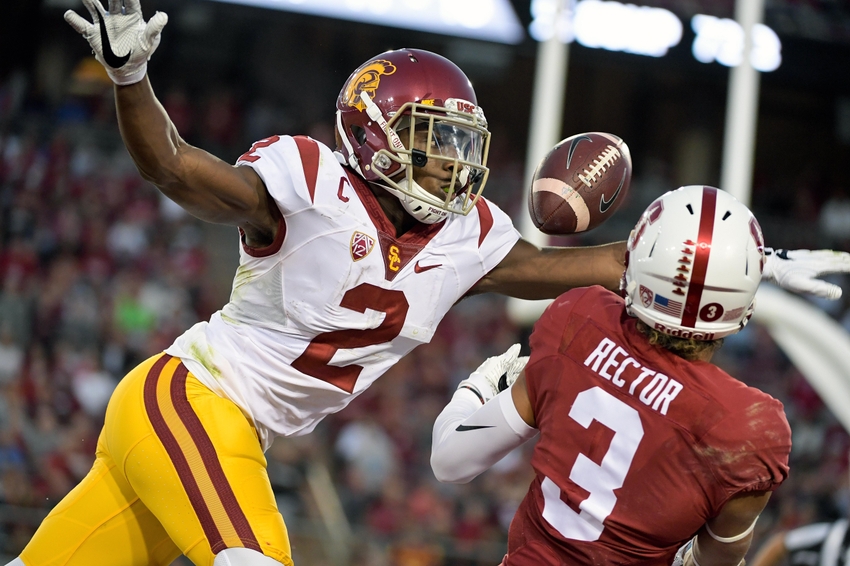 19. Adoree' Jackson
Adoree' Jackson's unique ability to impact football games extends well beyond dominating defense, but he's not on this list because of his incredible play as a returner or receiver.
The thing that sets Jackson apart as a defender is his short memory and penchant for big time plays from the cornerback spot.
It was obvious from the time he entered the line up as a true freshman cornerback. His ten deflections that season reflected his exceptional coverage ability which would carry over to his sophomore season when he nabbed his first career interception — and returned it for a critical touchdown against Cal.
As a junior, Jackson faced off with some of the country's most dangerous receivers but always seemed to come out on top in those match ups. He shut down Alabama's Calvin Ridley and though Washington's John Ross got the better of him for a long touchdown, Jackson came back to secure two interceptions on the night.
Whether or not Jackson opts to leave for the NFL, he'll go down as one of USC's greatest cornerbacks ever. He is the Trojans' second-ever Thorpe Award winner and a unanimous All-American.
18. Taylor Mays
Only four USC players in history can call themselves three-time All-Americans. Taylor Mays is one of them.
In terms of success and longevity, it's tough to top Mays. For four seasons, Mays was a force for the Trojan defense.
The safety garnered recognition as the Pac-12's Freshman of the Year in 2006 after replacing the injured Josh Pinkard as he notched 62 tackles and three interceptions. All-American honors followed as a sophomore.
As a member of USC's elite 2008 defense, Mays picked up consensus All-American selection and was a finalist for the Thorpe Award.
When he opted to return for his senior season he was rewarded with his third All-American while carrying the gutted Trojan defense with a career-high 96 tackles.
The accolades speak to Mays' exceptional career, but his dominance came in the form of his role as the enforcer of the Trojan secondary.
Mays put fear into the hearts of opposing receivers with his devastating hitting. The most memorable? Knockout blow on Jordan Norwood in the 2009 Rose Bowl.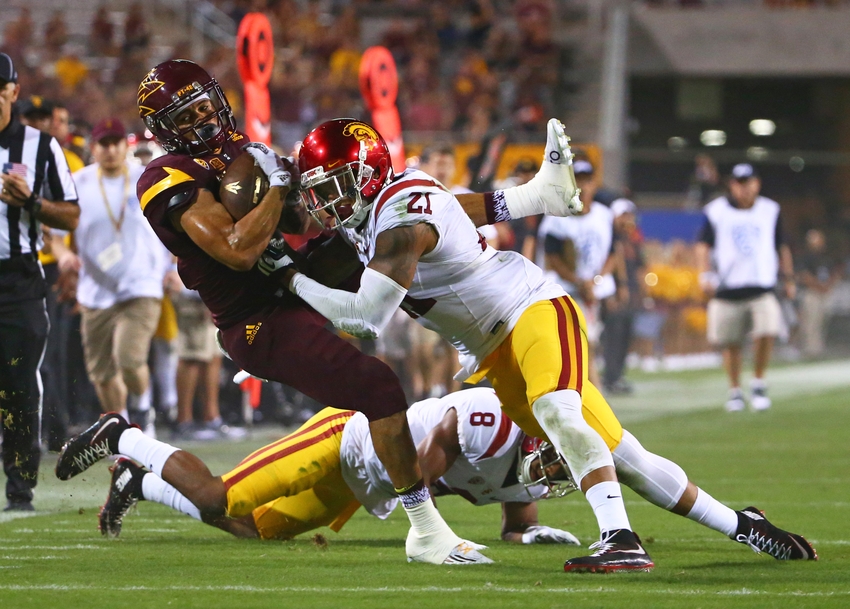 17. Su'a Cravens
A combination of hybrid positioning and the instability of the USC program during his career got in the way of more individual accolades for Cravens, including All-American status. However, few Trojan defenders have been as dominant as Cravens in their era.
Cravens was a key player for the Trojans from the start. He won a starting job at safety as a true freshman, drawing Freshman All-American honors with four interceptions and 52 tackles in the secondary.
When Jabari Ruffin was injured ahead of the 2014 season, Cravens made the move over to strongside linebacker and thrived in his new hybrid position. He led the Trojans with 17 tackles for loss and three interceptions, en route to an All-Pac-12 first team nod and several All-American third team mentions.
Cravens had already proven himself as one of USC's most valuable players as a sophomore, but he was head and shoulders the best player on the field for the Trojans in 2015, his final season.
The junior led the team in tackles, tackles for loss, and sacks while adding two interceptions, two forced fumbles and six deflections to his tally.
16. Tim McDonald
A four-year contributor and father of another Trojan All-American, Tim McDonald is about as USC as it gets. His career wasn't too shabby either.
The safety was a dynamo in pass coverage, totaling 11 career interceptions — good for 13th on USC's career list– and a whopping 48 pass breakups on his way to a pair of All-American selections in 1985 and 1986.
As a senior, McDonald recorded 140 tackles, wrangled in six tackles for loss and set a school record for the longest fumble recovery in Trojan history at 99 yards.
With such a commanding career, McDonald was honored as one of six safeties selected to the Walter Camp All-Century team in 1999.
And his success continued into his pro career. In the NFL, McDonald was a six-time Pro-Bowler with the Cardinals and the 49ers and a Super Bowl champion.
15. Lofa Tatupu
For some players, being dominant is about putting up colossal stats and making game-changing plays in key moments. Others bring forth dominance with leadership. Trojan legacy Lofa Tatupu was the perfect blend of both.
After transferring to USC from Maine, Tatupu took over for Mike Pollard at middle linebacker going into the 2003 season and immediately became the Trojans' defensive maestro.
In his Week 1 debut at Auburn, he amassed 12 total tackles –3.5 of which for losses– and two sacks. He'd ultimately finish the season as a first-team All-Pac-10 selection with 98 tackles and four interceptions.
By 2004, he was an All-American. Tatupu had a career-high 104 tackles and 13.5 tackles for loss as the heart of a national championship team.
Despite playing just two seasons, his seven interceptions, three fumble recoveries, 18 deflections and 25 tackles for loss make the dominant Tatupu one of the most havoc-inducing Trojan linebackers of all-time.
14. Matt Grootegoed
A dominant three-way player in high school at Mater Dei, Matt Grootegoed got to USC as a cult hero of sorts. It wouldn't take long before the safety-sized linebacker became one of the most memorable and impactful defensive Trojans ever.
Grootegoed burst onto the scene with a stellar sophomore season in 2002. He totaled 81 tackles with an impressive 16.5 tackles for loss, the most by a USC linebacker in recent memory before Su'a Cravens recorded 17 tackles in 2014.
His ability to crash off the edge opposite of strong safety Troy Polamalu provided an aggressive two-punch pass rush, and Grootegoed's technically-sound tackles made up for what he lacked in size.
As he continued to mature, his cerebral game was off the charts. Grootegoed became a consensus All-American in 2004, in part become of the havoc he provided in pass coverage.
He had a team-high five interceptions and became just the second linebacker in school history to become a finalist for the Butkus Award.
13. Jack Del Rio
There are few things more valuable than a defender who plays in the opposing backfield. That's exactly what Jack Del Rio did for the Trojans from the linebacker spot.
In four years starting for USC, Del Rio led the team in tackles for loss three times. Across his career, he amassed 58 tackles behind the line of scrimmage, costing offenses 368 yards.
Del Rio was no friend of opposing quarterbacks. In 1983, he logged 13 sacks and led the team in that measure again in 1984. He also deflected 21 passes in his Trojan career.
The linebacker received a number of accolades as a Trojan. In 1982 and 1983 he was named an All-Pac-10 first team. In 1984 he picked up consensus All-American honors, was a runner up for the Lombardi Award and won the Pop Warner Award as the top senior on the Pacific Coast.
And he went out on top, taking home MVP honors as USC notched their first Rose Bowl victory in five years, shutting down Heisman runner-up Keith Byers and the Ohio State Buckeyes.
12. Kenechi Udeze
Unfortunately for Kenechi Udeze, havoc rate wasn't a statistic when he played with the Trojans from 2001 to 2003. The All-American defensive end was a havoc extraordinaire at USC, setting an NCAA record with 14 career forced fumbles, and leading the country with 16.5 sacks as a junior.
The anchor of Wild Bunch II alongside the likes of Shaun Cody, Mike Patterson and Omar Nazel, Udeze recorded 42 tackles for loss in his final two seasons, leading a vaunted Pete Carroll defense to the first two of seven-straight BCS bowls.
In 2003, his NCAA-high 16.5 sacks, the most by a USC player since Tim Ryan's 28 in 1989, helped the Trojans finish with their second-most team sacks on record, 55. Udeze's 26 tackles for loss were tops in the Pac-10 and USC's 60.2 rushing yards against were the fewest in Division I-A.
Put it all together and it screams dominance. And for a school like USC who has its fair share of dominant safeties and linebackers, Udeze is hands down the most devastating Trojan defensive end ever.
11. Rey Maualuga
Not only did Rey Maualuga forge an intimidating reputation in the cardinal and gold, he picked up an intimidating number of awards to go along with it.
It started with a Freshman All-American nod in 2005 and continued with a litany of honors including three consecutive All-Pac-12 first team selections, the CBSSports.com National Defensive Player of the Year Award, the Pac-12 Defensive Player of the Year Award and unanimous All-American honors in 2008.
Maualuga remains the only Trojan in history to claim the Chuck Bednarik Award as the nation's top defensive player.
Fearless aggression typified his performances from start to finish. His devastating hits still litter USC highlight reels, including iconic shots on UCLA's Patrick Cowan and Arizona State's Rudy Carpenter.
Maualuga also proved capable of taking over a game, winning the Rose Bowl MVP in 2008 with a forced fumble, an interception and three tackles for loss.
10. Sedrick Ellis
One of the most dominant interior defensive linemen to ever play at USC, Sedrick Ellis was a monster in the trenches.
His first major involvement for the Trojans came during his sophomore season in 2005, when he contributed 50 tackles and eight tackles for loss, batting three passes down at the line.
Ellis would go on to anchor the Trojan defense in 2006 and 2007. As a junior he drew an All-American selection with eight tackles for loss, four deflections, two forced fumbles and a blocked kick while winning the Morris Trophy as the top defensive lineman in the Pac-12.
Opting to return for his senior season, Ellis remained a force in the middle. The Trojan captain repeated as the Morris Trophy winner and drew unanimous All-American honors as he logged his best season with 58 tackles, 12.5 tackles for loss, seven deflections and two forced fumbles. He also added the Pac-12 Defensive Player of the Year Award to his resume.
When it comes to interior linemen, there aren't many who were as impactful and capable as Ellis during the span of their careers.
It's common for nose tackles to get lost in the shuffle, their contributions unnoticed, but Ellis was that rare figure who simply couldn't be ignored.
9. Dennis Thurman
Dennis Thurman joined the Trojans in 1974, just two years after the NCAA changed the rule to allow freshmen to play varsity football. As a result, the Santa Monica-product was able to make an immediate impact, contributing to USC's national championship run as a freshman.
Thurman had two interceptions during his first season with the Trojans, including an intercepted fumble which he returned 84 yards for a touchdown to cap USC's victory over UCLA.
Two years later, the defensive back proved to be a thorn in the Bruins' side once more, returning an interception 47 yards for a touchdown as his third-ranked Trojans downed No. 2 UCLA.
That same year, Thurman was named a consensus All-American for the first time while leading the Pac-8 with eight interceptions, a mark that was also good for third in the NCAA.
Returning in 1977, the Trojan safety garnered even more personal accolades. He achieved unanimous All-American status while adding three interceptions to his tally, which ranks sixth on USC's career interception list at 13.
8. Leonard Williams
When Leonard Williams arrived at USC, expectations were high. The Florida-product was supposed to be the next great Trojan defensive lineman. And he blew those expectations out of the water.
How dominant was Leonard Williams? He served on a sanction-riddled Trojan defense, with very little in the way of support around him, and still imposed his will through every double-team and scheme designed around neutralizing him.
Williams' got his career off the ground right away. In 2012, he was named the Pac-12 Defensive Freshman of the Year with 13.5 tackles for loss to his name
And he only got better from there.
His sophomore breakout season earned him All-American recognition as he terrorized opposing offenses with 74 tackles and another 13.5 tackles for loss.
As a junior, Williams played through a variety of injuries, including a stunningly gutsy performance against Stanford on a sprained ankle, to finish out his USC career with another All-American nod.
In 2015, The Big Cat was named on the Pac-12's All-Century Team, just a year removed from his college career.
7. Mark Carrier
Mark "Aircraft" Carrier had big shoes to fill at USC, following in the footsteps of two-time All-American safety Tim McDonald. He filled those shoes just fine, finishing out one of the greatest careers in Trojan and conference history, earning a place on the Pac-12 All-Century team.
His first season in the starting line up was an unequivocal success. He tallied 115 tackles with seven deflections and four interceptions, the final one setting up a score to help the Trojans beat UCLA and punch a ticket to the Rose Bowl.
That season set the stage for an All-American campaign in 1988 featuring 114 tackles, two interceptions and 17 deflections.
Carrier would top that effort by tightening his command over the Trojan secondary in 1989. The unanimous All-American led the Pac-12 with seven interceptions, bringing his career total to 13, which is sixth all time at USC.
In addition to sweeping the All-American slate, Carrier became USC's first Jim Thorpe Award winner as the nation's top defensive back. He was the only Trojan to do so until Adoree' Jackson took home the honor in 2016.
6. Tim Ryan
If you're looking for the most dominant interior lineman in USC football history, look no further than the beastly, yet chiseled 6-foot-5, 260-pound Tim Ryan. He was a human wrecking ball who feasted in the backfield on a defense with stars like Junior Seau and Mark Carrier.
In four seasons as a Trojan defensive tackle, Ryan amassed 55 tackles for loss for a whopping 262 yards, setting records along the way.
Ryan's senior season in 1989 set a bar that will likely never be matched by a USC defender. He recorded 28 tackles for loss, including a school-record 20 sacks. Four of those came against arch-rival UCLA in a 10-10 tie, which clinched a trip to the Rose Bowl for a third-straight year.
The monster campaign earned him All-American honors for the second-straight year, his first of a consensus variety. He was the runner-up for the Lombardi Award behind Michigan State linebacker, Percy Snow, who he'd wind up playing with in 1993 with the Chicago Bears.
5. Chris Claiborne
A number of exceptional Trojans have worn the No. 55, but only one player has won the Butkus Award as the nation's top linebacker. That player is Chris Claiborne.
The three-year starter made his mark from his first year on campus. Claiborne's freshman campaign may be one of the most productive for a Trojan ever. He logged 116 tackles, with seven deflections, four tackles for loss and two interceptions.
Earning All-Pac-10 first team honors in 1997, Claiborne proved his ability to rush the passer by leading the team with seven sacks and 16 tackles for loss.
As a junior captain, Claiborne capped his Trojan career as USC's statistical leader in tackles, interceptions, including two touchdown returns, and deflections en route to the Butkus Award, the Pac-10 Defensive Player of the Year Award and a unanimous All-American nod.
Though he didn't play during a particularly successful era at USC, Claiborne stood out as a defender with the chops to do it all.
4. Troy Polamalu
The best thing to come out of the Paul Hackett era, Troy Polamalu stands among the giants of the game and is sure to join his share of Hall of Fames when the time comes.
The star safety was a two-time All-American under Pete Carroll, but even before the head coach arrived to revitalize the USC program, Polamalu was a force.
By his second year in Los Angeles, Polamalu led USC in interceptions and deflections, while adding 83 tackles and five tackles for loss from the safety spot.
Polamalu's stellar junior season brought All-Pac-10 and All-American honors as the ferocious safety logged 118 tackles, 13 tackles for loss and three interceptions — two of which he returned for touchdowns. He also made an impact on special teams, blocking three punts.
The definition of an impact player, Polamalu's status as an elite defender was solidified his senior season. He captained the Trojans on their way to an Orange Bowl berth while drawing consensus All-American status.
After the conclusion of his exceptional NFL career, the Pac-12 voted him to their All-Century team.
3. Richard Wood
Freshmen were not allowed to play varsity football when Richard Wood arrived at USC in 1971, so the linebacker had to wait until his sophomore season to dominate opposing offenses.
When he got the chance, he took it — in his first ever game he logged 18 tackles.
Though he was an underclassman, Wood quickly emerged as a central figure on USC's 1972 national championship-winning squad. He led the team in tackles as a sophomore and picked off five passes that season as well, one behind the team leader.
His exceptional play earned him All-American honors, a feat he would repeat twice more as a consensus pick, becoming the first three-time All-American to ever come out of the west.
Wood also repeated as a national title winner at USC. As captain of the 1974 team, he led the Trojans to the Rose Bowl where they avenged a loss to Ohio State from the previous year to seal the championship. The linebacker and his teammates on defense ended Archie Griffin's record streak of consecutive 100-yard rushing games.
Tales vary for how the standout linebacker earned his nickname "Batman," but he lived up to it by flying around the field with the rare combination of speed, power and instinct that befits a College Football Hall of Famer and member of the Pac-12's All-Century team.
2. Junior Seau
After his death in 2012, former Los Angeles Time columnist Chris Dufresne summed up Junior Seau's career nicely: "[He] ransacked opposing backfields with a ferocity and flair that transcended football generations."
In a lot of ways, that's all that can be said about the most dominant Trojan linebacker to suit up in cardinal and gold. Other players had better careers, some won bigger awards, but no other USC linebacker was as dominant at his peak like Seau, in a more profound way.
The originator of Club 55 had a short career as a Trojan, playing just two seasons due to academic eligibility that cost him a freshman season, and an early entry to the NFL to nullify his senior year. It didn't matter. Seau made the most of it, primarily with a ridiculous junior season.
He went on a rampage, recording 27 tackles for loss and 19 sacks, breaking up 12 passes, forcing a pair of fumbles and intercepting a pass on his way to All-American and Pac-10 Defensive Player of the Year honors, along with a pair of team awards.
Seau, the face of havoc, left Troy for the 1990 NFL Draft, but not before passing along his jersey to Willie McGinest to start the iconic tradition of the No. 55.
1. Ronnie Lott
One could argue that Ronnie Lott is the greatest safety — if not defender — to ever play the game. So it should be no surprise that he tops the list of the most dominant USC defenders of all time.
Before he forged a Hall of Fame career in the NFL, Lott lit up the college stage at USC.
In four years with the Trojans the hard-hitting defensive back left his mark, literally and figuratively.
He was a key member of the 1978 national championship team with 63 tackles, five tackles for loss, seven deflections three interceptions and four fumble recoveries.
As a junior, Lott picked up All-Pac-10 recognition, helping the Trojans to victory in the 1980 Rose Bowl and the No. 2 ranking in the country.
Lott's senior season earned him even more accolades. The USC captain led the NCAA with eight interceptions and was named a unanimous All-American.
With a legacy of exceptional defending, Lott remains an untouchable figure in Trojan lore. The big hits were always present in his game, but his all-around ability and natural football instincts raised him to a different level. The San Francisco 49ers saw it when they picked him eight overall in the 1981 NFL draft and he more than lived up to it in the pros.
In 2015, the Pac-12 selected Lott to their All-Century team and dubbed him the Defensive Player of the Century.
This article originally appeared on