2017 NFL Mock Draft: Which Ohio State Players Land in the 1st Round?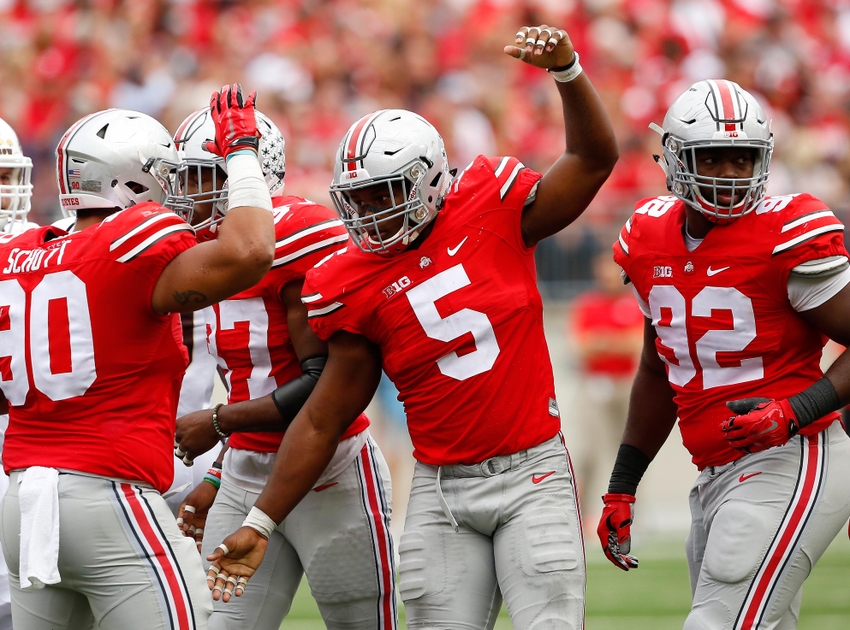 Ohio State players to be chosen in the NFL draft?
It's that time of the year. Matt Miller is Bleacher Report's NFL Draft lead writer and he is the guy who creates the mock draft that people take most seriously. Miller's mid-season 2017 NFL mock draft has been released and it features some Ohio State players.
After the 2016 draft was absolutely dominated by Ohio State players, the nation may wonder how much more firepower we have? A lot. According to Matt Miller these Ohio State player's will be drafted.
Round 1, Pick 15: Cincinnati Bengals
The Pick: CB Gareon Conley, Ohio State

In the first round of the 2014 NFL draft, the Cincinnati Bengals selected cornerback Darqueze Dennard from Michigan State. Since then, Dennard has started two games, made one interception and for the most part stayed in the doghouse. For this reason, cornerback is still a need in Cincinnati.

Gareon Conley is one of three highly touted Ohio State defensive backs expected to be in the 2017 draft class. As a 6'0″, 195-pound junior, Conley is emerging as a blanket coverage man with the ball skills to flip the field and create opportunities on defense. He's unlike any cornerback the Bengals have now, with a game more reminiscent of Joe Haden than Dre Kirkpatrick or Dennard, who are more physical than graceful.
This is Matt Miller's take on Gareon Conley. We've known since his recruitment that Gareon Conley was a special player – and being pegged to go this high in the draft is an honor.
Round 1, Pick 16: Buffalo Bills
The Pick: FS Malik Hooker, Ohio State

It's hard to pinpoint one area for the Buffalo Bills to attack in the first round of the 2017 draft, which makes this selection more of a value pick that does fill a need. There were other areas of consideration—wide receiver, offensive tackle, pass-rusher—but Malik Hooker's value at pick No. 16 and the impact he would bring as a plug-and-play free safety makes him the pick.

Rex Ryan may not be the most loved coach in the NFL, but his teams play hard-nosed football, and his defenses consistently make plays. With Ed Reed as an assistant defensive backs coach, Hooker's ability to find the ball and show off his range in attacking all corners of the field would make him an exciting addition to a defense that must keep adding young talent.
It would be pretty cool to see Malik Hooker go to the Bills with Adolphus Washington and Cardale Jones. Hooker burst onto the scene in 2016 with 3 interceptions in just 2 games. The scary thing about Hooker is that he's getting better each and every week, but opposing QB's are starting to learn… DON'T THROW AT HOOKER.
Round 1, Pick 18: Detroit Lions
The Pick: CB Marshon Lattimore, Ohio State

Another cornerback and another Ohio State defender comes off the board midway through the first round. If you can't tell, the 2017 secondary class is loaded.

Teaming Marshon Lattimore with Darius Slay and Quandre Diggs would give the Detroit Lions one of the best young secondaries in the NFL—a good problem to have when you're asked to face Aaron Rodgers twice a year. With no pass-rusher on the board who fits the Lions' scheme, Lattimore is both a value and need pick at No. 18 overall.

The Lions will have some hard decisions to make along the offensive line and at linebacker spots, but getting an explosive cornerback with NFL size and instincts here is the best play for Detroit.
Yet another player from the secondary of the Silver Bullets. That's how good they are. It would be pretty cool to see 3 players drafted within 4 picks of the first round of the NFL draft all from the Buckeyes. Personally, I'm a BIG Lattimore fan and have been since he was in high-school. Lattimore is another player that is improving each week and has a very high ceiling.
More from Scarlet and Game
Second Rounders:
According to Miller's mock draft, Ohio State will have another big year in the first round. But it doesn't end there.
In my opinion, Raekwon McMillan is a first rounder, and Pat Elflein is an early second rounder. Matt Miller and I slightly disagree here. Miller has LB Raekwon McMillan pegged to go 37th overall to the Jacksonville Jaguars and has C/G Pat Elflein going 57th to the Houston Texans.
At this point in both the NFL and NCAA season, mock drafts don't matter at all, but they're definitely a good idea of what the actual draft will look like – and very fun to look at. We've got a lot of season left but I'm sure that the Buckeyes will be a big part of the 2017 NFL draft.
This article originally appeared on