2017 NFL Mock Draft: First-round projections after Week 14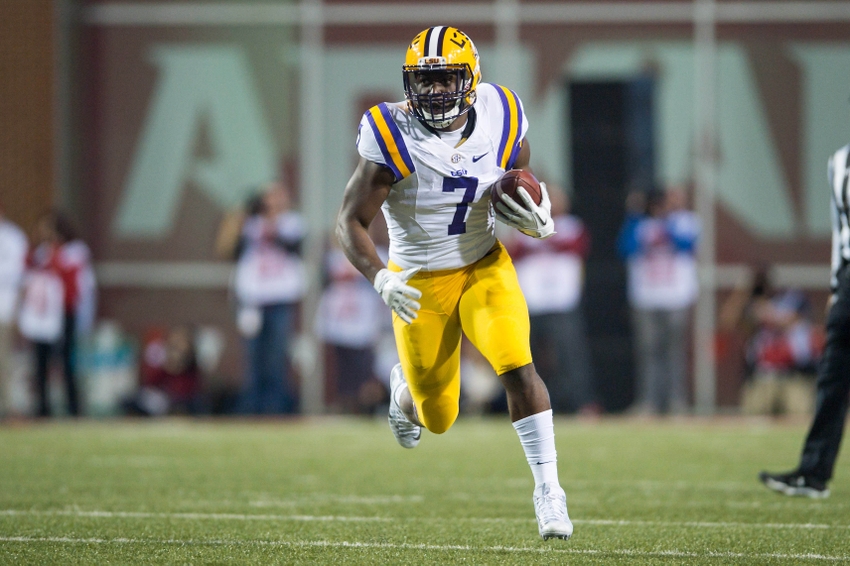 With conference championship week in the rearview mirror, take a look at our latest 2017 NFL Mock Draft.
The final week of the college football regular season is in the books and what better time than now is there to look at the latest edition of our 2017 NFL mock draft? There are plenty of talented players available this year and the first round may be the deepest it's been in a while.
College football's top four teams have been set, and Alabama, Ohio State, Clemson and Washington have all punched their tickets to the playoff.
All of those teams have NFL talents on the roster, especially No. 1 Alabama. The Crimson Tide, as you'll soon find out, have an absolutely loaded team and will hear a lot of names called in the first round of this year's NFL draft.
Now that I've had time to sit down and look at all the prospects and team needs, it's time to look at the 2017 NFL mock draft for the first round. Do I have a new No. 1 overall pick this week?
Note: The NFL draft order is based off of current records, pick trading and standings from NFL.com as of Dec. 2.
In my previous mock draft a couple of weeks ago, I had the Browns selecting Myles Garrett of Texas A&M because I truly believe he's the best overall talent in the draft. However, there's a serious momentum swing in the case of Alabama's Jonathan Allen.
It seems as if he has become the favorite to go No. 1 overall in this class and it's not surprising, especially if you've watched him over the last month. The elite defensive lineman plays for the best defense in the country and has been dominant.
Through 13 games, including the SEC title win, Allen has put on a show, recording 56 total tackles and 8.5 sacks. He's been a nightmare to block and the Browns would have a future Pro Bowler on the defensive line immediately.
Allen continues to get better and he's as strong as they come. He will be a solid interior lineman at the next level and wreak havoc in the middle of the defense. Cleveland has bigger needs, but you can't pass up on this type of opportunity.
After Sunday's game against the Chicago Bears, it has never been more evident that the San Francisco 49ers need to draft a quarterback. This year's draft class doesn't have that sure instant starter like last year did with Carson Wentz and even Jared Goff — although the latter didn't start until last week — DeShone Kizer has a high ceiling.
The junior quarterback was fighting for a starting job with Malik Zaire this offseason, if you can believe that, but the Notre Dame dual-threat won it and had a solid season, personal statistics-wise.
Notre Dame's season, as a whole, was forgettable, though. The Fighting Irish missed out on a bowl bid and Kizer's completion rate decreased from last year. Who would have thought that an injury to Zaire in 2015 would lead to the emergence of the No. 1 quarterback chosen in 2017?
If Chip Kelly is still in San Francisco next season, he would love to have a guy like Kizer who can use his athleticism in a more effective way than Colin Kaepernick and Blaine Gabbert. He also has a much stronger arm than both of those quarterbacks and a much higher ceiling.
San Francisco is going nowhere without a quarterback and that needs to be addressed immediately in the draft.
Sure, you can look at Myles Garrett's numbers this season and notice how much they have dropped compared to his sophomore campaign. The junior edge rusher has just 32 tackles, 15 tackles for loss and 8.5 sacks. I use the word just because for him that would be considered a down-year, but for anyone else that's a dream season.
Garrett might be the most athletic defensive lineman in the class. His explosiveness off the snap is almost unbelievable for a guy who stands 6-foot-5 and weighs roughly 265 pounds. He can get into the backfield before the quarterback even knows what hit him.
However, he needs to contain that type of explosiveness at the defensive end position at the next level as to not over-pursue a run play in his gap. That's often the biggest problem with freak athletes at the position. They want to make the big play on the quarterback so badly that they completely boycott against the run.
However, that type of technique will come with practice and more coaching. He has the size, speed and athleticism to be an instant impactor and although the Jaguars need a defensive tackle, they can't pass on Garrett if he falls all the way to No. 3.
This would be a best available pick.
Mitch Trubisky could easily be the first quarterback chosen in this year's draft class, but Kizer's strong arm and dual-threat ability make him a more attractive prospect to the 49ers than the North Carolina junior.
It's not like Trubisky doesn't have wheels, though. He can tuck and run when he sees fit and he even has 270 rushing yards and five touchdowns this season. He looks the part of a reliable NFL quarterback and the Bears need that. They have stumbled upon a potential rising star in Matt Barkley, but the sample size just isn't big enough to dub him Jay Cutler's future replacement.
Cutler, on the other hand, has had a tough time staying healthy and that's got to be frustrating for the front office that is paying him a lot of money. Trubisky could come in right away and be that cornerstone of the franchise.
I don't see him starting from day one, but if the Bears pick Trubusky, he could learn for a couple of games and take over after either Barkley or Cutler struggle. He doesn't have elite arm strength, but he has above average accuracy and doesn't make many mistakes. He can move the chains on a regular basis with safe, reliable intermediate throws.
My pick a couple weeks ago for the Jets at No. 5 overall was Mitch Trubisky, but since the North Carolina quarterback will be off the board, in my opinion, and I just can't see the Jets drafting yet another QB, it'll be best available.
If you look at the past few years, the Jets have had awful luck with quarterbacks. They have chosen guys like Bryce Petty, Geno Smith and even Christian Hackenberg, but none look to be the quarterback of the future if and when Ryan Fitzpatrick loses his job or moves on.
Still, it's time to focus on a different position and although guard, tight end and linebacker are the top three needs, presumably, the Jets will draft on biggest talent that can help out instantly.
Matt Forte will be 31 next week but he's signed through 2018, for some reason. The Jets are going to realize they overpaid for an aging running back who will produce less and less over the next two seasons and that might lead them to draft Leonard Fournette here.
Fournette is the top running back in the class and he is as elusive as they come. If you're looking for the next Ezekiel Elliott, look no further. In fact, I think this kid might even be more talented than Elliott is.
Despite the ankle injury that has held him back this season, Fournette looks to be the next big star running back in the NFL.
You know you're good when a team like Alabama runs to the opposite side of the field to avoid you on a majority of plays. Derek Barnett is a disruptive force on the defensive line and one of the best edge rushers in the country. Some even consider him to be a better prospect than Myles Garrett, but I wouldn't go that far.
Another guy who is leaving a year early for the NFL, Barnett saw his stats take a bit of a hit this season, mostly because he drew the attention of opposing offensive linemen which means constant double-teams and running to the opposite side of the field.
Barnett had 73 total tackles as a freshman and 69 as a sophomore in 2015 but has just 50 during his junior, and presumably final, season for the Volunteers. His 18.0 tackles for loss is the most since his freshman season and his 12.0 sacks are a career high. He has developed into an elite pass rusher.
The 6-foot-3, 265-pound end from Tennessee would be a perfect fit for the Bengals who are looking to add some beef on the defensive line and athleticism on the edge. He would provide that much needed pass rush and improve the defense almost immediately.
Tennessee is definitely going to miss him next year, but with the strength and power that he has, he knows that the NFL is the right choice and the Bengals would be a great situation.
Yet another Mike Williams is entering the NFL to play receiver, but this Clemson wide out hopes to be the most successful. The last time a Mike Williams was selected in the top 10 was in the 2005 NFL Draft when the Lions picked the USC receiver No. 10 and he turned out to be a major bust.
This time will be much different. Williams is the top receiver in this year's draft and it's crazy to think he's coming off a major injury which kept him out all but one game in 2015. He was injured in the first game of the season, catching two passes for 20 yards and a touchdown.
How did he come back in 2016? Oh, just by racking up 84 receptions for 1,171 yards and 10 touchdowns — all career-bests. The junior wide out has ideal height for a go-to receiver, standing 6-foot-3, and he can turn on the burners to beat defenders deep down the field as well.
Tennessee will look to upgrade at the receiver position with Kendall Wright and Rishard Matthews not exactly screaming No. 1 receiver. The biggest knock on the Titans' offense has been a lack of elite targets for a budding quarterback star in Marcus Mariota.
Mariota and Williams could develop a special quarterback-wide receiver bond over the next few years and the Clemson star could bring this offense along even quicker than imagined.
Why are the Carolina Panthers struggling so much just one year removed from a Super Bowl appearance? That's a good question. It could be because Cam Newton is playing a more timid, conservative way than he did last season or maybe it's the fact that the loss of Josh Norman has negatively affected the secondary.
Either way, the Panthers need to start upgrading at necessary positions. One of those has to be running back. While Jonathan Stewart has done great things in his career for Carolina, it's time for the Panthers to move on next season or at least bring in a replacement.
Stewart is averaging just 3.6 yards per carry and has been relatively ineffective between the tackles this season. He can't seem to find the holes as easily and his yards per carry average is proof of that.
Enter, Dalvin Cook. The Seminoles' elusive running back might just be the perfect player to complement Newton in the backfield. The dual-threat quarterback already keeps defenses on their toes, but adding a dual-threat receiver who can run and catch will surely cause problems.
Cook started the 2016 season off slowly, but has since turned things around. He has 1,620 yards and 18 rushing touchdowns to go along with 30 receptions for 426 yards and a score with one game left. Imagine him in that offense. That's a scary thought.
People have been asking the question, 'What's wrong with Deshaun Watson?' However, if you look at his stats this season, they're eerily similar to the ones he posted a season ago when he was a finalist for the Heisman.
Still, it's clear that his decision making has been suspect, throwing 15 interceptions, but that's something that can be cleaned up. One reason for his high interception rate is the fact that he doesn't consistently check his second and third options, just looks at the No. 1 guy and either forces it or tucks and runs.
Watson does have the talent, though. If this were last year and he was draft eligible, he would have likely been the first or second quarterback chosen. However, he has taken a minor step back, but there are potentially two games left in his season to prove the doubters wrong. The Tigers made the playoff and he could improve his stock.
Arizona's Carson Palmer has been one of the better quarterbacks in the NFL for the past couple of years, even leading an electric Cardinals offense a season ago, but it's clear that he's approaching retirement.
Palmer is aging by the week and he's looking more like Peyton Manning did in his second to last or even final season. Time to find his replacement before he decides to hang it up. Watson could learn a lot from Carson.
The needs for the Colts mostly come on the defensive side of the ball and that's where inside linebacker Reuben Foster comes in to play. He's one of the most instinctive players in this draft class and he could be a steal at No. 10 overall.
Indianapolis needs some help at the aging linebacker position and a youth movement aided by Foster would be ideal. Sure, Andrew Luck could use some help on the offensive line, but no one is worth reaching for at this position of the draft. Also, the Colts could potentially pick a running back in this spot with Frank Gore nearing the end of his career.
It's obvious that Foster has gotten better over the past three years as he grew from a role player to the leader in the middle of Alabama's vaunted defense. Truthfully, you could blindfold yourself and pick any player on Alabama's defense and he'd probably be worth a first-round selection.
However, the Mike linebacker has been a force for the past two season, improving in just about every area from his junior to senior season. In fact, he has a career-high 83 tackles, 9.5 tackles for loss and two sacks to go along with two pass deflections this season.
Foster has the ideal build for the inside linebacker position and he's solid against the run and even dropping back in coverage. However, don't expect him to be much of a pass rusher — he only has four sacks in three years.
One of the more raw talents in this draft class which could pay off in a big way has to be Alabama's Tim Williams. Yes, another Crimson Tide star going in the first round, and you haven't seen the last of that school just yet.
Williams could project as a defensive end at the next level even though he's listed as a linebacker and the Packers could use some help on defense. Green Bay has been gashed by just about everyone in 2016 and with a better defense, that would take a lot of pressure of franchise quarterback Aaron Rodgers.
The secondary has been suspect, but a reason for that is the lack of pressure applied to opposing quarterbacks. Williams could instantly fix that as he's known as one of the best pass rushers in the country.
It might take a while for him to mature into a full-time edge rusher, but Williams can work on his run/pass defense through the first couple of years in the NFL. What the Packers will need him to do is get after the quarterback.
The 6-foot-4, 252-pound linebacker/edge rusher has recorded 25 total tackles, 15 tackles for loss and 8.0 sacks this season. He also has two pass deflections and two forced fumbles.
There is chatter around the scouting world about Quincy Wilson being the best cornerback not only on the Florida Gators, but in the entire 2017 draft class. Playing in the same secondary as Jalen Tabor, Wilson might not get the respect he deserves.
New Orleans needs some help, defensively. In fact, the Saints rank 27th in the league in passing defense and a major reason for the struggles have been due to poor cornerback play. There was a time a few years ago when New Orleans had one of the more impressive defenses in the league, but that seems like lightyears ago.
If this team is going to make a run in the next couple of years, an elite secondary will need to be in place. Last year, they took Ohio State's Vonn Bell in the second round of the draft at the safety position and adding a young guy like Wilson would be a nice addition to a slowly improving secondary.
This draft class is filled with plenty of elite cornerbacks and Wilson may just top the list. There have even been NFL executives who have dubbed him the best in the class.
Wilson has 28 total tackles, three interceptions and six pass deflections this year. He could start right away for the Saints.
If the Browns go quarterback with the No. 1 overall pick or best available (Jonathan Allen), expect them to go with an offensive lineman or defense with the No. 13 pick, their second in the draft. Getting this pick from the Eagles, the Browns are hoping that Philadelphia continues to struggle so they could potentially earn two top-10 selections this year.
While I think the offensive line needs to be addressed in this year's draft heavily, I don't think there is a single lineman who warrants top-15 consideration. There are a couple of guys such as Dan Feeney of Indiana, Cam Robinson of Alabama and Wisconsin's Ryan Ramczyk who could be options, but sticking with best available, you have to go Jabrill Peppers.
Michigan will be sad to see this kid go since he's been an all-around stud for the Wolverines, but he's going to pick up right where he left off in the NFL.
Peppers made the move to linebacker this season after being a safety for his first couple of years in Ann Arbor, and he will likely make the move back to the secondary at the next level. He's athletic enough to play multiple positions, but just not big enough to be an NFL linebacker.
With this selection, the Browns get a jack of all trades. He is probably the best athlete in the class and can return punts, kicks and play some offense, but he will be a force on defense as well.
Antonio Brown was one of those once-in-a-lifetime MAC talents at wide receiver that picked a smaller school for college and ended up getting drafted and rising the NFL ranks. He's now considered the best wide receiver in the league and who would have guessed that distinction would go to a graduate of Central Michigan.
Just down the road at Western Michigan resides another elite receiver who might just take over as the league's best receiver a few years down the line. While that is completely premature, Corey Davis is clearly an NFL talent and he's been making MAC defenses look silly for the past four years.
This season, the Broncos recorded a 13-0 regular season record and will be playing in the Cotton Bowl against No. 8 Wisconsin. This is a chance for him to prove his first-round worth against an elite Big Ten defense on a national stage.
San Diego might be in the market for a receiver this offseason as Keenan Allen suffered yet another major knee injury at the start of the year and Philip Rivers needs more quality targets to complement him when he's healthy. Tyrell Williams and Dontrelle Inman have been solid, but they're not going to contend for No. 1 receiving roles any time soon.
Davis would be a perfect fit for this offense and he's a bigger target who isn't afraid to fight for those 50/50 balls. Potentially a red zone monster in the NFL.
One Florida Gator cornerback taken already, might as well take the other in Jalen Tabor. The Titans have the 25th-best passing defense in the country and that's just not good enough for a young team that seems to be addressing every other area of weakness.
Last year, the Titans took an offensive tackle, Jack Conklin, in the first round and they followed that up with Derrick Henry at running back. This team desperately needs more wide receivers to help Marcus Mariota out, but the offense has already been addressed the past few years, it's now time for the defense.
Tabor has good size for a cornerback, standing 6-foot-0, 201 pounds and he looks like a legit pro prospect. He's athletic in coverage but his weakness has to be missed tackles. He improved on that this year, but it's still something he needs to perfect.
The numbers he has put up during his junior season haven't been all that great, but he's still been quite impressive. He has 28 tackles, a sack, three interceptions, five pass deflections and a touchdown.
Tennessee continues to get younger and this pick would be a smart move for the future of the defense that has not been effective this year.
Some have questioned Malik McDowell's drive and effort, but that accusation is relatively baseless. Scouts have been unhappy with the fact that his numbers have been somewhat mediocre this season and it's because he drew so many double-teams.
On a Michigan State defensive line that struggled all year, McDowell seemed to disappear because he was taking on two blockers on every down. Offenses worried about him, and him only, in the pass protection game as well as on run plays. Teams ran to the opposite side of the field more often than not.
That type of attention won't be focused on the young kid as a rookie and the Bills may be intrigued by his potential. Buffalo needs some defensive end help and even though McDowell played most of the season as a tackle, his natural position is on the end.
McDowell is naturally strong and can burst through the offensive line with ease if there's only one guy on him. He has a habit of making offensive linemen look silly and he has a pretty impressive tape. The junior finished the year with 34 tackles, seven tackles for loss and 1.5 sacks even though he was rarely healthy and played five less games than he did last season.
The numbers, well they're not quite the same. Desmond King had an electric junior season for Iowa last year, but the reigning Thorpe Award winner took a step back this season, at least on paper, because of the fact that opposing quarterbacks did not want to throw his way.
Knowing that there's a ballhawk on one side of the field can cause QBs to shy away and only focus on the weaker cornerback. King's numbers were not nearly as impressive, but that's not necessarily a bad thing.
Getting this pick from the Vikings in exchange for Sam Bradford looks to have been a genius move, especially if the Eagles can snag a guy like King in the middle of the first. As long as the Vikings remain average, the Eagles can keep the hope of adding an elite cornerback alive.
On the season, King has 53 tackles, two interceptions and seven pass deflections. That's down from 72 tackles, eight interceptions and 13 passes batted down last year. He's as lockdown as they get at the collegiate level and it's attributed to his quick-turning hips which allow him to stay with receivers.
Philadelphia almost needs to go cornerback with their first pick this year and King might be the best choice for the Eagles.
How good is Jamal Adams? Well, CBS gave him the high praise of calling him Honey Badger 2.0. If you're not familiar with who that is, it's former LSU Tiger safety Tyrann Mathieu who happens to be one of the best defenders in the league for Arizona.
Take a look at what Rob Rang of CBS Sports had to say about him:
And while earning comparisons to the great Honey Badger is quite the compliment, frankly, it isn't enough. At six-foot, 211 pounds, Adams is considerably bigger than the 5-foot-9, 186 pound Arizona Cardinals standout and is a much cleaner prospect off the field than Mathieu was at LSU, as well. Whereas Mathieu's repeated failed drug tests led to his suspension from LSU and his slip on draft day, the folks at LSU can't speak highly enough about Adams, who was the first player of the Les Miles era to ever be named a team captain for a game (Louisiana-Monroe) as a true freshman.
If that isn't the highest praise a safety can get, I don't know what is. Saying he's a better prospect than Mathieu was is one thing, but going as far as saying comparing him to the Honey Badger just isn't enough is enticing.
Tampa Bay has been a surprise team this season but the secondary will need some help at the safety position. If, by some wild scenario such as the one I've created, Adams falls to this spot, there's no way the Buccaneers pass on him.
One player on Michigan's defense gets all the love and respect and his name is Jabrill Peppers, but the guy who might just be the best player on that unit who doesn't get the attention he deserves is Jourdan Lewis. The local prospect from nearby Detroit really molded into one of the best cornerbacks in the nation despite being undersized.
Lewis stands 5-foot-11 and weighs just 186 pounds, but he's as frustrating a cornerback as there is at the collegiate level. If he was about 6-foot-1 and weighed closer to 200 pounds and did the same things he has done at Michigan, he'd be my top cornerback in this class.
There's still a good chance he could have the most successful career out of any of the cornerbacks in this deep class, but he could very well drop to Pittsburgh at No. 19. The Steelers picked Artie Burns in the first round last year out of Miami, but adding another cornerback to complement him would be a major step toward the future.
Pittsburgh's defense ranks 23rd in the NFL in passing yards allowed per game and Burns has shown signs of being a future star, but another piece to the puzzle could be Lewis. His ball skills are elite and he's one of the best open-field tacklers there is.
If you don't hear his name at all during a game, that's a good thing because he's locking down his receiver — and that happens more often than not.
Vanderbilt hasn't had a defensive player drafted in the first round since 1984 and that will surely change this year with Zach Cunningham coming into his own. What better defense to add the young inside linebacker to than the Broncos'?
The biggest needs for Denver have to be on the offensive line, at safety and maybe even tight end with lackluster play there this season. After drafting Paxton Lynch last season, the Broncos could use some weapons to surround him or Trevor Siemian in the pass game.
However, Cunningham would be an incredible addition to an even better defense. Sure, the Broncos don't exactly need linebackers with Von Miller and Brandon Marshall roaming the middle of the defense, but why not add the guy who might just be the most talented player at the position in this year's class?
Denver's defense has been one of the best in the NFL for the past few years and they could surely build on that with Cunningham who has great awareness, sheds blockers well but could use some work with open-field tackling.
Cunningham has improved his stock this season after posting 119 tackles and 16.5 tackles for loss.
Carl Lawson comes with somewhat of a risk factor for the Redskins at No. 21. The junior defensive end from Auburn happens to be one of the best players at his position in this class, but he suffered a major knee injury a couple of years ago which caused him to sit out for a while season.
Not only that, but he also suffered a hip injury during the 2015 season which kept him out a few games. Can he stay healthy long enough to have an impact for Washington?
The Redskins have made defense a focal point over the past couple of offseason after the secondary was one of the worst in football a few years ago. Improving on this side of the ball must be a priority, especially since Kirk Cousins and the offense have been such a bright spot — if they can retain the breakout quarterback this offseason.
Lawson is a definite high-risk, high-reward player, though. He's an elite edge rusher with powerful hands and his long arms are also a plus when engaging with linemen. He has a tendency to make the wrong read sometimes, but he can learn on the fly since he's just getting used to full-time play.
The junior has had a fantastic season, posting 28 total tackles, 13 tackles for loss and 9.5 sacks. Washington needs a guy on the edge who can get pressure like Lawson.
The Miami Dolphins have plenty of needs, but they happen to be one of the better up-and-coming teams in college football. Drafting O.J. Howard from Alabama in the first round would show just how serious they are about improving offensive weaknesses.
Yes, the Miami Dolphins need more help at the guard position than they do at tight end, but adding a guy like Howard who they can create some mismatches in the pass game against opposing linebackers will be key to the development of Ryan Tannehill.
This might be more of a pick to bolster the offense but the tight end position is one that has been lacking this season. Another pick which also intrigued me for the Dolphins at No. 22 was offensive guard Dan Feeney from Indiana. I wouldn't be surprised to see them go that route with this pick, either.
Jordan Cameron has been a major disappointment this season after looking like an all-pro a couple of years ago and the Dolphins' leading tight end is Dion Sims, a fourth-round pick in 2013 who has just 15 catches for 167 yards and a touchdown.
Miami could use a guy like Howard who could add an extra threat to the Dolphins' offense. This doesn't mean they have to veer away from a guy like Sims who is also athletic at the position, but Howard would be much more of a vertical threat.
Howard has caught 37 passes for 445 yards and two touchdowns this season.
The need for a defensive end might be diminishing by the week as Jason Pierre-Paul and Olivier Vernon are both playing exceptional football. In fact, each has recorded at least seven sacks apiece this season and that could mean this pick is more about depth than anything.
Still, the Giants aren't guaranteed to bring back Pierre-Paul after paying him $10 million on a one-year deal in 2016. That means that his replacement could be chosen in the first round, namely pick No. 23 overall.
Solomon Thomas could be that guy. The former high school standout who was at the top of plenty of recruiting boards has developed into a pretty solid collegiate end. After breaking out as a sophomore, Thomas has put together an even better stat line as a junior for the Cardinal.
As most know, Stanford's defense has been ranked near the top of college football for the past few years and Thomas has carried on the tradition of toughness. He's not the biggest guy on the field, standing just 6-foot-3, but he can beat you with his strength.
On the year, Thomas has recorded 54 total tackles, 12 tackles for loss and 7.5 sacks. He would be a welcomed addition to this Giants defense.
Ohio State has one of the most athletic teams in the entire country and it's loaded with underclassmen. Malik Hooker could be the top defensive back chosen out of Buckeye territory in this year's class and he's only a redshirt sophomore.
Hooker played very little as a redshirt freshman in 2015, but with both safeties departing, a major opportunity opened up. He responded by posting breakout numbers for the Buckeyes and leading them to a playoff appearance and a matchup with Clemson in the opening round.
The sophomore has played in all 12 games this season, recording 67 tackles, showing he's not afraid of contact, and picking off six passes and returning three for touchdowns. He also has four pass deflections. This kid is an absolute game-changer in the secondary and he has his immense athleticism to thank for that.
Kansas City has one of the better defenses in the league, but the Chiefs have struggled a bit against the pass this season. They might decide to rebuild, starting with the safety position which has been a bit underwhelming. Hooker has great field vision and he has the skill of reading a quarterback's eyes perfectly.
Don't expect this kid to hang around too late in the draft as he could be a steal at No. 24 to the Chiefs.
It seems like every pick in the first round has been from Alabama. That's the type of factory Nick Saban has built in Tuscaloosa and Cam Robinson is the next stud from the offensive line to come out of that school.
The Texans are surely going to make a few teams drafting below them a bit angry with this selection since the offensive line talent in this year's draft isn't as deep as it's been in years past. Robinson also happens to be arguably the No. 1 offensive lineman in the entire class.
How can you not like this guy? Will he's no Laremy Tunsil, who was thought to be a franchise tackle last year, Robinson has the gut and grit of a guy you want blocking for you. He's 6-foot-6, 327 pounds and he isn't afraid to lay the lumber on opposing defensive linemen.
One major knock against Robinson is that he's an average pass blocker, at best, which means that Brock Osweiler's help on the line might not come in the pass game right away. He will develop as a pass blocker, but that's not his strength at the moment. Where he does shine is against the run, which would be great news for Lamar Miller.
Robinson will be a hot commodity at this point in the draft and the Texans would be foolish to pass on an instant upgrade in the trenches.
This draft class is just filled with cornerback talent. Heck, the secondary depth this year might be the best in recent memory. Sidney Jones will have a chance to show off his skills on a national stage as the Washington Huskies get the unfortunate task of facing Alabama in the first round of the College Football Playoff on Dec. 31.
Jones can think of that as somewhat of a tryout for the NFL as scouts will be watching to see how he matches up with guys like ArDarius Stewart and Calvin Ridley. He plays as clean as any cornerback out there and has the ability to just shut down the receiver he's covering.
In fact, he has been rarely targeted this season and has still managed to pick two passes off and bat down six others. He is slighter of frame, but he makes up for it by being aggressive and he's an absolute ballhawk.
If you're watched the Falcons at all this season, you would know just how bad their secondary has been. Don't believe me? Atlanta's defense ranks dead-last in the NFL in passing yards allowed per game.
No, Jones won't fix that overnight, but he would be a major upgrade to what the Falcons have at the moment.
The Ravens might be leaning toward adding an edge rusher at this position, but it could be more important to help out an anemic offense. The Ravens have struggled this season on that side of the ball and far too many times it felt like Justin Tucker was the offensive MVP.
Steve Smith Sr. and Mike Wallace are having good years, but they're also both aging. Smith Sr. might be on the verge of retirement while Wallace is no longer worthy of No. 1 receiver consideration. Breshad Perriman was the Ravens' first round pick a couple of years ago and he might mold into that 'go-to' guy, but John Ross would help out as well.
The junior wide out from Washington has been the breakout receiver in college football this year, outside of Oklahoma's Dede Westbrook. Jake Browning has had an impressive season for the Huskies, leading them to a playoff, with the help of this elite receiver with blazing speed.
Joe Flacco has a heck of an arm and he needs to show it off every once in a while. Smith Sr. isn't going to burn many people deep at his age and Wallace is a boom or bust long threat, Ross can run intermediate routes with incredible footwork as well as stretch the field as a vertical threat.
Imagine the speed in the receiving corps with Wallace, Perriman and Ross. Defenses won't be able to sleep at night with those kind of matchup nightmares on the radar.
The Lions have been quite the surprise team this season. Detroit lost Calvin Johnson to retirement this past offseason and that looked like it would ruin the offense, especially Matt Stafford. However, the veteran quarterback has looked like one of the best in the league and a true MVP candidate.
No longer are there question marks on the offensive side of the ball, maybe at running back, which means the Lions should be looking defense first. It's been quite some time since Detroit had to wait this long to draft in the first round, but to the victors, go the later picks.
With their first pick, the Lions should be eying a cornerback. The secondary has been mediocre this season even though it is coming off its best game against a New Orleans Saints team with Drew Brees running the show.
Gareon Conley could be the guy to help the turnaround. While the Lions have Darius Slay, a Pro Bowl candidate, on one side of the field, lining an athletic Conley up on the other side would give opposing quarterbacks nightmares.
The junior cornerback could afford to put on a few pounds, but he's athletic and has elite shutdown cornerback potential.
Before Sunday night, I would have said Seattle should draft either an offensive lineman with its first pick or a running back. However, it's obvious that the Seahawks have some developing talent at the running back position with Thomas Rawls consistently improving and C.J. Prosise likely to be back and healthy next year.
However, if they are drafting on best available and aren't completely sold on Rawls or Prosise, they might just consider picking a guy like Christian McCaffrey who could be an all-around great back, receiver and also a returner.
McCaffrey was one of the favorites to win the Heisman Trophy to begin the season but the Stanford Cardinal had a rough go of things early on. He also had a sluggish start, but really strung together some good games late. In fact, he's coming off two straight 200-yard rushing games and five straight 100-yard games.
While his numbers are slightly down from last year, the real McCaffrey shined at the end of the season and he proved that his sophomore season was not a fluke. He might not be the best in pass protection, but he's one of the best receiving running backs out there — that's perfect for a scrambling Russell Wilson-led offense.
Not many guys are talented enough to leave after a redshirt sophomore season, but Alabama's Marlon Humphrey is not like most. He broke out as a redshirt freshman in 2015 on one of the top defenses in the country and has continued his climb up draft boards this season.
Humphrey played 15 games as a redshirt freshman last year, recording 45 tackles, three interceptions and eight pass deflections. He stands 6-foot-1 and weighs nearly 200 pounds, making him an ideal sized corner, under most scout's standards.
The sophomore has looked just as good this season, recording 33 tackles with two interceptions and four pass deflections as teams just don't want to throw to his side of the field. Also, he's helping to engineer an incredible season for Alabama, potentially leading the Tide to a second straight national title.
Oakland has had a great year, leading the AFC West with a 10-2 record, but the Raiders have done so by just outscoring teams. Derek Carr and Amari Cooper, paired with Latavius Murray and Michael Crabtree, have formed an incredible offensive attack, but the defense has been lacking.
In fact, the secondary ranks 28th in pass defense and an improvement there might just turn this team from a division title favorite into a Super Bowl favorite.
When you look at the receiving corps of the New England Patriots, you might see one name worth mentioning. Julian Edelman has been one of Tom Brady's favorite targets over the past few years, along with tight end Rob Gronkowski, but it wouldn't hurt to add another weapon to his arsenal.
The Patriots aren't exactly lacking in any category on either side of the ball, especially with a plethora of talented running backs, so why not draft a receiver at the end of the first round if a guy like JuJu Smith-Schuster is still available?
There was a time last season when I though Smith-Schuster was the best receiver in this year's class but there are 2-3 guys who are slightly ahead of him. For a speedy guy, though, he has good size, standing 6-foot-2 and weighing 220 pounds.
Smith-Schuster has a tendency to disappear in games, but he has the talent to potentially be the most successful receiver to come out in this year's draft class. His numbers were cut in half this season and that may have had something to do with the departure of Cody Kessler who developed a good relationship with him.
Brady would be a nice upgrade, though, and would use the young wide receiver instantly in an impressive offensive scheme.
What can a Dallas Cowboys team that is currently 11-1 improve on? Well, not much, but there's always a few areas, no matter the team, that could use some added depth. The Cowboys haven't had much luck in recent years with defensive line picks, which is why they might need to strike gold with potentially the final pick in the upcoming draft.
Florida State's DeMarcus Walker isn't the tallest defensive end prospect out there, standing just 6-foot-4, but his 280-pound frame looks to be a difference-maker.
Walker broke out as a junior for the Seminoles in 2015, recording 56 tackles with 15 tackles for loss and nine sacks and he's only gotten better. During the 2016 regular season, he recorded 63 total tackles, 15.5 for loss and 15 sacks. He has become one of the best pass rushers in college football and he's really flying under the radar.
There's a chance he may be gone at this point in the draft seeing as plenty of teams are looking for pass rushers, but if he's available, there's no way the Cowboys pass on him. He's proving that he can get better each season with improved technique and versatile play.
This article originally appeared on