2017 NFL Mock Draft 2.0: First-Round Projections For All 32 Teams
Noah Strackbein/FanSided via Slap the Sign

Fansided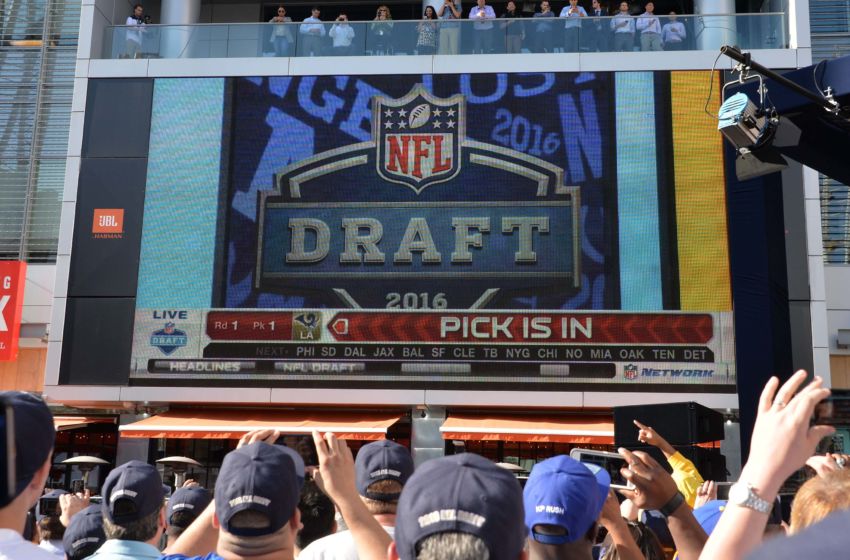 The 2017 NFL Draft is just over two months away, and the question now is, where will the top prospects land.
Slap the Sign presents their "2017 NFL Mock Draft 2.0." As the 2017 draft approaches, players, teams and scouts search for the diamond in the rough to make their team elite. Throughout their college careers, these players have done everything they could to get to this spot. From here, the sky is the limit for these athletes.
Our staff, Noah Strackbein, Kevin Sinclair, Walt Kosin, and Chase Eyrich have broken down all of these players and have decided where each one will fall come draft time. Through careful consideration, this team has developed their most thorough draft yet.
Some teams are obvious, first come first serve for some of the top 10 teams in the draft. As the picks get lower and the players disappear from the board, though, players become more of a hot commodity. Where will all of the draft entrees fall? No one is certain. But, Slap the Sign and our experts have broken-down where every player in the first round will likely be picked.
So, for the second time, the Cleveland Browns are now on the clock…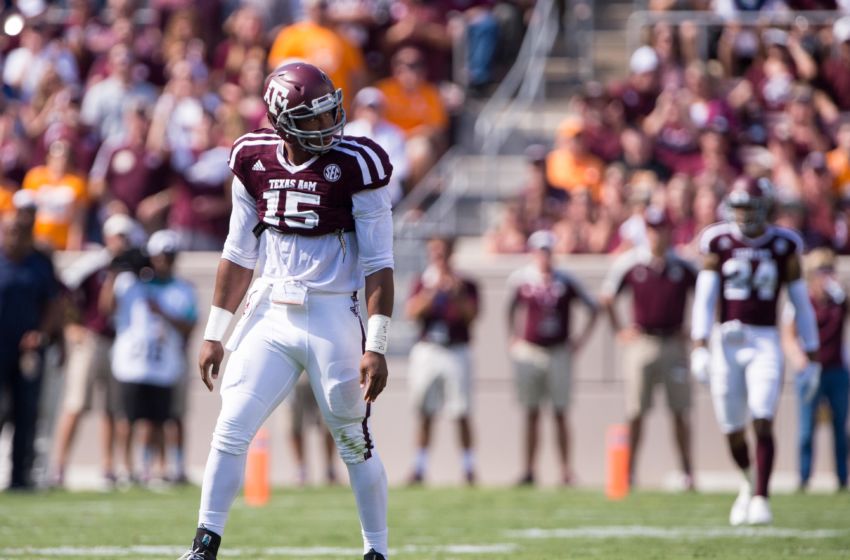 Nothing has changed for Garrett. He's the clear-cut best player in the draft and that's going to get him drafted first overall.
The criticism Myles Garrett has gotten during his junior year has been because of his "low numbers" compared to his sophomore campaign. But, since when has 33 tackles and 8.5 sacks been a bad season?
Garrett may be the most athletic pass rusher in this year's draft class. At 6'5, 265 pounds, Garrett has the mobility and strength to beat any tackle. For most quarterbacks, Garrett can be in the backfield before they finish their drop back.
His only problem is his over-pursue. Garrett tends to shy off of filling his gap during run plays because he's so focused on getting to the quarterback. Although it's a problem most NFL coaches will have little trouble fixing, it's still a concern heading into the next level.
The Cleveland Browns need a lot. Garrett isn't going to make this team a playoff contender, or even get them to .500. What he will do is fill the void the Browns have in their defense.
He's the best player in this year's draft, and with the first pick, and Cleveland will jump on the opportunity to draft him.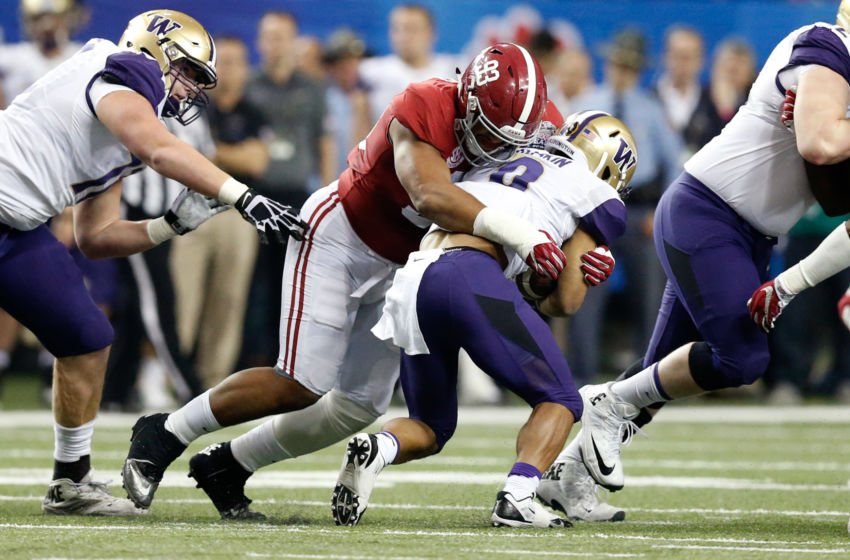 The 49ers lost many players over the last few years to retirement, injury and free agency.
After their worst season in recent memory, San Fransisco will be looking to add some difference-makers in April's draft.
New General Manager John Lynch would likely love to draft a quarterback.
Being that he has a quarterback who is no longer bought into their system, they would love to add a franchise quarterback. That being said, I don't think they would feel comfortable picking one this year given the lack of a 'sure thing' signal caller in this class.
Jonathan Allen should be the pick here if he doesn't go #1.
There's a strong argument whether Texas A&M standout Miles Garrett or Jonathan Allen are the better defensive end.
Garrett is a dynamic pass rusher but Allen is a more effective run-stopper, can play inside as a 3 technique defensive tackle and is certainly still a threatening pass rusher. I would personally choose Allen over Garrett at #1 if I was a GM in need of a DE in '17.
You can't really go wrong with a guy like Allen who is yet another sure pick from NFL factory – Alabama.
Allen finished the season with 33 tackles, 10.5 sacks, 16 tackles for loss, 15 QB hurries, 2 passes broken up, 3 fumble returns and 1 blocked kick.
Allen would be able to start in Week 1 for the 49ers and provide some elite talent along the front of their defense in more than one role.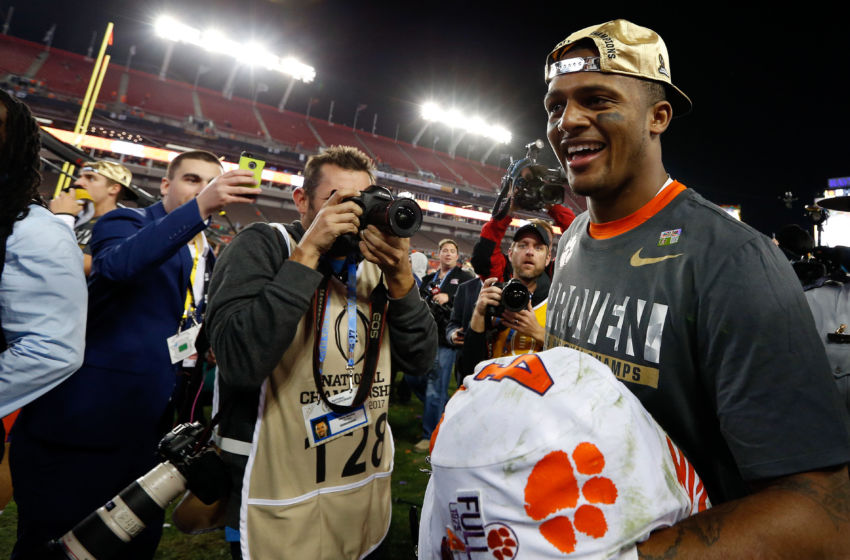 With the third pick in the draft, the Chicago Bears will be able to go after the quarterback of the National Champion Clemson Tigers. Watson has proved all throughout his career that he can throw the ball. In fact, he's an all-out playmaker. 420 yards in the National Championship game and a quarterback rating of 145, he put on a performance for all of us.
His game has improved just throughout this season. In the later part of his junior campaign, we saw how his pocket passes became better. His performance against Alabama was one that absolutely will help him move up his draft stock.
He has been proving that he is a decision-maker. Watson is a guy that you want to build your program around because of what he knows to do and when to do it. The football IQ he possesses is great. The Bears have been ready to move on and need someone that can lead them like Brian Urlacher did. The Bears seem to be most interested in grabbing a quarterback with their pick and Watson could be their guy. It will take some time for him to be a leader but if you are looking for a guy with a future I would go with Watson.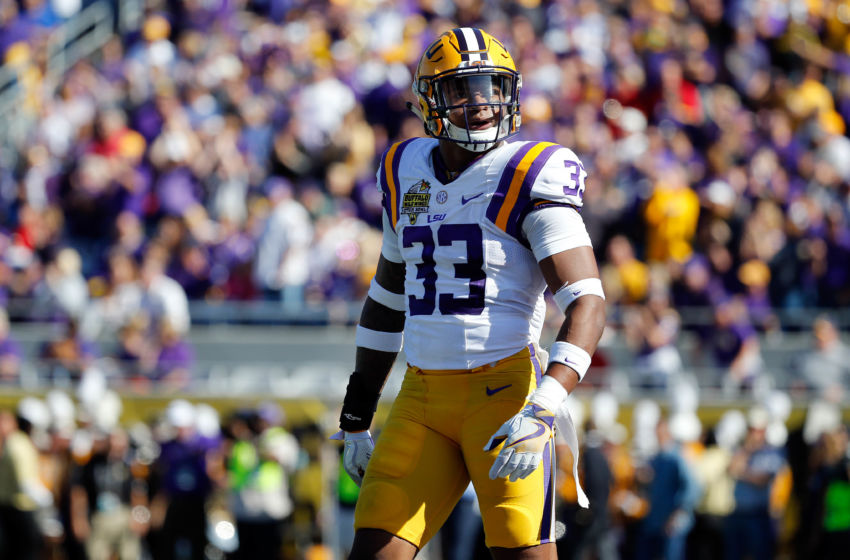 Jamal Adams is an animal. Out of the entire draft, there may not be a player that's as scary as this guy. To keep it simple, he's a freak.
The Jaguars are getting a steal with the #4 pick. Adams may turn out to be the best player in this year's class, and will be an immediate playmaker, which is exactly what the Jags need.
Adams is a huge hitter. When the ball is in the air, he tends to try and make the big hit instead of play the ball. That isn't a huge downfall, though. He may not be looking to play cover all the time, but he can defend the pass when he chooses to.
His instincts are insane. Adams is the type of player who always seems to know where the play is going and has the quickness to react in time to make a play.
Jacksonville is in desperate need for a quality player on their defense. After spending a ton of money on players who didn't perform well in 2016, they really need Adams to be their star. If he's available, which he should be, the Jags won't hesitate to call his name.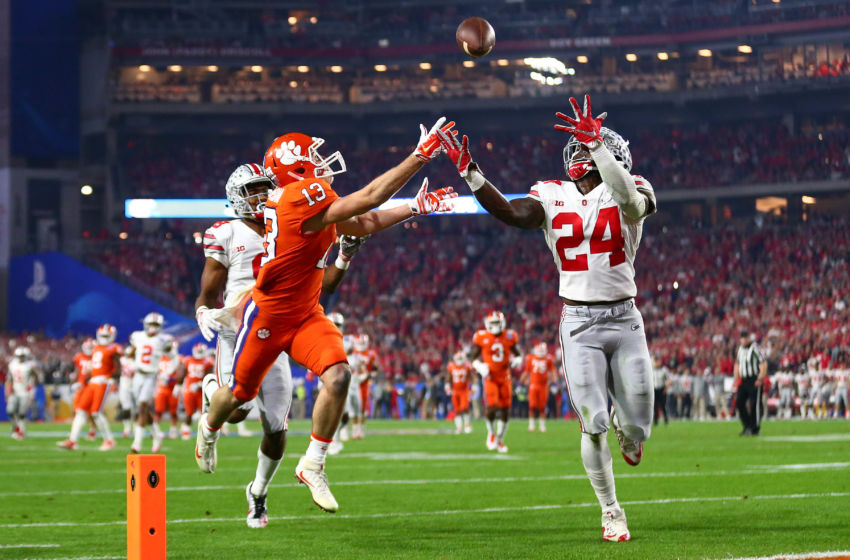 It took all season for people to realize how real Malik Hooker is, but now that he's getting recognition, he'll move into the top five in the draft.
The Titans are going to make their almost playoff team into a full-blown contender if they play their cards right in the draft. With the fifth pick, Hooker should be the call.
In our last Mock Draft, Hooker didn't even make the cut. Now, after breaking down film and through his late season performance, teams are finally realizing that this kid is one serious playmaker.
He's one of the best coverage players in the draft. When the ball is in the air, Hooker isn't afraid to attack it instead of playing it safe. His speed and agility allow him to chase down receivers, but at the same time has the ability to produce bone-rattling hits.
Hooker is going to be a great addition to the Titans' defense. He adds an element they need to give them the competitive edge against the top teams in the AFC.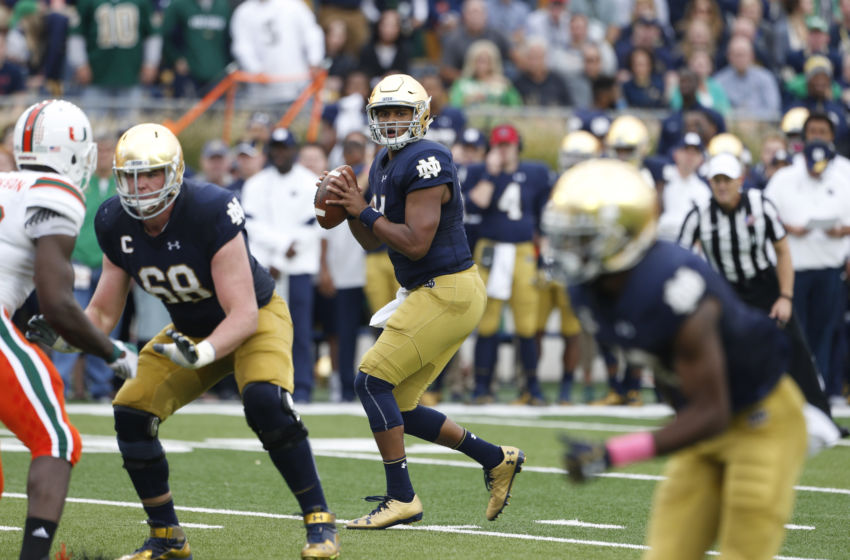 The Jets have long been in search of a true franchise quarterback for years. There were rumors that the Jets weren't fond of Kizer's personality. The fans don't care.
With the sixth pick in the draft, and DeShone Kizer still available, they select the big, athletic quarterback with a high football IQ and NFL QB smarts.
Although DeShone Kizer had a slightly down year for the Irish, he still managed 2,925 yards passing for 26 touchdowns and 9 interceptions while rushing for 472 yards for 8 touchdowns.
Kizer's big arm allows him to make all the big throws from day 1. He's an effective runner with long strides that quickly eat up yardage.
As a true sophomore, Kizer came off the bench having not ever taken a snap in a live game and went on to have one of the best seasons for a Notre Dame quarterback in years.
He does have some fine-tuning and maturity within the game to go through, but all signs are pointing to a strong possibility for him to be ready to start in 2017. He will have to beat out 2nd year quarterback and Penn St. alumni Christian Hackenburg who has similar talent.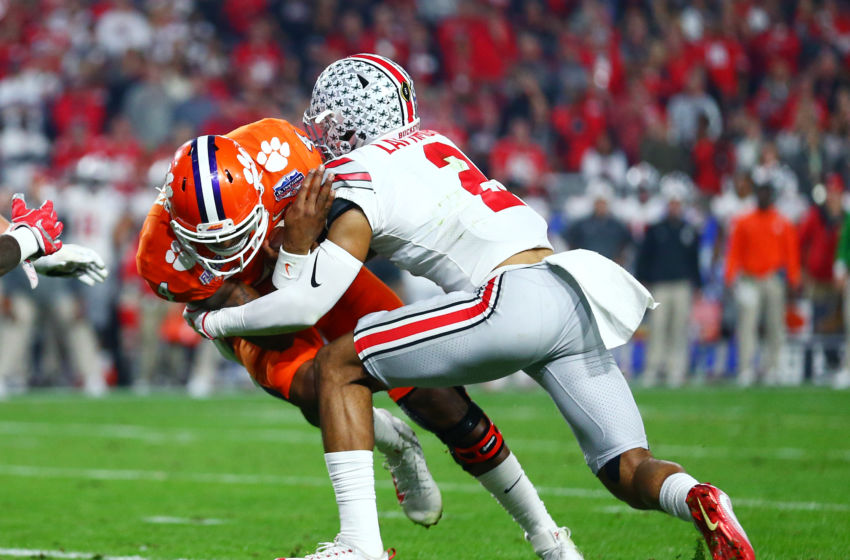 The skill set of Marshon Lattimore is extreamly impressive and could make him one of the most dangerous cornerbacks in the league.
His body type allows him to play his game very physical, which is how he plays best. He will never shy away from contact, but he's not just a heavy hitter, he wraps up tackles well.
The best part about his is that he's not limited to one style of play. Doesn't matter if you want him in man or zone coverage, he knows how to play. Lattimore is a smart player and he is patient. He can take his time matching the receiver with the route and when the ball is coming in. But what helps him the most is his speed.
Lattimore is so fast that he allows the play to develop then put himself into a position to break up the play. He can wait on the line for as long as he needs to and still be able to close and separation between him and the receiver. Able to match the receiver step for step he knows how to put himself in a position just as well as the receiver can.
At first was looked over due to lack of playing time at Ohio State, but this would not be a disappointing pick for the Chargers.
Since his freshman year, Leonard Fournette has been a future NFL player. His size, speed, power, and playmaking ability are something you find every few years.
The Jets have an abundance of running backs on this roster, and it isn't likely they're going to ditch any this offseason. By drafting Fournette, Carolina may be pointing at the end of Jonathan Stewart's career with the Panthers. Or, they could be looking to add a dynamic-duo in the backfield.
Fournette needs to stay healthy in order to succeed the way he's able too. His potential is sky high, but everyone knows it isn't certain he'll ever last a full season. He's dealt with a lot of injuries in college, and that doesn't always transfer well into the NFL. It's sad to say, but he's a hit-or-miss due to his inability to stay on the field.
If he does stay healthy, he has everything needed to be the next great running back in the NFL. We all watched Ezekiel Elliot do it this year, and we all know Fournette has everything he needs to do it next year.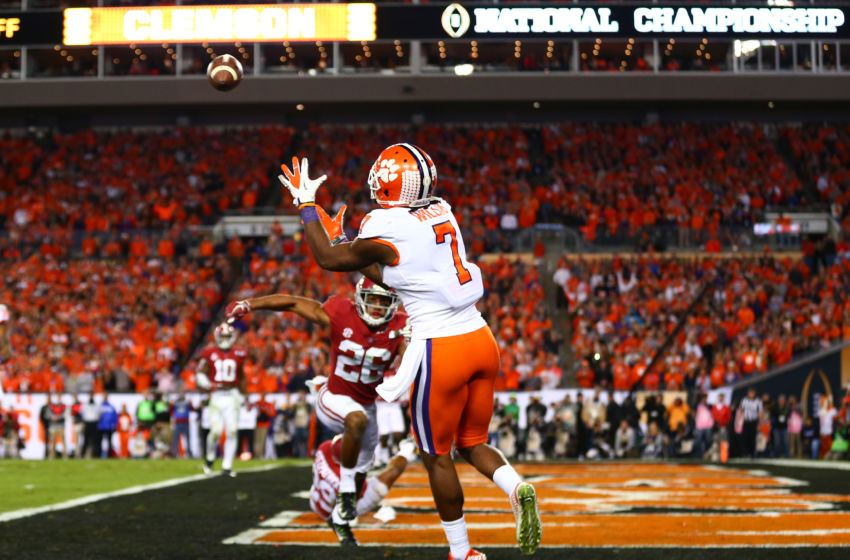 Mike Williams is another A.J. Green. What will make him better one day is that he will be alongside another great wide receiver. If the Bengals are looking to make a playoff run next season, they need to find another option for Andy Dalton. Mike Williams is that option.
Williams is the edge the Bengals are looking for. This team is solid, but they're missing a key piece to their offense. That piece is Williams.
His speed will make defenses stay true. Safeties won't be able to cheat up towards the line or Williams will blow right past them. He's able to make you have to down the field and away from the run.
What makes Williams such a smart player is that even with his size, he can still track down a pass and catch it with his hands rather than his body. Not to mention that his route running is crisp and dangerous. He knows how to position his body to make almost any catch in his area.
He's also a pure football player. He's not scared to lay out for a catch or even make a catch knowing a hit is coming. His size also helps him with blocking which is done with great technique. Williams
Williams is a solid top WR in this draft with all the attributes needed to strive in the NFL.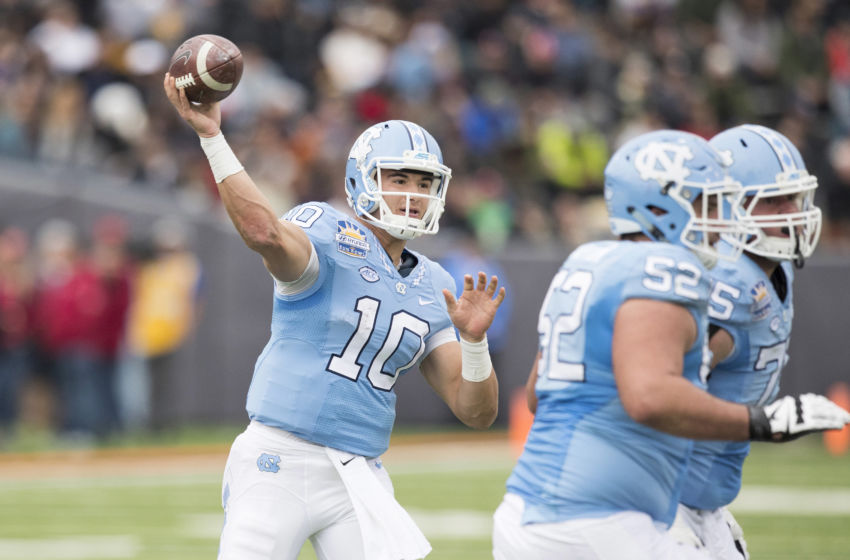 Although Mitch Trubinsky started only one year for the Tar Heels, and slightly lacks ideal height to play quarterback in the NFL, he is still a very intriguing prospect.
With many NFL offices considering Trubinsky as the best quarterback in the draft, given their situation, the Bills would be crazy to pass him up at pick #10
Trubinsky is a little on the raw side but shows the elite arm, ability to be coached, leadership and intangibles to be successful in short order.
With a decent offensive line and excellent weapons around him, his transition will be a comfortable one.
Many Bills fans wanted Tyrod Taylor to remain in Buffalo but management didn't feel he would ever bring them to the Super Bowl, or the playoffs for that matter.
Because they got rid of Taylor and Tony Romo won't want to play in Buffalo, they really have to pick a quarterback in this draft.
The majority of Bills fans have been dying for a true franchise quarterback since Jim Kelly.
That's a long time.
Such a long time that if he doesn't pan out, heads will roll in their office.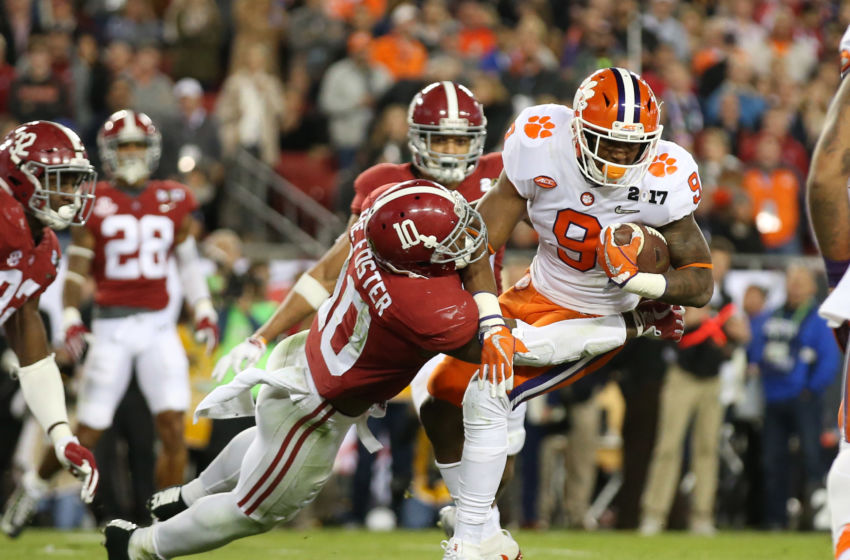 Maybe the most complete Linebacker in the nation, Reuben Foster would be a solid pick for the Saints.
You want a run stopper. You want Foster! All season he was impressive against the run. Through six games he missed just one tackle against the run. He knows how to flat out read the play. He's skilled enough to make an unblocked tackle look effortless.
His physical quickness is just the beginning of it. Foster can get going off the snap in no time. Add in his great reaction time and you realize just how good he is against the run.
It's not just his ability to stop the run that's impressive. What makes Foster such a great asset is his coverage. It's all thanks to his ability to react quickly and make sure tackles. The same things that makes him great against the run is used to help him in the backfield too.
Foster is efficient. He doesn't make a lot of mistakes. What he does do is make a lot of big plays before and after the line of scrimmage and provides the assets he needs to help out any defense.
I'm expecting Foster to stay on the highlight reel like normal, but in a Saints jersey on Sundays.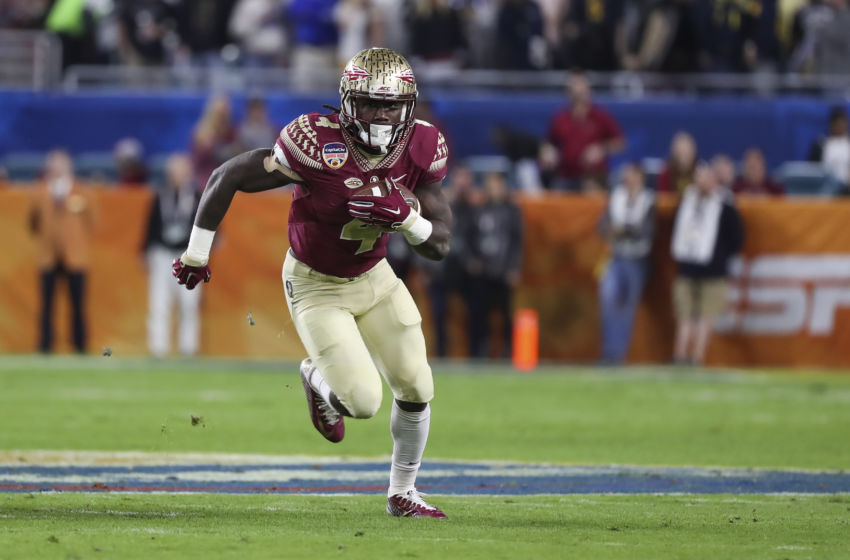 Dalvin Cook may is the second-best running back in a draft class filled with future NFL backfield stars. The Browns have a solid running back in Isiah Crowell, but it's been clear for years that they're missing an explosive force out of the backfield.
In three years, Cook proved time and time again that he's going to be something special when given the chance. The only thing stopping him from reaching his full potential in college was Florida State. The Seminoles and Jimbo Fisher relied much more on the pass than the run and ultimately held Cook back from possibly being a Heisman finalist this season.
No one really wants to be drafted by Cleveland. But with another solid back, Cook won't take too much of a beating while the Browns are rebuilding. During that time, he'll be able to sculpt his game and explode when the time is right.
It isn't the ideal team for Cook. With all the trouble the Browns are in, no one wants to join the mess that is Cleveland. He's going to be great no matter where he goes, though. Cleveland is getting a gem, hopefully the can do enough to help him reach his full potential.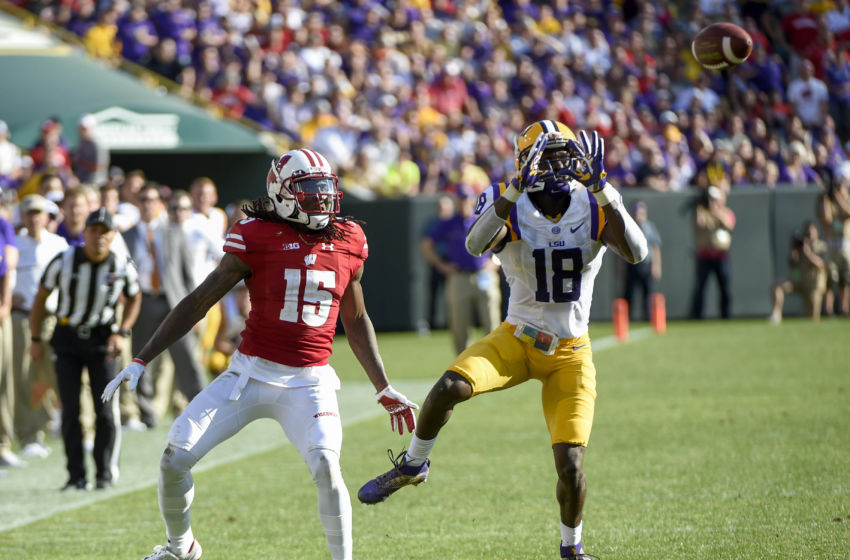 Tre'Davious White is making strides towards the top of the NFL draft. As part of one of the best backfields of 2016, White made a name for himself through his ability to play the ball.
What White posses is a strong instinct to defend the pass. As a four year member of the LSU secondary, White finished with six interceptions, taking one back for a touchdown during his senior season.
Arizona already has one of the strongest secondaries in the NFL. Patrick Peterson is arguably the best cornerback in the league, but with White on the other side of him, the Cardinals will become almost unstoppable in the coverage game.
White isn't the biggest hitter. His biggest flaw may be his inability to produce jaw dropping hits. But that doesn't mean he can't secure a ball carrier. His speed and quickness to the ball carrier makes him a threat off the edge too. He's developed a strong ability to time the snap and get into the backfield to produce tackles rushing from the corner.
White is going to make a great to an already incredible defensive backfield. With the talent Arizona already has, White is going to step in and make this secondary the best in the NFL.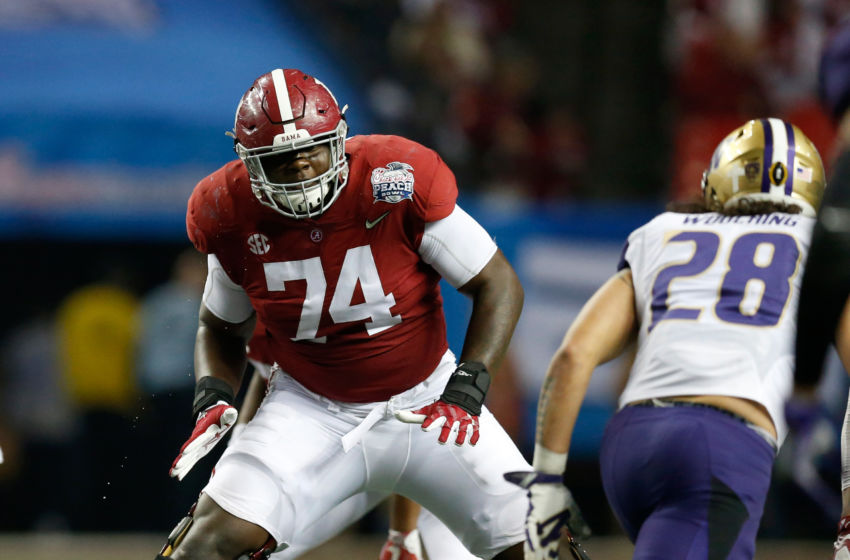 The Colts have holes all over their defense and Frank Gore is one the wrong side of 30. They could go many routes with this pick.
Unfortunately, they can't seem to make their fans happy no matter what they've picked in the first-round the last few years. As a result, they pick the best player available – Cam Robinson.
The Colts need to keep Andrew Luck upright. Not enough attention has been paid to the offensive line for a team with a quarterback as talented as theirs.
Cam Robinson is your stereotypical massive, ready to start right out of the gate offensive tackle. He has had some off the field issues that likely keeps him out of the top-10.
Robinson is the type of player you can count on being your franchise left tackle for 10+ years. He's held up very well physically and shows he has room for improvement.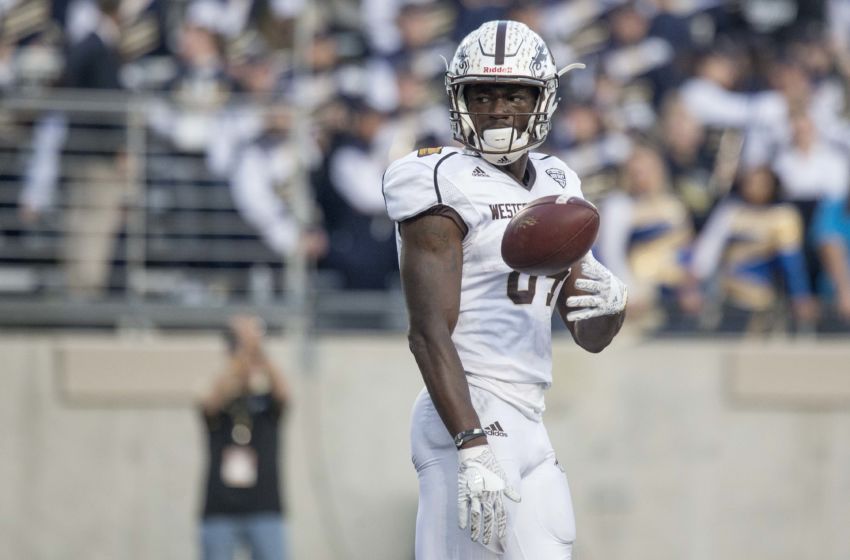 Playing in the MAC Corey Davis ended up at a school who needed him more than the other way around. Western Michigan received a phenomenal player in Davis throughout his career. The MAC was no competition for his level of play, but the Offense was perfect for him.
The spread just to good for Davis. He makes it easier on a quarterback. All you have to do is throw a deep pass down field and Davis will chase it down and get under it. The man has another gear that he can shift into at any point.
His speed is an unreal benefactor to his game. Once he makes the catch he can slip into that extra gear, which helps him slip right through tackles.
Davis also has a lot of upper body strength that he utilizes well. At 6-3″ 213 pounds it's hard to get him off balanced and pull him down.
Davis has some slick shoulder shakes and stutter steps that helps give him some extra space from the defender.
You put all this together with his route running and you have a dangerous receiver.
Coming off of an ankle injury Davis might not get to display his skills at the combine, but that shouldn't stop the Eagles from taking him off the board.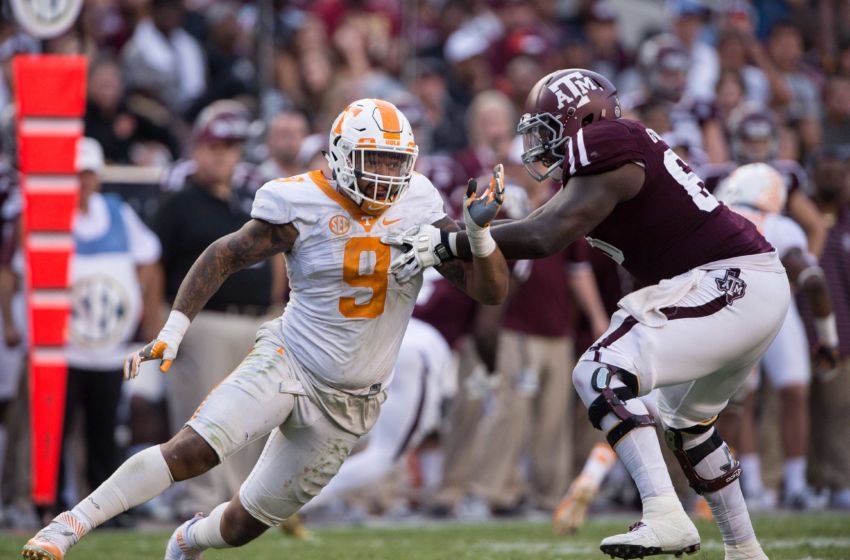 Derek Barnett is going to be scary as a Raven. What he provides is an addition on the inside for Terrell Suggs and Elvis Dumervil.
Barnett has a great form and can use his body to work through the line and make his way to the QB. His eye-hand coordination working together is great. The way he can use his lower body strength proves ideal for tackling or just keeping leverage on the line or a pile.
He might not have the burst you would want to see from him just yet, but he does have the strength, technique, and quickness to be a great asset as a Colt. His technique works better rushing against a guard. He has the ability to roll his shoulders and swoop under the guard making his way to pressure the QB.
Barnett can rotate his body making it as hard as possible to block. It also helps him from being pushed out of the pocket. Right now it looks like it's hard for him to chase down the QB, but he's quick and relentless against any blocker.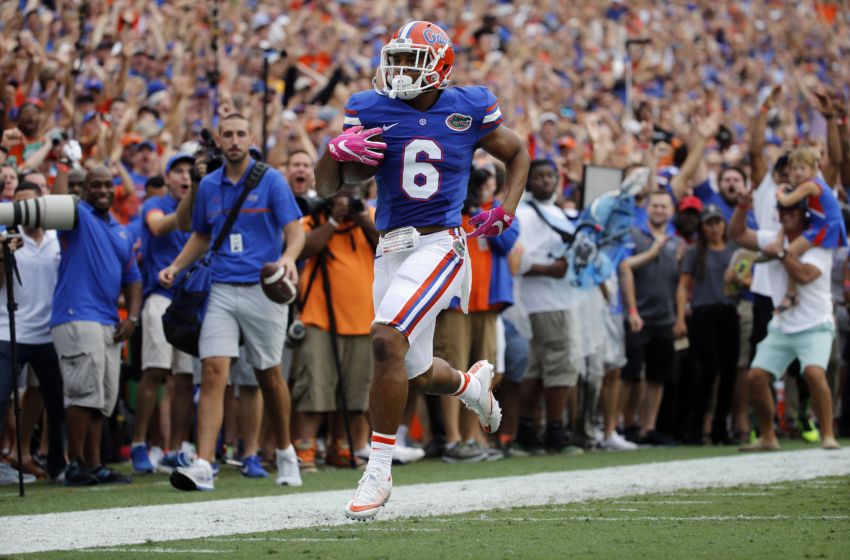 The Redkins are getting a steal, especially by already having Josh Norman in their defensive backfield. Quincy Wilson is one of the best corners in the draft. But with the emergence of some of the other defensive backs, Wilson will fall towards the middle of the first round.
He's 6'1, has the ability to push any wide receiver off their route at the line of scrimmage, uses his hands as well as anyone in college football, and can beat most wideouts deep with his speed.
Wilson reminds scouts a lot of Jalen Ramsey. Both players are big with great ball skills and the ability to tackle. On the outside, he's going to make a great addition to an already solid Redskins' defense.
For a team who will be fighting for a playoff spot next season, securing a solid playmaker with a later pick is important. If Wilson is going to fall this far, there's no way the Redskins will pass on him. When they don't, they'r going to move into a favorite for a NFC wildcard spot.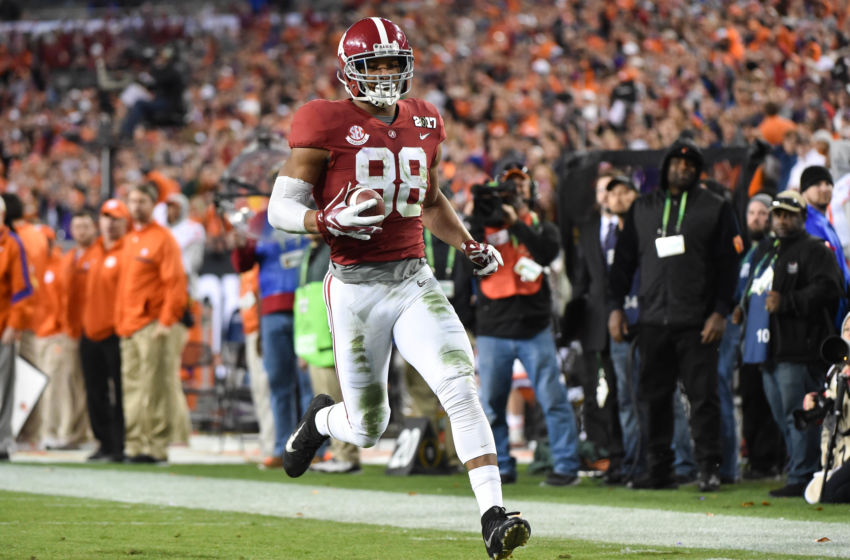 The Tennessee Titans upgrade their pass game big time with 6'6, 251 lb. O.J. Howard.
Marcus Mariota is doing very well with mediocre-at-best pass catchers. They need to upgrade that area greatly if they want to be more competitive.
O.J. Howard gives them an excellent mismatch option at tight-end.
He didn't exactly produce eye-popping stats at Alabama, 45 receptions for 595 yards and 3 TD's in his senior campaign. NFL scouts are aware that Howard comes from a run-first, Nick Saban offense which contributed to his slightly low numbers.
If you break down his film, you see nothing but a physically dominant tight-end with plenty of capability.
Howard would start right away causing defenses to plan around him. He possesses the combination of size and speed that you want in a tight end in the NFL. he beats linebackers with his above average wheels and towers over defensive backs.
With O.J. Howard in the fold, expect Mariota's production in the passing game to improve greatly. Howard will take pressure off the receivers to make all the plays.
This is a safe, and crowd-pleasing pick for the Tennessee managemant.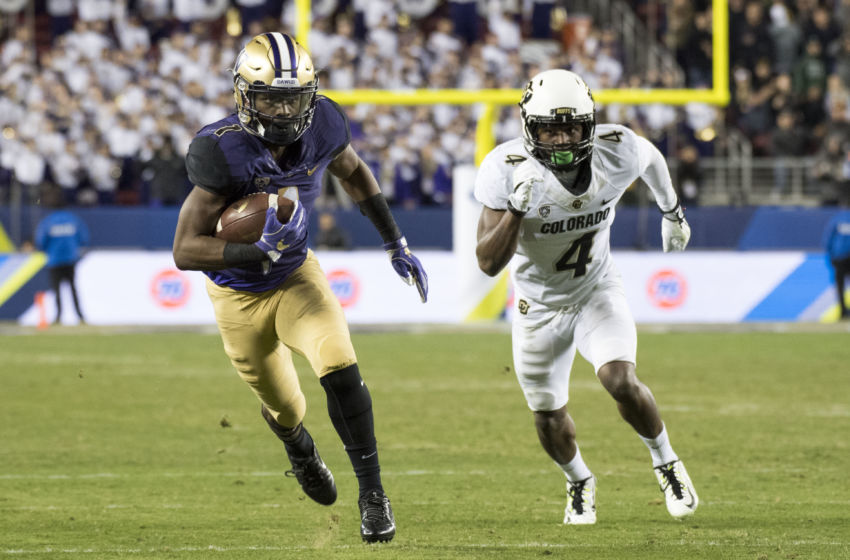 Not only a receiver but also a kick returner, Ross is a player that could help many teams. Tampa knows that and he would be a good fit.
He's a speedster that secondaries fear. Making a threat from his speed alone he can outrun everyone.
Yes he's fast but he's also great at tracking down balls. Throw it up and he'll find his way under the ball. Ross also provides a threat of scoring from anywhere on the field. The playmaking ability will prove him as a player who belongs to play on Sundays.
You would think he had Stick Em on his hands the way he can make catches. It just seems like he can't drop a ball. His route running has to me the most appealing to NFL scouts. It's hard to keep up with him and It's even harder to catch up.
A knee injury kept him out for 2015, but he didn't miss a step last season.
What makes him most appealing to Tampa is that he isn't going to just receive and block for you. He will be dangerous on special teams too. His time was well spent as a kick returner at Washington. He holds the university record for kick return touchdowns.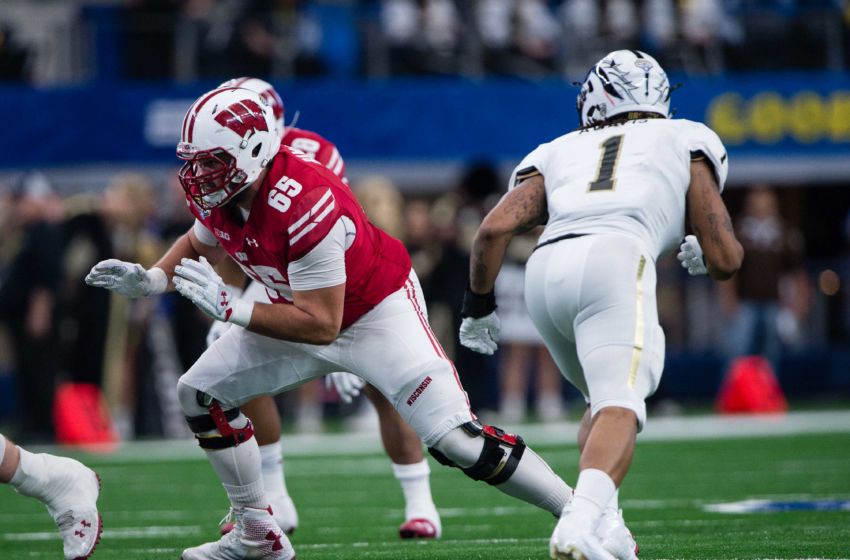 Ryan Ramczyk may be the best left tackle in this draft. His quickness of hands and overwhelming strength gives him an advantage over just about any defender he sees.
The top tackle has a giant question mark hanging over his head, though. As he deals with a hip injury, no one seems to know whether or not he;s going to be healthy this offseason. If he is, he could have a significant jump in the draft.
The Broncos biggest struggles have come from their offensive line. They don't have the best quarterback in Trevor Simeon, but his has potential and if they want to get back to the playoffs, they need to protect him.
Denver is going to draft a lineman in the first round. Ramczyk will be the best player available and Denver is going to take advantage of it.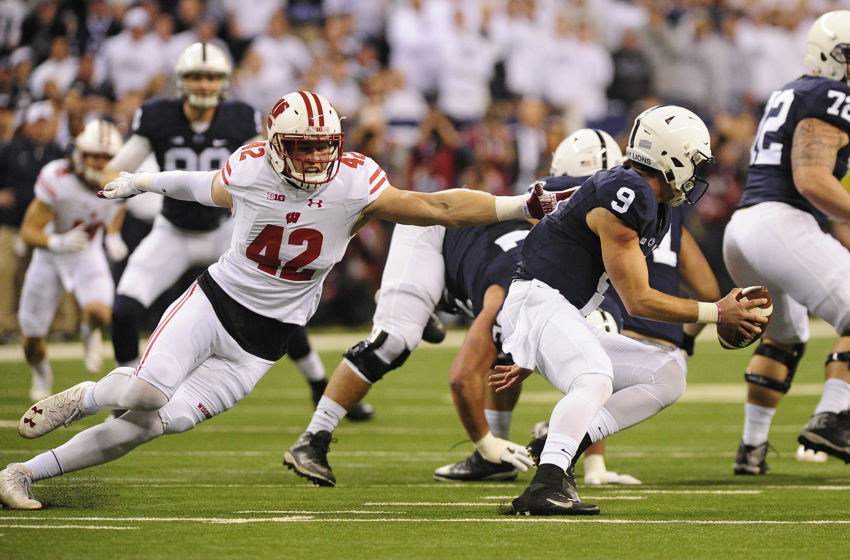 Some say that T.J. Watt will one day be better than his brother J.J. and if the Lions believe that's true than they're going to jump on him as soon as they can. With the amount of talent on the edge in this year's draft, Watt will fall towards the end of the first round.
This does nothing but make him a better candidate to be an elite player in the pros. If he goes to a team with a strong defense already, example, Detroit, than he's going to be able to make an impact immediately.
Teams will watch for Watt. If he went to a team with a less talented defense, he'd be targeted. But by heading to Detroit, Watt can develop by being nothing more than a rookie for the Lions.
He has the speed and agility to get around the edge. What makes him a freak athlete, though, is his strength. Watt can burst off the line and move tackles with his first blow, then using his athleticism to get past the line through the outside.
Detroit is getting a steal. Watt is going to make any team lucky, but he goes to a place with an already strong defense, he'll breakout quick.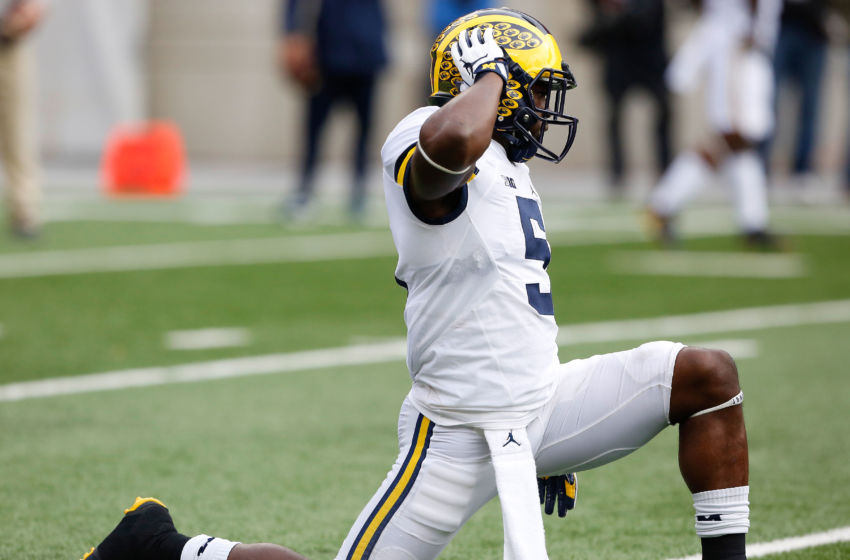 The Dolphins look to take their defense to a new level with hybrid player Jabrill Peppers.
There's a lot of discussion about Peppers regarding a number of things. Where he projects position-wise, some think his numbers were low, some think he's good at a number of things but not great at one, etc.
Peppers is considered more of an athlete than a football player right now, but the three year college player is a tremendous talent and he will bring a spark and dangerous play making ability to the Dolphins defense right away.
He may get a look as a kick returner but having him focus on one position will bring his game to a new level.
Peppers projects as a solid nickel corner/safety hybrid that is becoming more of predominant position in the NFL given the evolution of pass-happy offenses in today's game.
As a bit of a luxury pick, the Dolphins add an upgrade to their pass defense while also getting solid run-support.
I expect Peppers to flourish in his rookie season and become a fan favorite by the end of the '17 season.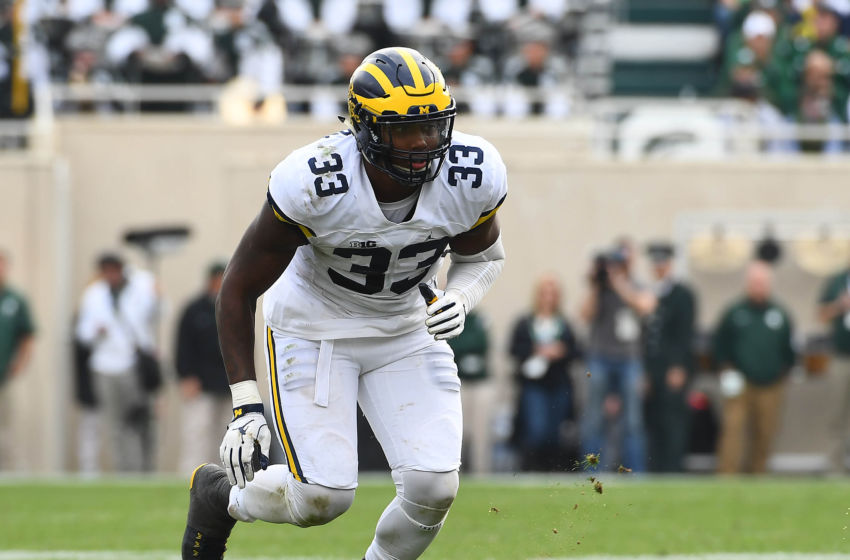 This season really established just how good Taco Charlton is. It's not hard to see why the Giants would benefit from a pass rusher like him.
Charlton can consistently put pressure on the quarterback with his explosiveness off the line. The moves he has to get around the edge have only improved. Put him in an NFL system and just think what he could do. He does it in no time too. Before you know it he's slipped the edge and is in the process of chalking up another sack.
Charlton's body is just built to play the position. His frame is long enough to help keep the opposition out of the way while he moves on past.
His ability to not only move with speed but to also move with power is incredible. He knows just before a snap how to adjust and put himself in a position and get through the gap.
His hands are great against the run. Could be pulling down a tackle or making his way through traffic, either way he knows how to use them.
The biggest thing about Charlton is how much he improved in his senior season. It really showed glimpses of what he could be in the NFL.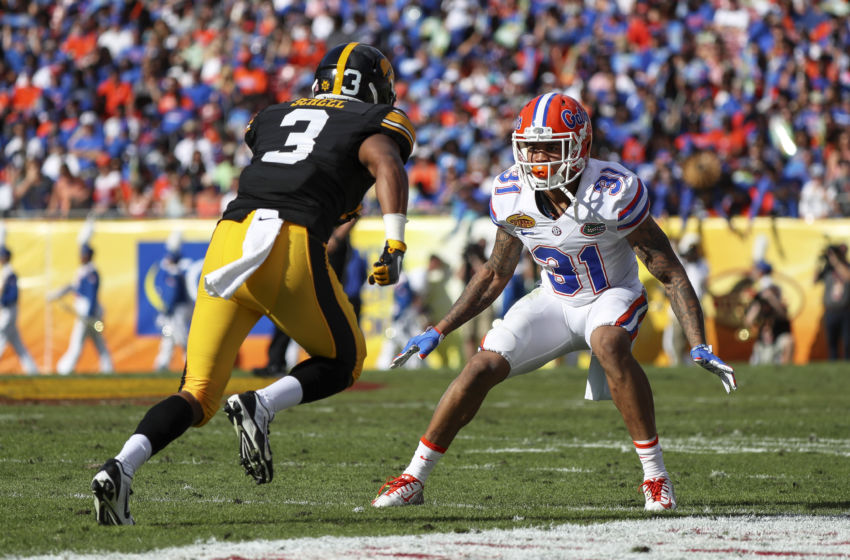 Teez Tabor is talented enough to go in the first round, but just like Marcus Peters, his troubles off the field make him a risk for any team. But the Raiders need a cornerback and if Tabor is still available, they are going to take the risk.
Tabor is one of the best overall defensive backs in the draft. His ball skills in the air are second-to-none and most times, he's the one to come up with the ball if he;s in position. His four interceptions during his final season at Florida showed how well Tabor competes for the ball int he air.
On the other end, Tabor isn't always around for the tackle, but when he's counted on he's always capable of bringing down the ball carrier. In the open field, his size and strength allow him to take on bigger receivers and running backs, making him a solid option for a last resort tackler.
If Tabor can stay out of trouble, he's going to make the Raiders very happy. He has everything Oakland's secondary needs. If they're going to take a risk on anyone in this draft, Tabor should, and will be, the guy.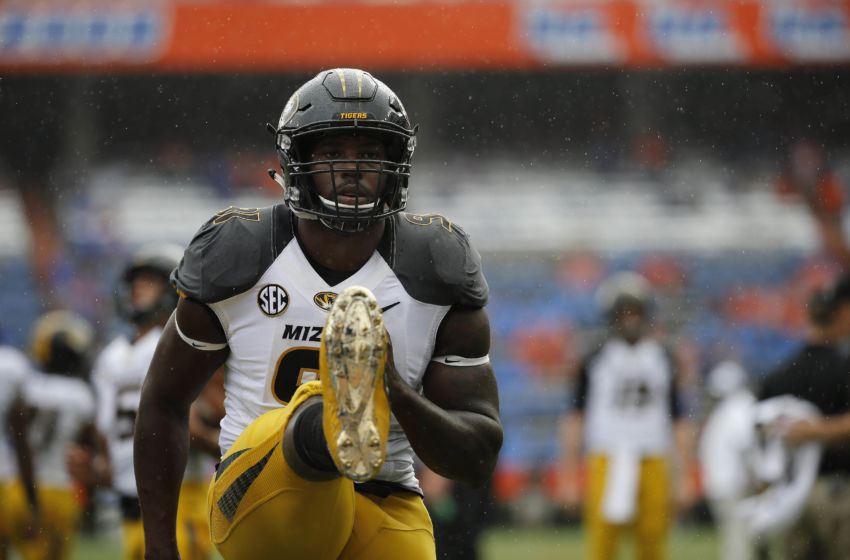 Houston doesn't necessarily need another defensive end. But if Harris is available the Texans aren't going to pass him up.
Harris is a fast edge rusher and can put pressure on the quarterback. His speed and initial blow off of the first step is tremendous. He as a motor and is one of those players that grinds every day.
At 6-3″ 255, Harris is extremely versatile and comes in with a tool belt of different moves. From his stutter step, swim move, spin, and even helmet slap, Harris has it all. A defensive end that possesses the skill set of Harris belongs in the league.
He is great at lowering his shoulder to get around the line and flatten out in time to make a move on the QB. Harris also is great at making plays on the run. He's smart, and when the run is committed, Harris will make a move to the gap and stop or slow down the play before the line of scrimmage.
Harris is a natural pass rusher gifted with a wide variety of skills. Those verities of skills are what sets him apart and should be most appealing to the Texans.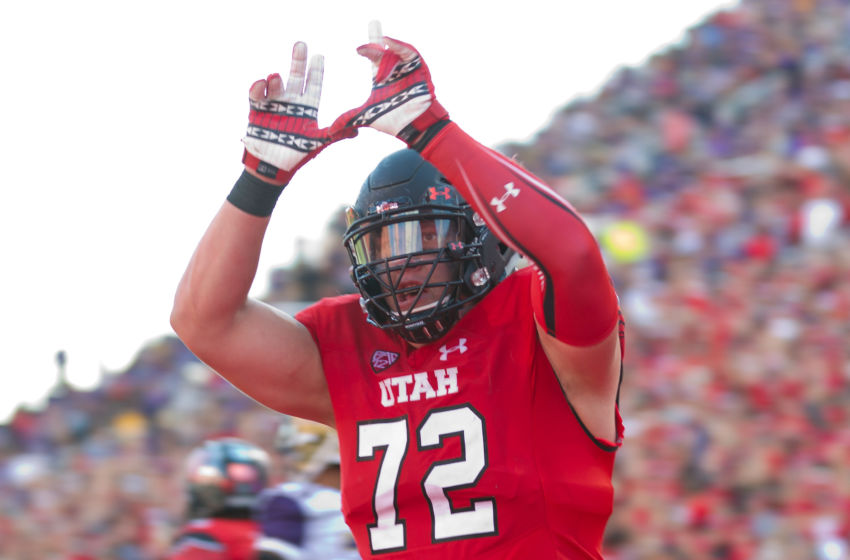 Due to salary cap issues brought by resigning key players after their rookie contracts were up plus the trade and signing of Jimmy Graham, the Seattle Seahawks lost most of their offensive line.
The Seahwaks look to take advantage of the NFL's rookie contract policy by drafting the best offensive lineman available with the 22nd pick, Utah offensive tackle Garret Bolles.
Bolles, a junior college transfer, played one year at Utah and was first-team All-Conference. At 6'5, 300 lbs, he could use to add a little weight but he is amazingly quick on his feet and possesses a great punch and handles speed rushers very well.
Russell Wilson was beat up quite a bit in '16. He will be very pleased by this pick as wel as the work on the offensive line the front office staff will surely do in free agency regarding the offensive line.
Although Wilson is dynamic outside of the pocket, the Seahwaks must protect their investment. Wilson struggled after he injured his ankle due to poor play on the offensive line. This is a great step in rebuilding their talent up front for their offense.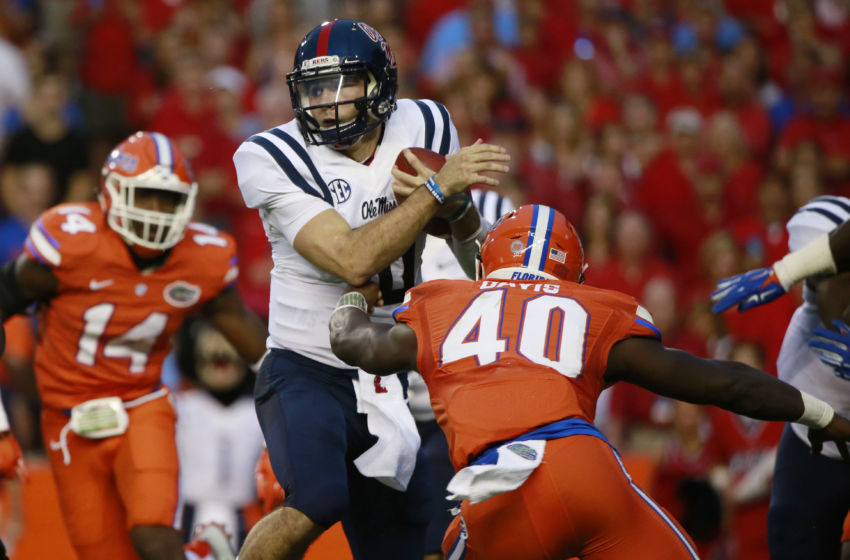 The Chiefs could take a linebacker looking to make an impact with Jarrad Davis. His football IQ is one of his best factors. He can find the ball quickly and and anticipate where it is going.
His timing of when to go and hit gaps. Davis is also good at staying low and using his core strength to help shake anyone trying to block him. His concise body build allows him to keep power in and utilize it when he's ready.
When Davis is locked in, he's about to get what he wants. He closes the gap unlike anyone else. He plays so physical that he launches his body and no one is standing up after a hit like that.
He is one of the most aware linebackers that you'll see and this is what works well with the Chiefs. Davis can match routes and even anticipate them well. Especially when tracking down balls, Davis always seems to be in the right spot with his hand up to make a play.
No matter if he is needed to play inside or outside, Davis can do it all. He has the speed to keep up in the secondary and is small enough to make his way inside if needed.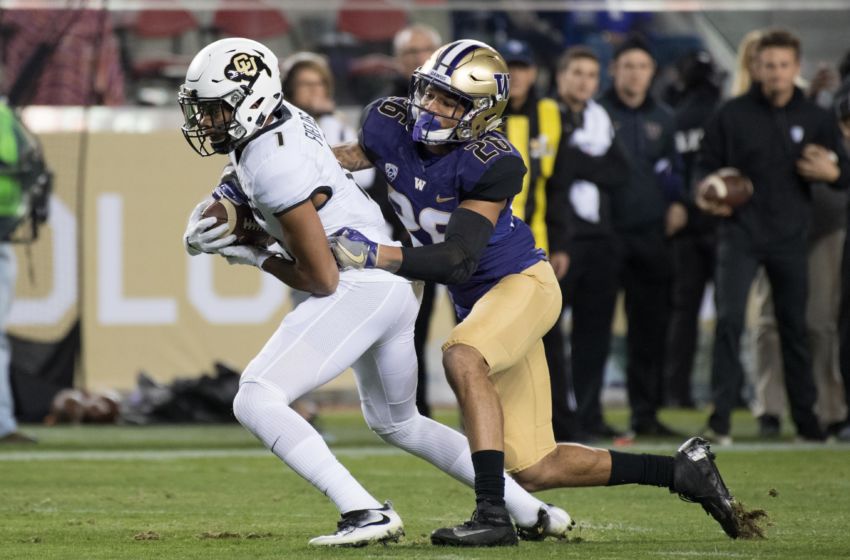 Sidney Jones is a pure athlete and possesses the instincts of an animal. He has the talent to make smooth transitions and stay in sync with his man.
Jones really has been a truly underrated talent, but the pro scouts haven't looked past him as much as others have. He is a smart player too. Jones is able to identify routes as soon as they begin to develop. This helps him kill any separation between him and his target.
Jones has the speed needed to close the gap and excel in a man coverage, but his football IQ makes him a great zone player too. He does great at reading the QB and track down a ball in the air and kill the play.
What makes Jones such a playmaker is his ability to create turnovers. Of course, he can track down incoming passes, but he's also great at forcing fumbles. Jones is a smart player and aware of the position of the ball in the runner's hand. When going for a tackle he always finds a way to make contact with the ball and try to force it lose.
If Dallas could land a pick like this and create a defensive star, they would be set as contenders for the near future.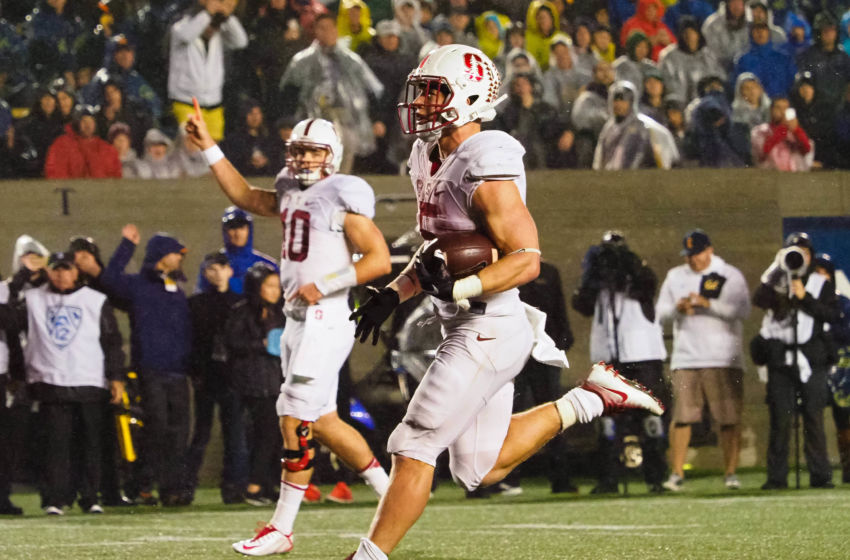 The Green Bay Packers are in desperate need of a running back. Eddie Lacey is a quality back, but with all the injuries he's dealt with, the Packers may be looking to bring in a new back.
McCaffrey is the perfect fit for Green Bay. Aaron Rodgers loves throwing out out of the backfield and McCaffrey is the type of running back that can do just as much damage catching the ball as he can running.
On top of that, McCaffrey can line up on the outside. The Packers are a passing team and that isn't going to change. McCaffrey will become a dangerous threat for Rodgers and I'm sure Green Bay is licking their chops knowing he'll likely fall to them.
He'd be the perfect fit for a team who needs a running back but doesn't need your traditional rusher. His versatility and ability to play multiple positions is going to be used to in a number of ways with the Packers.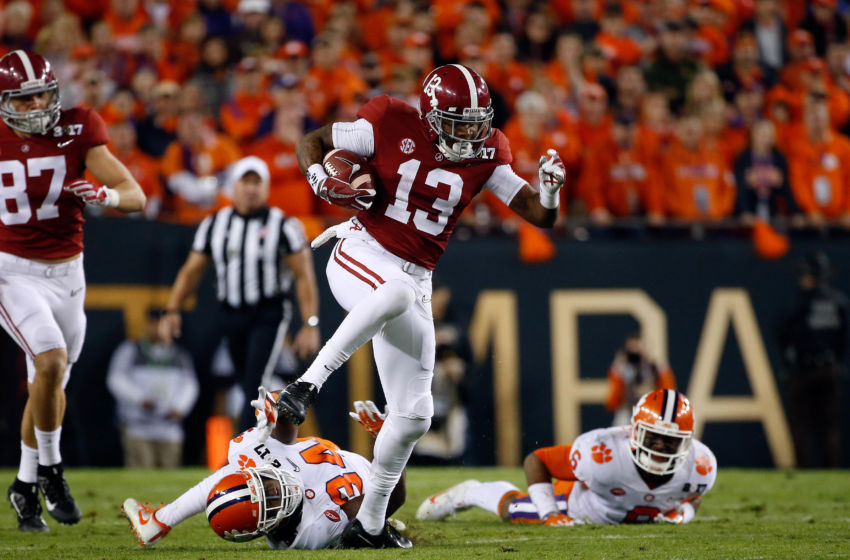 Another Alabama product is selected in the first-round here by the Pittsburgh Steelers.
With depth where it needs to be at most positions for the Steelers, they go with ArDarius Stewert to add some fire power to their pass game.
As a solid #2 WR for the Alabama Crimson Tide, Stewert finished with 1093 yards from scrimmage in '17. He's a solidly built 6'1 204 pounds with great hands, plenty of speed and big time strength to beat defensive backs to the ball.
Stewert will be a great addition to Pittsburg's run game in that he possesses superior blocking skills he acquired in Nick Saban's run-first offense.
Had Stewert not been overshadowed by Calvin Ridley in Tuscaloosa, Stewert may have been a top-10 pick here. Pittsburgh gets a quiet-steel here and provides Ben Roethlisberger with a powerful, sure-handed option from "mini-NFL" Alabama.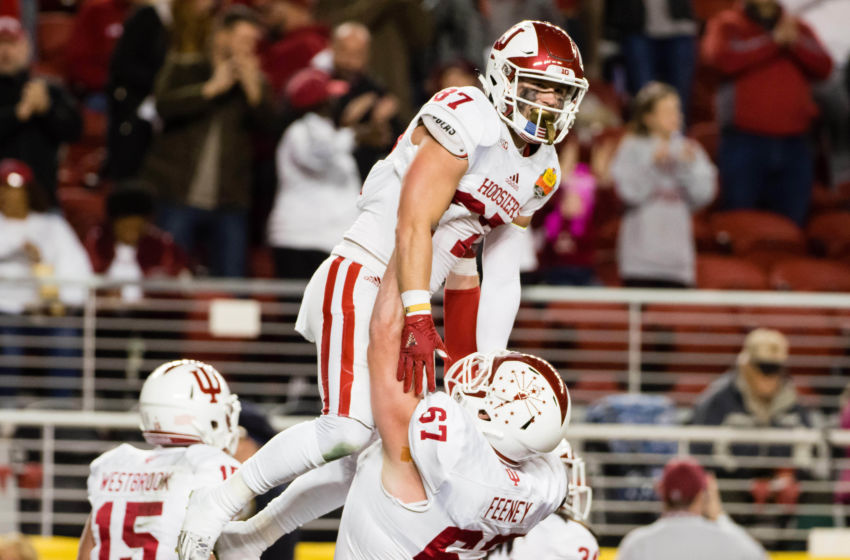 The Atlanta Falcons were hands down the best offense in the NFL in 2016. But without protecting Matt Ryan, Atlanta can only get so far, and with the talent on that team, they should be looking Super Bowl champions.
They came close this season, but against Tom Brady, it's hard to find yourself as world champions. Next year is a whole different troy, though. With Dan Feeney adding needed guard depth, the Falcons quickly become the NFC favorite.
At 6'4 305 pounds, Feeney has all the quickness and strength a solid NFL guard needs. As he builds his size, he'll only begin to become an even more dominant lineman. The Falcons may have the team to win right now, but if they want to carry this success for years to come, they'll look for Feeney to be the star linemen they need.
They'll snag Feeney quick with the 31st pick in the draft. If they want to repeat a Super Bowl appearance, offensive line is where they need to look. Feeney is the best option for this Atlanta team.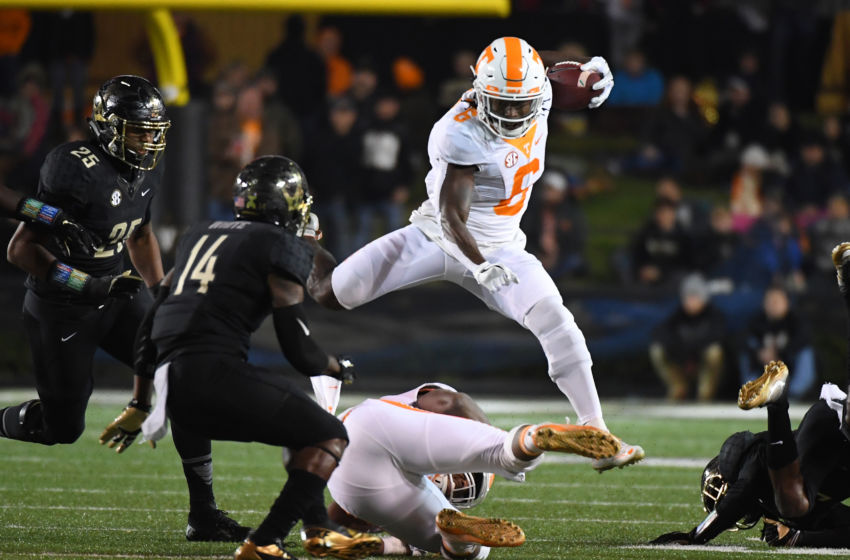 The Patriots find some great athletes that fit into their system and Alvin Kamara would fit perfectly. He's a down and dirty running back that has one focus, get the job done.
Don't expect him to do anything fancy. With his smaller frame he doesn't need to dance and hop around. He just goes head first quickly to get where he needs to be.
With how small he is he doesn't really have the option to powerfully run through or move any piles, but he's great at slipping through them.
His explosiveness is the power he possesses and what makes him a great pick. Once that gap is open or he sees grass in front of him, he's gone. Because of this he's also a great threat as a pass rusher. .
Arm tackles sometimes is enough to stop him due to his smaller frame. But with his speed and explosiveness you have to catch him first.
Pass protection is a little bit harder for him, but that doesn't hold him back. He is willing to make contact to help a play develop. The problem is he struggles making it through the contact.
Despite the size, Davis is an athlete with pure speed and is smart. Inside the Patriots system he could be something special.
[tableau sharelink="
"/]
This article originally appeared on