2016 Tennessee Football Seniors and the Legacy that Each One Leaves with the Vols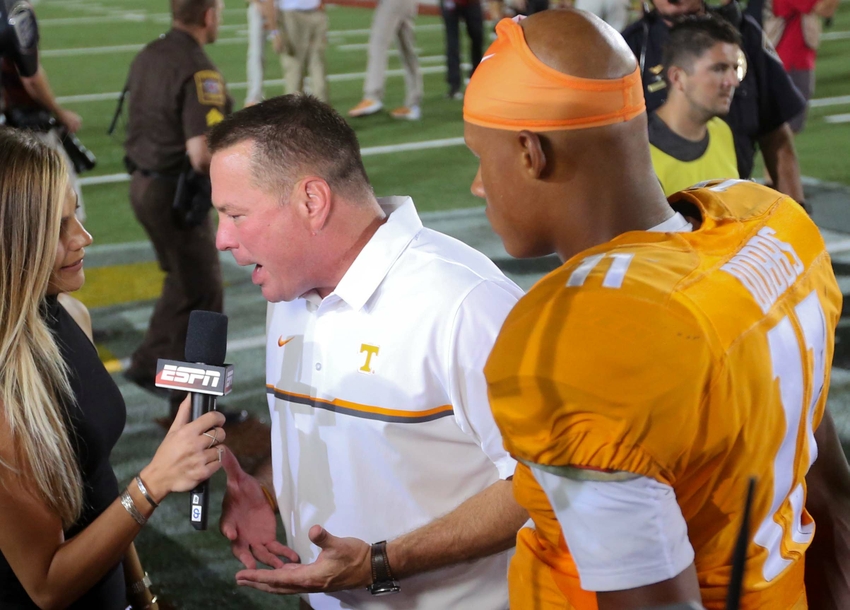 There are 10 Tennessee football seniors who will walk through the T for the final time on Saturday. Here is a look at the legacy those Volunteers leave.
This Saturday is going to be one of the most emotional senior days Tennessee football fans have taken part in. The Vols have a small class of just 10 people this year, but these 10 have had a huge impact on the growth of the program.
These are the players who were there for Butch Jones's first year with the program, when they went 5-7. Four of these players were even there during Derek Dooley's final season with the Vols.
So they have seen the program come up from rock bottom to potentially competing for a championship.
While they are walking through the T on Saturday, another game will be in the process of determining whether or not they get to play for that championship: Florida-LSU. If the Tigers beat the Gators, the Vols just have to win out to head to Atlanta.
And that'll make Senior Day all the more emotional.
But regardless of that, we shouldn't discount the accomplishments of these guys, who helped the program return to one competing for championships.
This is a rare small class that has major contributors across the board. Here, we will take a look at the legacy each of them left with the program.
Although we are going to rank them based on how strong their legacy is, the ranking is not what's important here. What's important is that we remember these guys.
So here is a look at the legacy each of the 10 2016 Tennessee football seniors have left the program.
10
Charles
Folger
Defensive Lineman,

Redshirt Senior
He never really saw any action for Tennessee football, but Charles Folger has stuck with the program since the Derek Dooley disaster dating back to 2012.
A 6'4″ 265-pound defensive lineman from Augusta, Ga., Folger walked onto the program that year. He redshirted and watched the Vols collapse despite a ton of talent. Then he provided depth and worked hard under Butch Jones in trying to slowly build the program brick by brick.
Despite barely ever playing, Folger was a part of that process.
He saw his first bit of college football action against the Kentucky Wildcats in 2014. A year later, he saw action against the Western Carolina Catamounts.
His hard work earned him a scholarship a month before the 2016 season began.
And then, against Tennessee Tech two weeks ago, he finally registered a stat. Folger picked up three tackles, one of which was solo, and he even had a tackle for a three-yard loss.
That's a great thing for a guy like him to achieve. He consistently drew praise from coaches and teammates for giving it all he had everyday on the practice field.
A special education major, Folger is not likely to have any NFL career, and not many Tennessee football fans will remember him once he graduates.
But he has earned his stripes for the program.
9
Kenny
Bynum
Linebacker,

Redshirt Senior
Kenny Bynum never really materialized as an elite Tennessee football linebacker with the program, but his development and contributions as a person match what he's done as a player.
The redshirt senior committed to the program in 2012 and was another guy to sit through that awful final year of Derek Dooley.
Then came Butch Jones, and though he never became a regular starter, Bynum has remained a valuable asset in providing depth for the program. He appeared in four games as a redshirt freshman and picked up two tackles.
As a sophomore, he played in seven games, including making his first start in the TaxSlayer Bowl that year, and finished with five tackles.
Bynum became a regular in the rotation as a redshirt junior and a redshirt senior. He has played in all but one game since the start of 2015, and he has started three games, registering 18 tackles overall and one and a half tackles for a loss. On top of that, he is an academic genius.
In the offseason, he studied abroad in London. So he is one of those brilliant academic guys who will go on to do great things but was a very solid player for the Vols throughout his career. As a result, he deserves respect.
8
LaTroy
Lewis
Defensive Lineman,

Redshirt Senior
Our third straight redshirt senior who began his career as a part of the disastrous Derek Dooley era is one of the best development stories the school has seen.
LaTroy Lewis, just like Kenny Bynum and Charles Folger, redshirted in 2012. He then saw limited action in just six games as a backup in 2013. In 2014, he played in all 13 games and even had a start, but he still only played sparingly. Lewis only had eight tackles that year.
He broke out as a redshirt junior in 2015, though. That year, Lewis played in all 13 games and even had five starts due to injuries on the defensive line. In the process, he had 29 tackles, a sack, and two tackles for a loss. He also forced a fumble, broke up a pass, and had four hurries.
This was all mostly done as a backup.
Then came this year, and he only got better. Despite the potential of being buried in the depth chart of one of the deepest defensive lines ever, Lewis has thrived for Bob Shoop. He already has 29 tackles again, and he has added one and a half sacks and three tackles for a loss.
This is all while he's battled a high ankle sprain throughout the year. Lewis had to step up down the stretch because of so many injuries on the line, and he has performed admirably in the process.
Without him, the Vols would have been in serious trouble. So he deserves a ton of credit as a guy who developed for Tennessee football and as somebody who was always a team player.
7
Jason
Croom
Tight End,

Redshirt Senior
Jason Croom's story in Knoxville is one of mental toughness and never giving up. He has battled two season-ending injuries and a position change.
As another redshirt senior, he actually played on the field that final Derek Dooley season when the program collapsed.
But through it all, he never backed out of the program and bought into everything Butch Jones wanted him to do. In 2013 and 2014, as a redshirt freshman and sophomore, Croom became a reliable huge target at wide receiver, catching 39 balls for 574 yards and and amazing six touchdowns.
As the reliable touchdown receiver, though, everything collapsed on him with his second season-ending injury in 2015.
Rather than panic, though, he took Butch Jones's advice and worked on converting to tight end for the team. This year, in the process, his numbers have unfortunately dropped since he's had growing pains.
However, he's never stopped trying to get better, and he still has 11 catches for 148 yards, including a couple of crucial third down conversions. Croom is a true team player and as a result leaves behind a great legacy for Tennessee football. And he still has a chance to add to it.
6
Malik
Foreman
Defensive Back,

Senior
What can we say about Malik Foreman? He was a three-star recruit across all services, but he was one of the first guys to commit to Butch Jones and his new recruiting class.
The senior immediately had an impact for Tennessee football, providing much-needed depth in the secondary his freshman and sophomore years.
Going into his junior year, he was supposed to be a backup again to junior college transfer Rashaan Gaulden, and as a high-character team player, he accepted that role. But before the year even started, Gaulden suffered a season-ending injury.
Just like that, Butch Jones had to force Foreman into the starting lineup as a nickelback. And Foreman's growing pains were evident, as he struggled significantly against the Bowling Green Falcons, Oklahoma Sooners, and Florida Gators, watching the Vols spiral to 2-3.
But then he played a huge role in causing the turning point for the program under Butch Jones with the Vols' comeback against the Georgia Bulldogs.
Down the stretch, Foreman developed into a very valuable asset. He finished the season with four tackles for a loss, a forced fumble, an interception, and nine pass breakups.
Unfortunately, 2016 has not gone as he would like. He was suspended early for a violation of team rules, and he has battled injuries ever since the Florida game. However, Foreman's reliability in the face of a crucial injury played a big role in turning around the Tennessee football program.
That is something he deserves to be remembered for.
5
Dylan
Wiesman
Offensive Line,

Senior
Dylan Wiesman leaves behind an amazing legacy for Tennessee football as the face of the offensive line development under Butch Jones.
When he arrived in Knoxville, he was sitting behind a veteran and elite group. However, Jones gave him action in 10 games.
That proved crucial when he joined a rotation of all new linemen as a sophomore. There were severe growing pains that nearly derailed the season that year as a result of all the attrition, but Wiesman kept himself focused.
Then came 2015, and Wiesman's grew like Derek Dooley's bamboo analogy. He started in all 13 games at guard but proved to be extremely versatile in the process. He helped the entire offensive line unit develop in the process.
This year, Wiesman has battled injuries, but he still started four games and had to make up for Coleman Thomas and Drew Richmond struggling early in the year. To do that, he even moved to center and played a crucial role in the Vols' 38-28 victory over Florida doing so.
He's been hurt ever since, but he is now day-to-day. Depending on what happens this weekend, Wiesman has a chance to end the season with a bang. So while he has been injured, he's not done leaving his mark on the program. This is one of the mentally toughest players out there.
4
Corey
Vereen
Defensive End,

Senior
Speaking of mentally tough and unexpectedly bursting onto the scene, Corey Vereen has become a star for Tennessee football.
When he committed to the Vols, he was only a three-star recruit, but he had a lot of potential. Butch Jones gave him playing time in nine games as a freshman in 2013.
Then, immediately, he burst onto the scene as a sophomore in 2014, starting alongside Derek Barnett for 11 games. In the process, he had 24 tackles, one and a half sacks, four tackles for a loss, a fumble recovery, and three quarterback hurries.
However, Jones and Co. dimmed his bright future when they moved Curt Maggitt to edge rusher in 2015, moving Vereen to the bench. But as the team player that he is, Vereen accepted it.
Then Maggitt got hurt.
All Vereen did was step in and prove to the coaches how valuable he can be. With just seven starts that year, he finished the season with 39 tackles, three and a half sacks, nine and a half tackles for a loss, a pass broken up, and eight quarterback hurries.
This year, as teams have tried to find ways to avoid Derek Barnett and take him out of the game, Vereen has made them pay on the other side. And his numbers have only gotten better. He is having an amazing senior season with 32 tackles and nine and a half tackles for a loss already.
He also has six sacks this year, as many as his first three years combined. And he's recovered two fumbles, broken up three passes, and hurried the quarterback three times.
Vereen's legacy has reached superstar status, as he should be up for postseason awards. And he is definitely one of the top members of Butch Jones's first recruiting class.
3
Cameron
Sutton
Cornerback,

Senior
No surprise here. What can we say about Cameron Sutton and his contributions to Tennessee football?
The guy started as a true freshman and has never failed to live up to his hype as a superstar cornerback for the Vols. In his four-year career, he has been able to shut down entire sides of the field while in the game.
On top of that, he has been an elite punt returner, achieving All-American status for his abilities to do that in 2015 with 25 returns for 467 yards and two touchdowns.
But Sutton's leadership is a reason he gets to be this high on the list.
In 2015, with the Vols battling injuries in the secondary, Sutton did everything he can to make up for it. He helped to bring young guys along and became a favorite in the locker room as a result.
Then, with a chance to leave early for the NFL, he became a true Tennessee football legend by deciding to come back for his senior season in 2016. Sutton suffered an unfortunate injury early in the year, however.
Although that could have killed his morale, he only focused on getting better. Sutton remained in high spirits, helped to develop other defensive backs, and remained a leader in the locker room.
In the process, he had a miracle recovery and was back on the field against the Kentucky Wildcats. He's now going to be back on the field for Senior Day, able to show just how much he loves Tennessee football. For that, he leaves behind one of the greatest legacies in school history.
And he has a chance to keep it going for a few more games.
2
Jalen
Reeves-Maybin
Linebacker,

Senior
Unfortunately, Jalen Reeves-Maybin was not as lucky as Cameron Sutton. His injury won't allow him to get back on the field for Tennessee football.
But even while missing the vast majority of the 2016 season, Reeves-Maybin's legacy with the Vols is very high on a pedestal.
A Tennessee guy through and through, Reeves-Maybin committed to the Vols as a four-star very early on. Despite the program in terrible shape and being a guy who could have gone anywhere, he had no second thoughts about committing to the school he loved.
When Derek Dooley was fired and Butch Jones came on, Reeves-Maybin stayed on. That made him a key member of Jones's first class and something to build on.
Reeves-Maybin rode the bench as a freshman but saw action in 11 games.
As a sophomore in 2014, he stepped onto the scene and immediately became a leader and a starter. In 2014 and 2015, Reeves-Maybin started every game, registering over 100 tackles both seasons, a total of eight sacks, and 25 tackles for losses overall. He also collectively forced two fumbles, recovered four, broke up four passes in 2015, got an interception in 2014, and had four quarterback hurries.
Simply put, he was a do-it-all linebacker who never missed a beat on the field.
Then, he became a huge Tennessee football legend with his decision, like Sutton's, to return for his senior season and skip the NFL Draft, all because he loves the Vols.
The 2016 year has not gone as he would have hoped given that he got hurt for the year. But in the only full game he played, against the Virginia Tech Hokies in the Battle at Bristol, he registered 13 total tackles.
And after going down, Reeves-Maybin still showed his value to the team by remaining a leader in high spirits. He focused on developing the other linebackers and is still one of Jones's favorite players.
He even travels with the team despite injuries. Because of all this, the Tennessee guy leaves behind a great legacy with the Vols, regardless of whether or not he played enough his senior year.
1
Joshua
Dobbs
Quarterback,

Senior
There is no surprise here. Joshua Dobbs has dealt with fans ready to right him off at different times throughout his career, and every time that has happened he came through to win back the fan base.
In 2013, Dobbs was supposed to take a redshirt and didn't even make the travel roster for the Vols' first road game. Later that year, due to injuries, he was forced into a starting role. During that time, he went 1-3, and fans wanted to write him off.
But in 2014, more quarterback injuries forced him into the starting lineup against the South Carolina Gamecocks with the Vols at 3-5. Dobbs took the reigns and never looked back.
In that first start, he had five total touchdowns and led the Vols back from a 14-point deficit with under three minutes to go. That would signal how his career would go. He regrouped the Vols that year and carried them to a 7-6 record.
In 2015, Dobbs's Vols were reeling again with a 2-3 record and fans ready to write him and Butch Jones off. But Dobbs, never panicking, led the Vols back from a 24-3 deficit to the Georgia Bulldogs to win the game 38-31 with another five-touchdown performance.
He rebounded the Vols to finish 9-4 and in the Top 25 for the first time since 2007.
Then came 2016. Dobbs led the Vols to a 3-0 start, but fans were ready to turn on him and Jones when his team fell behind 21-3 to the Florida Gators at halftime. All Dobbs did in the second half was throw for four touchdowns and run for another.
A week later, he had one of the most historic plays in Tennessee football history by throwing a Hail Mary pass for a 34-31 victory over the Georgia Bulldogs.
Of course, the Vols went on a sickening three-game losing streak after that, and he deserves some blame for what happened. But Dobbs has kept the team poised throughout a series of unfortunate injuries that nearly derailed the program.
Now, as he heads into his final home game, he has a real chance to get the Vols back to Atlanta despite all this.
And he's six touchdowns away from surpassing Casey Clausen for the second-most career touchdowns in Tennessee football history…only to Peyton Manning.
That really defines his legacy as a Tennessee football quarterback. Throughout his career, Dobbs has overseen the Vols turning the corner as a program to get back to where they need to be. Not everything went how people wanted it, but Dobbs kept a level head.
As the guy to do that for Tennessee football, and as a huge leader for the team, he deserves every ounce of praise he's getting.
And he will go down as another great Vols quarterback and player.
More from All for Tennessee
This article originally appeared on