2016 Iron Bowl: How Auburn Will Beat Alabama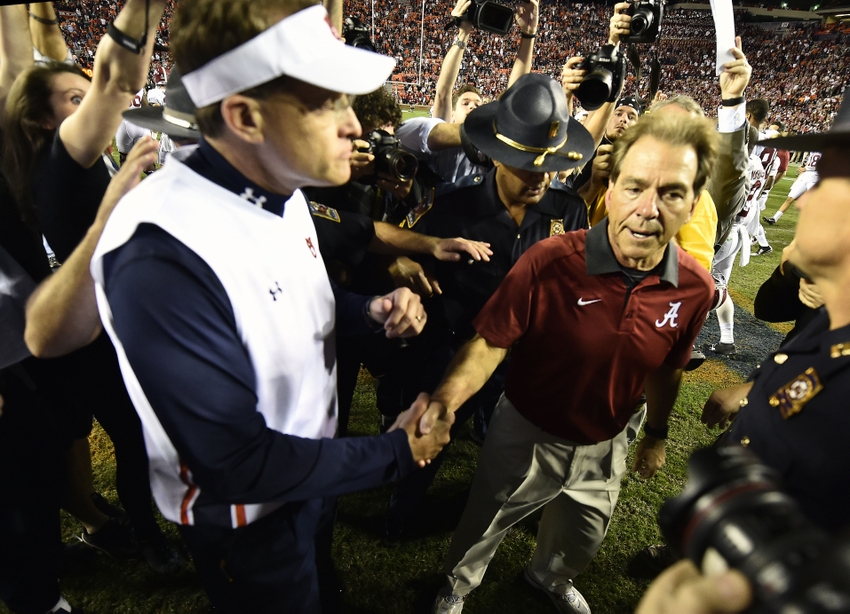 Here we explain how Auburn football can pull off the upset over Alabama in the 2016 Iron Bowl today at 2:30 CT in Tuscaloosa.
A lot of people – especially in Tuscaloosa – aren't giving the Auburn Tigers much of a chance in the 2016 Iron Bowl today, but I'm here to tell you it's more than possible.
I know the people we write to are mostly avid Auburn fans, and they would never doubt our team any way, but just in case your faith was wavering, here are a few reasons why Auburn will beat Alabama.
Shutdown Defense
This is the best defense Auburn football has produced for an Iron Bowl game in a long time.
They are sixth in the country giving up just 14.3 points per game, 19th in total yards allowed per game at 335 and 16th in rushing yards allowed per game at 117.7.
In a rivalry game, the defensive intensity seems to go up a notch, so I expect both defenses to be shutting down the opposing offense today.
You saw what LSU's defense was able to do against Alabama, and I think Auburn's defense is just as good as LSU's.
I believe our defense will rise up to the challenge today and keep Alabama under 20 points, which will give our offense a chance to win this game.
Unexpected Touchdown
As I said, points may be limited in this game as I expect both defenses to be shutdown. That is why it's important that Auburn come away with an unexpected touchdown.
Whether it be on defense or special teams – or possibly an explosive play on offense – Auburn has to come up with at least one unexpected touchdown.
I really think if Auburn can get two touchdowns they will win this ball game.
Auburn hasn't been nearly as good at getting those unexpected touchdowns as Alabama has, but I'm hoping that will change today. If Alabama makes a mistake and turns the ball over, Auburn has to turn it into seven points.
Daniel Carlson
There is one matchup in this game that both sides will agree favors Auburn, and that's in the kicking game.
Daniel Carlson is the best kicker in all of college football. If Auburn can get inside the Alabama 40 yard line, we're in field goal range. He's already single-handedly won a game for Auburn this year when he kicked six field goals against LSU.
While you don't want to rely on field goals to beat Alabama, it's nice to know that if you get across the 40 you have a chance to get points in what should be a low scoring game.
Not just that, but Daniel Carlson boots his kickoffs through the end zone, not giving Alabama a chance to score on kickoff returns.
Luck
If you don't believe in luck, and you shouldn't, Auburn football needs some things to go their way today in order to beat Alabama.
After several weeks of injuries and things seeming to go against Auburn, I think it's time for something good to go the way of the Tigers.
Whether it's a bad call, turnovers for Alabama or what have you, I believe there will be something go Auburn's way today that could turn the tide of the game.
War Eagle!
This article originally appeared on