2016 Heisman Trophy: Case for and against each finalist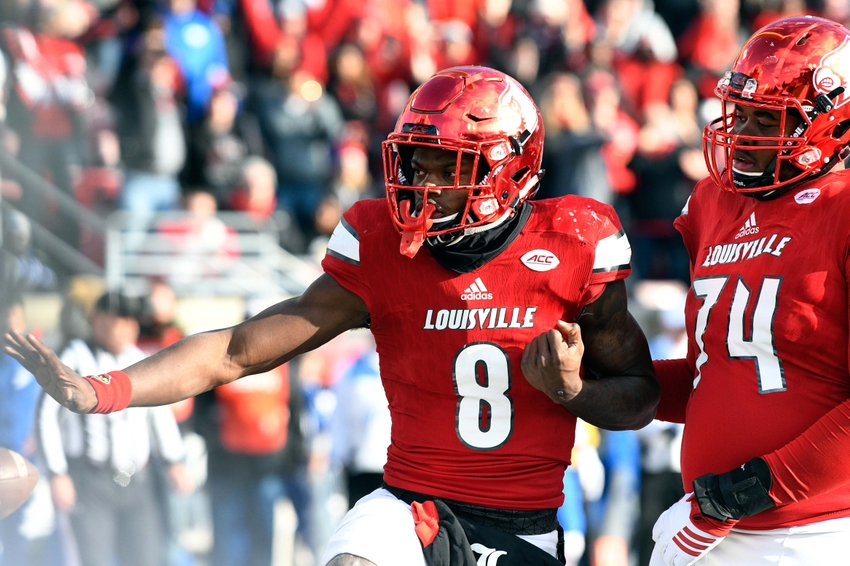 The finalist for the Heisman have been announced. We take a look the case for and the cases against of the finalist for the Heisman trophy.
The 2016 Heisman finalists have finally been announced. After another great season of college football, with lots of Heisman talk, we are down to these final five players. Those final five players are:
QB Louisville, Lamar Jackson
QB Oklahoma, Baker Mayfield
LB/ST Michigan, Jabrill Peppers
QB Clemson, Deshaun Watson
WR Oklahoma, Dede Westbrook
Almost all of the guys that people thought would be fighting for this award at the beginning of the year aren't here now. In fact they aren't even being considered. The Likes of Stanford running back Christian McCaffrey, who I believe should have won the award last year, was a big favorite coming into the season after the numbers he put up last year. He just never seemed to live up to the hype he built from last year.
Then there's Leonard Fournette who looked like he could run away with the award, but injuries kept him on the sideline for a decent amount of time this year. DeShone Kizer of Notre Dame was okay this year, his team on the other hand was not. Notre Dame wasn't anything close to what people thought they were going to be this year.
Now we are here. The final five have been announced and we will find out who the winner is on December 10th. Arguments can be made for each of these candidates as to why they should win or lose. With that, lets take a look at the case for each finalist and the case against each of them.
LB/ST Jabrill Peppers, Michigan
By far the most controversial finalist of them all. Peppers is a do-everything player that has played basically every position on the field at some point this season. At the beginning of the season, it looked like Peppers may be able to make a run at the Heisman. Since then that thought has died down.
Case for 
The case for Jabrill Peppers lies with his versatility on the football field. He plays almost every position and has a special offensive package just for him. Two of the three Michigan players to win the Heisman were a lot like Peppers. Desmond Howard and Charles Woodson were speedsters that could play both sides of the ball. At least Woodson could.
Much like Howard and Woodson, Peppers is also the punt returner for the Wolverines. He had one punt return touchdown on the year. He never really had that "Heisman moment," this year. It's hard for a defensive player to win the award, yet it's Peppers array of different abilities that has probably kept him in this race.
Case against 
The case against Jabrill Peppers is probably bigger than the case for. In his three seasons at Michigan, Peppers only has one interception. The pre-season hype may have been so big that it overshadowed the fact that Peppers may not have lived up to the hype this year. There is no doubt that Peppers has tremendous talent. It would just appear that Peppers was built on hype this year. His overall offensive numbers aren't exactly ground breaking. As a runner he had 27 carries for 167 yards and three touchdowns. That stat line is just a really good game to another running back. He also has 71 tackles on defense. That was only good enough for 32nd in the Big Ten.
Peppers just isn't elite at anything. He is an amazing football talent who is good at doing a bunch of different things. He just doesn't have the stats to be able to compete for this award with the others in this field.
WR Dede Westbrook, Oklahoma
Dede Westbrook had 154 receiving yards and zero touchdowns through the first three games of the season. In the nine games after that, Westbrook had 100 yards receiving or a touchdown in every game, including a 232-yard performance with three touchdowns. He came on late as a candidate and yet he is finalist going to New York.
Case for
Westbrook put up ridiculous numbers this year. He had 74 receptions for 1,465 yards and 16 touchdowns. He almost doubled his receiving yards from last year and quadrupled his number of touchdowns. Westbrook finished fifth in receiving yards and tied for fourth in touchdowns among receivers. What may be most impressive about Westbrook is that he averages just about 20 yards per reception. He can do all this and he is just six feet tall.
Case against
You have to go back to 1991 to find the last wide receiver to win the Heisman. That was Michigan's Desmond Howard. In fact, only three wide receivers have ever won the Heisman trophy. It's hard for a wide receiver to win the Heisman because their QB will get just as much credit. It just so happens that Westbrook's QB Baker Mayfield is also a finalist this year. For as good of a season that Westbrook had, it is much more likely that Mayfield would win than Westbrook.
QB Baker Mayfield, Oklahoma
Last year, Baker Mayfield led Oklahoma to the College Football Playoff. He couldn't quiet get them there this year, but he still had another amazing season. Mayfield had 3,669 passing yards to go with 38 touchdowns and only eight interceptions.  It was a big year for Mayfield that got him to New York.
Case for
When it comes to purely being a QB, Baker Mayfield's stats are better than Lamar Jackson and Deshaun Watson, the other QB Heisman finalists. Besides Watson having more passing yards, Mayfield is better in every stat. Mayfield has more passing yards than Lamar Jackson. He has more passing touchdowns than both Watson and Jackson, and he has fewer interceptions than both of them as well. His QBR is also the highest among the three of them by five points. He has also led the Sooners on a nine-game win streak to end the year with a Big 12 title.
Case against 
In all reality, the Big 12 isn't known for defense. The teams that Oklahoma plays don't have elite defenses. The one elite defense that they did play was that of Ohio State. In that game Mayfield threw two interceptions and had an abysmal QBR of 23.4. His star wideout Dede Westbrook only had five catches for 51 yards as well. Safe to say that Mayfield and the Sooner offense weren't ready for the Buckeyes. Along with that, it can be said that Baker Mayfield is just the product of Dede Westbrook. All the great plays that Westbrook make, come back and only help out Mayfield.
Mayfield has announced that he will be back for his senior season at Oklahoma. While this may not be his year for the Heisman, he is sure to be an early season favorite for the award next year.
QB Deshaun Watson, Clemson
Deshaun Watson was also a Heisman finalist last year. He went on to finish third in the voting with 1,165 total votes. He finished behind Stanford running back Christian McCaffrey and last year's winner in Derrick Henry from Alabama.
Case for
Watson has now led Clemson to back-to-back CFP appearances. Last year he got them to the championship only to lose to Alabama. This year, Watson was 86 yards off of throwing for 4,000 yards. He also threw 37 touchdown passes, six of which came in a 56-7 annihilation of Clemson's rival, South Carolina. Watson is a big guy that stands at 6'3", 215 pounds. Along with his arm, Watson is a great runner. He won't beat you with speed, but his physical nature makes him one of the hardest players to get to the ground.
When compared to Lamar Jackson, he doesn't have the speed that Jackson has. His physical nature however, always him to be just as explosive and deadly a runner as Jackson. He also owns the head-to-head matchup with Jackson which helped Clemson win the ACC and get to the CFP.
Case against 
Clemson played in a bunch of close games that should never have been close. Clemson allowed teams such as Troy, NC State and Pittsburgh to stick with them, with the latter pulling off an upset.
All of those games were home games for Clemson as well. Yet for how good Watson has been down the stretch this year, the biggest case against Watson is that Lamar Jackson is just too far gone. All year, Watson has been trying to catch Jackson in the Heisman race. As it is, it may have been to little to late.
If Jackson truly way ahead of Watson, then Watson will make the trip to New York for the second straight year and come home with nothing again.
QB Lamar Jackson, Louisville
Through the month of September, Lamar Jackson was putting up astronomical numbers. He was the talk of the college football and was number one in early Heisman polls. Since then, he has returned to earth, but he still leads in the Heisman race.
Case for
The case for Lamar Jackson is simple, he is breathtaking when he is on his game. In the first four games this year he had 25 total touchdowns and 1,856 total yards. He was on pace to break all kinds of records. In those four games, Louisville never scored less then 59 points and absolutely took apart Florida State, 63-20. That game against Florida State could be seen as his "Heisman Moment." Florida State was No. 2 in the country and Jackson ran all over them for 146 yards and four touchdowns. Another potential "Heisman moment" for Jackson could be him leaping over a Syracuse defender for a touchdown.
Although it ended in a loss, Jackson ran for 162 yards and two scores against Clemson. Jackson ended the year with 51 total touchdowns and 4,928 total yards. His stats are insane and if you've seen him play, then you know just how dominant he can be.
Case against
Lamar Jackson had Louisville in playoff contention as the season was coming to a close. That fell apart in the final two games of the year. Louisville went into Houston and came out with a 36-10 loss. Louisville was never in that game. Jackson;s completion percentage was under 50 percent and he ran the ball 25 times for 33 yards and no touchdowns. Louisville then had a disappointing end to the regular season with a home loss to Kentucky. Jackson threw three interceptions in that game and lost a fumble.
In the final five games Jackson began to have a fumble problem. In those five games, he fumbled the ball six times and lost four of those fumbles. For most of the season, it seemed that Lamar Jackson had the Heisman locked up. With the way he and the Louisville Cardinals ended the season, the door may have been left open.
Jackson will have to wait and see if what he did earlier in the year was enough to keep the award in his hands or if the door has been opened up to another one of the finalist.
This article originally appeared on