2016 FCS vs. FBS: Ohio Valley Conference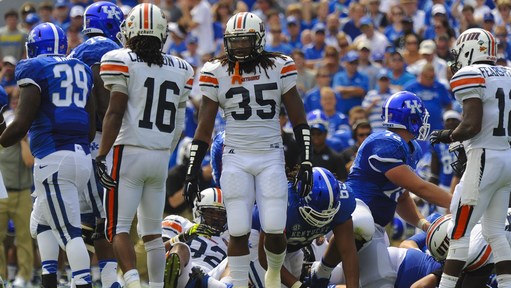 (STATS) – Cinderella is allowed out more often than in the month of March. During college football season, FCS programs are adept at drawing national attention as they seek upsets of the larger FBS.
Many of the games are played during the first few weekends of the season. This year, there are 113 FCS vs. FBS matchups, and the FCS hopes to raise their nine combined wins from last season.
Ohio Valley Conference teams will be involved in 13 of the matchups:
The Matchups – Austin Peay: Troy (Sept. 3) and Kentucky (Nov. 19); Eastern Illinois: Miami of Ohio (Sept. 10); Eastern Kentucky: Purdue (Sept. 3) and Ball State (Sept. 17); Jacksonville State: LSU (Sept. 10); Murray State: Illinois (Sept. 3); Southeast Missouri State: Memphis (Sept. 3); Tennessee State: Vanderbilt (Oct. 22); Tennessee Tech: Tennessee (Nov. 5); UT Martin: Cincinnati (Sept. 1), Hawaii (Sept. 10) and Georgia State (Oct. 22).
Glamour Game – Jacksonville State at LSU. The 2015 FCS national runner-up Gamecocks are venturing into the SEC West Division for the second straight year. Last September, they vaulted to the No. 1 ranking after losing in overtime at Auburn.
Upset Alert – Eastern Kentucky at Ball State. EKU quarterback Bennie Coney, coming off a big junior season, began his college career on the FBS level at Cincinnati.
Notable – All nine OVC programs will have at least one FBS matchup. UT Martin is one of only two FCS programs to be playing three FBS opponents (South Carolina State is the other one) … New OVC coaches debuting against the FBS: Austin Peay's Will Healy (Troy) and Eastern Kentucky's Mark Elder (Purdue) … This is the seventh consecutive season Austin Peay's struggling program will play multiple FBS opponents. The Kentucky game is a first-ever meeting … Nashville programs Tennessee State and Vanderbilt have only met once before – Vandy winning 38-9 in 2008 – but they have set a two-game series for this year and in 2018 … Having played the likes of Oregon, TCU, Wisconsin and Houston in recent years, former Tennessee Tech coach Watson Brown joked when the Tennessee game was announced, "It seems like Mark (athletic director Mark Wilson) waits until a team gets really good and he schedules them."