2016 Egg Bowl Photo Gallary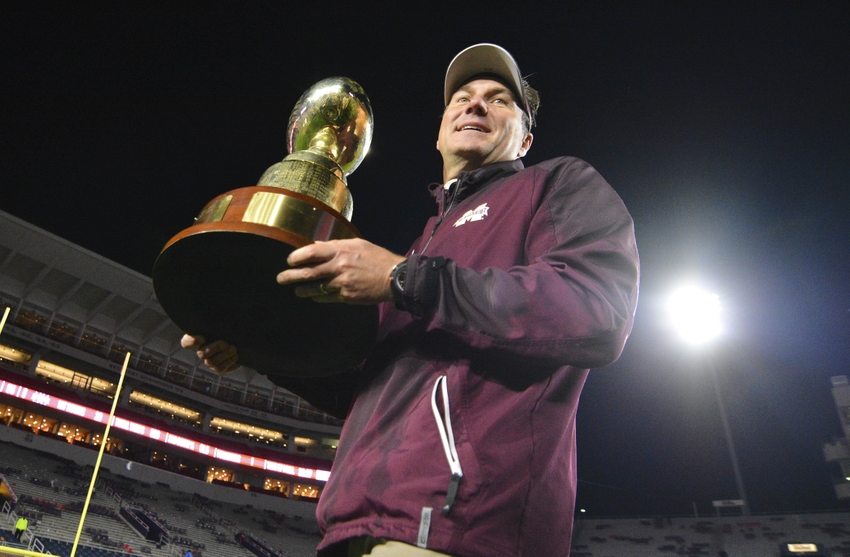 Mississippi State won the 2016 Egg Bowl in commanding fashion: 55-20. Here are the pictures….
The Bulldogs were a 10 point underdog in this game, and whipped OM up and down the field to win by five touchdowns. Let's have a look at what the photographers captured from this most joyous victory:
1. FITZ!
258 rushing yards?! Are you kidding me? That was on only 14 rushing attempts – so 18.4 yards per carry. Big run after big run. 70 yards, 24 yards, 18 yards, 30 yards. On and on he was picking 'em up and puttin' em down. Just another great performance.
Adding to the rushing totals, Fitz had three touchdown passes.
For the season, over 1,200 rushing yards and 2,200 passing yards.
You could say he's just a runner, but his 21 touchdown passes are the 4th most in MSU history for a single season. And prior to 2012, it would have beat the old record by five.
How about Cedric Jiles who ends his Mississippi State career with a 74 yard pick six against OM. He's had a tough career, battling injuries throughout – including missing the first month of the season in 2016.
Aeris Williams ran hard and right through the Rebel defense. He had over 100 rushing yards by the second quarter and totaled 191 for the game on 25 carries.
It took a while for Mullen to finally put his faith in Williams to be the feature back, but once he did (because Holloway got injured) it proved to be the right decision.
Williams ends the season with a 5.25 YPC average. Of his 656 rushing yards this year, 331 came against Texas A&M and Ole Miss.
How about the defense?
I'm not saying that giving up 528 total yards is something to be proud of, but what they did was give State a chance to win and more.
Jamal Peters with the huge interception in the endzone, and then Cedric Jiles with the pick six.
After not stopping Arkansas a single time last week, they force Ole Miss to punt four times plus four turnover on downs. When you factor in the two interceptions – that's 10 stops!
Mama Mullen likes it.
One way to get back in the good graces of MSU fans is to win the Egg Bowl. Dan Mullen is now 5-3 vs. Mississippi.
This has been a frustrating year. The fact that you can easily look back at a missed 26 yard field goal as the difference between going bowling and not is pretty infuriating.
But despite all the struggles in 2016, you have to give Coach Mullen credit for keeping the team focused and winning a couple of tough games down the stretch. At 2-5 things looked as bad as they could look, but they beat No. 4 Texas A&M and brought home the Golden Egg so you have to be happy about that.
The Golden Egg is ours once again!
It feels like it's been so long. From 2009-2011 it looked like we were light years ahead of Ole Miss and would be reeling off five or six in a row. Then they stole it in 2012, and after 2014 and 2015 it looked like Ole Miss had taken the lead in the state.
But then 2016 happened. From the NCAA investigation to Laremy Tunsil to a collapse from what they thought was going to be a 10-win team, and now the Egg Bowl.
We both finish 5-7 but the Dawgs have the Golden Egg. Ole Miss finishes in LAST PLACE in the SEC West and we've got bragging rights. Hail State!
More from Maroon and White Nation
This article originally appeared on