2016 College Football Playoff Top 25: Andrew's Week 13 Poll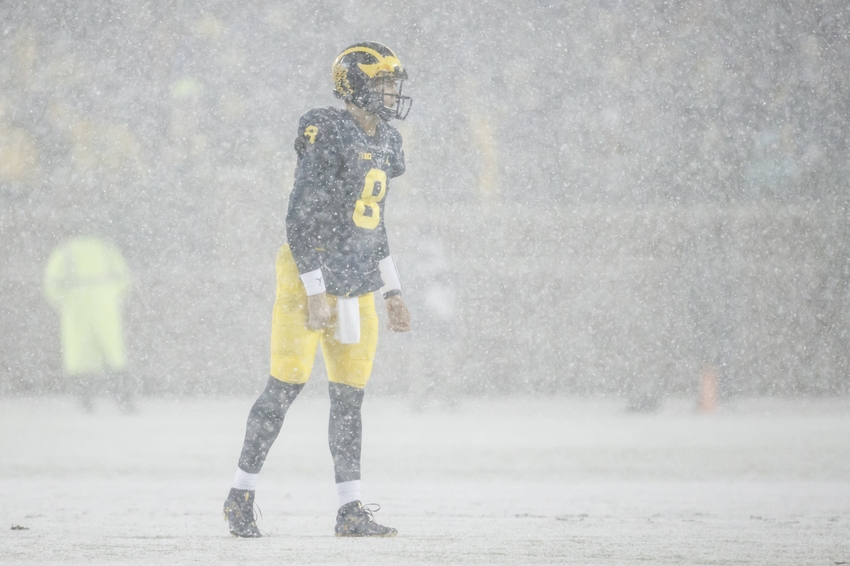 What is dubbed "Cupcake Week" for many schools, it was anything but for others in the country. The 2016 College Football Playoff race has been one of the most exciting thus far.
Whether it's in snow, rain, or bright sunshine, the 2016 College Football Playoff chaos cannot be stopped. For example, let's take Louisville who was looking to grab the ACC's stake in the playoffs. Houston, on the other hand, had other plans for the Cardinals on foreign ground. Add in West Virginia's chances being completely ruined, and you have chaos on your hands.
In the South, though, Alabama looks to have a clear path to the playoffs. Coming out unscathed from the brutal SEC schedule is a feat itself. The nature in which the Tide have emerged from the SEC West is absolutely stunning. Easily, Alabama is the #1 team in the country, as evidenced by receiving ALL 61 votes in the latest Associated Press Poll. To have anyone else in the #1 slot is absolute nonsense. Alabama deserves to be in, but who else does?
2016 College Football Playoff Top 25: Week 13
Alabama (11-0) – Won 31-3 vs Chattanooga – Week 13 vs #16 Auburn (8-3) : Iron Bowl
Ohio State (10-1) – Won 17-16 vs Michigan State – Week 13 vs #3 Michigan (10-1) : The Game
Michigan (10-1) – Won 20-10 vs Indiana – Week 13 @ #2 Ohio State (10-1) : The Game
Western Michigan (11-0) – Won 38-0 vs Buffalo – Week 13 vs Toledo (9-2)
Clemson (10-1) – Won 35-13 @ Wake Forest – Week 13 vs South Carolina (6-5)
Wisconsin (9-2) – Won 49-20 @ Purdue – Week 13 vs Minnesota (8-3) : Battle for Paul Bunyan's Axe
Oklahoma (9-2) – Won 56-28 @ West Virginia – Week 13 BYE
Washington (10-1) – Won 44-18 vs Arizona State – Week 13 @ Washington State (8-3) : Apple Cup on Friday
Colorado (9-2) – Won 38-24 vs Washington State – Week 13 vs Utah (8-3) : Rumble in the Rockies
Penn State (9-2) – Won 39-0 @ Rutgers – Week 13 vs Michigan State (3-8) : Land Grant Trophy
Florida State (8-3) – Won 45-14 @ Syracuse – Week 13 vs #12 Florida (8-2)
Florida (8-2) – Won 16-10 @ LSU – Week 13 @ #11 Florida State (8-3)
Louisville (9-2) – Lost 10-36 @ Houston – Week 13 vs Kentucky (6-5) : Governor's Cup
Oklahoma State (9-2) – Won 31-6 @ TCU – Week 13 BYE
Boise State (10-1) – Won 42-25 vs UNLV – Week 13 @ Air Force (8-3) on Friday
Auburn (8-3) – Won 55-0 vs Alabama A&M – Week 13 @ #1 Alabama (11-0) : Iron Bowl
Nebraska (9-2) – Won 28-7 vs Maryland – Week 13 @ Iowa (7-4) : The Heroes Game
West Virginia (8-2) – Lost 28-56 vs Oklahoma – Week 13 @ Iowa State (3-8)
North Carolina (8-3) – Won 41-7 vs The Citadel – Week 13 vs North Carolina State (5-6)
Virginia Tech (8-3) – Won 34-31 @ Notre Dame – Week 13 vs Virginia (2-9) : Commonwealth Cup
USC (8-3) – Won 36-14 @ UCLA – Week 13 vs Notre Dame (4-7) : Battle for the Jeweled Shillelagh
Stanford (8-3) – Won 45-31 @ Cal – Week 13 vs Rice (3-8)
Tennessee (8-3) – Won 63-37 vs Missouri – Week 13 @ Vanderbilt (5-6)
Houston (9-2) – Won 36-10 vs Louisville – Week 13 @ Memphis (7-4)
Navy (8-2) – Won 66-31 @ Eastern Carolina – Week 13 @ SMU (5-6)
More from Maroon and White Nation
This article originally appeared on