2016 College Football Playoff Top 25: Andrew's Week 12 Poll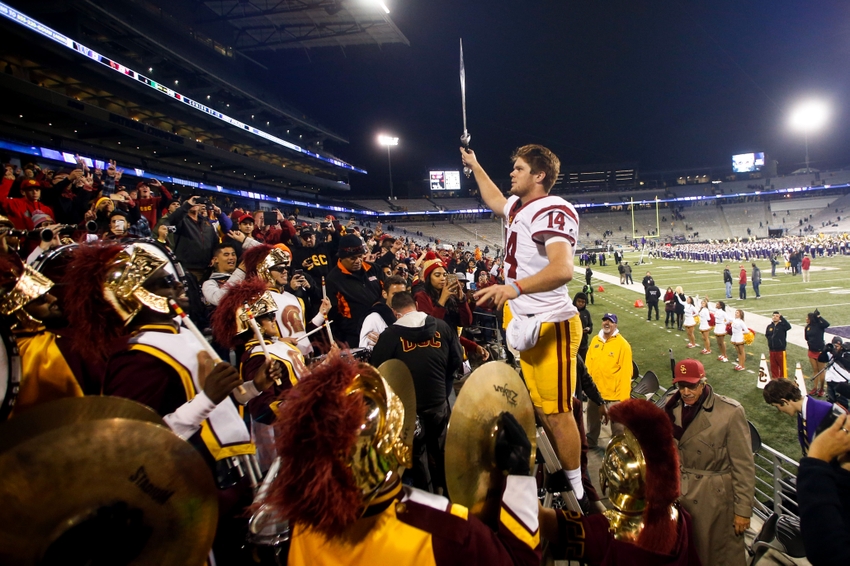 No one in the Top 4 was thinking about coming close to losing on Saturday. The 2016 College Football Playoff gods, however, had other plans. May this weekend serve as a reminder to the top teams, never let up.
Without a doubt, this weekend was full of Chaos. Number 2, 3, and 4 in the 2016 College Football Playoff Top 25 went down in one week. First time this has happened since the mid-80s. Want to know what the hit song was at the time? It was none other than "Take On Me" by a-ha. So it's been a little while since those 3 teams have gone down.
Alabama remains king in College Football, and everyone else is scrambling to catch up. With their emphatic win over Mississippi State and Auburn's loss, the Crimson Tide has clinched the SEC West with two games to go. But with two tough opponents remaining, Alabama cannot afford to slip up.
In other news, we have a newcomer into the Top 25. The Sun Belt (read that Fun Belt) has joined the Top 25 for the first time in history. Its representative is an 8-1 Troy squad that has only lost a close game to Clemson early in the season. #MACtion is in full swing as Western Michigan joins Alabama as the only undefeated teams remaining in the FBS ranks. Could be interesting if Western Michigan continues to Row the Boat.
2016 College Football Playoff Top 25: Week 12
Alabama (10-0) – Won 51-3 vs Mississippi State – Week 12 vs UT-Chattanooga (8-2)
Ohio State (9-1) – Won 62-3 @ Maryland – Week 12 @ Michigan State (3-7)
Louisville (9-1) – Won 44-12 vs Wake Forest – Week 12 @ Houston (8-2) on Thursday
Michigan (9-1) – Lost 13-14 @ Iowa – Week 12 vs Indiana (5-5)
Western Michigan (10-0) – Won 37-21 @ Kent State on Tuesday – Week 12 vs Buffalo (2-8) with COLLEGE GAMEDAY
Clemson (9-1) – Lost 42-43 vs Pittsburgh – Week 12 @ Wake Forest (6-4)
Wisconsin (8-2) – Won 48-3 vs Illinois – Week 12 @ Purdue (3-7)
Oklahoma (8-2) – Won 45-24 vs Baylor – Week 12 @ #9 West Virginia (8-1)
West Virginia (8-1) – Won 24-20 @ Texas – Week 12 vs #8 Oklahoma (8-2)
Washington (9-1) – Lost 13-26 vs USC – Week 12 vs Arizona State (5-5)
Colorado (8-2) – Won 49-24 @ Arizona – Week 12 vs #21 Washington State (8-2) on Friday
Penn State (8-2) – Won 45-31 @ Indiana – Week 12 @ Rutgers (2-8)
Florida State (7-3) – Won 45-7 vs Boston College on Friday – Week 12 @ Syracuse (4-6)
Florida (7-2) – Won 20-7 vs South Carolina – Week 12 @ #15 LSU (6-3)
LSU (6-3) – Won 38-10 @ Arkansas – Week 12 vs #14 Florida (7-2)
Oklahoma State (8-2) – Won 45-44 vs Texas Tech – Week 12 vs TCU (5-4)
Boise State (9-1) – Won 52-16 @ Hawai'i – Week 12 vs UNLV (4-6)
Auburn (7-3) – Lost 7-13 @ Georgia – Week 12 vs Alabama A&M (4-6)
Virginia Tech (7-3) – Lost 20-30 vs Georgia Tech – Week 12 @ Notre Dame (4-6)
Nebraska (8-2) – Won 24-17 vs Minnesota – Week 12 vs Maryland (5-5)
Washington State (8-2) – Won 56-21 vs California – Week 12 @ #11 Colorado (8-2) on Friday
North Carolina (7-3) – Lost 27-28 @ Duke – Week 12 vs The Citadel (10-0)
Utah (8-2) – Won 49-26 @ Arizona State – Week 12 vs Oregon (3-7)
Troy (8-1) – Won 28-24 vs Appalachian State – Week 12 vs Arkansas State (5-4)
San Diego State (9-1) – Won 46-16 @ Nevada – Week 12 @ Wyoming (7-3)
More from Maroon and White Nation
This article originally appeared on