2016 College Football Playoff Top 25: Andrew's Week 11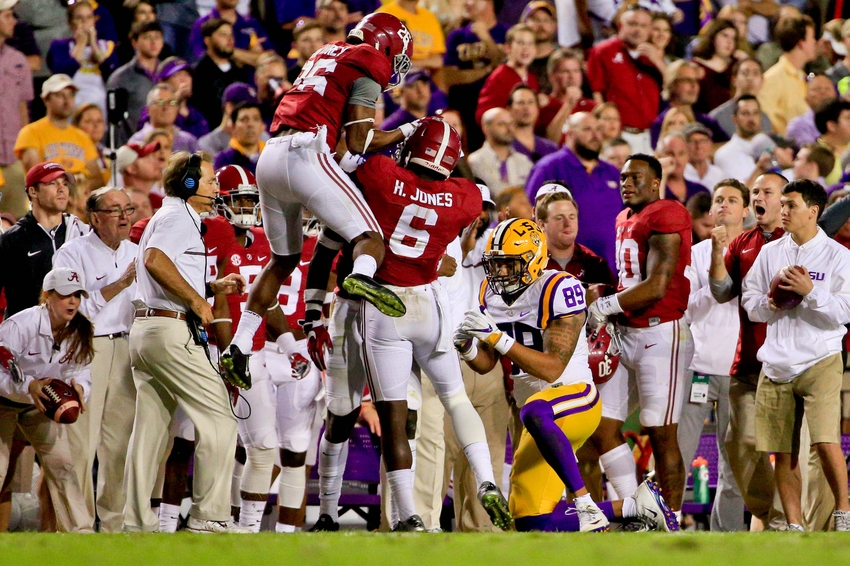 For the BEST set of Top 25 teams, the 2016 College Football Playoff is supposed to be the pinnacle of polls. However, Week 11's version has a lot of changes.
This is mainly due to the fact that there were upsets throughout the top half of the 2016 College Football Playoff Top 25. From the Aggies losing to the Bulldogs in Starkville, to Bama/LSU being its usual slug-fest, Week 10 did not disappoint. Let's put it this way, neither Alabama nor LSU scored a point until the 4th quarter. That was the FIRST game of the season to be scoreless after 3 quarters. Needless to say, that game lived up to expectations.
Then you have Baylor that was absolutely DEMOLISHED by unranked TCU. Add in the controversy of the black jerseys, and you have the country behind TCU. Sorry, Baylor, but I'm not on your side. You've done this to yourself. Maybe you can take your #CAB wearing self out of the national spotlight for once. For the sake of your true fans, do this.
2016 College Football Playoff Top 25: Week 11
Alabama (9-0) – Won 10-0 @ #15 LSU – Week 11 vs Mississippi State (4-5)
Michigan (9-0) – Won 59-3 vs Maryland – Week 11 @ Iowa (5-4)
Clemson (9-0) – Won 54-0 vs Syracuse – Week 11 vs Pittsburgh (5-4)
Washington (9-0) – Won 66-27 @ California – Week 11 vs USC (6-3)
Louisville (8-1) – Won 52-7 @ Boston College – Week 11 vs Wake Forest (6-3)
Ohio State (8-1) – Won 62-3 vs Nebraska – Week 11 @ Maryland (5-4)
Wisconsin (7-2) – Won 21-7 @ Northwestern – Week 11 vs Illinois (3-6)
Western Michigan (9-0) – Won 52-20 @ Ball State on Tuesday – Week 11 @ Kent State (3-6) on Tuesday
Oklahoma (7-2) – Won 34-24 @ Iowa State on Thursday – Week 11 vs Baylor (6-2)
Auburn (7-2) – Won 23-16 vs Vanderbilt – Week 11 @ Georgia (5-4)
West Virginia (7-1) – Won 48-21 vs Kansas – Week 11 @ Texas (5-4)
North Carolina (7-2) – Won 48-20 vs Georgia Tech – Week 11 @ Duke (3-6) on Thursday
Virginia Tech (7-2) – Won 24-21 @ Duke – Week 11 @ Georgia Tech (5-4)
Colorado (7-2) – Won 20-10 vs UCLA on Thursday – Week 11 @ Arizona (2-7)
LSU (5-3) – Lost 0-10 vs #1 Alabama – Week 11 @ Arkansas (6-3) : Battle for the Golden Boot
Penn State (7-2) – Won 41-14 vs Iowa – Week 11 @ Indiana (5-4)
Florida State (6-3) – Won 24-10 @ NC State – Week 11 vs Boston College (4-5) on Friday
Florida (6-2) – Lost 10-31 @ Arkansas – Week 11 vs South Carolina (5-4)
Boise State (8-1) – Won 45-31 vs San Jose State – Week 11 @ Hawai'i (4-6)
Oklahoma State (7-2) – Won 43-37 @ Kansas State – Week 11 vs Texas Tech (4-5)
Nebraska (7-2) – Lost 3-62 @ #6 Ohio State – Week 11 vs #24 Minnesota (7-2) : $5 Broken Bits of Chair Trophy
Washington State (7-2) – Won 69-7 vs Arizona – Week 11 vs California (4-5)
Texas A&M (7-2) – Lost 28-35 @ Mississippi State – Week 11 vs Ole Miss (4-5)
Minnesota (7-2) – Won 44-31 vs Purdue – Week 11 @ #21 Nebraska (7-2) : $5 Broken Bits of Chair Trophy
Utah (7-2) – Week 10 BYE – Week 11 @ Arizona State (5-4)
More from Maroon and White Nation
This article originally appeared on